March 20, 2020
Posted by:

Muhammad Shehzad

Categories:

Blogs, RBS News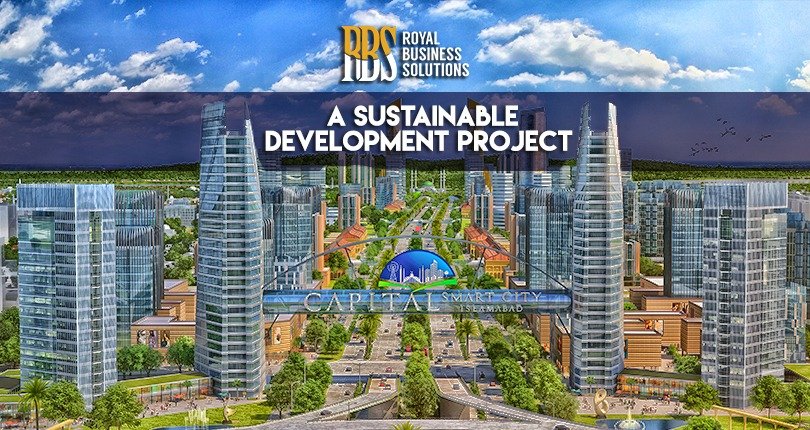 Capital Smart City: A Sustainable Development Project
Capital Smart City offers smart vision for a sustainable future. The ever now evolving world demands solutions that are sustainable from every single aspects. Capital Smart City is certainly a hallmark of sustainable urban planning.
If you ask people would they like to live in sustainable world, they would probably answer "yes". However, all of them have different definition of Sustainable Future in their minds. Thus, it's a high time for all of us to discuss what sustainable development is.
What is sustainable Development?
When we say sustainable development it doesn't limited to using Information & Communication Technologies nor preserving Natural environment. Sustainable development refers to a particular development that fulfills the needs of present time. Along with, it doesn't affect the ability of coming generation to meet their needs. In other words, sustainable development enables you to survive being confined to present sources.
Sector-wise break down of Sustainability
Sustainable Future or Sustainable Development is abroad term. It is critical to look upon all of them at once. Since, Capital Smart City is a not a residential project but a city in itself.  Thus, it is mandatory to break down it into sectors to know how it is a sustainable project.
Sustainable Transportation
Sustainable Energy Resources
Sustainable Economic Opportunities
Sustainable Environment
Sustainable Lifestyle
 1. Sustainable Transportation
Transportation planning is what that makes any project stands apart from other. Here in Capital Smart City, the developers are setting the benchmark for sustainable transportation system in Pakistan. It has introduced Bus Rapid Transition (BRT). It has 2 routes. One is running along Main Boulevard while other one is allowing reachability to all other districts. E-ticketing, real-time Bus tracking, air-conditioned stations and buses will make the travel experience exceptional.
Capital Smart City introduced one of its kind thing in Pakistan that is Electric Bikes. These bikes are cost and fuel effective. Along with that, these are also environment friendly. Transport signals are fully automated that operates without human input. Meanwhile, it sets its functionality as per the traffic density on the routes.
2. Sustainable Energy Resources
In light of Pakistan's scenarios, efficient and maintaining energy resources is a tedious task. You have to plan energy resources consumption in a sense that it fulfills present without compromising the future ones. Firstly, let's start talking about the water reservoir. It has huge Chihan dam in its territory. It names is speculated to change into Smart Dam. Furthermore, more than 5 tube wells are currently operational on the site. Thus, capital Smart City has abundance of this resource.
Secondly, it is using solar energy to compete with electricity demand. All of the infrastructure has humongous solar panels to convert natural sun light to electricity.
3. Sustainable Economic Opportunities
Capital Smart City is leading Real Estate market because of its immediate proximity to New International Airport and China-Pakistan Economic Corridor (CPEC). The project, itself, envisaged to offer almost 90,000 job opportunities. Among other districts of Capital Smart City 5 districts in the project namely Gate Precinct, Panda District, Aviation District, Boulevard District and Financial Square solely reserved for economic and financial activities. Furthermore, commercial zones are present at every 500 meter distance. Each neighborhood at its own commercial arena.
4. Sustainable Environment
This is one of the main aspect of sustainable development. We all are dependent upon the environment in which we are striving. However, in the bandwagon of present real estate development, environment is ignored radically.
The developers of Capital Smart City steps one step forward to preserve the nature. 32% of total land features natural landscape and topography. That is why it is called biggest Eco-friendly city of Pakistan. Natural resources are not disturbed at all while the development here.
Moreover, Smart Waste Management also setting standard of this society quite high. International firm namely ESA offering smart approach to cope with waste. Also, it is using this leftover for better purpose instead of dumping it.
5. Sustainable Lifestyle
Capital Smart City offers Smart Lifestyle. Advance technology is integrating to ensure the sustainable living style. Trivelles Smart Villas is one of the great example of it. The first ever Smart Home in Pakistan makes your life convenient, comfortable and secure that is never possible before through Smart Features .
International standard residential space offered in following types
Villas
Apartment
Town Houses
Farm Houses
Capital Smart City will define what sustainability actually looks like in day-to-day life today and in the future. Invest in this futuristic project now to avail maximum benefits in coming days.