October 29, 2019
Posted by:

Muhammad Shehzad

Categories:

Blogs, RBS News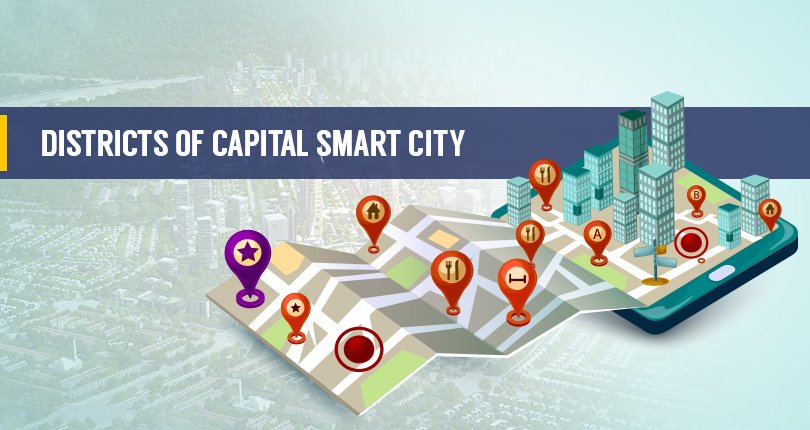 Capital Smart City Islamabad is new addition among international standard residential projects in Islamabad and Rawalpindi. Its 1st smart city in Pakistan while 4th in Asia. Meanwhile, 21st smart city from around the world. Real Estate giants including Habib Rafiq (Private) Limited (HRL), Future Development Holdings (Private) Limited (FDHL) and several other big name collaborated to present Capital Smart City Islamabad. Districts of Capital Smart City makes it different from other schemes.
It's not another housing project but it's a city itself. An upscale project features international standard facilities and amenities. Due to ideal location of Capital Smart City, it's the most trending project in the present time. Capital Smart City Master Plan is a masterpiece of creative innovation that ensures
Community cultivation
Integrated lifestyle
Preservation of heritage
Excellency in connectivity
Capital Smart City sprawled over total land area of 55,000 Kanal. For making it well-planned, it is divided into various districts as per purpose. Following, we discuss main Districts of Capital Smart City with their salient features.
Gate Precinct
This district is basically face of capital smart city. Upon entrance, you get in to Gate Precinct. It features world-class lavish 5 and 3 star hotels and vistas. Furthermore, apartment and commercial buildings, retail and pavilion will also present in this districts. It will offer more than 200 residential units and brand outlets.
In Gate Precinct, you can also find recreational parks, green areas, mosque and educational institutes as well. Also,  it will lead you to Panda District and Panda Mart too.
Panda District
Panda District is present on Eastern Route of China-Pakistan Economic Corridor (CPEC). This district of capital smart city envisaged to become largest trading hub of particularly Chinese product in South Asia.
Panda Mart is the main attraction of this district. It features more than 2500 outlets in this Chinese-themed mall. It would be 1.2 km long mall with parking capacity of accommodating 3600 vehicles. Also, it offers
300 warehouses
1000 residential apartments
Panda Reserve
Panda Reserve particularly is a natural-theme park. It is dedicated to provide natural environment specifically to pandas and other several animals. Also, it has viewing decks to see this aesthetically pleasing park.
In addition, it features
Butterfly house,
Water birds and animals
Birds' aviary
Animal cages
Cafeteria
Aviation District
out of all the districts of Capital Smart City, it is the most anticipated multi-disciplinary district. Specially designed for aviation industry, it features logistics and hospitality services. Aviation District, in particular, offers following main amenities
Expo Center
Aviation Academy
Flight Kitchens
Outlet Malls
Business Zone
Luxury Apartments
Lavish Hotels
Moreover, it's located in proximity of New Islamabad International Airport. Thus, its biggest plus point for Capital Smart City.
Crystal Lake
Crystal Lake is an innovative yet modern-day market place. It strives to present the perfect blend of innovation and excellency, amusement and necessity. Being most alluring and leisure destination, it fulfill need for boutiques, food and art. Encircled by dancing fountains and walking lake it offers following main facilities
Business offices
Boutique hotel
Commercial arena
Media city
Healthcare centers
Apartments and villas
Amusement park
Boulevard District
In line with Financial Square, Boulevard District aims to boost up the economic and commercial activities in the area. Providing most suitable environment, it give opportunities to business for safe and secure growth.
Financial Square
Envisaged to become business hub, financial square bringing massive trade and business opportunities. Qatar Financial Center and CPEC Tower is part of this huge financial hub. In order to increase the comfort, rotary pedestrian bridge is planned for pedestrians. It further offers following amenities:
Mega Mall
Pavilions
Commercial and Residential units
Parking Plazas
Hotel
 Healthcare District
Healthcare district offers most advance and modern health and fitness facilities.  Multi-purpose hospitals aims to provide ease for users.  Furthermore, it is comprised of:
Laboratories
Teaching hospitals
Hospitals
2-star hotels
Mixed-used buildings
Education District
Capital Smart City focuses on uplifting living standard of residents. Thus, it has dedicated area for education purpose. This district is presenting famous big educational institutes. It disseminates information by means of latest and innovative teaching methods. Not just traditional, it will have vocational centers that will impart and polish skills of individuals. furthermore, you can also find following mega facilities here
Sport facilities
Museum
Library
Gallery
Research center
Park
Lake View District
Amidst other districts of Capital Smart City, it is the most alluring spot. With the picturesque views and water bodice, it offers tranquil and calm environment.  Here, you can have water boat riding, floating restaurant and serene walk along side of lake. Lake view district is comprised of following components
Villas
Apartments
Terraced apartments
Spa
Community club
Yacht club
The Terraces
It's present beside the Crystal Lake. Perfect spot for leisure, entertainment and commercial activities. With tranquility and calm environment, its ideal place for spending peaceful time. The Terrace is accompanied with food stalls, restaurants, café and coffee shops. It is surrounded by lake from 3 side.
Capital Hills
It is another name for extravagance and luxuries. Capital Hills district is main example for it. It is featuring Golf Club and Horse-riding club along with several other amenities in this district. With a view of innovative communities, it's the first hill-style golf club. With quality development, it also offers
Golf course villas
Club house
Golf pavilion
Lake pavilion
Villas
Town houses
Apartments
Gym
Overseas District 1 & 2
Since, its providing international-standard development. Thus, expats and foreigners are equally excited to invest in this project. For them, dedicated area is reserved. 2 districts are designated for overseas residents. It will be a regional-class spot. Furthermore, it will also serve as business catalyst. In particular, this district of made of residential villas, plots, apartments and mansions. Other than these, it also offers,
Educational institutes
Sector mosques
Parks
Linear park
Hospitality and retail arena
Residence Vista
Residence Vista is a purely residential district. It offers unique yet uniform residential villas varying in outlay. Also, its a perfect spot for having a peaceful, secure and comfortable life. All the modern-day facilities and amenities are provided in district for convenient lifestyle. Homes range from 5 Marla to 2 Kanals in size. Meanwhile, this district is equipped with
Jogging tracks
Walking tracks
Park
Mosque
Clinics
Education institutes
Farm Vista
This district is basically a Farm House Community. Combined with fresh and natural environment, farm vista offers lush green landscapes till horizon. It's a perfect place for nature and farm lovers. In addition, Farm vista promotes organic lifestyle in most social yet isolated way.
Hills View Vista
Adjacent to Motorway M-2, these are tall towers. It features several apartments facing marvelous hills. In lush environment, it's an ideal place for work and living. Equipped with generous facilities, this district will also have BRT Transport system. Also, it contains:
Food and Beverages
Pavilions
Mosque
Parks
Culture District
It's particularly a step to preserve our cultural living style. Cultural district would be a biggest tourist attraction. As in a calm ambience, it would present Mughal-theme residence. Also, the dining area will be Mughlai-theme.
Sports District
Sports District is a global-standard sports zone. Being a unique community, it integrates residential, comfort, sports and recreational opportunities in a single spot i.e. Sports District. Accompanied with stream and natural beauty, it offers villas and residential apartments. Furthermore, it have
International Sports Academy
Cricket Stadiums
Olympic Stadium
F-2 Race track
Motorcycle race track
Sports retail
Pavilion