Introduction
Lahore Smart City is going to become a benchmark for the contemporary residential project. It is 2nd Smart City of Pakistan. Meanwhile, Lahore Smart City will be 22nd smart city of the world. Keeping in view the growing demand of residential projects in Lahore, FDHL and HRL decided to offer luxury and mega Smart City in Lahore. With successful ongoing project Capital Smart City Islamabad, Lahore Smart City will surely presents you with all those amenities that make it a contemporary venture.
Smart City Lahore is constructed mainly on a single Urban-management system for the whole city. In order to provide the highest level of efficiency, control, and involvement, it has been designed. As a result, it is attempting to acquire the most up-to-date ICT infrastructure possible, which will lead to improved efficiency and services. While this massive housing project's primary objective is to improve the quality of life in the area, it will also help the economy.
Why to Invest in Lahore Smart City?
Lahore Smart City is a terrific mix of commercial as well as residential properties. In Lahore, Future Development Holdings (FDH) has planned a new but still affordable and well-equipped, housing community. On the other hand, Lahore Smart City is a society provisioned with state-of-the-art amenities. These facilities are a dream come true for the residents of Lahore; peace, security, and environmentally beneficial practices all go hand in hand. Moreover, they work with the best developers, architects, as well as planners around the globe.
The developed golf clubs and grounds by world-renowned and experienced professionals are accessible in Lahore Smart City. To Lahore Smart City, with 18-lane boulevards, safety and efficiency are elevated to new heights. It does not matter what time of day you visit, since the whole area is beautifully planted and well-lit. Lahore is one of the country's most popular and picturesque destinations. It is the center of Pakistan, with several attractions, including high-end living and high-class lifestyles. Surbana Jurong (Pvt.) Ltd. has launched the Lahore Smart City to enhance the quality of life in Lahore by providing a luxurious as well as massive Smart City in Lahore.
Owner & Developers
Lahore Smart City is a project of consortium between Future Developments Holdings (Pvt.) Limited & Habib Rafiq (Pvt) Limited. Both of these are masters in their field. HRL is known as Real Estate developer giant in Pakistan. Notorious projects mainly Bahria Town, DHA, Motorway and several others are developed by HRL.
Moreover, Capital Smart City that is 1st smart city of Pakistan is the mega project developing under supervision of both these firms.
About Future Developments Holdings (Pvt.) Ltd
Future Developments Holdings (Private) Limited is also known as FDHL. It's a partner consortium registered under Companies Ordinance 1984. In other words, several national & international firms have joined hands for emergence of the new world's leading organization. It's Real Estate Developer & Asset Management Company operating in Pakistan.
In addition, FDHL believes in creating integrated communities. These communities therefore, will lead to international standards of sustainability with powerful economic & professional commitment.
Furthermore, these communities can be built by strategic investments, innovative urban planning & also life cycle asset management. FDHL is planning to launch another smart city in Lahore as well. Moreover, it will be the same technology driven infrastructure as introduced in Islamabad.
About Habib Rafiqe (Pvt.) Ltd
For the last 10 years, HRL known as a trend setter in the arena of housing & infrastructure. HRL has acquired a top position in the ever expanding real estate development of Pakistan. Meanwhile, HRL presented valuable engineering involvement first time ever when it comes to the development of housing and infrastructure.
Today, HRL stands tall and apart from others because of its hard-earned reputation and trust. Moreover, it has high value of Human Resources and electro-mechanical assets that give distinct edge to HRL over its competitors in the market.
Habib Rafiq Pvt. Ltd. has a rich 60 years heritage in industrial and infrastructure landscape. Its a biggest Infrastructure developer in Pakistan. Also, one of the leading construction company of Pakistan. HRL are acknowledged as developers of various finest development projects in Pakistan.
Designer & Development Partner
This Smart City is an iconic project of Lahore city. Along with that, making full use of contemporary technology, it is also the smart city. In order to maximize the efficiency and efficacy of the project, a Singaporean firm, Surbana Jurong, is hired to serve as a Master Planner of Smart City.
Surbana Jurong (Pvt.) Ltd
Surbana Jurong (SJ) is Master Planner for the The Smart City. Its one of Asia's leading urban, industrial and infrastructure consultancy firm. SJ is Singaporean government-owned consultancy company. Moreover, it was established in June 2015. After the merger of Surbana International Consultants and Jurong International Holdings, it came into being.
Furthermore, SJ, by added value with technology and creativity, is offering one-stop consultancy solutions in the arena of urban, industrial and infrastructure. Its the largest Asia-based firms with over 50 years of glorious history in delivering successful project. Moreover, SJ has Human resource of approx. 14,500 employees working in more than 130 offices across the globe.
For project Master Plan, it incorporates a holistic range of facilities to offer lucrative business opportunities. In addition, living and recreational choices in the emerging Islamabad region with growing economic opportunities is also keenly concentrated.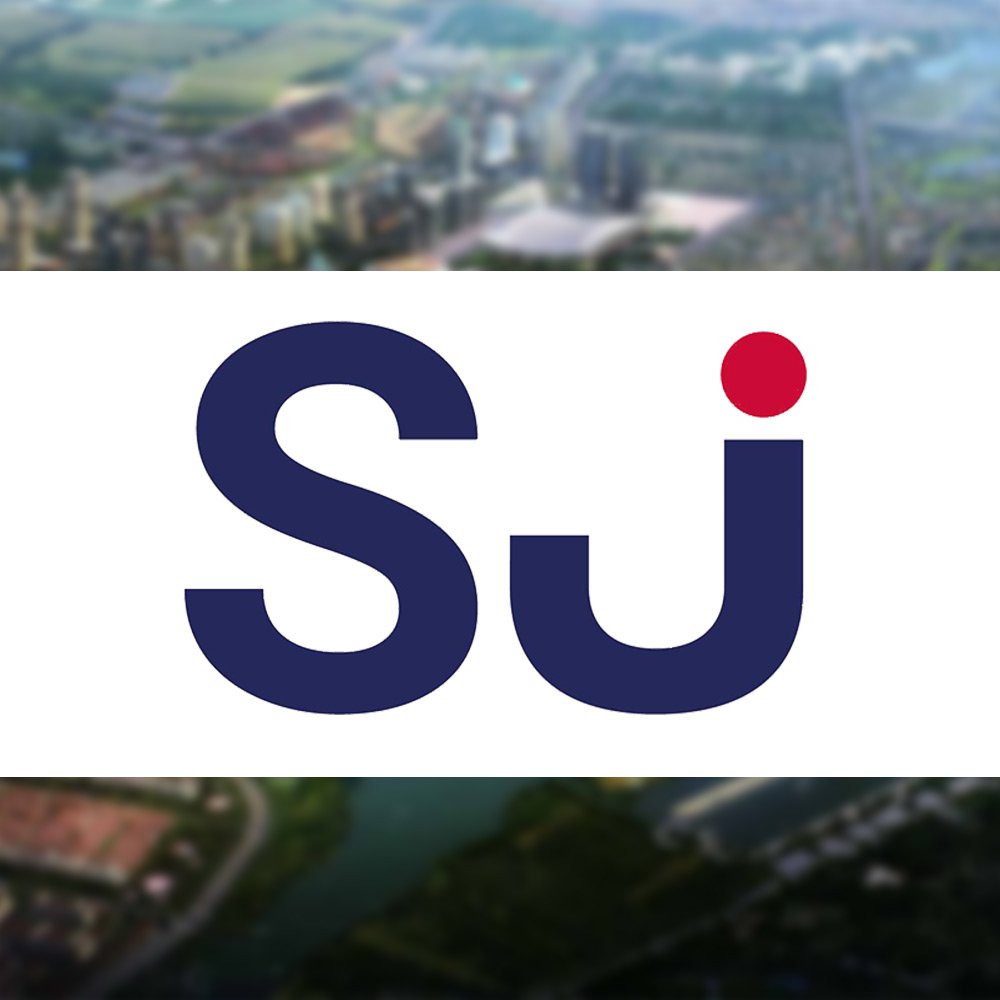 Master Plan of Lahore Smart City
This Smart project is designed keeping in view the Township Model Approach. Moreover, Surbana Jurong has successfully transfer the Europe development idea in planning this mega project. It provides a wide range of housing choice that depends upon the density.
Districts
Initially, the management has launched 2 districts that are merely reserve for residential purpose. However, other districts will be disclosed when the development work started on them. As per August 7, 2020, two announced districts are listed below
Executive Block
Overseas Block
Executive Block
Executive Block is reserved for Pakistani residents who wish to live a smart life. This block will be laced with all the contemporary amenities that makes life convenient. Presently, plots are offered in following category
5 Marla
10 Marla
20 Marla
Overseas Block
Overseas Block is dedicated to overseas individuals. its most safe and significant investment opportunity of investment for overseas Pakistanis. It especially designed to meet the living standards of overseas Pakistanis. Presently, plots are offered in following category
5 Marla
10 Marla
20 Marla
Facilities & Amenities
The residents of the Smart City are going to experience a modern way of living. One of the main reasons is the provision of ultimate facilities and amenities in Smart City of Lahore. Moreover, by utilizing the bleeding-edge technology, it ensures the provision of all smart facilities in this 2nd smart city of Pakistan.
Furthermore, the following are the main features of  Smart City Lahore that make it matchless.
Location of Lahore Smart City
As per latest updates, location of Smart City Lahore announced on Lahore Bypass. It got immediate access to Grand Trunk Road. Moreover, it will get a link to Lahore-Sialkot Motorway as well. Smart City Lahore Location is unique in a way that it will have immediate access to Lahore Ring Road. Thus, ultimately it is connected to whole Lahore city via this route.
NOC and Planning Permission
Smart City Lahore is an approved housing society and has NOC from Lahore Development Authority.
Total Land
Lahore Smart City has total land of 20,000 Kanal.
Why Lahore Smart City is Smart City?
Smart City Lahore is mainly built upon an exclusive Urban-management. Determined to ensure optimum efficiency and control, it also ensures the active participation. In addition, its striving to get advanced Information and Communication Technology infrastructure that will lead to optimized efficiency & services.
Furthermore, the main aim of this mega housing scheme is to uplift the living standards while boosting economic growth in the region. Its a Grade-8 development along with self-sustaining Eco-Friendly approach.
Ideal Elements
Moreover, Smart City Lahore central idea revolves around the following 3 elements
Smart Housing
Smart Economy
Smart Environment
Details of each of these elements is shared below
Smart Housing
Smart City Lahore strives to provide quality and up standard living experience. Furthermore, with state of the art infrastructure, it delivers a wide range of services for every person.
Smart Economy
Further, once being operational, this project will expected to be one of the main hubs of economic activities in the region. Presently, it's speculated as mega commercial center in the area.
Smart Environment
The site is enriched in terms of Natural Scenic Beauty and Topography. 30% of total area reserved for natural assets. Moreover, developers also maximized their efforts in order to avoid the risk of damaging natural scenery.
Price Plan
Lahore Smart City payment plan varies according to plot categories.
Currently, 3.5 year quarterly installment plan offered in Lahore Smart City Price Plan. 10% Rebate on lump sum amount while 5% Rebate on 50% payment. Rs. 20,000 will be needed to pay at the time of booking as a Membership fee.
The pre-launch payment plan of Lahore Smart City is shared below
OVERSEAS Block
EXECUTIVE Block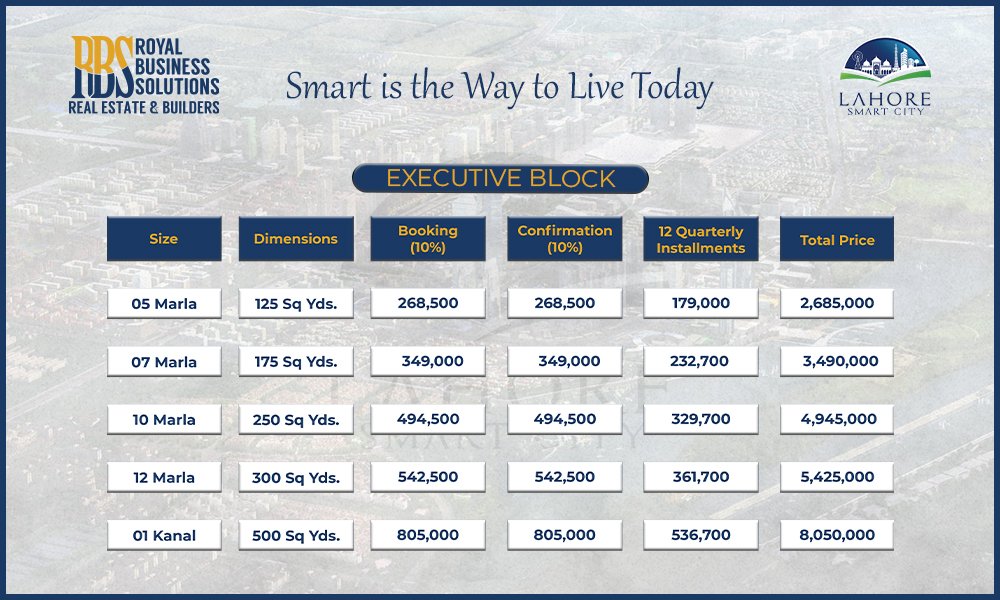 The site is enriched in terms of Natural Scenic Beauty and Topography. 30% of total area reserved for natural assets. Moreover, developers also maximized their efforts in order to avoid the risk of damaging natural scenery.
Booking Procedure of Lahore Smart City
You can avail this opportunity even before the Lahore Smart City. Get to know about the booking procedure below:
Download and fill out this Application Form. Please provide all the essential information.
Attach 3 passport size photographs of applicant
Attach CNIC/NICOP copy of applicant and next of kin (nominee)
At the time of booking, submit 10% of down payment as a Pay Order, Cheque or Cash in favor of "Future Developments Holdings (Pvt) Ltd."
Submit your form, documents and pay order to us to confirm your booking.
Your file will be ready within 30 days and dispatched to your address.
Platinum Sales Partner of Capital Smart City
Royal Business Solutions (Pvt.) Limited serves as a Platinum Sales Partner of Lahore Smart City. RBS also serves as platinum sales partner of Capital Smart City as well. Since the inception of this mega project, several real estate agencies dealing and selling it. However, Royal Business Solutions is the Official Sales Partner of Capital Smart City.
Moreover, Habib Rafiq (Pvt.) Limited (HRL) is the main developer of this marvelous project. Specifically, HRL is a brand itself in the world of Real Estate. RBS is working with this firm side by side since many past years. Furthermore, due to our exceptional and dedicated services, we are again privileged to become Official Sales Partner of another project under its umbrella.
In addition, Lahore Smart City is a smart project. We are using latest techniques and trends to exclusively market this innovative project. Furthermore, our team of dedicated individuals take pride in serving and assisting our worthy clients.
Moreover, in a nutshell, it can be said that RBS is representing Capital Smart City and Lahore Smart City on every platform with whole dedication and devotion.
Development Updates of Lahore Smart City:
The development updates of Lahore Smart City are that the work is speedily going at a great pace. Lahore Smart City Tracking is under process too. The process of tracking Main Boulevard is complete. Also, the workers over there have complete the prime coat on B 1 road. The developers are keeping the pace of the work high so that they can complete the work in the given time frame. Owners and developers that are Habib Rafique private Limited (HRL) and Future Development Holdings (FDHL) have a strong background in completing and delivering their projects on time. With delivering projects within the committed time period, they have also a great focus on delivering the quality with international standards. They have also made the entrance from the Kala Shah Kaku interchange operational for the people. To make it an environment-friendly place, many trees and plants are planted. Developers are paying great attention to the project to make it as good as possible.
Expert Opinion (Investor advice)
The goal of a Smart City Lahore is to provide residents with a comfortable and stress-free way of life. As a result, the developers considered this while deciding on the site for Lahore Smart City. Near the GT road, you will find the smart capital city. A highway connected Lahore and Sialkot. The freeway between Lahore and Sialkot provides easy access to the location. In addition to the ring road, this place is also easily accessible. The ring road that encircles Lahore links them all to each other. It is a strategic and easily accessible position that has been chosen with safety and accessibility in mind and connection in mind.
Smart City Lahore is the finest choice if you are looking to invest. It had a long-term potential for development but at a price that could be afforded by most people right now. Islamabad's prominence ensures that Lahore's popularity and demand will rise. It is possible to acquire the building for a fair price if one wants to create a company there. While it may be quiet at first, they should expect a great deal of development in the future.
The LSC (Lahore Smart City) is a spot where one does not have to worry about the bustle of city life. Instead, one might expect a pleasant, serene lifestyle from developers and planners. Ideally, it's situated in the triangular triangle formed by the Ring Road, the GT Road, and the interstate. Everything about this area is perfect.
FAQs of Lahore Smart City
There are some of the frequently asked questions from the management of LSC. We have addressed those:
What is a smart city and how is it different from other cities?
A smart city is one that is completely based on artificial intelligence. The City is also a smart city that is based on the Internet of Things (IoT). All the things in this project will be handled through the internet. It is an innovative project that is launched for the first time in Punjab. There is no similar project in Punjab. A project in Islamabad, named Capital Smart City is launched by the same developers. So, Capital Smart City is the first project launched in Pakistan, and LSC is the second one.
Is this City a legal society?
Yes, it is a completely legal society. Its NOC or No Objection Certificate is approved by Lahore Development Authority i.e. LDA.
When the owners will start working on this project?
The authorities of the Smart City have started working on City Development. There is roof work going on of many buildings. The carpeted B1 road is also completed.
When the management will grant possession of the plots?
A great number of people are booking their slots in the City on daily basis. After getting the required number and when people will complete their documents then hopefully then they will start giving possessions through balloting.
Whether this project is suitable for short-term investments or long-term investments?
One can definitely go for a long-term investment when it comes to real estate. Any piece of land makes it worth the passage of time. As far as This Smart City project is concerned, it is completely based on the internet. As its name represents it will be smart with unique features. So, it is definitely a long-term investment because the world is moving toward Artificial Intelligence. With this perspective, it will surely give an advantage in the long run.
Conclusion
The Lahore Smart City holds 20,000 Kanal of land along with an approved NOC (No Objection Certificate), which offers the entire necessary living facilities. The Executive Block and the Overseas Block each have their own distinct efficacies. So, yes! You can say the homes in the Overseas block are a touch more expensive, but still reasonable and in demand.