Subscribe to RBS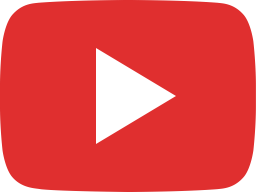 Lahore Smart City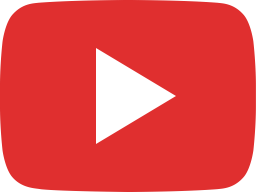 Lahore Smart City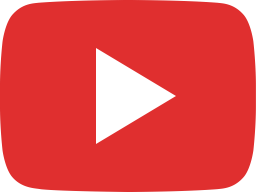 Lahore Smart City Villas | Latest Development Updates | Posessionable Plots | RBS

Lahore Smart City Overview
Lahore Smart City seems to combine nature and human effort, and it is set to become Pakistan's second smart city constructed with international infrastructure standards. The best investment chance for all investors is the Lahore smart city, which offers a contemporary lifestyle, the best architecture, cutting-edge construction, an eco-friendly environment, superior town planning, as well as a futuristic setting.
A smart city is designed around the concept of environmentally friendly, sustainable, and digitally connected urban development. Additionally, the general public would have access to all of life's civic amenities as well as a sustainable urban lifestyle in this smart metropolis. It is a place of elegance that supposes to be the finest housing development in Pakistan's Lahore.
Owner & Developers
This masterpiece was developed by Habib Rafiq, Future Development Holdings, and Surbana Jurong (SJ). These companies have introduced numerous significant national and international projects and are experts in their fields.
In addition, due to their exceptional dedication, confidence, and perseverance, these developers have established themselves as major players in the real estate sector. They completed well-known residential projects like Capital Smart City, Bahria Town, DHA, and others. LSC developers are as follows:
Future Development Holdings Limited (FDHL)
FDHL is another market-leading construction as well as asset Management Company in Pakistan. Additionally, they have contributed to the development of many smart cities that not only provide the best quality living standards and luxurious lifestyles to their valued clients but also the best investment chance for them to make large profits.
Habib Rafiq Limited (HRL)
Habib Rafiq is the top construction company in Pakistan. It has been serving in the real estate field for the past 5 years. Moreover, their excellent performance has earned them high recognition, and they have achieved a lot in their respective fields.
Surbana Jurong (SJ)
Surbana Jurong is a government-owned company founded in 2015. SJ is one of the finest development companies in Asia, and also it will now put its skills to use in the infrastructure of Lahore's smart city as a master planner.
A comprehensive range of facilities is included in the project master plan to provide profitable business options. Additionally, there are many living and recreational choices in the developing Islamabad region with its expanding economic possibilities.
The project is being promoted internationally in Italy, the USA, and the UK by well-known realtors including
Royal Overseas Solutions
Lion Home Design & Build
Dreamland Marketing Pvt. Ltd.
PK Marketing International
Overseas Marketing Group
Masters Real Estate
The Lahore Smart City is also promoted locally by renowned and experienced marketing firms like:
Property News
RBS Real Estate and Builders
Tajarat Properties
Sky Marketing
Aura Islamabad
Haider Associates
Mohyuddin Estate
Top Solution Lahore
pk Lahore
Estate Web Islamabad
Bismark Realty Lahore
Havalian Estate Lahore
No Objection Certificate (NOC)
The legal status of any society is the main concern of investors and the general public. Legal societies have more investment potential and growth because investors attract them at a very large scale. Moreover, the NOC of Lahore Smart City is approved by Lahore Development Authority (LDA). The society has all the legal rights to start the development work. Further, before investing in LSC you can check its NOC status from the official website of LDA.
NOC Granted by NHA to connect Lahore Smart City with Ring Road
The National Highway Authority (NHA), in accordance with letter no. NHA/ROW/NOC-P/2023/33 dated August 15, 2023, authorizes Lahore Smart City (LSC) access from Ring Road. Hence, Habib Rafique Pvt. Ltd. and Future Development Holdings Pvt. Ltd. developed it as an LDA-approved project.
Lahore Smart City Location Map
The location of Lahore Smart City is ideal and has multiple entry points. It is located on the bypass of Lahore, close to Ring Road, GT Road, Kala Shah Kaku, and the CPEC route. Schools, shopping centers, marketplaces, as well as food outlets encircle this housing community, making it simpler for you to meet your needs.
The main factor that adds value to any housing endeavor is location. Moreover, before making any investment homeowners or investors always consider society's position into account. They search for a location where all the necessities can be found with ease and are conveniently located near the city's best sights. Nova City Islamabad location is also ideal and easily accessible from various nearby societies. You can also see the Lahore Smart City map below:
LSC Accessibilities
Lahore Smart City is easily accessible through the following ways:
It is located on Lahore Bypass
It is just a 4 min drive away from the main G.T road
It is just 9 min drive away from M-11 Motorway
It is almost 9 min drive away from M-2 Motorway
Moreover, it is 19 min drive away from Lahore Ring Road L-20
Almost 11 min drive away from Kala Khatie Narang Mandi Road
Further, nearly 30 min drive away from Allama Iqbal International Airport
Landmarks nearby LSC
Lahore Bypass
M-11 Motorway
University of Engineering & Technology – KSK Campus
GCU, Lahore KSK Campus
SUPARCO (SCF-L)
Lahore Paradise Housing Scheme as well as Iqbal Garden
Sher-e-Bangal Labour Colony
UHS Jinnah Campus Kala Shah Kaku
Ferozwala
Lahore Smart City Master Plan
The LSC is a well-planned housing society developed according to the international standards of a smart city. The master plan of Lahore Smart City is skillfully designed by a highly expert team. Moreover, society consists of multiple blocks and districts.
LSC Total Land
LSC will be built on 20,000 Kanals. In addition, the builders have finished a master plan for this housing society that will offer smart facilities of the highest international standards in a housing project that will be on par with other smart cities around the globe.
Blocks of Lahore Smart City
LSC consists of two blocks
Executive Block
Lahore Smart City executive block mainly targets the local Pakistani residents. It is equipped with all basic as well as modern amenities that make people's life easier. Moreover, residential plots available in the executive block are:
5 Marla
10 Marla
1 Kanal
4 Marla (commercial)
8 Marla (commercial)
Overseas Block
The overseas block of Lahore Smart City is specially designed for overseas Pakistanis. The purpose of this block is to meet the housing needs of a Pakistani living in abroad. Additionally, the block offers luxurious facilities to its residents at affordable rates. The following residential, as well as commercial plots, are offereing in Lahore Smart City overseas block.
5 Marla
7 Marla
10 Marla
12 Marla
1 Kanal
4 Marla (Commercial)
8 Marla (Commercial)
Lahore Smart City Districts
The following are the districts available in Smart City Lahore.
LSC consists of two blocks
Sports District
The Lahore Smart City sports district offer sports facilities to its residents. Moreover, the amenities offered in the sports district are:
Retail
Race track
Cricket stadium
Football stadium
Food & beverage
Residential apartments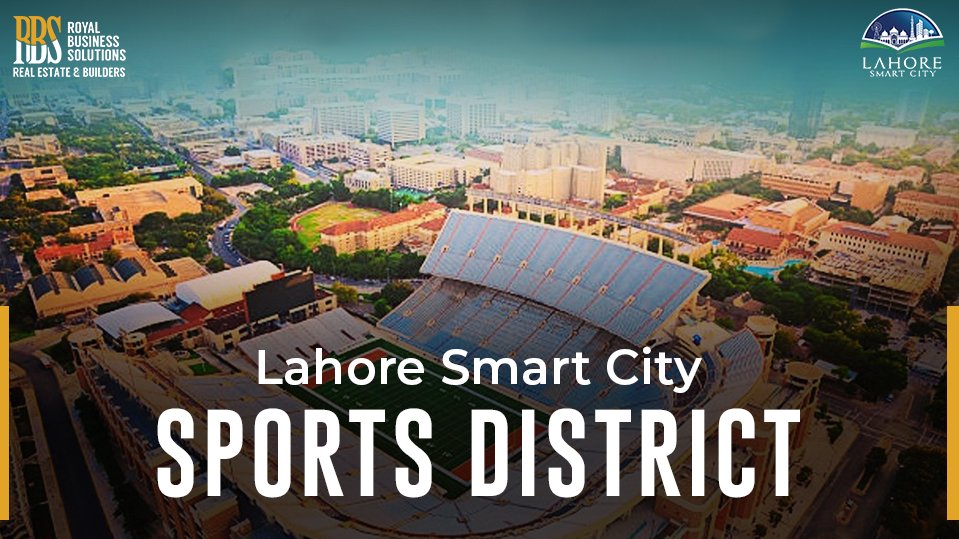 Education District
As its name suggests, the Lahore Smart City Education District is specifically design to cater to the diverse educational requirements of the city's citizens. Moreover, the district mainly consists of educational institutions, training centers, and research facilities that help people stay aware of their skill sets.
Schools
Colleges
Universities as well as Medical colleges
Daycare centers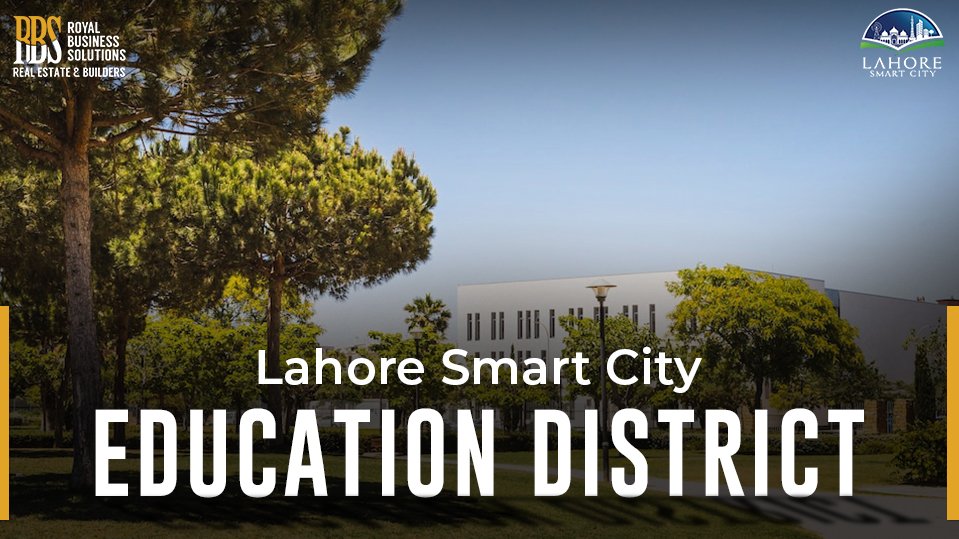 Lahore Smart City Theme Park
With the addition of a theme park, LSC has become Pakistan's most desirable spot. A bird park, food and beverage businesses, a vacation resort point, and retail services are some of the theme park attractions. Further, the following are the facilities available in the theme park district.
Retail
Bird Park
Holiday Resort
Food as well as beverages
Street food truck park
Lahore Smart City Silicon Valley
Retail
IT campus
Warehouse
Corporate offices as well as Technology operational offices
Residential apartments
Health Care District of Lahore Smart City
In addition to offering residents access to healthcare facilities, the Lahore Smart City Healthcare District will give residents and enterprises possibilities to improve their healthcare facilities and maintain society's health. The following features are available in this district:
Clinics
Hospitals
Laboratories
Why Smart City?
Lahore Smart City is designed to be smart in the truest sense. Every design, every plan, every development, as well as every operation. The society's concept is smart because it will be Pakistan's only truly smart city after Capital Smart City in Islamabad. Moreover, the Lahore Smart City is the best investment opportunity in Lahore because of its cutting-edge architecture, convenient amenities, and affordability. Here are some examples of modern amenities in society:
Face recognition technology combined with CCTV provides foolproof security.
Free, intelligent, and sustainable electrical system with load shedding
System of command and control
Intelligent traffic management
Automatic traffic management
Intelligent street lighting
Wi-Fi hotspot for free
Smart parking
Bike electric
Public parks
Commercial Block – Lahore Smart City
The LSC management initially concentrated on the residential plot categories at the time of launch, but a few months later they declared the launch of commercial plots as well. The most desired land in the market is the commercial block in Lahore Smart City, and finally, the relevant authorities have introduced commercial plots.
When compared to nearby societies, the management of Lahore Smart City has launched 4 Marla and 8 Marla plot categories in the Commercial Block at reasonable prices. Moreover, property insights predict that this business block will soon be sold out because so many different types of buyers are interested in commercial investments in this society.
Both the Overseas Block and the Executive Block have commercial plots that are now open for booking for local and foreign Pakistanis. In addition, the registration price for a 4-MarlaMarla plot in the Overseas Block is currently 945,000. The price for a 4-Marla plot in the Executive Block is 895,000, according to the LSC Commercial Block Payment Plan. In a similar manner, 8 Marla sections in the Executive Block and Overseas Block each cost $1,745,000 and $1,795,000, respectively.
Further, to purchase a commercial plot you have to pay 14 installments overall, which is manageable. LSC Commercial is undeniably a great success.
Lahore Smart City Villas
The following are the types of villas in LSC listed below:
Contemporary Villas
Georgian Villas
Mediterranean Villas
1. Contemporary Villas
Contemporary villas are extremely attractive and beautiful. Although, the villas are furnished with all of the latest and modern comforts to provide you with the high standard of life you deserve.
The LSC contemporary villa sizes are listed below:
5 Marla Villas
10 Marla Villas
1 Kanal
2. Georgian Villas
Georgian villas are yet another design of smart villas that will constructed in Lahore Smart City to offer luxurious residences for trendy living. So buy this villa and experience a new era of lavish lifestyle.
The Georgian Villa sizes in LSC are:
5 Marla Villas
10 Marla Villas
1 Kanal
3. Mediterranean Villas
Lahore Smart City Mediterranean Villas is a great option for investors if they want access to both entertainment and convenience. Moreover, the Mediterranean villas are incredibly beautiful and offer elegant designs with top-notch amenities.
The LSC Mediterranean Villa sizes are listed below:
5 Marla Villas
10 Marla Villas
1 Kanal Villas
Payment Plan of Lahore Smart City
Payment plans for the Lahore Smart City are quite reasonable; the payment plan for this housing project includes a 10% down payment with simple installments. Furthermore, bookings are now open for the Lahore Smart City plot for sale.
Overseas Block
Executive Block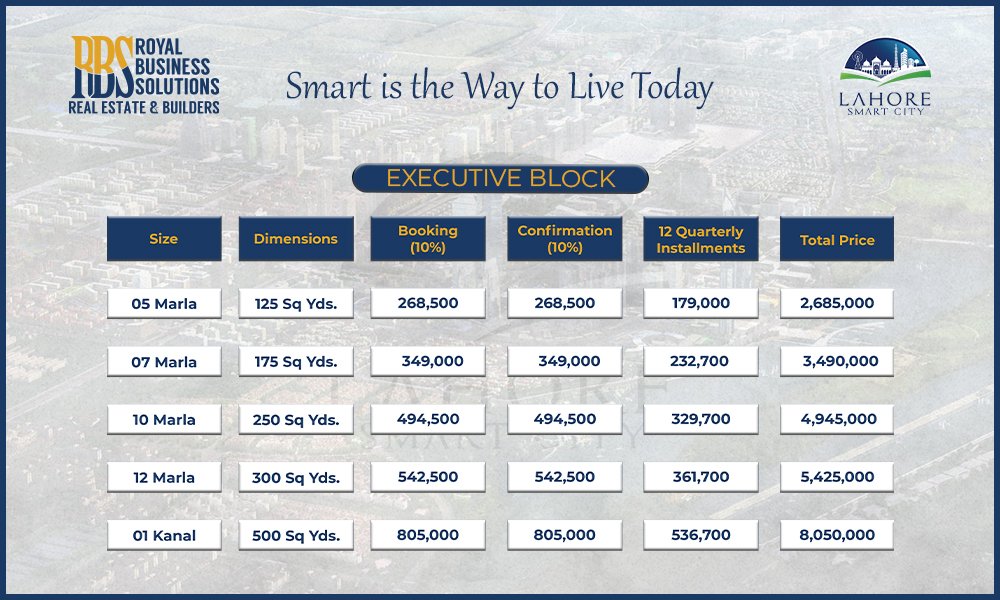 Lahore Smart City 3.5 Marla Harmony Block
Harmony Park Lahore Smart City is the latest block of Lahore Smart City (LSC), the 2nd smart city in Pakistan. Moreover, it offers 3.5 Marla residential plots. The 3.5 Marla plot size is a perfect option for low-income investors to fulfill their dream of living in a luxurious housing society.
Payment Plan
The payment plan of 3.5 Marla Harmony Park Lahore Smart City is quite reasonable with a 3.5-year installment plan. Moreover, Lahore Smart City 3.5 Marla residential plots for sale are available. So, you can now book your 3.5 Marla residential plots by paying a 20% down payment.
Booking Detail:
Total price Rs. 1,850,000/-
Dimensions 20X40 or 90 square yards
Down payment Rs. 370,000/-
14 quarterly installments Rs. 105,714/-
3.5 Marla Harmony Park Latest News
The developers of the Lahore Smart City successfully launched 3.5 Marla Harmony Park Lahore on 11th June 2023 in a grand event. In addition, the event also included the grand balloting of the Overseas One and Executive One blocks.
Development Partners
The development partners of various societies play a significant role in taking part in the development of societies. The society has several development partners, such as:
Trivelles Smart Homes
Trivelles Smart Homes in Lahore Smart City Islamabad will be offered with all the plush amenities. Trivelles Smart Villas Group is a UK-based property development company and has vowed to provide homes at affordable prices with grandeur.
National Defense University
National Defense University (NDU) and Capital Smart City signed an agreement on December 3rd, 2018, for the development of a world-class university with the name "Education City". Almost 10,000 Kanal of land area has been reserved for this purpose. Moreover, this will serve as an academic hub of the housing society.
Harradine Golf
Don Harradine founded Harradine Golf in 1929. He has constructed, designed, supervised, modeled, and constructed a huge number of 200 world-class golf courses all around the earth. Additionally, these golf courses can find in Europe, the Middle East, Asia, and Africa.
Movenpick
Mövenpick Hotels & Resorts is an internationally recognized hospitality firm established in 1940. Now, it runs a chain of worldwide hotels and resorts. It is also known for its luxurious yet affordable chain of hotels with a hospitality heritage and Swiss legacy.
ESA
ESA's Partnership Projects provide the satellite communication industry to launch advanced space-based products onto the market. Finally, ESA has put various Partnership Projects into action through its Advanced Research in Telecommunications Systems (ARTES) initiative.
International Medical and Research Institutes
In Lahore Smart City's health district, the first-ever smart International Medical Research Institute (IMRI) has officially opened. Furthermore, the facility is envisioned as Pakistan's Harvard of the future, with top-notch medical resources and a mission to serve people from all walks of life.
Freij Entertainment International
Lahore Smart City Islamabad Residential Society and Freij Entertainment International have joined hands to establish the most entertaining facilities in the housing society premises. However, the CEO of Freij, Mr. Freij El Zein, signed a MoU with CSCI on 23rd Oct 2019 to develop an entertainment complex in close collaboration with the FDHL.
Several Design Consultants
The following design consultants worked with the developers as well:
Harradine Golf
More than 200 golf course projects have been developed, built, renovated, and overseen by Harradine Golf in Europe, Africa, Asia, and the Middle East. Harradine Golf always seeks out green solutions and designs courses for golfers, not impractical eco-monuments. However, a golf course must be part of a place like a heart transplant; the site cannot reject it.
Troon Golf
Although, Troon Golf is a well-known and reputable golf management organization that runs golf resorts and courses all around the world. Furthermore, it was founded in 1990 and has its corporate headquarters in Scottsdale, Arizona.
Key Features
The key features and aspects of Troon Golf include:
Global Presence
Course Management
Hospitality and Services
Tournament and Event Management
Membership Programs
Environmental Stewardship
Technology Integration
Golf Coaching
DSA Architects International
DSA International is a prominent architectural firm that offers management and multidisciplinary design consulting services all over the world. Also, delivering sustainable developments that address projects' undesirable environmental and social implications is crucial to DSA.
Designmen Consultants Engineers Pvt. Ltd
Designmen Consultants Engineers Pvt. Ltd. was established in 1982. Moreover, it is a dynamic and innovative engineering consultancy firm that specializes in providing comprehensive design, engineering, and project management services.
Key Services
Architectural Design
Project Management
Civil and Electrical Engineering
Mechanical and Electrical Engineering
Environmental and Sustainability Consulting
Cracknell Landscape, Architecture & Planning
Cracknell was founded in 1987. It is a multidisciplinary design production that has won awards and has a strong focus on architectural design, urban planning, and landscape architecture. They provide architectural and planning services as well as innovative and sustainable landscape designs as their areas of expertise.
Smart City Lahore Booking Procedure:
You can book the plot in LSC in two ways such as
Documentation Requirement for Booking:
Royal Business Solutions (RBS) has provided excellent services and facilities to its clients since 2014. So, it is essential to inquire about the latest documentation requirement for booking. You can also book residential and commercial plots in other projects such as:
The documents required to buy property in LSC include:
Two passport-size Pictures
NICOP for overseas clients
Two copies of the National Identity Card
Two copies of the I.D. card of your next Kin
Manual Booking
Follow the following steps for manual booking:
Print the application form and carefully fill it out.
Or, you can become a Smart Member of the smart city and also send the booking form online via e-form.
Further, directly or automatically, send the down payment and the processing fee.
Alternatively, you can transfer the funds using interbank transactions at various banks, such as:

United Bank Limited
Askari Bank Limited
Smart E-Booking Procedure
Join the LSC as a Smart Member by completing the online process.
You can also make the down payment online using a MasterCard or Visa Card.
You can also transfer the funds using interbank transactions at the above-mentioned banks.
Lahore Smart City Application Form
To download the application form go to the official website of LSC and download it. Then attach the following documents with the application form.
Passport size photo
A copy of the passport or CNIC
Also, a copy of NICOP
Copy of payment receipt
Screenshot of an online payment slip
Lahore Smart City Membership Form
Below is the membership form for LSC
Registration Form of LSC
Following is the registration form for LSC
Possession Fees/Charges in Lahore Smart City
Possession charges in LSC are:
Transfer Process of LSC
The following is the regular transfer process:
Request the "No Demand Document" and then wait.
Clients must provide legally paid SOD and transfer documentation to the transfer officer to arrange a transfer meeting.
The transferring officer will make a transfer appointment.
Moreover, both the seller and the buyer must appear at the transfer branch to complete the transfer procedure.
To pick up the transfer letter, the customer must show up at the CNIC on the scheduled day.
An urgent transfer is also possible after paying the transfer fee.
Lahore Smart City Possession Allotment
Sectors A and B possession rules have been announced
Policies & Public Notices for LSC
The public and private notice announced by LSC is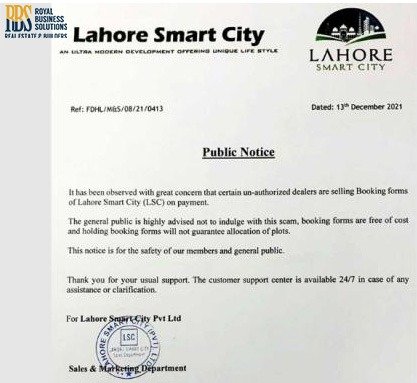 Frequently Asked Questions (FAQs)
Who are the developers of LSC?
Ans. HRL, FDHL, and SJ are the developers of Lahore Smart City.
What is the total area of LSC?
The society spans over 20,000 Kanals of land.
Is Lahore Smart City a legal housing scheme?
Yes, it is a 100% secure housing society approved by LDA.
Are plot prices affordable in this society?
Yes, it is an affordable housing project with an easy installment plan.
Where is LSC located?
It is located on the ring road near G.T road.
What is the contact number of the LSC head office?
Is LSC a good investment?
Yes, no doubt, it is the best investment project in Lahore.
Does LSC have the potential to provide a good yield on investments?
Yes, families and small investors can afford the Lahore Smart City payment plan. Consequently, the likelihood of high-yield financial returns will increase.
What are the payment options for LSC?
The booking can be done manually as well as online.
What is the Lahore smart city e-tracking facility?
With the help of the LSC e-tracking service, investors can keep a closer eye on the progress of their applications online.
Conclusions
Lahore Smart City is a great place to invest because it not only has a great location but is also approved by the concerned authorities. People can invest here without worrying about legal issues, and their online booking process is also quite straightforward.
The LSC will maintain its worth over time because it provides smart amenities that is previously unavailable from numerous newly developing housing societies. Because of the features it offers, this housing community will change the real estate market in the country.
Furthermore, in addition to their extensive experience in the real estate market, the developers are also actively participating in a project of a similar nature in the country's capital. What sets this society apart is its reputation as one of Lahore's best-planned societies. This distinction is primarily attributed to their collaboration with international firms and consultants such as Surbana Jurong, who played a pivotal role in assisting with the planning and development processes.
We highly recommend this as a golden opportunity for investors to invest in Lahore Smart City. Moreover, if you want to learn more about other profitable real estate projects, check out Hawks Melbourne, and Countryside Farms.
For queries or further details contact RBS Real Estate and Builders. We'll be happy to assist you.