Introduction to the Lahore Smart City
Lahore Smart City makes its way to discover the tremendous marvels of nature and humanity. The splendour of architecture, the grandeur of urban living, an intelligent lifestyle, contemporary construction, and cutting-edge town-planning, design, and civil engineering are the foundations of our society. According to worldwide criteria created for the infrastructure development of global smart cities, Lahore Smart City is on track to become Pakistan's second smart city. A smart city is based on the concept of digitally connected sustainable and environmentally friendly urban development. This smart city would offer the general population with a sustainable urban lifestyle as well as all of life's civic utilities.
Lahore has been a city rich in history, arts, culture, and architecture. With the introduction of the Lahore Smart City (LSC) Project, the city will continue to be adorned and ornamented with the contemporary and aesthetically pleasing architecture of this iconic master-planned project.
Why to Invest in Lahore Smart City?
Lahore Smart City is an excellent blend of commercial and residential complexes. Future Development Holdings (FDH) has planned a new but inexpensive housing neighbourhood in Lahore. On the other hand, that is a societal provision along with cutting-edge luxuries. These facilities are a dream come true for Lahore residents; tranquillity, security, and environmentally friendly practices coexist. Furthermore, they collaborate with the world's most incredible developers, architects, and planners.
Furthermore, Lahore Smart City has golf clubs and grounds developed by world-renowned and skilled architects. Including 18-lane boulevards, safety and efficiency are on the rise. It will make no difference what time of day you visit because the entire area is nicely arranged with plants and well-lit. Lahore is a renowned and scenic tourist destination in Pakistan. It is Pakistan's epicentre, with numerous attractions such as high-end living and high-class lifestyles. Surbana Jurong (Pvt.) Ltd. has launched the Smart City in Lahore to improve the quality of life in Lahore by constructing a magnificent and huge Smart City.
Owner & Developers
The owners and developers of a housing development project are significant for several reasons, including early development quality and a dedication to on-time delivery. The development of Lahore Smart City is a joint venture between two private companies, namely Habib Rafiq (Pvt.) Limited and Future Developments Holdings (Pvt.) Limited. Both of these firms are experts in their respective fields. HRL is widely recognized as the preeminent real estate development company in Pakistan. HRL is responsible for developing various notable projects, the most significant of which are Bahria Town, DHA, and Motorway.
Moreover, Capital Smart City that is 1st smart city of Pakistan is the mega project developing under the surveillance of HRL & FDH.
About Future Developments Holdings (Pvt.) Ltd
Future Developments Holdings Pvt. Ltd. is also known as FDHL. It's a partner consortium register under the Companies Ordinance 1984. In other words, several national & international firms have joined hands for emergence of the new world's leading organization. It's Real Estate Developer & Asset Management Company operating in Pakistan.
In addition, FDHL believes in creating blend communities. These communities therefore, will lead to international standards of sustainability with powerful economic & professional commitment.
Furthermore, these communities can be built by strategic investments, innovative urban planning & also life cycle asset management. FDHL is planning to launch another smart city in Lahore as well. Moreover, it'll be the identical technology driven infrastructure as brought in Islamabad.
About Habib Rafiqe (Pvt.) Ltd
For the last 10 years, HRL known as a trend setter in the arena of housing & infrastructure. HRL has acquired a top position in the ever expanding real estate development of Pakistan. Meanwhile, HRL presented valuable engineering involvement first time ever when it comes to the development of housing and infrastructure.
Today, HRL stands tall and apart from others because of its hard-earned reputation and trust. Moreover, it has high value of Human Resources and electro-mechanical assets that give distinct edge to HRL over its competitors in the market.
Habib Rafiq Pvt. Ltd. has a rich 60 years heritage in industrial and infrastructure landscape. Its a biggest Infrastructure developer in Pakistan. Also, one of the leading construction company of Pakistan. HRL are known as developers of various finest development projects in Pakistan.
Designer & Development Partner
This Smart City is an iconic project of Lahore city. Along with that, making full use of contemporary technology, it is also the smart city. In order to maximize the efficiency and efficacy of the project, a Singaporean firm, Surbana Jurong, will serve as a Master Planner of Smart City.
Surbana Jurong (Pvt.) Ltd
Surbana Jurong (SJ) is Master Planner for the The Smart City. Its one of Asia's leading urban, industrial and infrastructure consultancy firm. SJ is Singaporean government-owned consultancy company. Moreover, it was established in June 2015. After the merger of Surbana International Consultants and Jurong International Holdings, it came into being.
Furthermore, SJ, by added value with technology and creativity, is offering one-stop consultancy solutions in the arena of urban, industrial and infrastructure. Its the largest Asia-based firms with over 50 years of glorious history in delivering successful project. Moreover, SJ has Human resource of approx. 14,500 employees working in more than 130 offices across the globe.
For project Master Plan, it incorporates a holistic range of facilities to offer lucrative business opportunities. In addition, living and recreational choices in the emerging Islamabad region with growing economic opportunities is also keenly intense.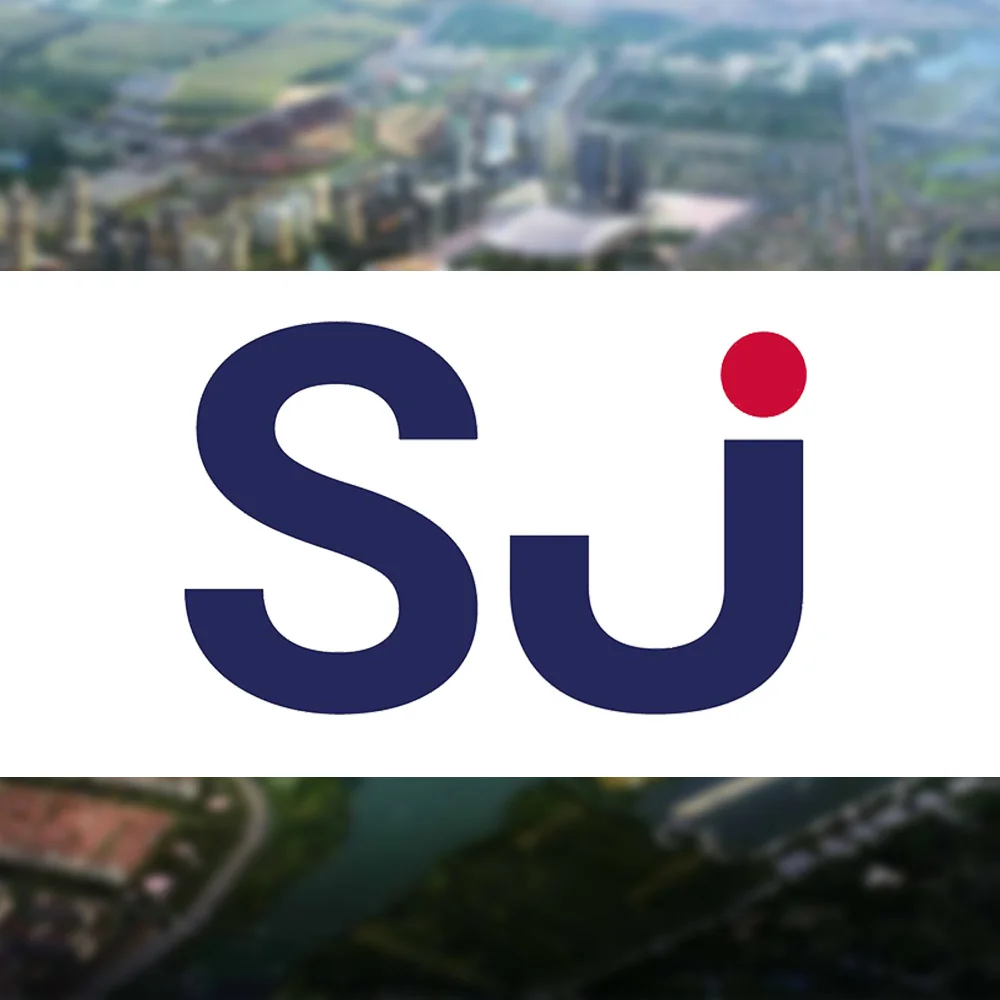 Master Plan of Lahore Smart City
When the Lahore Smart City master plan system was first conceived, the venture designers envisioned the establishment of a high-level urbanized activity; a private society that would give reasonable but competent dwelling spaces alongside innovative and consumer-driven amenities. This Smart project is made with the Township Model Approach in mind. Also, Surbana Jurong has done an excellent job of using the idea of European development to plan this vast project. It gives people a wide range of housing options. According to the enlarged plan, the progress will contain two squares: the 'Executive Block' and the 'Overseas Block.' Each of these divisions will feature private plots of 5, 10, and 20 Marlas. Furthermore, The Formal Area will provide unique property ownership opportunities for genuine purchasers and speculators residing in the country. The Overseas Square, as its name implies, would specifically cater to the venture needs of Pakistanis living overseas.
Districts
Initially, the management has launched 2 districts that are merely reserve for residential purpose. However, other districts will be disclose when the development work underway on them. As per August 7, 2020, two declare districts are:
Executive Block
Overseas Block
Executive Block
Executive Block is kept for Pakistani residents who wish to live a smart life. This block will be do up with all the contemporary amenities that makes life convenient. Presently, plots are available in following category
Overseas Block
Overseas Block is keen to overseas individuals. its most safe and significant investment opportunity of investment for overseas Pakistanis. It especially designed to meet the living standards of overseas Pakistanis. Presently, plots are offering in following category
Facilities & Amenities
The people of the Smart City will live in a modern environment. One of the primary reasons is because LSC provides superior facilities and amenities. Furthermore, by applying cutting-edge technology, it ensures the availability of all smart facilities in Pakistan's second smart city. The next is a list of the amenities that are available in Lahore Smart City:
The residents are united in their support for the development of community mosques. Because the city has so many mosques, it is apparent that people are free to practice their religion.
The primary goal of the developers is to create a sustainable model community. In today's economically uncertain world, environmental stewardship, including green innovation, is more critical than ever.
Eco-Friendly Surroundings:
The project will give residents all of today's conveniences in addition to a lifestyle that is friendly to the natural world and is located nearby. The closeness to nature will give you a once-in-a-lifetime experience that you can't get elsewhere in Pakistan.
The project has made provisions to meet the water requirements of the local community. In order to accomplish this goal, water reservoirs will be constructed to hold a significant quantity of water so that residents may utilize it for their day-to-day activities. Water and power shortages are the most serious problems confronting the general public. Because they are necessities, the neighborhood should have reasonable access to water, natural gas, as well as electricity. Our benefit will appeal to residents and business owners in this society.
Central District for Commercial Activity:
Thanks to the developers, all of the economic and commercial requirements have been satisfied. Because of this, the project will result in the creation of a comprehensive business district. All of the project's inhabitants will be able to meet their commercial requirements if they use these locations.
A feeling of security is essential for the completion of a job. A security system that offers individuals all-encompassing protection, including CCTV cameras and other surveillance equipment that are precisely positioned and operational around the clock. In addition, a boundary wall, including an impregnable security system, will be constructed around the project to have a high degree of safety.
Every housing society should prioritize tenants' health and well-being as a top priority. Furthermore, this housing society guarantees its residents will access the best medical care.
The destruction of society is unavoidable if the majority of its members lack adequate education. However, in today's world, students and teachers can access a wealth of high-quality resources for free.
The several Incredible Sites:
Lahore Smart City offers numerous opportunities for recreation and relaxation. The Philadelphia area has various parks, playgrounds, and zoos for people of all ages to enjoy. It also promotes healthier, more active lifestyles for its residents. This society seeks to fulfil its objectives by encouraging its members to participate in various recreational activities.
Business and Commercial Centre:
All economic and commercial requirements have been met by the creators. As a result, the project will have an all-in-one commercial space. Residents can meet all of the project's commercial needs from these sites.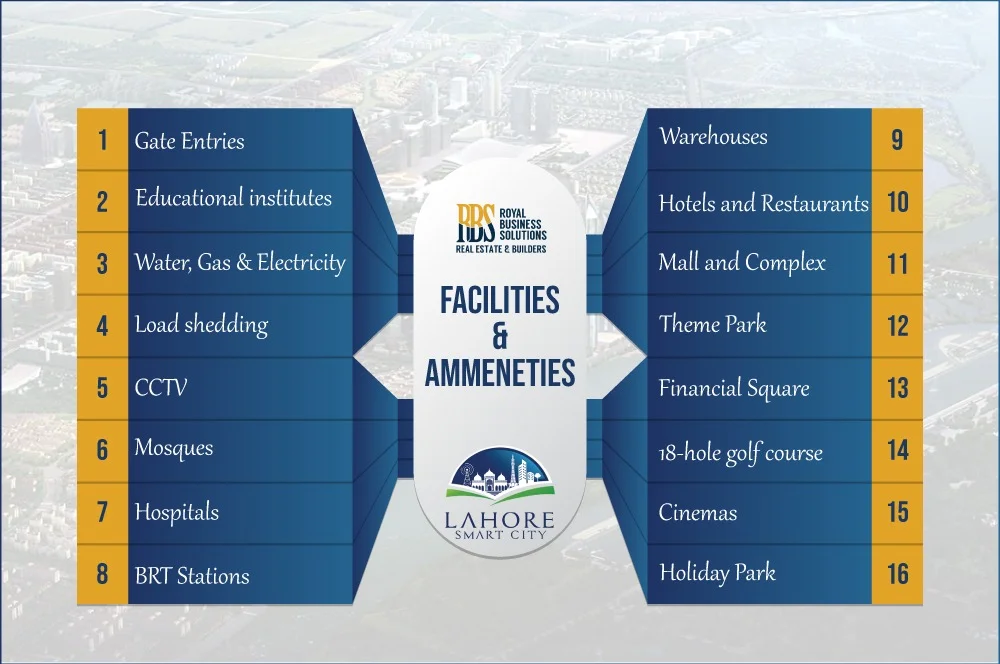 Location of Lahore Smart City
When purchasing a home, everyone desires a place that is conducive to a quiet and joyful existence. Every places a high priority on a location where all of the necessities of life are obtainable in the company of safety. Address and location are among the most important factors that contribute to the value of real estate, and this project provides a perfect position with all the essential living amenities in its vicinity.
Lahore Smart City is situated in a prime position that is readily accessible from several gateways. Located near Ring Road and Grand Trunk(GT) Road Kala Shah Kaku CPEC Route, at Eastern Bypass Lahore, this housing plan is surrounded by various exquisite amenities, marketplaces, malls, restaurants, important housing societies of Lahore, and other key sites. The address of the society's headquarters is 8-C Broadway Commercial DHA Phase 8 Lahore, which is just across the street from Allama Iqbal International Airport Lahore.
NOC and Planning Permission
A No Objection Certificate is advantageous in a real estate transaction. The No Objection Certificate, or NOC, is a critical document confirming a project's legality. As a result, it is a declaration that the agreement and transaction will proceed without legal difficulties. The Lahore Development Authority (LDA) has officially authorized Lahore Smart City. Authorities granted the developers of "Lahore Smart City" a certificate of occupancy (NOC) for a range of reasons. The team works hard to maintain its reputation as a trustworthy provider of a high-quality, feature-rich community.
What is Smart City Concept?
Sophisticated Internet of Things (IoT) technologies in cooperation with the use of information & communication technology (ICT) to transform life and working environments within the region. That automate infrastructure are commonly necessary for a city to be called smart. Additionally, the government should be able to stimulate community participation in advanced service management. Apps and networks, including sensors, collect data on energy consumption, traffic patterns and flows, emission levels, as well as other concerns. The collection of information will utilize to anticipate use and trends. By making the data accessible to everybody via open-access initiatives, individuals and corporations can use the information for various reasons. Smart cities also need leadership with a long-term vision and inhabitants willing to accept change and new ideas. The development of "smart cities" is being monitored by a variety of public and commercial companies and organizations.
On the other hand, in simple words; administrations everywhere are rushing to integrate technology into every sector of urban life. Much of the data its collecting will be fed into an online platform virtually which will offers the administration access to how the city is functioning in real-time. Everyone places a high priority on a location where all of the necessities of life are available in the company of safety.
Consequently, several components work together to create a Smart City:
Innovative Features of Smart City
IT Connectivity
Water Management
Public Transport
Citizen Participation
E-Governance
Power Supply Management
Sanitation
Urban Mobility
Solid Waste Management
Using the Open Systems Interconnection (OSI) paradigm of abstract "layers," the notion of a "Smart City" has been developed. After gathering the data from various sources in a smart city, it goes through the perception and network layers before it finally gets to the application layer. After collecting this information, city application systems can operate the city's various infrastructures more effectively.
Within the perception layer, sensors all across the smart city gather information. Cameras, radio frequency identification devices, and global positioning system receivers are all sensors that might be used to collect this information. The network layer gets information from the perception layer, which is sent wirelessly. It is the job of the network layer to send the data from the perception layer to the application layer. Since the network layer relies on a city's communication infrastructure to transmit data, it is vulnerable to attack and must ensure the security of any sensitive information it collects. Application layer processes network-layer data. The application layer analyses information to make judgments on how to manage the city's physical infrastructure.
The Smart City Application will facilitate the several above-given features to its residents. By using this application, the residents will be at ease because the Smart Application will comprise every possible feature.
The Smart Features
To be the most eco-friendly development in the region.
To promote integrated solid waste management and responsible usage of the resources.
To provide suitable including reliable water supply.
To certify availability as well as reliability of power supply.
To conserve natural resources and ensure zero net loss of natural areas.
To become an attractive city of natural vistas and sceneries.
To become an opportune as well as walkable city.
The most Eco-Friendly environment with world class infrastructure development.
Transport Classification & Electric Bikes For Well-organized & Sustainable Mobility
Load Shedding Free Environment
CCTV With Facial & Object Recognition
Automated Traffic Control
WIFI Spots
Alike Seoul the capital of South Korea; is one of the best example of the Smart City. Seoul is having Smart Economy, Smart Housing including Smart Environment.
What are those features which makes sure that these smart cities are the really smart?

Some of the Real-time examples of Operational Smart City are;
Smart Street Lamps;
Adaptive public lighting dims when no one is nearby and brightens when it detects motion.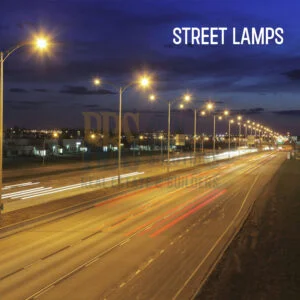 Parking Information;
With Smart City app, drivers no longer have to drive aimlessly around the block in search of a parking place; instead, they can obtain up-to-the-minute details on available parking spaces. At the curb, sensors can detect if a parking place or loading zone is in use by the use of both light and metal detectors.
Garbage Sensors;
Which are compact waste bins with an underground suction network that collects waste via pipes. The automated trash collection not only reduces the noise pollution caused by garbage trucks, but also reduces expenses and eliminates offensive odours.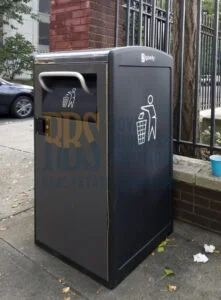 Smart City Classification could not only save a lot of money but also offer ease to its residents by paying proper attention to its operations.
Development Status of Lahore Smart City
The construction of Smart City in Lahore is progressing, and the builders are hard at work creating the ideal venture for their investors. Below are snapshots of the development process;
Why Lahore Smart City is Smart City?
LSC is mainly build on an exclusive Urban-management. Determined to ensure optimum efficiency and control, it also ensures the active participation. In addition, its striving to get advanced Information and Communication Technology infrastructure that will lead to optimized efficiency & services.
Furthermore, the main aim of this mega housing scheme is to uplift the living standards while boosting economic growth in the region. Its a Grade-8 development along with self-sustaining Eco-Friendly approach.
Ideal Elements
Moreover, LCS central idea revolves around the following 3 elements
Smart Housing
Smart Economy
Smart Environment
Details of the elements are here:
Smart Housing
SCL strives to provide quality and up standard living experience. Furthermore, with state of the art infrastructure, it delivers a wide range of services for every person.
Smart Economy
Further, once being operational, this project will expected to be one of the main hubs of economic activities in the region. Presently, it's theorize as mega commercial center in the area.
Smart Environment
The site is enrich in terms of Natural Scenic Beauty and Topography. 30% of total area reserved for natural assets. Moreover, developers also upsurge their efforts in order to avoid the risk of damaging natural scenery.
Smart City Lahore Booking Procedure:
The booking process is very simple. All you need to do is follow the instructions below:
Fill out your booking application form completely.
Attach the Applicant's CNIC Copies
Pay the down payment in the form of a check or money order made payable to "Lahore Smart City," but confirm the management procedure in the event of any modifications.
Management approves cash payments.
Submit all required documents, make payment, and obtain a receipt
Application Form for Lahore Smart City:
On the official website, you can get the application form for Lahore Smart City and send one in. However, you must provide the following documents with your application:
Photographs in passport size
A copy of your CNIC or passport
NICOP duplicate
Payment receipt copy
Image of an online payment slip
Transfer Procedure for Lahore Smart City:
The procedure for Regular Transfer is as follows:
Apply and then wait for the "No Demand Certificate."
To obtain a transfer appointment, clients must submit transfer documentation along with legally paid SOD to the transfer officer.
The transferring officer will make a transfer appointment.
To complete the transfer process, both the seller and purchaser must attend the transfer branch.
The consumer must arrive at the CNIC on the specified day to collect the transfer letter.
After paying the transfer fee, an urgent transfer is also available.
Payment Plan of Lahore Smart City
The project's objective is to provide the tenants hassle-free living, beginning with a straightforward payment plan. The payment plan is also quite flexible because Lahore Smart City is still under construction. Furthermore, the plots are already selling out quickly because of their ideal location and excellent style. According to current trends, it's likely to grow. Now is the time to reserve a plot for you as well as your family in this futuristic living experience. This is also an excellent chance for investors to participate in this project, given interest rates are rising by the day. This arrangement will yield a high rate of return.
However, due to the rapid expansion, Lahore Smart City would fully develop in a couple of years, providing people with a luxurious lifestyle. Currently, 3.5 year quarterly installment plan offered in LSC Price Plan. 10% Rebate on lump sum amount while 5% Rebate on 50% payment.
Lahore Smart City payment plan varies according to plot categories.
OVERSEAS Block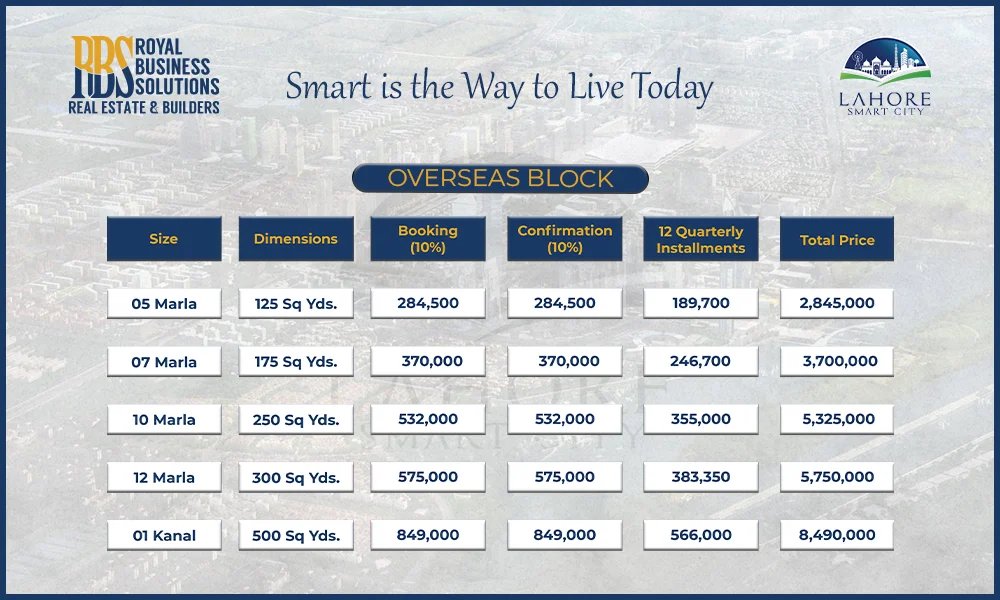 EXECUTIVE Block
The site is intensify in terms of Natural Scenic Beauty and Topography. 30% of total area reserved for natural assets. Moreover, developers also maximized their efforts in order to avoid the risk of damaging natural scenery.
What is the Smart City Technology?
Sophisticated Internet of Things (IoT) technologies in collaboration with the use of information and communication technology (ICT) to improve regional living and working settings.
Features of Smart City Housing society?
Below given are some of the features which are the common Memento to find out that society is Smart;
The most Eco-Freindly environment in conjunction with world class infrastructure development
Transport Classification as well as Electric Bikes For Well-organized including Sustainable Mobility
Load Shedding Free Environment
CCTV facility & Facial & Object Recognition
Robotic Traffic Control
Who are the owners and developers of Lahore Smart City?
The combination of ownership is between the renowned real estate developers HRL and FDHL.
Total Land of Lahore Smart City?
Total Land is 20,000 Kanals.
Is Lahore Smart City a worthwhile investment?
Lahore Smart City is unquestionably the finest opportunity for investors in Lahore.
When did Lahore Smart City start?
The Smart City of Lahore was started in August of 2020.
What is the best way to track Lahore Smart City?
The official website for Lahore Smart City lets you check on your booking.
How to execute the Cancellation of Files process?
The owner must fill out a request form to get the letter of cancellation from the office.
How to Open a File in Smart City Lahore?
Here are some steps to open a file:
Pay the "File Opening Fee" and the "File Opening Application."
Get a new "Statement of Dues," the amount of your deposit, and a "No Demand Certificate."
Deposit documents and begin the file opening process.
Accumulate "File Opening Certificate" on the date and time given.
What is the location of Lahore Smart City?
Lahore Smart City is near the GT Road and the Lahore Ring Road.
Who designed and built Smart City Lahore?
Lahore Smart City is under the supervision of FDH and HRL, and both firms are working together.
How do I book a plot in Lahore Smart City?
To book a property in LSC, you must do the following:
Choose a specific size of property,
Fill in all your information correctly,
Entering the applicant's data,
Type in the amounts,
Use genuine signature lastly.
Does Lahore Smart City offer a high return on investment?
Yes, because the payment plan for Lahore Smart City is easy for families and small investors to afford. So, it is more likely that a high-yield investment will pay off.
What is Smart City Lahore, and how does it diverse to other projects?
Lahore Smart City is a multi-use project that would offer affordable housing. Engineers, architects, and other professionals with years of experience worked hard to make it happen.
Is Smart City Lahore, a legal Housing Society?
The NOC of Lahore Smart City has been obtained by the LDA (Lahore Development Authority).
Is Smart City Lahore a project that is affordable?
Yes, because Lahore Smart City has easy payment plans, there is no doubt about it. The management has been very important in finding a good balance between luxury and affordability.
Conclusions
In a specified span, Lahore Smart City has transformed into one of the most desired real estate developments within LDA authority. Investing in this housing society is entirely legal and secure. Its NOC certification assures this real estate development has access to municipally offered essential utilities. Water, sewage, electrical, and gas services are the fundamental and most essential services that will be given. This Smart City Lahore would be constructed on 20,000 kanals of land. LSC will be the second Smart city in Pakistan. Lahore Smart City residents may anticipate a variety of facilities. Investors will receive a genuine feeling of world standards from this community's gleaming amenities. Lahore's excellent facilities have transformed the city's reputation.