Hawks Melbourne City Rawalpindi
Hawks Melbourne City Rawalpindi
From 1907 to 1927, Melbourne was the capital of Australia also known for the city of gardens all across the world. Since 2002, it has also been ranked as one of the top 3 most livable cities in the world. In addition, it is commonly referring to as the world's sporting capital. Moreover, Hawks Melbourne City Rawalpindi is famous for its diverse culture, good coffee, and laneways covered in graffiti. The developers of Hawks Melbourne City Rawalpindi promise to deliver a replica of this city to the Pakistani people.
Overview of Hawks Melbourne City Rawalpindi
Hawks Melbourne City Rawalpindi is a residential project introduced after being inspired by Melbourne city of Australia. Moreover, Melbourne Hawks will bring the feel and lifestyle of Australia Melbourne to the twin cities of Pakistan. It is an outstanding housing society developed with state-of-the-art amenities. Furthermore, the society states to be the first hybrid energy housing project in Pakistan.
Hawks Melbourne City comes with basic and top-notch facilities to build a luxurious and standard living society. In addition, the societal residents will not only feel the texture of Melbourne city but also get benefit from the latest facilities and premium security. It is said that 'Hawks Melbourne is your gateway to a richer life.
Hawks Melbourne City Rawalpindi Location
Hawks Melbourne is located on Chakbeli Road near Rawat Rawalpindi. Moreover, the society is close to the DHA sector 3, and the main G.T road is also located nearby. In the upcoming days, the society will easily access Ring Road through N-5 Radio Station Interchange as well as from Losar Mor.
Accessibility Routes
Hawks Melbourne is easily accessible from various areas of twin cities such as:
Benefits of Location
Residents of Hawks Melbourne will experience a lasting opulent lifestyle because it is situated in the ideal location and is surrounded by the best neighborhood. Moreover, the housing society would be easier to access after the Rawalpindi Ring Road is built, even from Islamabad's city center.
Owners & Developers of Hawks Melbourne City
This lavish society is led by Black Hawk Builders and Developers. Moreover, Black Hawk Builders are highly expert developers and develop multiple top-quality real estate projects. The main aim of developers is to deliver the project on time and also provision of best facilities.
LOP Information
The LOP of Hawks Melbourne is finally approved by Rawalpindi Development Authority (RDA). Moreover, LOP is a significant factor that increases the worth of any project. Legal Projects highly grab the investors' attention.
Development Status
Hawk Melbourne City Rawalpindi is currently in the initial stages of development because the LOP is approved recently. Throughout the project, earthwork is being done.
Hawks Melbourne City Master Plan
The master plan of Hawks Melbourne city is strategically planned and designed by experienced architects and designers. In addition, the society covers 2500 Kanal of land along with 200 feet wide Main Boulevard. Moreover, the land is splitting into residential, commercial, and apartment sections. Public space and open areas are also part of the master plan.
Sizes of Residential Plots
Hawks Melbourne City consists of various sizes of plots such as:
3 Marla
5 Marla
7 Marla
10 Marla
1 Kanal
2 Kanal
Sizes of Commercial Plots
The society also offers commercial plots of different sizes including
Payment Plan of Hawks Melbourne City Rawalpindi
The plot prices in Hawks Melbourne city are very affordable and easy to understand. The society offers a wide of commercial and residential plots for sale. Furthermore, this society offers 4 years convenient installment plan and great opportunities for high return on investment.
Residential Plots
Hawks Melbourne will allow residents to build a world-class residential neighborhood where people may live their dream lifestyle. Moreover, it is designing and constructing by the top developers in the world. Furthermore, residential plots are now available for sale in the prelaunch phase and come in different sizes, including 5 Marla, 10 Marla, and 1 Kanal.
Following is the residential payment plan of Hawks Melbourne City Rawalpindi.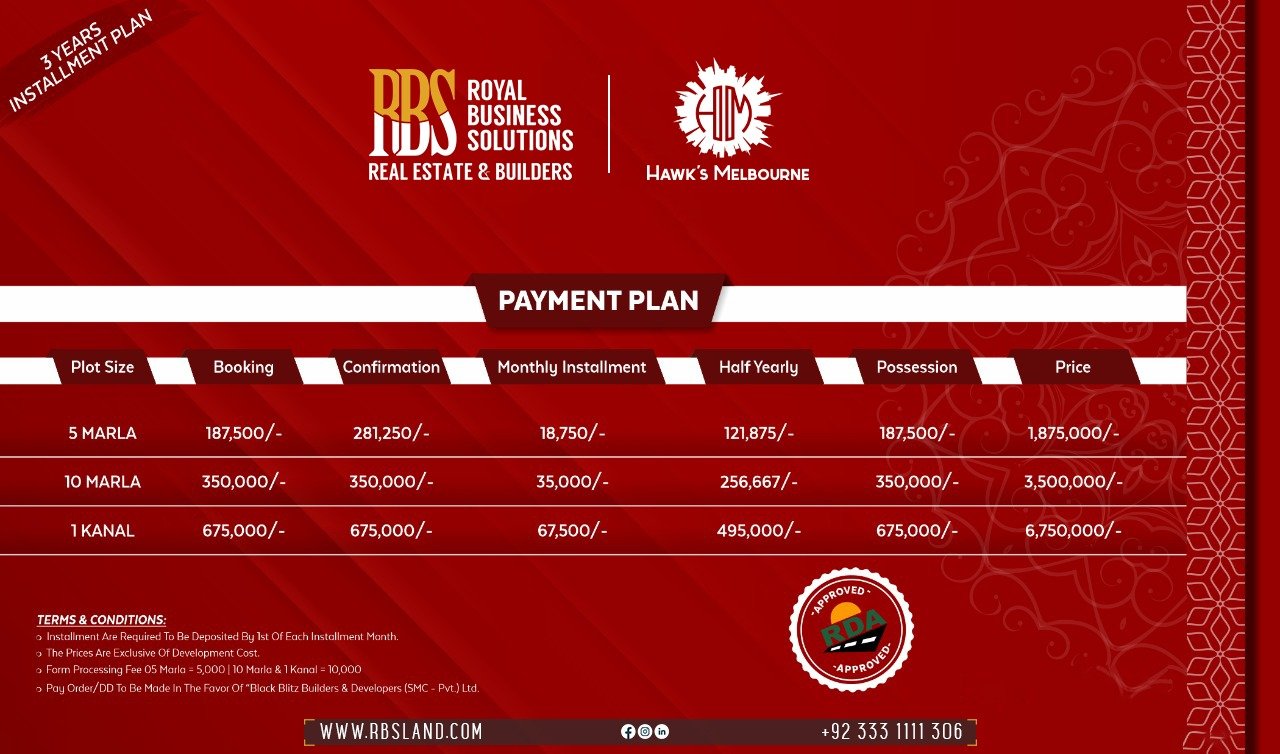 Commercial Plots
Businesses will have the greatest opportunities to boom in the metropolitan city as Hawks Melbourne City Rawalpindi. Commercial plots are located near the residential areas which offer convenience to residents as well as provide chances to flourish in the real estate industry of Pakistan.For more information about other profitable real estate projects, please refer to Gulberg Greens Islamabad.
Features & Amenities of Hawks Melbourne City
The society offers all the basic as well as modern amenities at pocket-friendly rates. Moreover, the following are the amenities available in Hawks Melbourne City.
Grand Mosque
Imam Bargah
Horse riding club
Gated Community
Lush Green Parks and Playground
Hospitals
Educational Institutes like schools, colleges, and universities
Wild Safari
Water Theme Park
Community Center
Open Theatre
24/7 Security and Surveillance
Church
Eco-friendly environment
Tram Transport System
Water Filtration Plants
Maintenance Services
Underground provision of basic utilities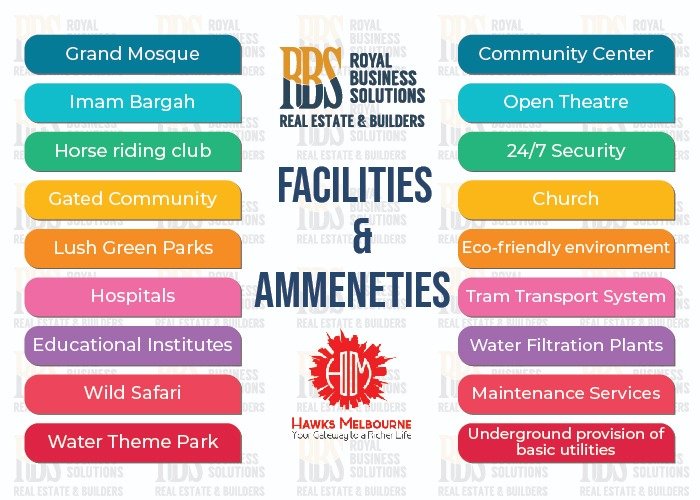 Why choose Hawks Melbourne for investment?
Taking the right decision at the right time is the key to success. Furthermore, Hawks Melbourne is a thoroughly plan society that offers something to everyone.
From an Investor's Point of View
Ideal location on Chakbeli road close to Ring Road
Cost-effective payment plan as well as easy Installment plan
Moreover, no hidden fees and complete transparency in all dealings
High return on investment
Legal investment option that complies with all legal rules and laws
Online document verification
Online payment system
For Residents
World-class amenities
Premium Lifestyle
24/7 hospital facilities and much more
Hawks Melbourne City is aiming to become Pakistan's first Hybrid society. Furthermore, this is a golden opportunity for investors to bring luxurious change in their lifestyles.
Booking Details
For booking purposes contact RBS Land, feel free to get in touch for more information about the society. We are always available and more than happy to assist you!
Moreover, you can book your plot by paying a 10% down payment and 15% confirmation charges against your plot. Monthly and yearly installments plan are available for the ease of people. Furthermore, 15% possess charges are also applicable for transfer of ownership.
Frequently Asked Questions:
Here are the most frequently asked questions about this project:
What is Hawks Melbourne city?
Ans. It's a residential project develop after being inspired by Melbourne City of Australia
What is location of Hawks Melbourne City?
Ans. It is ideally located on Chakbeli road close to Ring Road.
Which types of plots are offering in the society?
Ans. The society offers different sizes of commercial as well as residential plots.
Is Hawks Melbourne City an approved and legal project?
Hawks Melbourne City's NOC is not yet approved by RDA.
Is Hawks Melbourne City an affordable property project?
There is no doubt about it, given the easy 4-year payment plan offered by Hawks Melbourne City. In terms of balancing luxury and affordability, the management has played a crucial role.
Does Hawks Melbourne City have high investment return potential?
Yes, because the Hawks Melbourne City payment schedule is affordable for families and small investors, increasing high-yield investment returns.
How is Hawks Melbourne City's current location mapped?
Hawks Melbourne City is located on the main Rawat-Chakbeli Road near Rawat. You can also check the live location or GPS location of the project on Google Maps.
Who are the developers of Hawks Melbourne City?
Hawks Melbourne City is developed by Black Hawk Group of Companies Private Limited. Ltd.
How do I book a property in Hawks Melbourne City?
We advise you to contact the management of Hawks Melbourne City, but the following are the expected steps to book a property in Hawks Melbourne City
Conclusion
Hawks Melbourne City is an extremely affordable housing scheme that is bringing the ambiance of Melbourne City of Australia to Rawalpindi, Pakistan. Moreover, this is the road to a deeper and more satisfying life than the one you currently lead. The prices of plots are quite ideal for the amenities offering in this amazing society. Furthermore, it would be a great investment opportunity for those people who are dreaming of a Europe lifestyle in Pakistan.
In addition, Hawks Melbourne City having fascinating infrastructure and unique features proves to be an admirable opportunity for those who want to make an investment today and earn a high return on investment. Hence, this is now the chance to make the deal that will benefit you in the future.
Further, if you are looking for more investment options you can check Lahore Smart City, Nova City Islamabad and Countryside farms which are also putting up world-class luxuries at affordable rates.