Introduction To Countryside Farms
A farmhouse is actually a residential concept based on an agricultural site. Farmhouses serve the purpose of carrying out farming activities, including animal poultry and the cultivation of crops. In addition, they serve as an opportunity to enhance socialization among people. With rearing livestock and fertile production, they are a combination of autonomous units in huge domains. These farms have the potential of generating an annual turnover of millions.
Countryside Farms Islamabad is the most innovative farmhouse project in the world of real estate. It aims to provide a luxurious setting with natural surroundings accompanying fresh air, greenery and farming. Moreover, the main goal of the project is to provide a close to nature and hassle-free living to its residents.
Countryside Farms stands out among the other projects in providing world-class amenities including a 350 Kanal Club, an artificial lake, an independent living centre and organic shops. It has a giant business club together with all the advanced amenities. The highlighting features of the society are that it is equipped with a gated community, medical health centres, solar systems and 24 hours security systems. Furthermore, it will be loaded with goat farms for fresh and biological meat, dairy milk, farm hens, organic fruits as well as vegetables. With the theme-based blocks and eco-friendly environment, the project will certainly uplift your lifestyle.
Countryside Farms Owners & Developers
The three most renowned real estate developers collaborated to put forward Countryside Farms. All of those companies SIM Premier Development Private Limited, ZeeDes Designs and Zee Brothers Private Limited carry outstanding portfolios with multiple successful projects. They put together their expertise to develop the project fulfilling international standards. Also, the esteemed developers ensure to turn your dream of quality living into reality.
SIM Premier Development Private Limited:
SIM Premier Development is one of the leading and most entrusted real estate companies. The company offers remarkable services as well as stands out among the crowd of marketing due to its outshining performance. They aim to advance the marketing business and update the industry with all the modern technologies.
Zee Brothers Private Limited:
Zee Brothers Private Limited is a private construction company based in Islamabad. It's a company that started its endeavour in 2007 from the capital with its sub-branches operating from other big cities in Pakistan. Furthermore, Zee limited aims to deliver infrastructure development as well as precise and quality construction.

Subscribe to my channel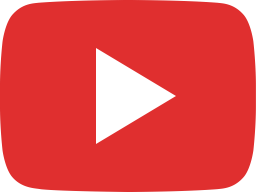 Countryside Farms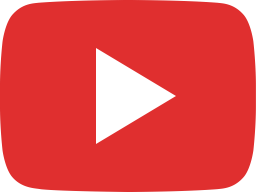 Countryside Farms | Latest Payment Plan 2023 of Countryside Farm House | Development Updates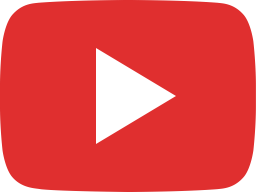 Countryside Farm Houses | Vanchester Block Possession Update | Ring Road

The company has been delivering excellent services for the past 15 years. Not only are the projects given inside of Pakistan but also to overseas Pakistanis.
ZeeDes Designs:
ZeeDes Designs is also a private company that provides the services of designing and modern architecture while using international standards of development. They aim to bring innovation to their work. The company works with the most qualified team of designers and other professionals who have tons of experience. Moreover, their unique and creative designs offer exceptional living experiences with eco-friendly experiences to the residents. The company is well-known for incorporating beauty into buildings.
About the Project: Countryside Farms
Countryside farms house has giant business club together with all the advanced amenities. Equipped with gated community, medical health center, solar systems and 24 hours security systems, are the most preferable societies. As well as loaded with goat farms for the fresh and biological meat, dairy milk farm hen's farm fresh in the company of organic fruits as well as vegetables, fruits are available.
Countryside Farms Location
Countryside Farms Islamabad is ideally located less than a kilometre off of the first interchange of the Ring Road. What makes this location so desirable is the peace that country life brings, away from the hustle and bustle of the city and yet accessible to all major points of the city. From Giga Mall, it is just 14 km away while from GT Road it is just 7-8 km away. Moreover, from Ring Road, it is just 33 km away from Islamabad International Airport.
Countryside farms Islamabad Payment Plan:
Countryside Farms offers quite an affordable payment plan. You can pay the amount on a flexible instalment schedule. You can book the plots for sale in Countryside Farms by consulting the RBS team. In addition, we offer the best real consultancy for our respected customers. You can easily get your dream living at Countryside Farms with RBS at discounted rates. This is a profitable opportunity for you to invest in twin cities. Following is the payment plan of Countryside Farms:
Accessibility
Countryside Farmhouse Islamabad is easily accessible to the following main points of the city:
It is just a 1 minute's drive from Rawat Chakbeli Road.
It is just a 9-minute drive from Grand Trunk Road Rawalpindi.
It is just a 14-minute drive from Kallar Syedan Road.
It is just a 16-minute drive from Islamabad Expressway.
It is just a 15-minute drive from Kahuta Road.
It is just a 51-minute drive from Islamabad International Airport.
Nearby Landmarks
DHA Islamabad
Bahria Town Islamabad
Zaraj Housing Society
PWD Society
PAEC Housing Society
Islamabad Expressway
Zeta 1 Mall
Rudn Enclave
Naval Anchorage Islamabad
Institute of Space Technology
Army Training Institute
Fauji Foundation Hospital
Countryside Farms NOC:
The No Objection Certificate of Countryside Farms is currently in process by the respective development authorities. The society is presently fulfilling the legal process, and got its PP-I which means that it is going to be approved soon.
Countryside Farms Master Plan
The society offers outstanding features at reasonable prices. This project is one of its kind and it is the best opportunity to invest for those who are seeking profitable options.
This project is accommodating the farmhouses of 4, 5, as well as 10 Kanal. The farms stretch at almost 3500 Kanal and are the most luxurious in the twin cities. The society has two main entrances from Basali Road and Chakbeli Road which are 50 feet and 150 feet wide respectively. The new Ring Road Interchange will be just 0.5 km away from the main boulevard of 150 feet. Other boulevards will be 90 feet-120 feet wide while the street will be 50 feet wide. In addition, all boulevards, streets and roads, will be equipped with smart technologies. Furthermore, Countryside farms enriched with luxurious and exotic living standards divides into 5 theme-based blocks. Each block will represent its own unique features based on that theme.
Countryside Farms Winchester Block
Countryside Farms Amazon Block
Countryside Farms Venus Block
Countryside Farms Polo Block
Countryside Farms Royal Block
1. Winchester Block
The Winchester Block of Countryside Farms is based on the theme of shooting. This block offers a designated area for games where kids can have the best time and keep their mental and physical health in place. So, it is the best area for extracurricular activities. Also, there are lush green parks where families can spend a good time.
2. Amazon Block
The Amazon Block of Countryside Farms is based on the Amazon rainforest theme. It will serve the wildlife experience which you have never seen before. The overall jungle theme would be an amazing experience for the residents.
3. Venus Block
The Venus Block of Countryside Farms is based on the theme of an artificial lake. In the natural environment of the block, you can enjoy the beauty of marine life, and relax away from the hassle of urban life. In addition, it is an exotic spot for fishing where a variety of fish can be caught.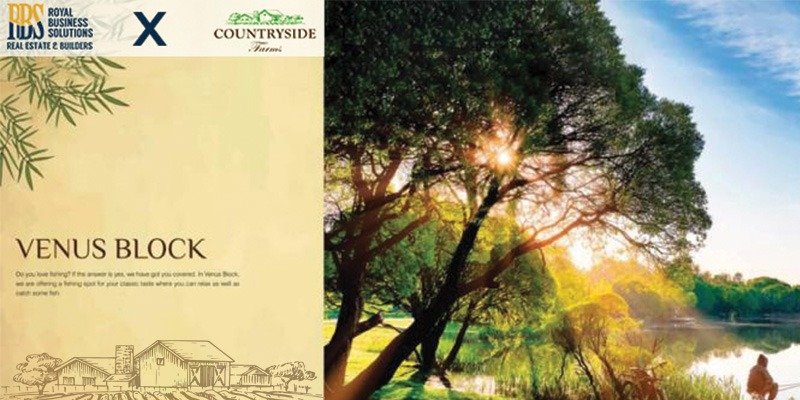 4. Polo Block
The Polo Block of Countryside Farms is based on the theme of polo. The game is played by emperors and kings and this block is designed to bring the same grandiose vibe. Also, this block offers a luxurious setting on a countryside farm.
5. Royal Block
The Royal Block of Countryside Farms is based on the theme of golf. It offers a luxurious Golf Course on 110 Kanal which is heaven for golf lovers. Also, it is a perfect place for you to enjoy outdoor activities. Furthermore, the Royal Block fulfils all international standards.
Countryside Farms Residential Plots
The society offers residential plots in various sizes, which are as follows:
Countryside Farms Commercial Plots
There is also a designated commercial area in Countryside Farms which has plots of 5 Marla. The commercial sector includes the following:
6. Country side farm house Royal Business Club:
The most prominent and luxurious feature of Countryside Farms is the provision of business clubs that spans an area of 350 Kanal. It offers the most premium amenities in the twin cities. Also, you can have an annual or lifetime membership to avail the most amazing offers. This club aims to enrich your lifestyle at affordable prices. Following are the activities which are offered by the club:
A business club with numerous special facilities including:
restaurants

gym

tea coffee bar

swimming pool

sports complex reckoning table tennis

Snooker

Squash

Badminton

basketball courts

Bowling

3d gaming zone

car racing tracks

community center
In addition to farmhouses, Countryside Farms also offer residential towers which are low-cost and offer 5 Kanal apartments. The residents of residential towers can also take advantage of the luxurious features of the society.
Amenities OF COUNTRYSIDE FARMS:
100-150 meters from main road.

Streets are around 50 feet wide.

Underground sewerage system

Electricity supply

3 km front on Ring Road

1.2 km from Bassali road
Exceptional Amenities:
Countryside Farms is offering some state-of-the-art amenities which cannot be found in any other society.
Malik Zahoor Grand Jamia Mosque
Countryside Farms presents the finest piece of architecture in the form of Malik Zahoor Mosque. It has an exceptional interior which beautifully portrays the amalgamation of Islamic and Mughal structural design. Also, the mosque can accommodate almost about 80,000 people at a time. Furthermore, it is centrally air-conditioned and offers an exceptional spiritual experience.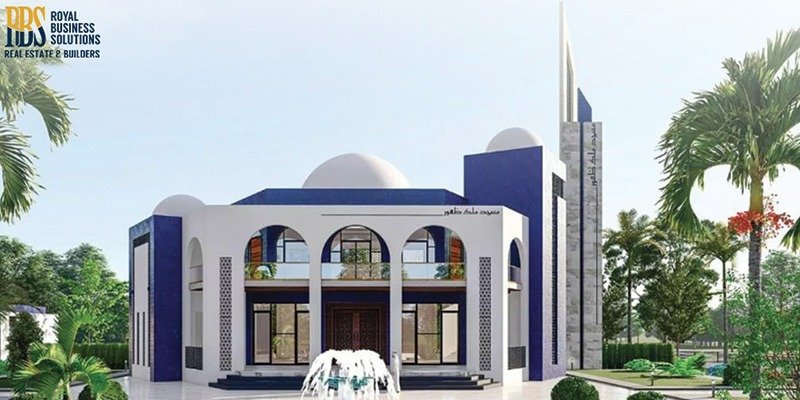 Central Library
The society also has a Central Library which has a wealth of almost 50,000 books. In addition, it has a dedicated Islamic Community Centre for religious gatherings and learning.
Organic Shop
Countryside Farms is an amazing offer for its residents. Any organic product including meat, vegetables, fruits, milk or eggs produced at the farmhouse, can be sold at the organic shops in the society. In this way, not only fresh organic products would be available in the society but also the residents can generate good revenue.
Artificial Lake
Countryside Farms introduces the concept of artificial lake in the society. It would be a well-organized and clean lake where you can find a variety of fish. The water feature of the lake is good for your well-being. You can also take a walk around the lake and have your best time.
The society also offers an independent living center for disabled people. Countryside Farms will be the first housing scheme to provide a better life for physically impaired people. This is a project where disabled people can live a normal life through modern equipment. This way disabled people would feel more empowered.
Birds Aviary
In addition to other innovative concepts introduced by Countryside Farms, it also presents a birds' aviary where you enjoy the sweet chirping of exotic birds. It can enhance your leisure time and make you feel closer to nature. The aviary will attract birds from all over the globe to create a beautiful scene of countryside.
Open Gym Area
There is an extensive area which is reserved for the open gym so that residents of Countryside Farms can enjoy a healthy and fit life. The gym will also be equipped with the ultra-modern machinery in it for the convenience of residents.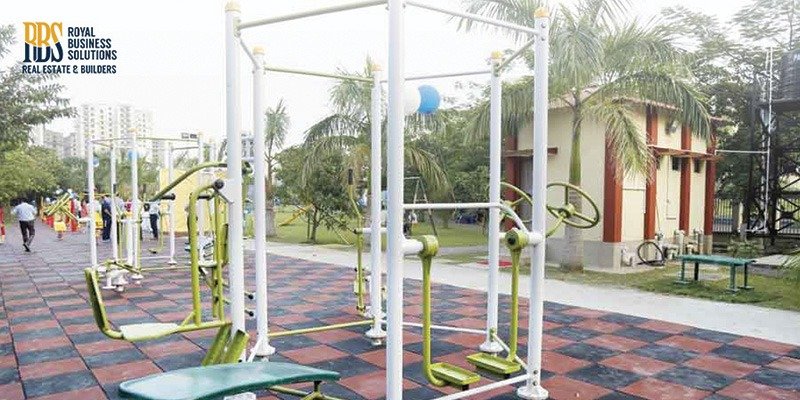 Archery Area
Countryside Farms has also reserved an abundant area for archery and shooting with other outdoor activities. It is the best place for people who like to keep themselves engaged in outdoor activities.
Safari Zoo
An area of 100 Kanal is designated for Safari Zoo by signing an MOU with a South African Company. It would provide an extraordinary experience of an open jungle with a variety of animals moving freely in their own territory.
Water Park
Countryside Farms is introducing the concept of water parks in collaboration with a Turkish company. The park would be an amusement place that will include water play areas such as swimming pools, water slides, water playgrounds, and lazy rivers, where you can float, bathe, as well as swim peacefully.
Community Centre
The society offers a huge community centre for its residents where they can gather for group activities, social support, public information, as well as other purposes. It is also exceptionally embellished and maintained.
Upcoming Projects:
Countryside Farms is all set to inaugurate its new blocks. Following is the detail of those new blocks:
Awami Villas
It is a low-budget block for the people who are interested in small investments. In addition, it offers luxurious single-storey and double-storey villas of 3.5 Marla.
Development Status
The development in Countryside Farms is going in full swing and the development of the majority of the blocks is getting completed. The possession of Winchester Block is starting from January 2023. In addition, the horse riding club will be operational from November 2022.
Countryside Farms Islamabad Booking Procedure:
For booking the plot of your choice, you have to submit the application form which you can download from the official website of Countryside Farms or contact the official management.
For booking, your application form should contain the following documents attached:
2-3 passport-size pictures
2-3 copies of your CNIC and passport
2-3 copies of NICOP
2-2 copies of your payment slip (Printed screenshot in case of online payment)
You can also book residential and commercial plots in other projects such as Capital Smart city, Lahore Smart city, and Nova City Islamabad.
You have to follow the following easy steps for booking the property:
First of all, fill out the booking application form that you have downloaded from the official website.
Then attach the copies of your CNIC.
Furthermore, pay the down payment through cheque or pay order in favour of "Countryside Farms," and get confirmation from the management.
You can also pay cash after consulting the management.
Attach the above-mentioned documents with your payment, and get the confirmation receipt.
Why Invest in Countryside Farms Islamabad?
There are many reasons which convince investors to invest in Countryside Farms. High return on investment is the top most priority of any investor and Countryside Farms offers the best opportunity for investment in the capital. Experts predict that the prices are going to hike soon after the possession starts. In addition, the society is going to be the only one in the city, which is offering luxurious facilities in a countryside setting. Moreover, it offers numerous benefits like being eco-friendly, affordable and world-class infrastructure development. Also, it is located in a prime location with spacious plots and well-known developers. All these features are making Countryside Farms stand out among its competitor societies and making it secure its position above the crowd.
Countryside Farms Latest News
Countryside Farms had its groundbreaking ceremony in March 2022 and development work is going at a fast pace since then. You can also contact the management to ask them Countryside Farms Brochure. RBS is providing thorough information about the project. Also, here is the pictorial representation of what's going on in Countryside Farms:
Price Comparison with Gulberg Greens
If you compare the prices of Countryside Farms with Gulberg Greens Islamabad, Countryside Farms is a much more reasonable option for purchasing farmhouses with a perfect blend of luxury and affordability.
You can buy a 4 Kanal plot in Countryside Farms for just PKR 1.8 Crores while in Gulberg Greens it is available at 5 Crores.
A 5 Kanal plot in Countryside Farms is available at PKR 2.3 Crores while in Gulberg Greens it is priced at PKR 5.75 Crores.
Moreover, a 10 Kanal plot in Countryside Farm will cost you about 4.6 Crores while in Gulberg Greens it is priced at nearly 10 Crores.
Frequently Asked Questions
Following are the frequently asked questions about Countryside Farms Islamabad:
What is Countryside Farms, and how this society is different from the other projects?
Countryside Farms is a luxurious project featuring farmhouses, in a countryside theme. It is designed by world-class architects, town planners as well as engineers and offers exclusive living for the residents at reasonable prices.
Is Countryside Farms a legal project with NOC?
Countryside Farms Islamabad is going to get its NOC soon from the respective development authorities.
Is Countryside Farms an affordable housing society?
Yes, the society offers an affordable property on easy payment plans. In addition, it offers a flexible instalment plan for the ease of residents. The management of the society has paid special attention to balancing comfort and affordability.
Does Countryside Farms has the potential of yielding a high return on investment?
Yes, Countryside Farms Islamabad has a high potential of yielding a high return on investment as the society offers a flexible payment schedule even for small investors. Also, the society is still in the developing stage so it is the best time to invest here as the prices will hike exponentially after its development.
What is Countryside Farms Islamabad located?
Countryside Farms is located at the prime location on Basali Road, just adjacent to Chakbeli Road. Also, it is just 14 km away from Giga Mall.
Who are the developers or owners of Countryside Farms?
SIM Premier Development Private Limited, Zee Brothers Private Limited as well as ZeeDes Designs are collaborative developers of Countryside Farms.
Who is the owner of Countryside Farms Islamabad?
Countryside Farms Islamabad is owned by an esteemed entity.
Is there any fine on the late payments of booking in Countryside Farms?
Yes, you are subjected to a surcharge on the late payments of booking in Countryside Farms. You can check out detailed terms and conditions in the booking form.
Is Countryside Farms a good investment option?
Yes, experts predict that currently Countryside Farms offers the best investment opportunity in twin cities.
What is the official contact number of Countryside Farms?
What is the official Address of Countryside Farms?
Official Address: World Trade Centre Pakistan, Office # 3113, Giga Mall, GT – Road, Islamabad, PK – 46000
Is Countryside Farms Islamabad easily accessible?
Yes, Countryside Farms is easily accessible from the all main points of the city.
Conclusion
Countryside Farms Islamabad is a luxurious housing project which is under development with the aim of providing its residents with an outstanding lifestyle, lavish facilities and a better living experience away from the hustle and bustle of city life. In addition, the society is heaven blending the beauty of nature with safe and secure living. The developers are striving to create a space fulfilling the needs of every individual. It is going to be a community where you can find all delights of life. Furthermore, it offers the most affordable rates with the potential of a high return on investment.