Subscribe to my channel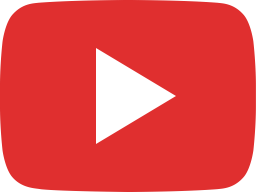 Capital Smart City Islamabad | Trivelles Smart Villas | Why it is called Smart Home? | RBS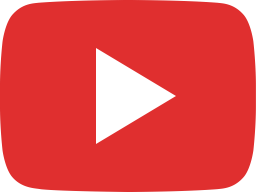 Capital Smart City Islamabad | Possessionable Plots | Limited Plots | NOC Approved | Overseas East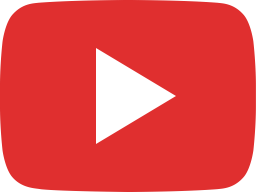 Capital Smart City Islamabad | NOC Approved | Possessionable Plots | Golden opportunity | RBS

Capital Smart City Introduction
Capital Smart City is an elegant and modern housing project. It is Pakistan's first smart city and ranked 4th in Asia. It is quickly rising to the top of Pakistan's most well-known housing societies as a result of its smart features. Furthermore, the idea of a Capital Smart City is based on the collection, archiving, and analysis of real-time data. The project is being constructed by Habib Rafiq and FDHL and is located near New Islamabad International Airport on the Lahore Islamabad Motorway (M-2).
Owner & Developers of CSC
The Capital Smart City Islamabad is a joint venture between Habib Rafiq (Pvt) and Future Development Holdings (Pvt) Limited. Pakistan currently has smart cities that offer amenities equivalent to those found in first-world cities like New York, Copenhagen, Berlin, and Singapore only because of their cooperation. Moreover, they are well-known for their abilities and skills. They have successfully delivered multiple projects in past. They are developers of Bahria Town, DHA in Islamabad & numerous other projects.
Future Development Holdings (Pvt) Limited (FDHL)
FDHL is a significant Pakistani real estate developer and asset management company that works to build futuristic smart cities so that its clients can live opulently and profitably.
It is a group organization founded under Pakistan's Companies Ordinance of 1984. The merging of Engineering Dimensions (Pvt.) Limited (EDL) and China Liaoning International Economic and Technical Cooperation Group Corporation Ltd. (CLIC), two giants of the industry with strong leadership and technical proficiency, created the entity known as FDHL.
Additionally, the aim of developers is to offer modern amenities in residential and commercial areas. These areas are all connected by designated interchanges providing direct access to the crucial Lahore-Islamabad Motorway (M-2) and regions near the China-Pakistan Economic Corridor (CPEC) Route.
Habib Rafiq Pvt. Ltd
The track record of Habib Rafiq Limited in the industrial and infrastructure sectors spans more than six decades. Moreover, it is one of the leading construction corporations in Pakistan and the country's largest infrastructure developer. The development of some of Pakistan's most significant development projects is famous for HRL.
Its successes are a direct result of its ongoing dedication to meeting the demands and needs of customers. Further, due to its quality management procedure, the company also obtained ISO 9000 certification.
Over the years, HRL Group has been in charge of building reputable housing schemes like Bahria Town and DHA in Pakistan, taking full responsibility for these societies' entire infrastructure, including the building of homes, roads, electrical and mechanical work, water storage, gas pipelines, as well as planning services.
Surbana Jurong (SJ)
The master planner of Capital Smart City is Surbana Jurong (SJ). It is a consultancy firm located in Singapore. Moreover, SJ is now one of Asia's major urban, engineering, and infrastructure consulting businesses, with a global team of over 16,000 workers spread across more than 120 locations, including architects, designers, planners, engineers, as well as other specialists.
In addition, for more than 70 years, Surbana Jurong (Pvt) Ltd has provided infrastructure and consulting services all over the world. The Capital Smart City master plan is designed by SJ that featured top-notch and smart amenities, and well-structured blocks. Furthermore, cohesive planning incorporates the design of the master plan of Capital Smart City Islamabad.
Capital Smart City Location Map
Capital Smart City enjoys a prime location in the suburbs of Islamabad and Rawalpindi. Moreover, the Capital Smart City Islamabad (CSCI) lies in Islamabad's Rawalpindi Region, close to the new Islamabad International Airport.
The project lies on the eastern path of CPEC. It is 9.2 kilometers from M-2 Toll Plaza near Thalian interchange, on the Lahore-Islamabad Motorway. It is just a few short minutes away from the New Islamabad International Airport.
Blue World City is also located close to CSC which is also a great project to invest in. Below is the map of Capital Smart City:
Accessibility Routes
There are several ways through which you can access the CSC society such as:
Shortly, it will be conveniently accessible from the M-2 Motorway through the Main Chakri Road and the Ring Road.
The National Highway, also known as the Lahore-Islamabad Motorway (M-2), provides direct access to the housing society from the nearby localities.
Additionally, it will feature a designated interchange from the highway that has received approval from Frontier Works Organization (FWO).
NOC Status of CSC
Capital Smart City NOC (No Objection Certificate) is approved by Rawalpindi Development Authority (RDA). It is the only legal housing society in that area.
The housing society is awaiting its NOC for the revised design for the enlarged blocks in the society because the first NOC issued to the society is now being changed as a result of the additional land acquired. Moreover, it will approve very shortly.
Master Plan
The Capital Smart City Islamabad's master plan incorporates new infrastructure, such as a public transportation system with stations that are strategically positioned, Central Boulevard, and a cascade of high-rise structures, all of which are centered on enhancing the natural qualities of the community. You can see the detailed Master Plan of CSC below: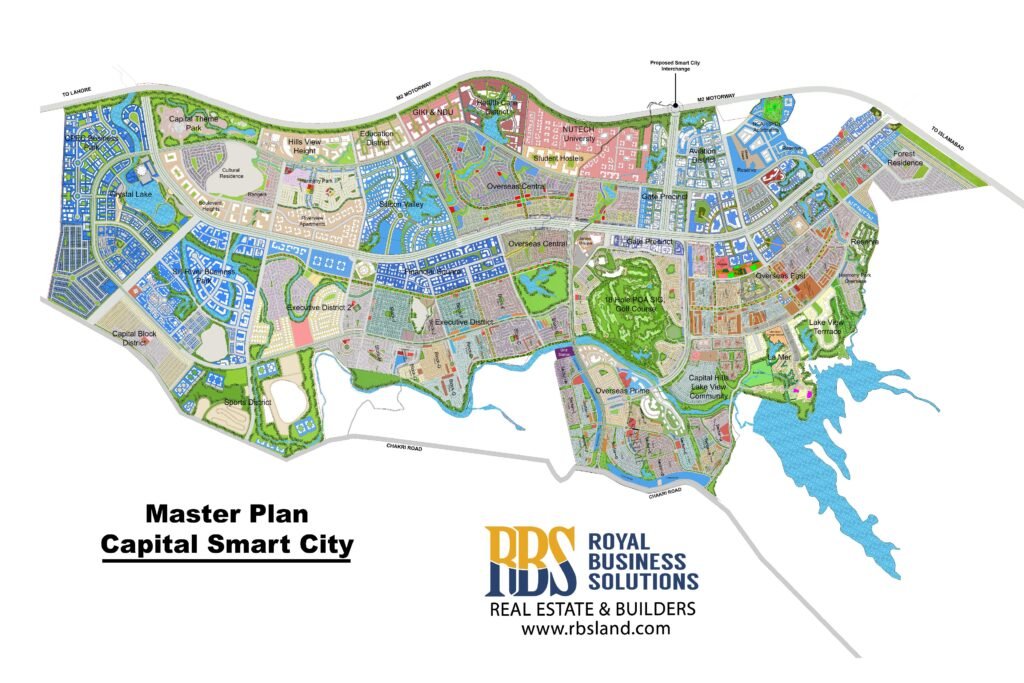 Total Area
Previously the society covers a land of 150,000 kanal. The master plan that society has provided at this time is merely preliminary and will expand over time. Moreover, the additional property will add to the project, as well as numerous other blocks in the future.
Blocks in Capital Smart City
The following are Capital Smart City blocks:
1. Overseas Block
On February 20, 2018, the capital smart city announced its international block in the society at London Dorchester. For the first time in any housing society in Pakistan, this one is the first to have an especially created overseas block that is just allocated for Pakistanis living abroad.
With this program, Capital Smart City hopes to provide abroad Pakistanis with a safe and worthwhile investment opportunity in Pakistan. Because of its exceptional facilities and location, Overseas Block quickly rose to prominence as the center of the Capital Smart City.
The Overseas Block of Capital Smart City is situated close to the Motorway M-2 in the upper section to the right of the society's primary boulevard. Direct access from the proposed designated Interchange on the Motorway will be possible to the foreign Block.
The Overseas Block has plots measuring 5 Marla, 7 Marla, 10 Marla, 12 Marla, 1 Kanal, and 2 kanals to fulfill Pakistanis living abroad.
2. CSC Overseas Prime Block
After the incredible success of the overseas block, the new block named the overseas prime block was launched. Moreover, it is one of the most promising blocks of CSC exclusively designed for overseas Pakistani. The block has various sizes of residential and commercial plots such as 7 Marla, 10 Marla, 12 Marla, 1 Kanal, 2 Kanal, and 4 Kanal. Furthermore, the sizes of commercial plots offering in CSC are 4 Marla, 6 Marla, and 8 Marla.
Overseas Prime II Residential Plots:
5 Marla
7 Marla
10 Marla
12 Marla
1 Kanal
2 Kanal
3. Executive Block
At the society's launch event on May 2, 2019, Capital Smart City introduced the "Executive Block" to the community. Additionally, the business provided a brief overview of the key aspects of this new block and an opportunity for customers of the general block to temporarily move their plots into the executive block.
The conversion of these plots was only temporarily offered by the officials; following the application deadline of May 24, 2019, a 30% surcharge must be paid to the society to convert these plots or reserve a new plot in this block.
Moreover, plots in the Executive Block are 30% more expensive than plots in the General Block, and those who want to convert their plot after the deadline will now need to pay a fixed fee in addition to the additional cost.
The plot sizes offered in Executive Block are:
5 Marla
7 Marla
10 Marla
1 Kanal
2 Kanal
4. General Block
The society initially began scheduling with the general block of the society, which later extended into additional blocks. The community offers various sizes of residential and commercial plots, ranging from 5 Marla to 1 and 2 Kanal plots in various blocks. Moreover, the general block lies after the overseas block of the society which is situated right of Capital Smart City Main Boulevard.
5. Harmony Park Block
The harmony park block was launched in April 2020. The purpose of this block is to provide affordable housing solutions for low-income families. Additionally, it is based on low-cost houses. This block consists of 3.5 Marla residential plots.
Capital Smart City has made this initiative to provide potential investors a chance to join the community after previously being unable to do so due to the greater cost of the properties available. Moreover, the Harmony Park Block is located next to the executive block of Capital Smart City Islamabad.
Harmony Park Block, which has recently been created, will have the same amenities and development standards as the rest of society, but the costs and sizes of the available properties are relatively lower.
6. Villas Apartments
Capital Smart City Islamabad has launched The Villa Apartments, the first of its kind, intending to introduce a futuristic and incorporate it into its Harmony Park Block. Moreover, these villa apartments offer you a special opportunity to join this ground-breaking housing project and live luxuriously in addition to being cost-effective.
With the creation of "The Villa Apartments," Capital Smart City has combined its resources, skills, and wealth of experience to provide these modern living solutions. Further, you have a once-in-a-lifetime opportunity with these homes to experience the most economical version of an urban lifestyle.
Villas Apartments Location
These villa apartments are located at Harmony Park Block at CSC, and harmony park is located beside the executive block. You will enjoy the excellence of having a superb location and cutting-edge amenities.
Villas apartments are of two types
5 Marla One bed Villa Apartment-660 Sq. ft.
5 Marla Two bed Villa Apartment-856 Sq. ft.
The buildings' exterior and construction are similar to villas, hence the name The Villa Apartment. These apartment villas will have three floors: the first level, the second floor, and the ground floor. Moreover, there will be two neighboring flats in each structure, making a total of 6 units per building.
6. Smart Villas
Capital Smart City introduces the first-ever Smart Villas in Pakistan and Trivelles International, a pioneer in UK real estate development and investment, in their housing project known as "Trivelles Lake Boulevard." Moreover, the contemporary design of these villas will include the smartest, most opulent, and most ground-breaking amenities to give its residents a living experience that is decades ahead of its time.
These smart villas lie between Crystal Lake and the 18-hole Golf Course in the overseas block of CSC. Further, these Villas will have the loveliest views in the community and will have an edge over other places in terms of amenities and location.
Exclusive and Smart Features of Smart Villas
These smart villas divide into three categories depending on characteristics: classic, premium, and exclusive. Each category offers its residents smart features and smart technology.
Custom tiles, windows, cabinets, doors, a fully equipped kitchen, and many other appealing elements can find in classic homes, depending on choice. In addition, you can choose a premium villa if you want to customize it to your preferences because premium homes allow you to decorate them as you see fit. An exclusive villa is another option if you desire a luxury lifestyle that is out of this world.
Furthermore, these villas are truly smart; your house is connected to your phone, and you can use it to monitor traffic on roads and in parking lots.
Some smart features of these villas are:
Smart switches
Temperature and humidity sensor
Automated door lock
Gas sensor
Smart doors and windows
Magic box
Remote access via mobile phones
Smart motion sensors
CCTV outdoor as well as indoor cameras
Variety of Villas
Smart villas come in two major sizes: 5 Marla and 10 Marla. Each size offers two categories of villas in terms of lodging and interior.
5 Marla Luxury Villas
Abbey villas (5marla-3 bedrooms)
Strand villas (5marla-4 bedrooms)
10 Marla Luxury Villas
Harley villas (10marla-4bedrooms)
Regent villas (10marla-5bedrooms)
Payment Plans of Capital Smart City
The Society management offers flexible payment plans of capital smart cities for the ease of residents and investors. For your convenience, the plot sizes & costs are as follows:
Trivelles Smart Homes Payment Plan
One Capital Residences Payment Plan of CSCI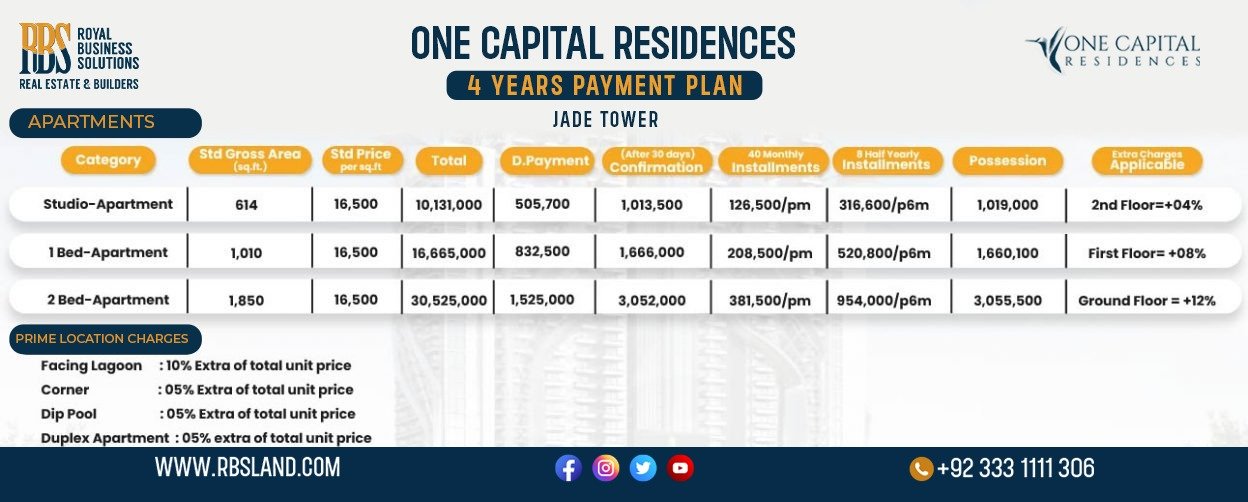 Capital Smart City Farmhouse Payment Plan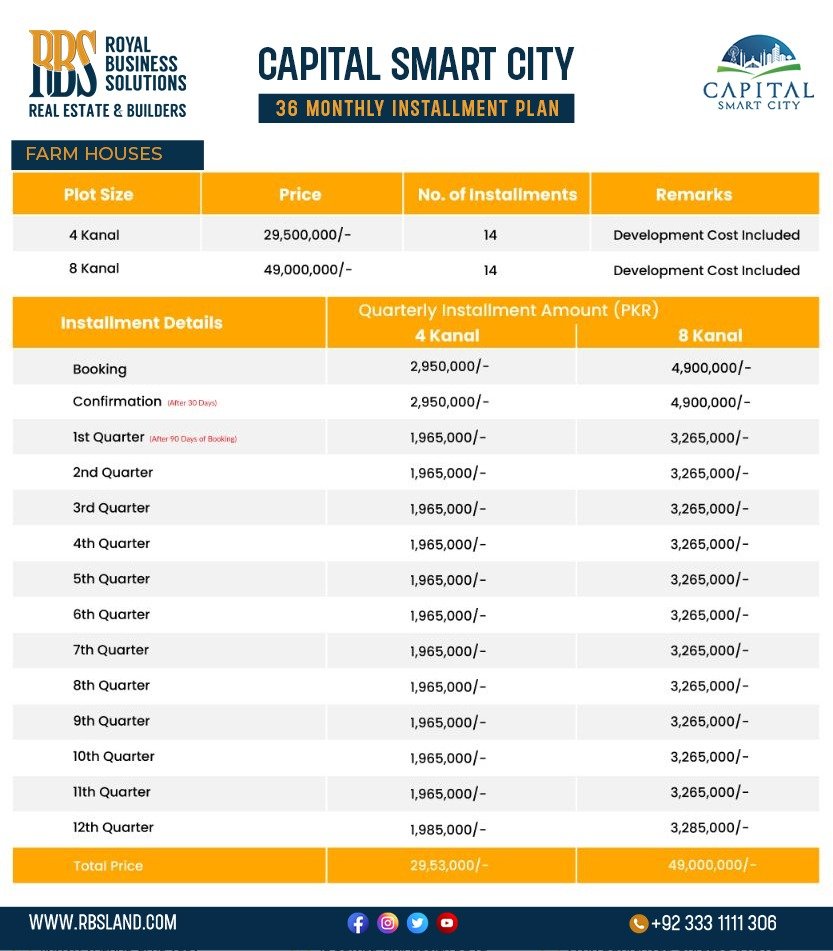 What Makes a Smart City?
A Smart City consists of these components to develop a modern community. Moreover, a Smart City aims to offer a matchless, viable development and facilities in its environs:
Smart Economy
Capital Smart City express the idea of a smart economy that enables investors to earn a large profit. Moreover, the concept of commercial centers will increase job opportunities in the society and will improve the economy of Pakistan.
Smart Housing
The CSI provides residents with smart residential opportunities by equipping them with all the most modern and cutting-edge amenities. The society can also become a hub for commercial, residential, and recreational opportunities. Furthermore, the society also introduces the idea of smart homes in Pakistan, namely Smart Villas in CSC Islamabad.
Smart Environment
The society is designed in such a way that makes a durable social environment in the society so that people can enjoy an appealing and serene life. Further, the developers are also striving to offer an up-to-date living environment to the residents of Capital Smart City.
Salient Features of Capital Smart City
This housing society gives its residents a distinctive and contemporary living experience with cutting-edge amenities. Moreover, this housing society will become Pakistan's first Smart City by merging modern technology and smart features. Following is a list of some of this society's key characteristics:
Eco-Friendly City
Advanced Security
Green and Clean environment
Metro bus system
Underground Electricity
24/7 Water, gas & electricity
Smart apps i.e. traffic, weather, electricity, internet
Hotels, Shopping centers, and Sports clubs
Smart and modern Housing plan
World Class infrastructure
Overseas block
Mosques, Parks as well as lakes
Recreational Activities
18-Hole Golf Course
Moven Pick Hotels & Resorts
Designated interchange from M-2
Close proximity to Islamabad and Rawalpindi
Exclusive Facilities & Amenities
Every day, the capital smart city Islamabad thrives to ensure that its citizens can live a life worth living. Moreover, the basic idea is to advance strategic growth in sectors that may end up serving as the center of future investments. The key features offered in CSC are as follows:
Eco-friendly environment
This housing concept promotes natural resource conservation and is designed to leave the surrounding nature unharmed, making the Capital Smart City a housing place where residents may feel calm as well as peaceful.
Modern Infrastructure
One of this project's best aspects is providing its people with a comprehensive and sustainable transportation system that is full of a network of roads, and walkways for pedestrians and bicycles, and provides space for movement. Moreover, this plan is created with all of these concerns in mind, and efficiency was also an objective that's been met.
Management Resources
The society has a system for disposing of solid waste and provides a continuous supply of water as well as power for all of its residents.
Job Opportunities
The housing plan will benefit the residents by developing into the region's leading commercial hub and enticing foreign businesses and investors to finance spectacular home projects. Additionally, Capital Smart City will generate work opportunities in a variety of retail and service industries, to improve Pakistan's economy.
Irreplaceable Master Plan
The Capital Smart City master plan portrays a spontaneous outlook and maximizes natural elements to promote an eco-friendly atmosphere.
You might also look into Lahore Smart City, which offers the same facilities as CSC.
Booking Procedure
Take advantage of this chance to receive assistance from readily available CSC professionals. Most importantly, compared to similar projects, the price list is affordable. The cost of developing a capital smart city varies from Marla to Marla. Additionally, CSCI now allows you to book privately held farms or office buildings. The booking process is as below:
Print and fill out this Application Form. Please provide all the information mentioned.
Attach three passport-size pictures of the applicant.
Copy of your CNIC and next of kin.
You must pay 10% of the initial installment to Future Developments Holdings (Pvt) Ltd at the time of booking.
You can ask us to confirm your reservation when you submit your structure and reports.
Latest Development Status in Capital Smart City
The construction at Smart City Islamabad is undergoing at a very fast pace. Moreover, the society has signed several partnerships with top-tier businesses to introduce world-class features and the latest technology to society.
MovenPick- Hotel & Resorts
Movenpick's services have been hired to establish an 18-hole golf course that meets international standards. These hotels and resorts will build in the community to provide the best hospitality services possible. Moreover, a memorandum of understanding has also been signed with National Defense University for the creation of the university's newest campus within this beautiful housing development.
Additionally, with the help of modern and high-tech technology, land leveling and mapping will complete soon.
4 Tube Wells
Four tube wells are functioning on the site to provide the current water needs of the community, and more than 200 large heavy pieces of machinery are being employed for initial construction.
The new notable developments in CSC are:
Main Boulevard and Main Roads Access
Overseas Block 1 & 2
Progress on Villas
Capital Hills and Overseas Prime
Other Buildings and Structures
Network of Carpeted Roads
To facilitate mobility and movement in society, the development of concrete carpeted roadways has been prioritized, and a 300-foot-long main Boulevard is nearing completion.
Freij International to Build Amusement Park
On October 23rd, 2019, an MOU was signed between Freij Entertainment Int. and Capital Smart City for the construction of an amusement park near Capital Smart City Islamabad. The largest traveling entertainment firm in the world, Freij Entertainment International is famous for planning exciting carnival rides, enjoyable fairs, as well as challenging games all around the globe.
Read more: Latest News and Development Updates of Capital Smart City
Frequently Asked Questions (FAQs)
Some of the frequently asked questions are:
1: What is Capital Smart City and how it is unique?
Ans. Capital Smart City is an innovative housing society constructed with modern technology. Moreover, it is different from other housing societies due to its high standards, eco-friendly environment, strategic master plan, and innovative facilities.
2: Is Capital Smart City a legal housing society?
Ans. Yes, it is a fully secure and legal society approved by RDA. You can also check its approval status from the official site of RDA before investing in it.
3: When will construction on the interchange begin?
Ans. The society has received FWO approval for its planned interchange from M-2, and the construction will begin in 2020.
4: When will development work start in society?
Ans. The development of the society has begun already. Moreover, the construction of Main Boulevard and the mosque is already complete.
5: When will the society allow plot owners to take possession?
Ans. By the first quarter of 2020, investors who have made all necessary payments are expecting to receive possession of their plots in the executive and overseas blocks.
6: Is Capital Smart City Islamabad a good investment?
Ans. Yes, Capital Smart City is a fantastic investment for both Pakistanis living abroad and those living in Pakistan. Moreover, investors investing in Smart City Islamabad stand to gain various advantages, including an increase in property value, rental revenue, and exclusive access to the city's prime areas.
7: Who is the owner of Capital Smart City?
Ans. The housing scheme is a collaborative project of Habib Rafiq Group (Pvt.) Limited and Future Development Holdings (Pvt.) Limited.
8: Which is Pakistan first Smart City?
Ans: Capital Smart City (CSCI) is a grand, state-of-the-art residential project in Pakistan. It is the first 'Smart City' in Pakistan and 4th one in Asia. Moreover, it is becoming one of the most popular housing societies in Pakistan due to its smart features.
9: Is it safe to invest in capital smart city?
Ans: They have a NOC from Rawalpindi Development Authority (RDA), making it a safe place to invest in.
10: Is there any Smart City in Pakistan?
Ans: Capital Smart City, Pakistan's first smart city provides luxurious and comfortable living through the latest technology and modern facilities. It lies adjacent to the Lahore-Islamabad Motorway M-2, close to the New Islamabad International Airport.
11: Is Capital Smart City approved by CDA?
Ans: Capital Smart City is approved by Capital Development Authority (CDA) and is a legal housing project. It has obtained all the necessary approvals and No Objection Certificates (NOCs) from the relevant authorities including CDA and is currently being developed according to the approved master plan.
12: Is the capital smart city in Islamabad or Rawalpindi?
Ans: The prime location of Capital Smart City Islamabad (CSCI) is in the Rawalpindi region of Islamabad, in proximity to the new Islamabad International Airport. Moreover, the project lies at the Lahore-Islamabad Motorway, just 9.2 km away from the M-2 Toll Plaza near Thalian interchange, on the eastern route of CPEC.
13: How many blocks are in Capital Smart City?
Ans: Capital Smart City is a mega real estate project covering an area of over 55,000 Kanal. The project comprises three major blocks namely, Overseas Block, Executive Block, and Harmony Park Block.
Conclusions
The reputation of the owner and developer is the most crucial factor in whether a housing project succeeds or fails. Given that Habib Rafiq is one of the most reputable names in Pakistani real estate, it is only logical that investors have full trust in the project. In addition, most of the plots in the community have previously been sold and are currently being resold for a profit.
Both the development and the master plan appear to have great potential and will help Capital Smart City become a very prestigious project. Further, it will be a special and comprehensive package for every member of society.