Subscribe to RBS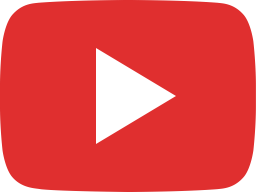 Why You Need To Invest in Capital and Lahore Smart City | Investment Opportunity For Oversease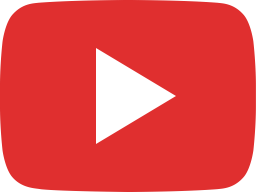 Capital Smart City Overseas Prime Sectors Complete Development Updates | RBS

Capital Smart City Introduction
Capital Smart City is an elegant and modern housing project. It is Pakistan's first smart city and ranked 4th in Asia. It is quickly rising to the top of Pakistan's most well-known housing societies as a result of its smart features. Furthermore, the idea of a Capital Smart City is based on the collection, archiving, and analysis of real-time data. The project is being constructed by Habib Rafiq and FDHL. Furthermore, this is located near New Islamabad International Airport on the Lahore Islamabad Motorway (M-2).
Owner & Developers of CSC
The Capital Smart City Islamabad is a joint venture between Habib Rafiq (Pvt) and Future Development Holdings (Pvt) Limited. Pakistan currently has smart cities that offer amenities equivalent to those found in first-world cities like New York, Copenhagen, Berlin, and Singapore only because of their cooperation. Moreover, they are well-known for their abilities and skills. Finally, they have successfully delivered multiple projects in the past. Additionally, they are developers of Bahria Town, DHA in Islamabad & numerous other projects.
Future Development Holdings (Pvt) Limited (FDHL)
FDHL is a significant Pakistani real estate developer and asset management company that works to build futuristic smart cities so that its clients can live opulently and profitably.
Additionally, it is a group organization founded under Pakistan's Companies Ordinance of 1984. The merging of Engineering Dimensions (Pvt.) Limited (EDL) and China Liaoning International Economic and Technical Cooperation Group Corporation Ltd. (CLIC), two giants of the industry with strong leadership and technical proficiency, created the entity known as FDHL.
Additionally, the aim of developers is to offer modern amenities in residential and commercial areas. These areas are all connected by designated interchanges providing direct access to the crucial Lahore-Islamabad Motorway (M-2) and regions near the China-Pakistan Economic Corridor (CPEC) Route.
Habib Rafiq Pvt. Ltd
The track record of Habib Rafiq Limited in the industrial and infrastructure sectors spans more than six decades. Moreover, it is one of the leading construction corporations in Pakistan and the country's largest infrastructure developer. Furthermore, the development of some of Pakistan's most significant development projects is famous for HRL.
Its successes are a direct result of its ongoing dedication to meeting the demands and needs of customers. Further, due to its quality management procedure, the company also obtained ISO 9000 certification.
Over the years, HRL Group has been in charge of building reputable housing schemes like Bahria Town and DHA in Pakistan, taking full responsibility for these societies' i.e, entire infrastructure, including the building of homes, roads, electrical and mechanical work, water storage, gas pipelines, as well as planning services.
Surbana Jurong (SJ)
The master planner of Capital Smart City is Surbana Jurong (SJ). It is a consultancy firm located in Singapore. Moreover, SJ is now one of Asia's major urban, engineering, and infrastructure consulting businesses, with a global team of over 16,000 workers spread across more than 120 locations, including architects, designers, planners, engineers, as well as other specialists.
In addition, for more than 70 years, Surbana Jurong (Pvt) Ltd has provided infrastructure and consulting services all over the world. The Capital Smart City master plan is designed by SJ that featured top-notch and smart amenities, and well-structured blocks. Although, cohesive planning incorporates the design of the master plan of Capital Smart City Islamabad.
The developers have also taken assistance from several design consultants, such as:
Troon Golf
Troon Golf is a well-known and reputable golf management organization that runs golf resorts and courses all around the world. Troon Golf was founded in 1990 and has its corporate headquarters in Scottsdale, Arizona. Moreover, Troon Golf has made a name for itself as a pioneer in the golf and hotel sectors. Furthermore, the company's goal is to offer golfers and visitors at its different locations truly excellent experiences.
Key Aspects
The key features and aspects of Troon Golf include:
Global Presence
Course Management
Hospitality and Services
Tournament and Event Management
Membership Programs
Environmental Stewardship
Technology Integration
Golf Coaching
Harradine and Golf
More than 200 golf course projects have been developed, built, renovated, and overseen by Harradine Golf in Europe, Africa, Asia, and the Middle East. These courses are located in a variety of terrain, including deserts that are arid, stony, dry, hot, and saline, as well as wet, humid, temperate, and cold grasslands, marshes, swamps, mountains, dumps, agricultural fields, and also coastal regions at 1,850-meter altitudes.
Multiple Harradine Golf courses have received numerous honors and annually host PGA competitions. Harradine Golf always seeks out green solutions and designs courses for golfers, not impractical eco-monuments. Morover, a golf course must be part of a place like a heart transplant; the site cannot reject it.
DSA Architects International
DSA International is a prominent architectural firm that offers management and multidisciplinary design consulting services all over the world. Furthermore, delivering sustainable developments that address projects' undesirable environmental and social implications is crucial to DSA.
DSA's constant goal is to create designs that completely account for the usage of sustainable resources, energy conservation, and waste reduction.
Designmen Consultants Engineers Pvt. Ltd
Designmen Consultants Engineers Pvt. Ltd. is a dynamic and innovative engineering consultancy firm that specializes in providing comprehensive design, engineering, and project management services. Established in 1982, it is focused on providing a wide and diverse variety of engineering services to meet specific needs. Obviously, regardless of the project's scale, limited participation, or entire delivery system idea, that is, from the design stage to completion.
Key Services
Architectural Design
Project Management
Civil and Electrical Engineering
Mechanical and Electrical Engineering
Environmental and Sustainability Consulting
Cracknell Landscape, Architecture & Planning
Cracknell is a multidisciplinary design production that has won awards. It also has a strong focus on architectural design, urban planning, and landscape architecture.
It was founded in 1987, the company has established itself as a major player, particularly in the MENA region, in the field of landscape architecture and planning. Moreover, they provide architectural and planning services as well as innovative and sustainable landscape designs as their areas of expertise.
The society has several development partners, such as:
International Medical & Research Institute
Freij Entertainment International
National Defense University
Trivelles Smart Homes
Harradine Golf
Movenpick
Alight
ESA
Consultants for design and construction are essential to the creation of the CSCI. These consultants can understand the potential of a modern housing plan. Finally, the Capital Smart City set a new standard for future construction projects in the area. To complete the development on time, a highly skilled team of experts is currently on the project's site. However, the developers are working with a variety of resources to give their best.
Mövenpick Hotels & Resorts
Mövenpick Hotels & Resorts is an internationally recognized hospitality firm established in 1940. Finally, it runs a chain of worldwide hotels and resorts. It is also known for its luxurious yet affordable chain of hotels with a hospitality heritage and Swiss legacy. The good part about it is that the level of services is consistent throughout. However, you will feel at home at any of the resorts or hotels of Movenpick. Additionally, the level of luxury and affordability is unimaginable, and the feel of their services makes you fall in love with the company.
Harradine Golf
An unprecedented signing ceremony for the design and development of an 18-hole Capital Golf Club was held in Dubai, UAE. The agreement was signed on 18 July 2018. The legendary Don Harradine is the brain behind this project.
Don Harradine founded Harradine Golf in 1929. He has constructed, designed, supervised, modeled, and constructed a huge number of 200 world-class golf courses all around the earth. Moreover, these golf courses can be found in Europe, the Middle East, Asia, and Africa. They were built on different terrains and environments, such as dry, arid, saline deserts, humid, cold grasslands, hot areas, wetlands, mountains, swamps, agricultural fields, waste tips, high altitudes, and also coastal regions.
Freij Entertainment International
Capital Smart City Islamabad Residential Society and Freij Entertainment International have joined hands to establish the most entertaining facilities in the housing society premises. The CEO of Freij, Mr. Freij El Zein, signed a MoU with CSCI on 23rd Oct 2019 to develop an entertainment complex in close collaboration with the FDHL. Furthermore, this amusement area will be open for all ages of people for a maximum of 24 hours.
Freij is an amusement company that was established in 1987. It is considered the world`s largest traveling operator for entertainment purposes, including skilled games, carnivals, and funfairs. However, Freij provides world-class amusement amenities in more than 25 countries. In addition, their expertise ensures the development of the park in 2-3 months.
National Defense University
National Defense University (NDU) and Capital Smart City signed an agreement on December 3rd, 2018, for the development of a world-class university with the name "Education City". Although, almost 10,000 Kanal of land area has been reserved for this purpose. Additionally, this will serve as an academic hub of the housing society.
National Defense University has a legacy of producing smart minds in the civil and military sectors of Pakistan. Moreover, NDU is a prestigious military higher educational institution that provides academic facilities to civilians and military personnel. Earlier, it was serving under a different title only for war courses to military persons as "National Defense College". So, this is the best opportunity to fulfill the academic needs of the residents at CSCI.
Trivelles Smart Homes
Trivelles Smart Homes in Capital Smart City Islamabad will be offered with all the plush amenities. Trivelles Smart Villas Group is a UK-based property development company and has vowed to provide homes at affordable prices with grandeur.
Trivelles Lake Boulevard Apartments will be a unique gated project in Capital Smart City Islamabad. Additionally, it will be a great living and investment opportunity. The innovative and smart concept will revolutionize the lifestyle of the residents.
Capital Smart City Location Map
Capital Smart City enjoys a prime location in the suburbs of Islamabad and Rawalpindi. Moreover, the Capital Smart City Islamabad (CSCI) lies in Islamabad's Rawalpindi Region, close to the new Islamabad International Airport.
The project lies on the eastern path of CPEC. It is 9.2 kilometers from M-2 Toll Plaza near Thalian interchange, on the Lahore-Islamabad Motorway. It is just a few short minutes away from the New Islamabad International Airport.
Blue World City is also located close to CSC which is also a great project to invest in. Below is the map of Capital Smart City:
Accessibility Routes
There are several ways through which you can access the CSC society such as:
Shortly, it will be conveniently accessible from the M-2 Motorway through the Main Chakri Road and the Ring Road.
The National Highway, also known as the Lahore-Islamabad Motorway (M-2), provides direct access to the housing society from the nearby localities.
Additionally, it will feature a designated interchange from the highway that has received approval from Frontier Works Organization (FWO).
NOC Status of CSC
Capital Smart City NOC (No Objection Certificate) is approved by Rawalpindi Development Authority (RDA). It is the only legal housing society in that area.
The housing society is awaiting its NOC for the revised design for the enlarged blocks in the society because the first NOC issued to the society is now being changed as a result of the additional land acquired. Moreover, it will approve very shortly.
Master Plan
The Capital Smart City Islamabad's master plan incorporates new infrastructure, such as a public transportation system with stations that are strategically positioned, Central Boulevard, and a cascade of high-rise structures, all of which are centered on enhancing the natural qualities of the community. Additionally, you can see the detailed Master Plan of CSC below: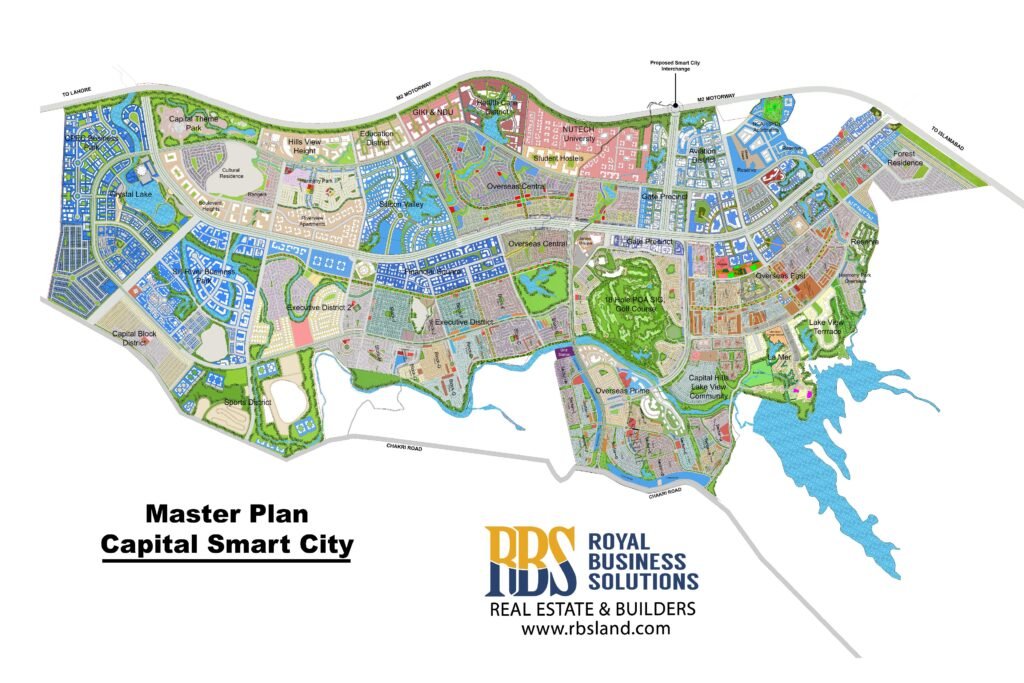 Total Area
Previously the society covers a land of 150,000 kanal. The master plan that society has provided at this time is merely preliminary and will expand over time. Furthermore, the additional property will add to the project, as well as numerous other blocks in the future.
Capital Smart City latest development charges and surcharges policy
Capital Smart City is a rapidly developing project that consistently meets development deadlines ahead of schedule. We have set a new benchmark for rapid development and out-class infrastructure that are unparalleled and easily witnessed.
New Policy
In the new policy of Capital Smart City, there are some guidelines regarding Capital Smart City Members.
At present, we are collaborating with numerous international designers including:
Surbana Jurong (Singapore)
Harradine Golf (Designer & Operator)
Troon Golf (Designer & Operator)
DP Architects (Singapore)
Move 'n' pick Hotel & Resorts
DSA
Nevertheless, we always remain hopeful that things will improve soon.
In response to various requests, we are willing to extend and ease our policies. The management of Smart City is ready to extend the following policies to our members and sales partners.
Transfer Policy 2023-2024
For effective results of Capital Smart City, plots will transfer as per the below criteria:
2017 active plots will transfer on clearance of all dues
2018 active plots will transfer on 85% payment
2019 active plots will transfer on 65% payment
2020 active plots will transfer on 50% payment
2021 active plots will transfer on 3 Quarters payment
2022 active plots will transfer on 2 Quarters of payment
2023 active plots will transfer 20% payment
Opened (before 31.12.2022) non-canceled Commercial files will transfer on a minimum 75% payment.
Whether residential or commercial four canceled files can merge to create a single active plot.
Seller-free plots can merge with active files and canceled files can merge with active files.
A sales partner whose name is already on the file is a mandatory requirement.
Cancellation Policy
Capital Smart City also introduces a cancelation policy. All 2018, 2019, and 2020 files that were canceled between 21% and 35% will be reinstated upon payment of 50% of the total plot amount by 15th September 2023. On 30th June 2024, the remaining 5o% payment must be clear.
Surcharges Policy
The surcharges on plots/files price. Development charges and prime location charges have been postponed until 30th June 2024. The management is delighted to announce that, as a goodwill gesture.
Blocks in Capital Smart City
The following are Capital Smart City blocks:
1. Overseas Block
On February 20, 2018, the capital smart city announced its international block in the society at London Dorchester. For the first time in any housing society in Pakistan, this one is the first to have an especially created overseas block that is just allocated for Pakistanis living abroad.
With this program, Capital Smart City hopes to provide abroad Pakistanis with a safe and worthwhile investment opportunity in Pakistan. Because of its exceptional facilities and location, Overseas Block quickly rose to prominence as the center of the Capital Smart City.
The Overseas Block of Capital Smart City is situated close to the Motorway M-2 in the upper section to the right of the society's primary boulevard. Although, it has direct access from the proposed designated Interchange on the Motorway will be possible to the foreign Block.
The Overseas Block has plots measuring 5 Marla, 7 Marla, 10 Marla, 12 Marla, 1 Kanal, and 2 kanals to fulfill Pakistanis living abroad.
2. CSC Overseas Prime Block
After the incredible success of the overseas block, the new block named the overseas prime block was launched. Moreover, it is one of the most promising blocks of CSC exclusively designed for overseas Pakistani. The block has various sizes of residential and commercial plots such as 7 Marla, 10 Marla, 12 Marla, 1 Kanal, 2 Kanal, and 4 Kanal. Furthermore, the sizes of commercial plots offering in CSC are 4 Marla, 6 Marla, and 8 Marla.
Overseas Prime II Residential Plots:
5 Marla
7 Marla
10 Marla
12 Marla
1 Kanal
2 Kanal
3. Executive Block
At the society's launch event on May 2, 2019, Capital Smart City introduced the "Executive Block" to the community. Additionally, the business provided a brief overview of the key aspects of this new block and an opportunity for customers of the general block to temporarily move their plots into the executive block.
However, the conversion of these plots was only temporarily offered by the officials; following the application deadline of May 24, 2019, a 30% surcharge must be paid to the society to convert these plots or reserve a new plot in this block.
Moreover, plots in the Executive Block are 30% more expensive than plots in the General Block, and those who want to convert their plot after the deadline will now need to pay a fixed fee in addition to the additional cost.
The plot sizes offered in the Executive Block are:
5 Marla
7 Marla
10 Marla
1 Kanal
2 Kanal
4. General Block
The society initially began scheduling with the general block of the society, which later extended into additional blocks. The community offers various sizes of residential and commercial plots, ranging from 5 Marla to 1 and 2 Kanal plots in various blocks. Moreover, the general block lies after the overseas block of the society which is situated right of Capital Smart City Main Boulevard.
5. Harmony Park Block
The harmony park block was launched in April 2020. The purpose of this block is to provide affordable housing solutions for low-income families. Additionally, it is based on low-cost houses as well. This block consists of 3.5 Marla residential plots.
Capital Smart City has made this initiative to provide potential investors a chance to join the community after previously being unable to do so due to the greater cost of the properties available. Moreover, the Harmony Park Block is located next to the executive block of Capital Smart City Islamabad.
Harmony Park Block, which has recently been created, will have the same amenities and development standards as the rest of society, but the costs and sizes of the available properties are relatively lower.
6. Villas Apartments
However, Capital Smart City Islamabad has launched The Villa Apartments, the first of its kind, intending to introduce a futuristic and incorporate it into its Harmony Park Block. Moreover, these villa apartments offer you a special opportunity to join this ground-breaking housing project and live luxuriously in addition to being cost-effective.
With the creation of "The Villa Apartments," Capital Smart City has combined its resources, skills, and wealth of experience to provide these modern living solutions. Furthermore, you have a once-in-a-lifetime opportunity with these homes to experience the most economical version of an urban lifestyle.
Villas Apartments Location
These villa apartments are located at Harmony Park Block at CSC, and harmony park is located beside the executive block. However, you will enjoy the excellence of having a superb location and cutting-edge amenities.
Villas apartments are of two types
5 Marla One bed Villa Apartment-660 Sq. ft.
5 Marla Two bed Villa Apartment-856 Sq. ft.
The buildings' exterior and construction are similar to villas, hence the name The Villa Apartment. These apartment villas will have three floors: the first level, the second floor, and also the ground floor. Moreover, there will be two neighboring flats in each structure, making a total of 6 units per building.
6. Smart Villas
Types of CSC Smart Villas
The Smart Villas of CSC offer unique architectural concepts with a cultural touch. Additionally, the Smart Villas are categorized into three types, as follows:
Capital Smart City Contemporary Villas
Contemporary Villas in the Capital Smart City offer modern features and amenities. Moreover, the developers have paid special attention to designing these Villas, providing a profitable investment opportunity.
The Contemporary villas are offered in different sizes, such as follows:
5 Marla Plots Contemporary Villas
7 Marla Plots Contemporary Villas
10 Marla Plots Contemporary Villas
12 Marla Plots Contemporary Villas
1 Kanal Plots Contemporary Villas
2 Kanal Plots Contemporary Villas
Capital Smart City Mediterranean Villas
The Mediterranean Villas of Capital Smart City is a perfect blend of Italian and Spanish features. The modern architecture of the villas is reinforced with terracotta roofs, wooden pergolas, and as well as arched entrances.
The Mediterranean villas are offered in different sizes, such as follows:
5 Marla Plots
7 Marla Plots
10 Marla Plots
12 Marla Plots
1 Kanal Plots
2 Kanal Plots
Capital Smart City Georgian Villas
The Georgian Villas of Capital Smart City is a perfect blend of Italian and Spanish features. They are present in the Overseas Block and Executive Block. However, the owners will be able to enjoy centrally air-conditioned temperatures, CCTV cameras, motion sensors, gas sensors, a Magic box, smart doors, smart curtains, smart windows, and world-class finishing.
The Georgian villas are offered in different sizes, such as follows:
5 Marla Plots
7 Marla Plots
10 Marla Plots
12 Marla Plots
1 Kanal Plots
2 Kanal Plots
Capital Smart City Trivelles Smart Homes
Trivelles Homes in Capital Smart City Islamabad will be a marvel of engineering and next-level property development in Pakistan. Despite this, the reason is that the Trivelles Homes are developed by a UK-based real estate company. The company launched the very first model Trivelle home by the name of "Trivelles Lake Boulevard." Finally, this model Home becomes a center of attraction for investors.
The Trivelles Homes are given a dedicated part of the society to develop them, bordering the Golf Course, Crystal Lake, and alos Overseas Block. Moreover, other features include academic institutions, playfields, clinics, hospitals, mosques, and much more that you could dream of in a modern housing society.
The Trivelles Smart Homes are offered in different sizes and categories, such as follows:
5 Marla (3-Bed – 4-bed)
7 Marla (4-bed)
10 Marla (4-Bed – 5-bed)
10 Marla (4 Bed – 5-bed)
Capital Smart City One Capital Residences
The One Capital Residences is the latest launched apartment project in the Capital Smart City Islamabad. The dream-style apartments surrounding a beautiful lake with a central mosque are all you need in a residential place at affordable costs. Although, the apartments are smart and loaded with the latest technologies that are implemented in the extravagant projects being built in developed countries. Furthermore, if you want to live a unique and distinctive lifestyle, then there is no other option than One Capital Residences.
The complex provides several investment opportunities and working opportunities in different configurations, such as follows:
Corporate Office
Wellness Center
Coffee Shop
Supermarket
Restaurants
Retail shops
Residences Apartments
Payment Plans of Capital Smart City
The Society management offers flexible payment plans of capital smart cities for the ease of residents and investors. For your convenience, the plot sizes & costs are as follows:
Trivelles Smart Homes Payment Plan
One Capital Residences Payment Plan of CSCI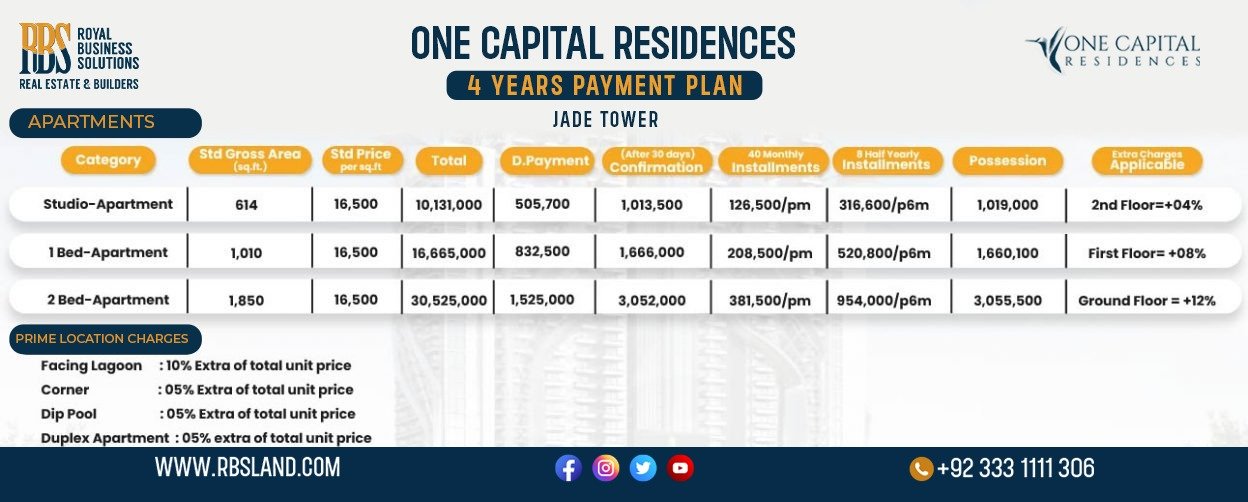 Capital Smart City Farmhouse Payment Plan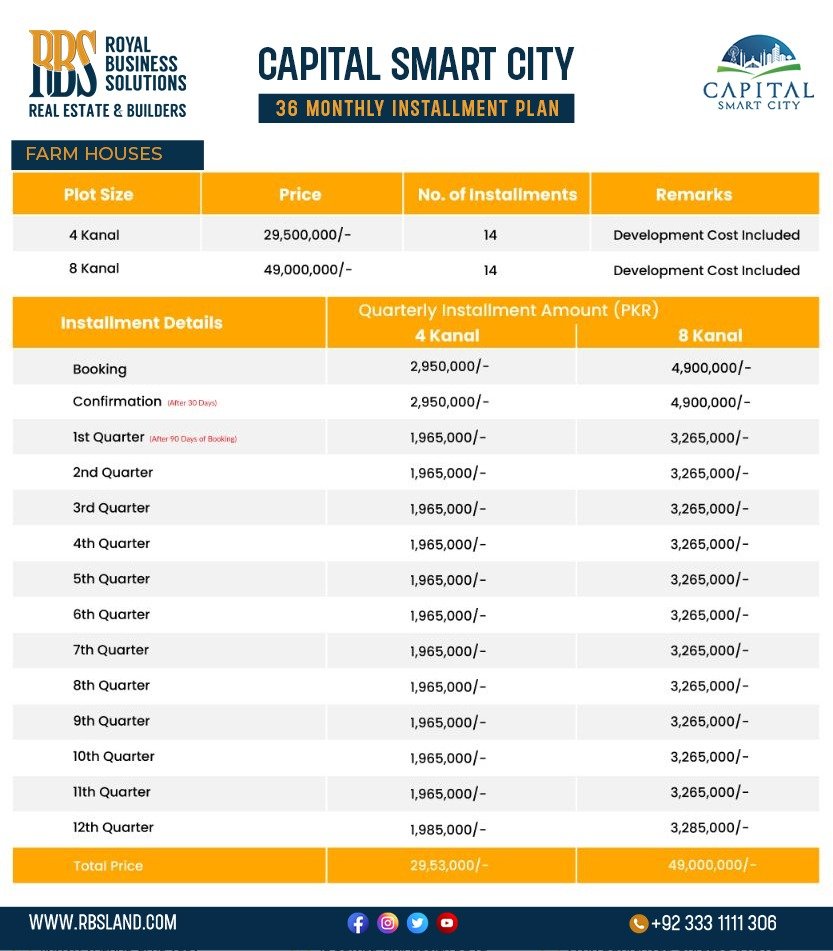 Capital Smart City Islamabad Zones
The master plan of Capital Smart City depicts several zones providing specific facilities. However, such features will make it the best housing project in Pakistan. These zones have modern-day features, and the owners are developing them as role models for future residential schemes.
The following are the Capital Smart City Zones:
1.Health Zone
The Health Zone of Capital Smart City Islamabad offers a range of medical facilities. Additionallly, in each of the sectors of the Health Zone, 2-5 clinics will offer a range of healthcare facilities. A dedicated state-of-the-art 500-bed hospital will also be established that will be operated by trained staff members and doctors.
The several CSC Health Zone includes:
International Medical & Research (IMR) Facility
Pink Ribbon Hospital
Harley Street Hospital
Agha Khan Hospital and University
2. Sport Zone
The sports zone of Capital Smart City Islamabad is full of modern sports facilities that will be developed on almost 2500 Kanal land area. Particularly, it will comprise 2 areas connected by a 180 feet wide road. Not to forget, the 18-hole PGA 72-par Golf Course development is another feature of the sports zone. Markedly, the world-class football stadium, hockey stadium, and racing track are also a part of this zone.
3. Public Zone
The Smart City has allocated a huge land area and land resources for the development of the public sector.
Capital Smart City Islamabad Aviation District:
The Aviation District of Capital Smart City is a purpose-built area for the personnel of the airport. Accordingly, the sector will be offering modern residential facilities loaded with high-tech features. Moreover, the Capital Smart City has also planned to sign an agreement with famous Airline companies such as Emirates and PIA to offer them a place for their headquarters.
Additionally, the locals and foreigners will be awarded the facility of a 7-floor 5-star hotel on 350 Kanal land area with all modern amenities.
4. Business Zone
Basically the Business Zone of Capital Smart City Islamabad is further located in different areas of the residential society, with the main entrance from the M-2 dedicated interchange. Finally, it is going to be the best business hub in the twin cities, taking care of all the economic needs of the inhabitants. However, all those investors looking to earn a big return on investment are advised to invest in the Business Zone right now and earn later.
The Business Zone is further divided into several areas given below:
Gate Precinct
CPEC Business
Crystal Lake
La Mer
Silicon Valley
Financial Square
Sill River Business Park
5. Academic Zone
The Academic Zone of Capital Smart City will be fulfilling the academic needs of the residents of the whole society. For this purpose, state-of-the-art schools, colleges, and universities such as City School System, Beaconhouse System, NUTECH, GIKI, and NDU are going to be built. However, these world-class institutions will cater to the needs of modern education within the housing society with the help of qualified and experienced faculty members.
Additionally, the housing scheme has decided to allocate a huge land area of 2,500 Kanal for this zone with a capacity of 35,000 plus students.
6. Residential and Commercial Zone
Although, Capital Smart City Islamabad's residential and commercial zones offer a blend of modern living and business opportunities. Also, making it a promising venture for both homeowners and investors in Pakistan's real estate market.
Following are the sub-divisions of Residential & Commercial Zones:
Overseas East
Overseas Central
Overseas Prime
Overseas Prime-II
Hill View Height
Sports District
Boulevard Height
Lake View Terrace
Executive District 1
Executive District 2
Capital Block District
Riverview Apartments
Harmony Park Overseas
Harmony Park
Capital Hills Lakeview Community
Capital Smart City Islamabad Districts
Capital Smart City (CSC) is the residence of the major, master-planned real estate development. Although, the project is organized into a number of unique districts, each of which aims to fulfill a specific role and meet different corporate and social goals. Furthermore, each district in CSC Islamabad is carefully planned to offer its people and businesses a comprehensive and diverse urban experience.
The CSC Islamabad is divided into 14 Districts depending on their facts and features. These include:
1. Gate Precinct
Serviced Apartments
Pavilion 200 Outlets
Commercial
5-Star Hotel
Education
Mosques
Offices
Park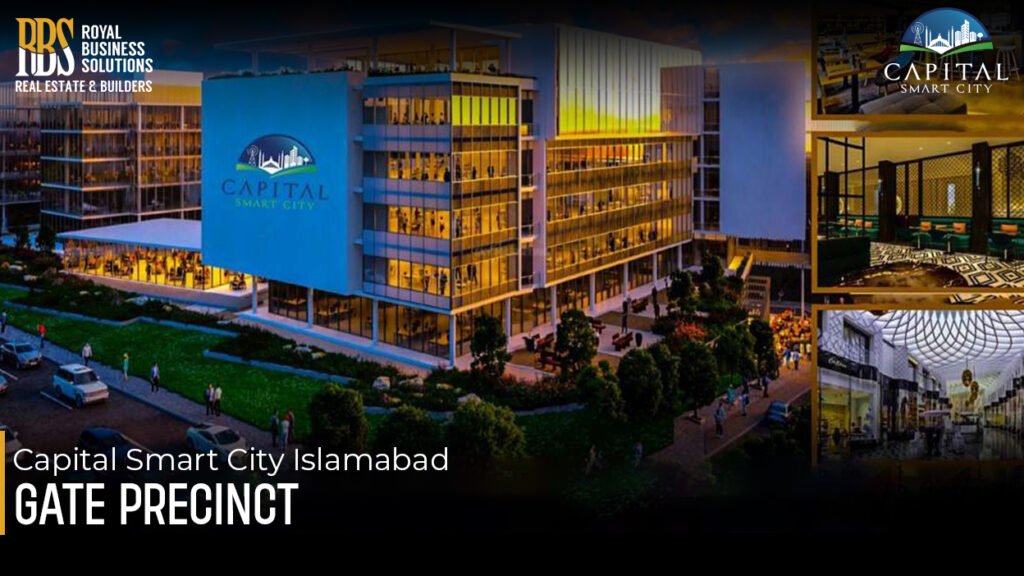 2. Aviation District
Expo Centre
Aviation Academy
Flight Kitchen
Airline Services
Outlet Mall
Mosque
Business District
Hotel
Technology Park
Aeroplane Restaurant
Recreational Park
Green Areas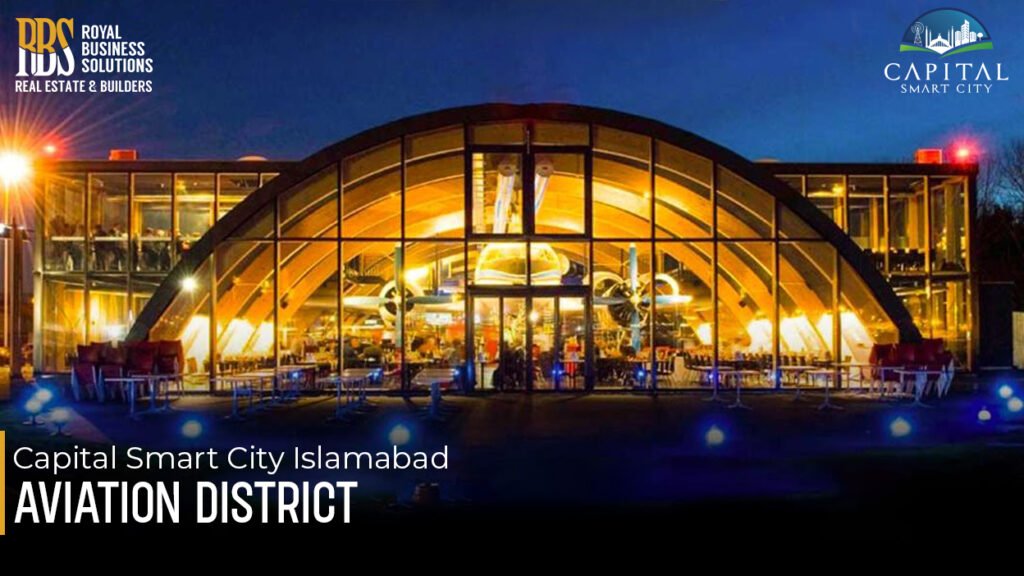 3. Crystal Lake District
Corporate Offices
Food & Beverages
4-Star Boutique
Serviced Apartments
Commercial
Dancing Fountain
Silicon Valley
IT Tower & Media City
Educational Institute
Mosque
Healthcare
4. Financial Square District
Pakistan Financial Center
Qatar Financial Center
4-Star Hotel
CPEC Tower
Mega Mall Leisure
Mixed-use apartments
Apartments
Parking Plaza
Jamia Mosque
Central Park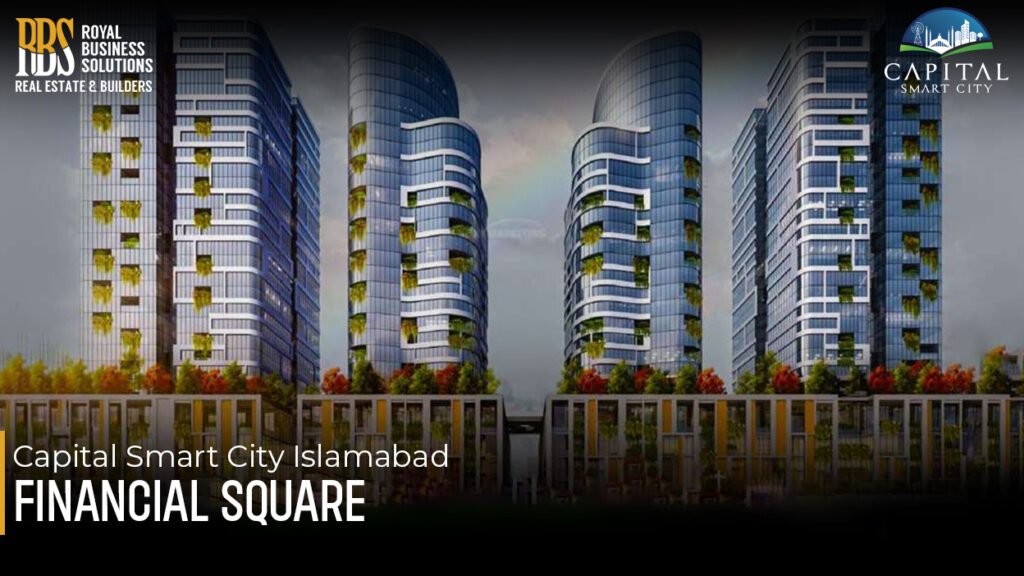 5. Healthcare District
750-bed Teaching Hospital
500-bed Hospital
Laboratories
2-Star Hospital
Mixed-used Buildings
Pavillion for Food & Beverages
Green Park
Designated Parking Area
6. Education District
School
Play Grounds
University
Vocational Institute
Research Facility
Library
Museum
Gallery
7. Lakeview Terraces District
Villas
Spa
Apartment Villas
Terraced Apartments
Community Clubs
Floating Restaurant
Lakeside Walk
Walking Track
Yacht Club
Mosque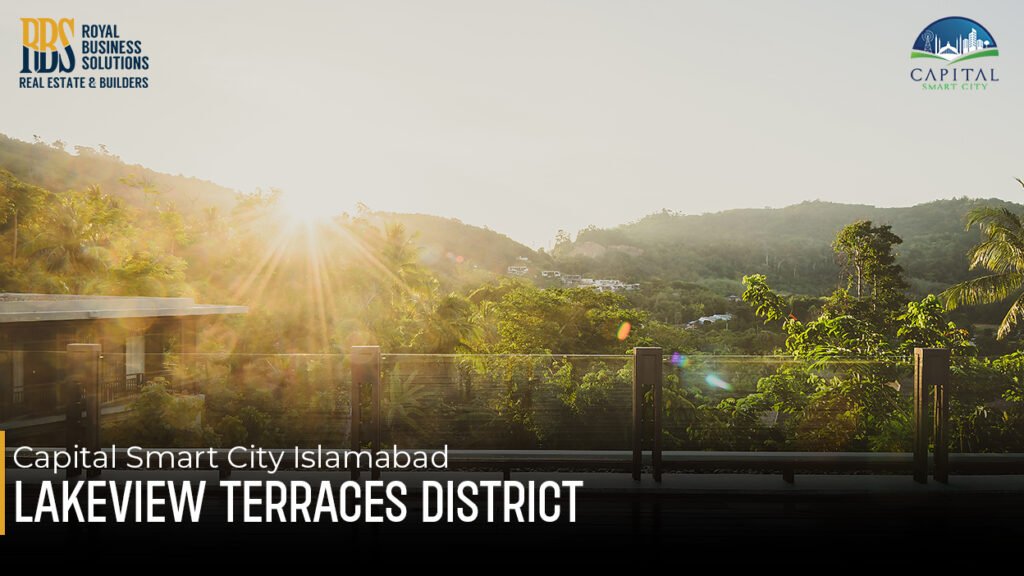 8. The Terraces District
Retail Outlets
Fine Dining Restaurants
Coffee Shops
Food Outlets
Street Food Stalls
Parks
Sales Gallery
Palladin Residence
9. Capital Hills District
Villas
Townhouses
Apartments
Banquet Hall
Club House
18-Hole PGA Standard Golf Course
Souk
Mosque
Clinic
School
Green Areas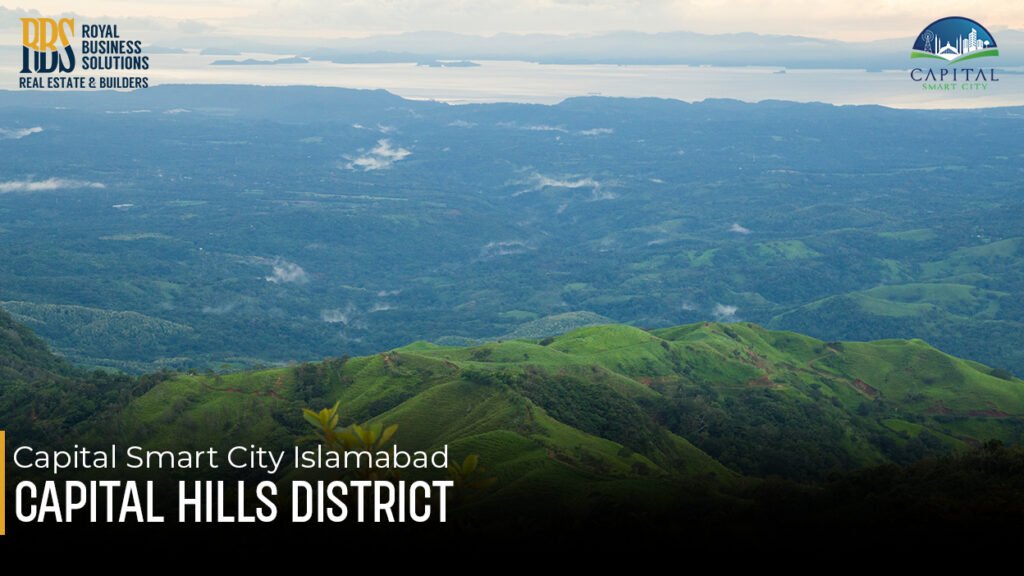 10. Overseas East District
Villas
Residential Plots
Trivelles Smart Villas
Hospitality
Retail Outlets
Educational Facilities
Mosque
Linear Park
Harmony Apartments
One Capital Apartment Project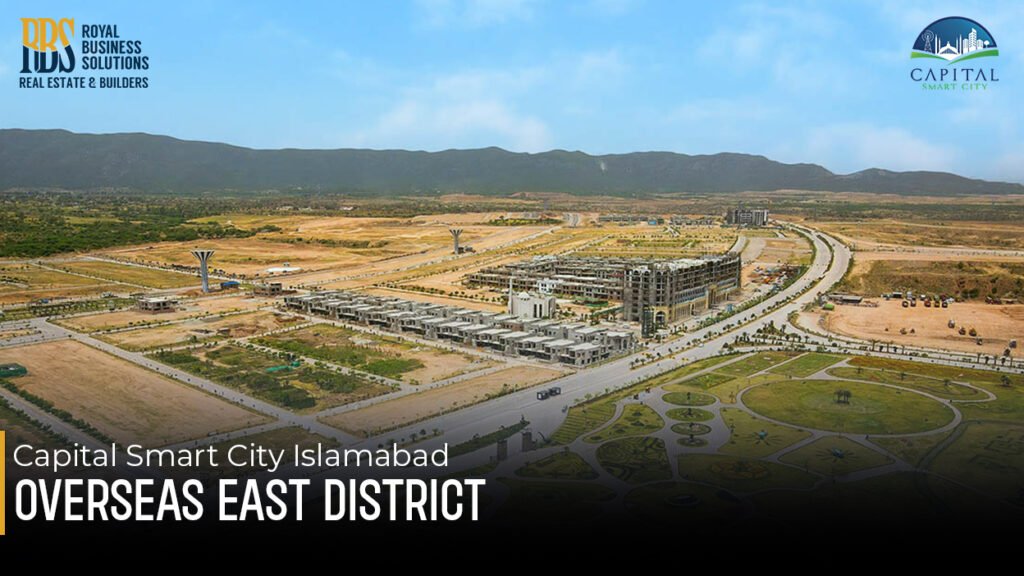 11. Hills View Heights
Residential Towers
Food & Beverages
Retail Pavillion
Mosque
Green Areas
Sector Park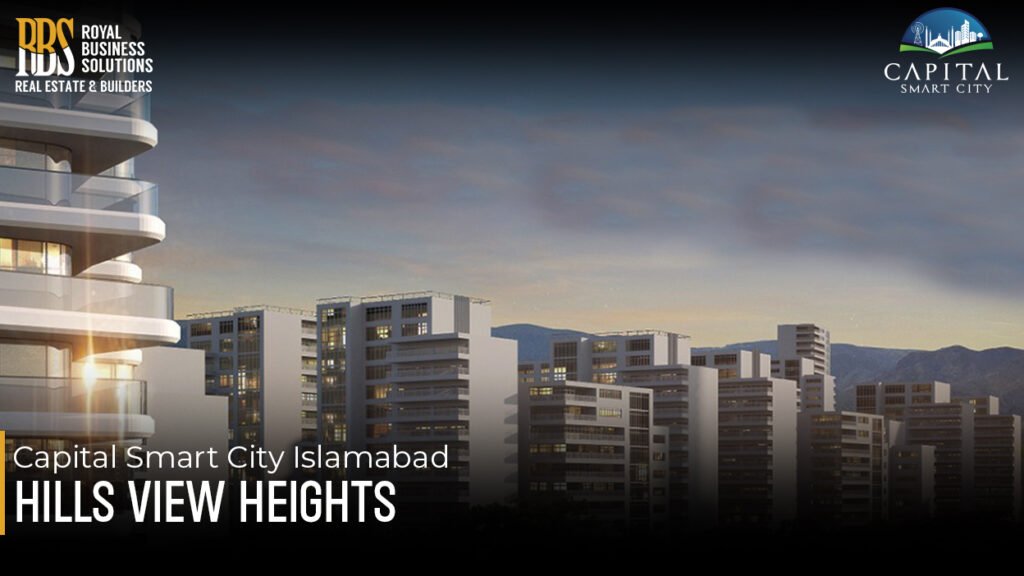 12. Cultural Heritage District
Model Villas
Residential Areas
Food & Beverage Area
Education
Mosque
Park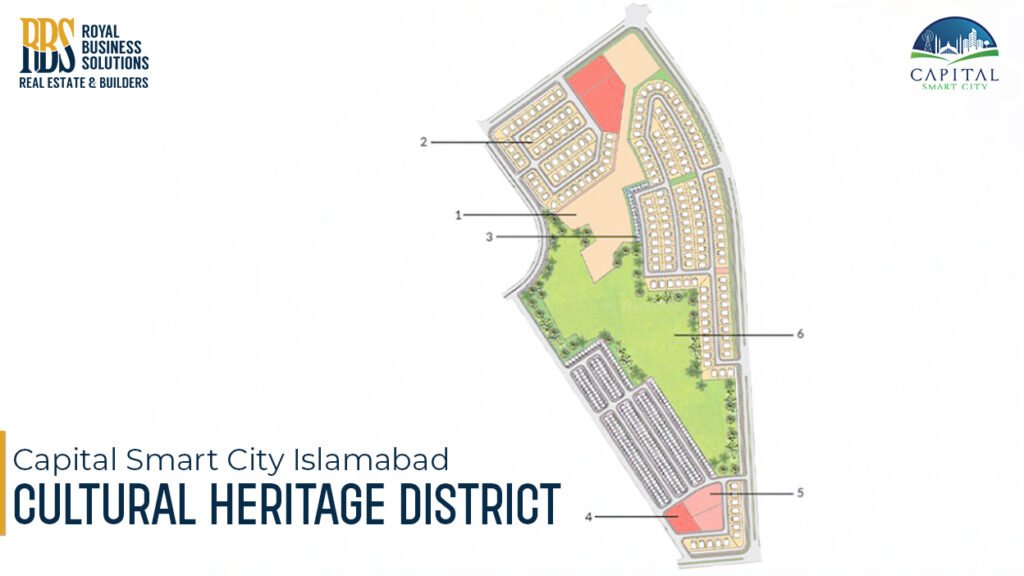 13. Sports District
Sports Academy
ICC Standard Cricket Stadium
Olympic Stadium
Indoor Arena
F2 Race Track
Food & Beverage Pavillion
Sports Retail
Apartments
Villas
Green Area
Amusement Park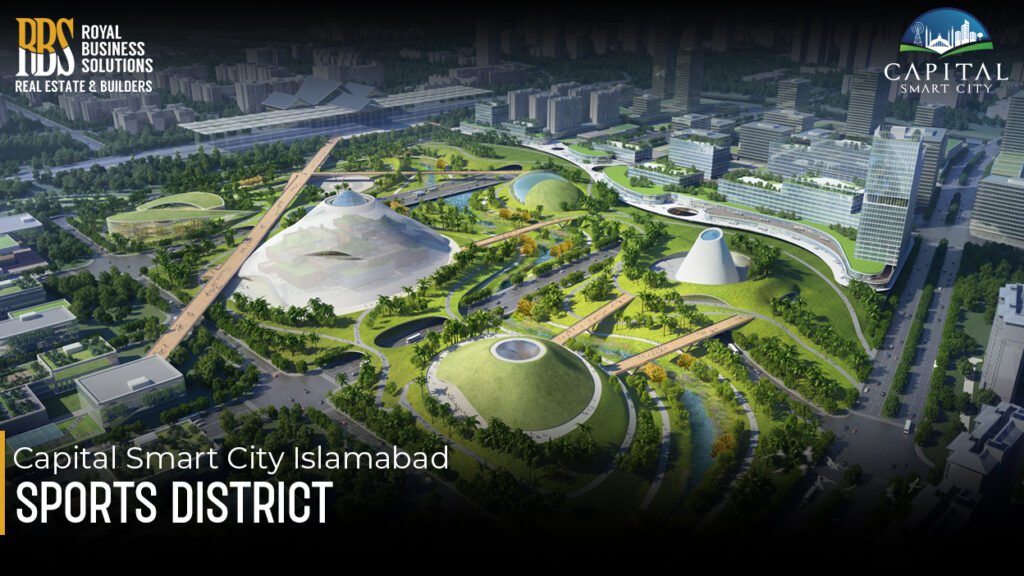 14. Executive Block District
Villas
Residences
Education
Mosque
Clinic
Linear Park
Passive Green Areas
Walking, Jogging, & Cycling Tracks
Retail Pavillion
What Makes a Smart City?
A Smart City consists of these components to develop a modern community. Moreover, a Smart City aims to offer a matchless, viable development and facilities in its environs:
Smart Economy
Capital Smart City express the idea of a smart economy that enables investors to earn a large profit. Furthermore, the concept of commercial centers will increase job opportunities in the society and will improve the economy of Pakistan.
Smart Housing
The CSI provides residents with smart residential opportunities by equipping them with all the most modern and cutting-edge amenities. The society can also become a hub for commercial, residential, and recreational opportunities. Furthermore, the society also introduces the idea of smart homes in Pakistan, namely Smart Villas in CSC Islamabad.
Smart Environment
The society is designed in such a way that makes a durable social environment in the society so that people can enjoy an appealing and serene life. Alhough, the developers are also striving to offer an up-to-date living environment to the residents of Capital Smart City.
Salient Features of Capital Smart City
Additionally, this housing society gives its residents a distinctive and contemporary living experience with cutting-edge amenities. Moreover, this housing society will become Pakistan's first Smart City by merging modern technology and smart features. Following is a list of some of this society's key characteristics:
Eco-Friendly City
Advanced Security
Green and Clean environment
Metro bus system
Underground Electricity
24/7 Water, gas & electricity
Smart apps i.e. traffic, weather, electricity, internet
Hotels, Shopping centers, and Sports clubs
Smart and modern Housing plan
World Class infrastructure
Overseas block
Mosques, Parks as well as lakes
Recreational Activities
18-Hole Golf Course
Moven Pick Hotels & Resorts
Designated interchange from M-2
Close proximity to Islamabad and Rawalpindi
Exclusive Facilities & Amenities
Afterward, the capital smart city Islamabad thrives to ensure that its citizens can live a life worth living. Moreover, the basic idea is to advance strategic growth in sectors that may end up serving as the center of future investments. The key features offered in CSC are as follows:
Eco-friendly environment
This housing concept promotes natural resource conservation and is designed to leave the surrounding nature unharmed. Furthermore, making the Capital Smart City a housing place where residents may feel calm as well as peaceful.
Modern Infrastructure
One of this project's best aspects is providing its people with a comprehensive and sustainable transportation system that is full of a network of roads, and walkways for pedestrians and bicycles. It also provides space for movement in this aspect. Moreover, this plan creates with all of these concerns in mind, and efficiency was also an objective that's met.
Management Resources
The society has a system for disposing of solid waste and provides a continuous supply of water as well as power for all of its residents.
Job Opportunities
The housing plan will benefit the residents by developing into the region's leading commercial hub and enticing foreign businesses and investors to finance spectacular home projects. Finally, Capital Smart City will generate work opportunities in a variety of retail and service industries, to improve Pakistan's economy.
Irreplaceable Master Plan
The Capital Smart City master plan portrays a spontaneous outlook and maximizes natural elements to promote an eco-friendly atmosphere.
Furthermore, you might also look into Lahore Smart City, which offers the same facilities as CSC.
Booking Procedure
In order to take advantage of this chance to receive assistance from readily available CSC professionals. Most importantly, compared to similar projects, the price list is affordable. However, the cost of developing a capital smart city varies from Marla to Marla. Additionally, CSCI now allows you to book privately held farms or office buildings. The booking process is as below as well:
Print and fill out this Application Form. Please provide all the information mentioned.
Attach three passport-size pictures of the applicant.
Copy of your CNIC and next of kin.
You must also pay 10% of the initial installment to Future Developments Holdings (Pvt) Ltd at the time of booking.
You can ask us to confirm your reservation when you submit your structure and reports.
Latest Development Status in Capital Smart City
In addition, the construction at Smart City Islamabad is undergoing at a very fast pace. Moreover, the society has signed several partnerships with top-tier businesses to introduce world-class features and the latest technology to society.
MovenPick- Hotel & Resorts
Movenpick's services have hired to establish an 18-hole golf course that meets international standards. Finally, these hotels and resorts will build in the community to provide the best hospitality services possible. Moreover, a memorandum of understanding has also signed with National Defense University for the creation of the university's newest campus within this beautiful housing development.
Additionally, with the help of modern and high-tech technology, land leveling and mapping will complete soon.
4 Tube Wells
Four tube wells are functioning on the site to provide the current water needs of the community, and it employs more than 200 large heavy pieces of machinery for the initial construction.
The new notable developments in CSC are:
Main Boulevard as well as Main Roads Access
Overseas Block 1 & 2
Progress on Villas
Capital Hills and Overseas Prime
Other Buildings and Structures
Network of Carpeted Roads
To facilitate mobility and movement in society, the development of concrete carpeted roadways has prioritized, and also a 300-foot-long main Boulevard is nearing completion.
Freij International to Build Amusement Park
Hence, on October 23rd, 2019, an MOU was signed between Freij Entertainment Int. and Capital Smart City for the construction of an amusement park near Capital Smart City Islamabad. The largest traveling entertainment firm in the world, Freij Entertainment International is famous for planning exciting carnival rides, enjoyable fairs, as well as challenging games all around the globe.
Read more: Latest News and Development Updates of Capital Smart City
Frequently Asked Questions (FAQs)
Some of the frequently asked questions are:
1: What is Capital Smart City and how it is unique?
Ans. Capital Smart City is an innovative housing society constructed with modern technology. Moreover, it is different from other housing societies due to its high standards, eco-friendly environment, strategic master plan, and innovative facilities.
2: Is Capital Smart City a legal housing society?
Ans. Yes, it is a fully secure and legal society approved by RDA. You can also check its approval status from the official site of RDA before investing in it.
3: When will construction on the interchange begin?
Ans. The society has received FWO approval for its planned interchange from M-2. Although, the construction will begin in 2020.
4: When will development work start in society?
Ans. The development of the society has begun already. Moreover, the construction of Main Boulevard and the mosque is already complete.
5: When will the society allow plot owners to take possession?
Ans. By the first quarter of 2020, investors who have made all necessary payments are expecting to receive possession of their plots in the executive and as well as overseas blocks.
6: Is Capital Smart City Islamabad a good investment?
Ans. Yes, Capital Smart City is a fantastic investment for both Pakistanis living abroad and those living in Pakistan. Moreover, investors investing in Smart City Islamabad stand to gain various advantages, including an increase in property value, rental revenue, and exclusive access to the city's prime areas.
7: Who is the owner of Capital Smart City?
Ans. The housing scheme is a collaborative project of Habib Rafiq Group (Pvt.) Limited and Future Development Holdings (Pvt.) Limited.
8: Which is Pakistan first Smart City?
Ans: Capital Smart City (CSCI) is a grand, state-of-the-art residential project in Pakistan. It is the first 'Smart City' in Pakistan and also 4th one in Asia. Moreover, it is becoming one of the most popular housing societies in Pakistan due to its smart features.
9: Is it safe to invest in capital smart city?
Ans: They have a NOC from Rawalpindi Development Authority (RDA), also making it a safe place to invest in.
10: Is there any Smart City in Pakistan?
Ans: Capital Smart City, Pakistan's first smart city provides luxurious and comfortable living through the latest technology and modern facilities. However, it lies adjacent to the Lahore-Islamabad Motorway M-2, close to the New Islamabad International Airport.
11: Is Capital Smart City approved by CDA?
Ans: Capital Smart City is approved by the Capital Development Authority (CDA) and is also a legal housing project. Finally, it has obtained all the necessary approvals and No Objection Certificates (NOCs) from the relevant authorities including CDA, and is currently being developed according to the approved master plan.
12: Is the capital smart city in Islamabad or Rawalpindi?
Ans: The prime location of Capital Smart City Islamabad (CSCI) is in the Rawalpindi region of Islamabad, in proximity to the new Islamabad International Airport. Moreover, the project lies at the Lahore-Islamabad Motorway, just 9.2 km away from the M-2 Toll Plaza near Thalian interchange, on the eastern route of CPEC.
13: How many blocks are in Capital Smart City?
Ans: Capital Smart City is a mega real estate project covering an area of over 55,000 Kanal. Moreover, the project comprises three major blocks namely, Overseas Block, Executive Block, and Harmony Park Block.
Conclusions
The reputation of the owner and developer is the most crucial factor in whether a housing project succeeds or fails. Given that Habib Rafiq is one of the most reputable names in Pakistani real estate, it is only logical that investors have full trust in the project. In addition, most of the plots in the community have previously sold and are currently resold for a profit.
Both the development and the master plan appear to have great potential and will help Capital Smart City become a very prestigious project. Further, it will be a special and comprehensive package for every member of society.