Introduction
Capital Smart City Islamabad has launched Overseas Prime Block. This high-end residential block will open new horizons for experiencing a luxury lifestyle. It enjoys the perk of being located at an elevated place. It offers the breathtaking scenic views of Capital Smart City skyline. Besides,  the pristine 18-hole Golf course is sprawled till the horizon while proximity to Crystal Lake makes it a slice of paradise.
After the success of Overseas District-1 and Overseas District-2, the management decided to further elevate the standard of living. Overseas Prime Block of Capital Smart City is your gateway to international standard lifestyle. Previously, you need to be an expat for booking a plot at the Overseas District. However, the management removes any such compulsion now. In fact, local Pakistanis can also have their own plot in this block.
The Overseas Prime Block has its dedicated entrance. Accompanied with the latest facilities and amenities, overseas Prime Block offers residential plots from 7 Marla to 14 Marla.
Location
The Location of Overseas Prime Block is set adjacent to Capital Hills. It is located right beside to 18-Hole Golf Course by Cracknell. Moreover, it is present at a quite elevated angel from rest of the project.
Its location makes it ideal for investment. This block will have direct access from Chakri Road. A dedicated entrance that directly leads to the exact location of Overseas Prime Block already planned. It is named as Smart Broadway. The dedicated interchange is inspired by Roman Architecture and blended with urban theme.
Master Plan
The Master Plan of Overseas Prime Block is particularly planned by Surbana Jurong. All the global standard amenities are keenly concentrated here. Since it is placed at a high point from the rest of the Capital Smart City. So, the management has leveraged its excellent location to provide the best view of the natural assets in Capital Smart City.
As per the Overseas Prime Block Layout Plan, it offers the residential plot in various size categories ranging from 7 Marla to 40 Marla. The main plots are offered in following categoires
7 Marla
10 Marla
12 Marla
1 Kanal
2 Kanal
Besides, it is also designed in Neighborhood Urban Township Model. Thus, it has a cluster of all life necessities at the distance of every 400 meters including a commercial arena, theme parks, jogging tracks, etc.
In addition, Overseas Prime Block has a particular entrance from the Main Chakri Road. Smart Broadway is measured approx. 180 feet. It will have several infrastructures that adorn the entrance. Throughout its particular route, it will pass by crystal lake, deep forests and pristine Golf Course.
Price Plan
As per the latest updates on September 29, 2020, the Price Plan of Overseas Prime Block is shared below. The booking of the plot starts from 10% Down Payment. Meanwhile,  the remaining amount is payable in 3.5 years. The instalment plan consists of 42 Monthly instalments and 7 Half-yearly instalments.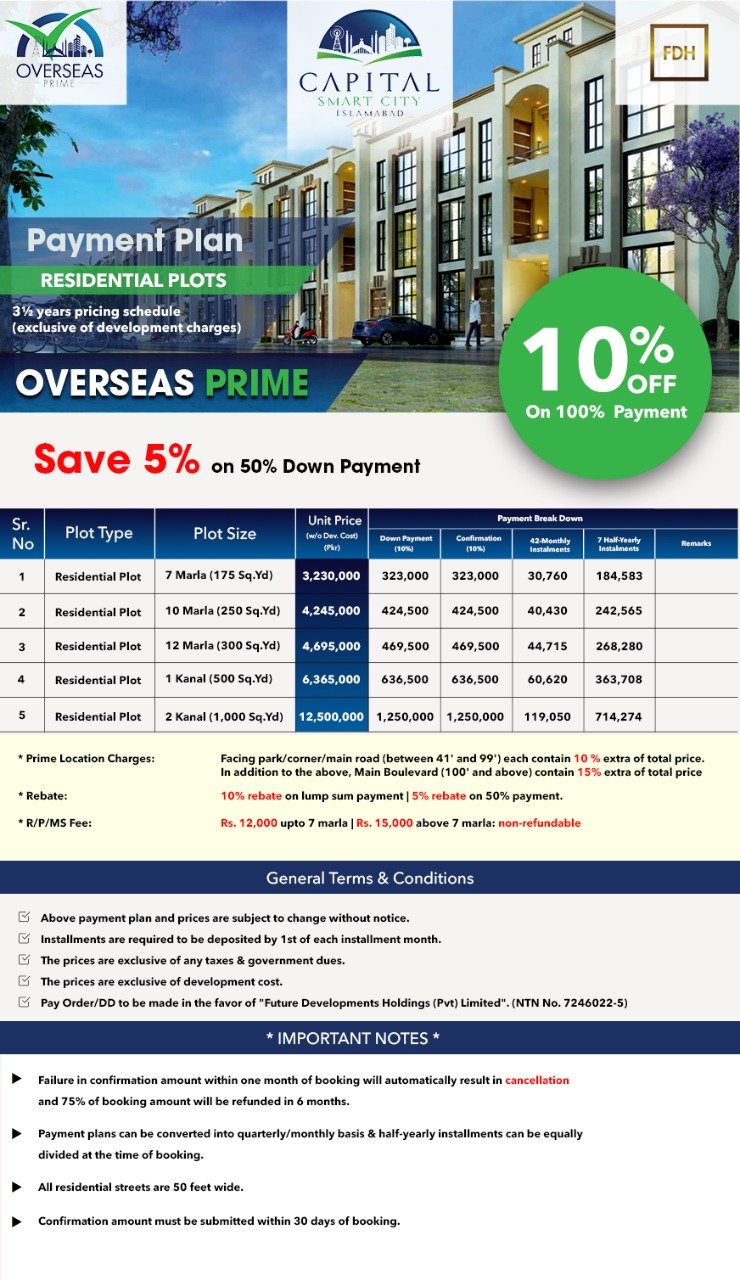 Booking Procedure of CSC
You can avail this opportunity even before the Capital Smart City Islamabad. Book your residential, commercial plot or farm house in Capital Smart City Islamabad now. Get to know about the booking procedure below:
Download and fill out this Application Form. Please provide all the essential information.
Attach 3 passport size photographs of applicant
Attach CNIC/NICOP copy of applicant and next of kin (nominee)
At the time of booking, submit 10% of down payment as a Pay Order, Cheque or Cash in favor of "Future Developments Holdings (Pvt) Ltd."
Submit your form, documents and pay order to us to confirm your booking.
Your file will be ready within 30 days and dispatched to your address.
Platinum Sales Partner of Capital Smart City
Royal Business Solutions (Pvt.) Limited serves as a Platinum Sales Partner of Capital Smart City. Since the inception of this mega project, several real estate agencies dealing and selling it. However, Royal Business Solutions is the Official Sales Partner of Capital Smart City.
Moreover, Habib Rafiq (Pvt.) Limited (HRL) is the main developer of this marvelous project. Specifically, HRL is a brand itself in the world of Real Estate. RBS is working with this firm side by side since many past years. Furthermore, due to our exceptional and dedicated services, we are again privileged to become Official Sales Partner of another project under its umbrella.
In addition, CSCI is a smart project. We are using latest techniques and trends to exclusively market this innovative project. Furthermore, our team of dedicated individuals take pride in serving and assisting our worthy clients.
Moreover, in a nutshell, it can be said that RBS is representing CSC on every platform with whole dedication and devotion.