September 13, 2022
Posted by:

Talib Chohan

Category:

Blogs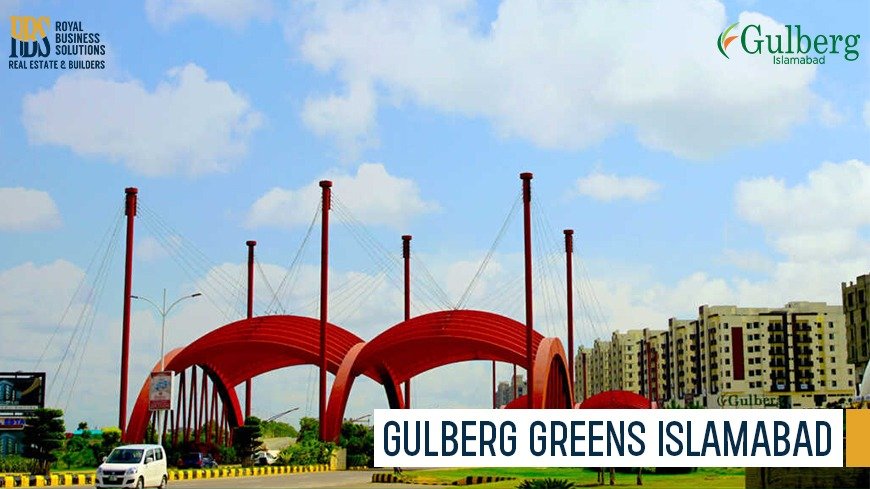 If you are looking for options to upgrade your lifestyle, Gulberg Greens presents you with the opportunity to achieve your goal. The clean and green environment of the society inspires people from all over the country to invest in the prime location of the capital. Society promises the most exceptional facilities in the neighborhood. The construction of blocks is completed, and plots are ready for sale. It aims to make your dream home a reality. It just takes a 5-minute drive to reach Grand Trunk Road.
Developers of Gulberg Green Islamabad
This amazing housing society was inaugurated by The Intelligence Bureau Employees Cooperative Housing Scheme (IBECHS) in 2005. The official work was started in 2007, and now the construction phase is almost ended. The strategic planning has made the project stand out among other societies. The other name for the society is IBECHS Phase III, Islamabad. Developers make sure that every resident of society will experience the best living quality. Also, society has fulfilled the demands of the Environment Protection Department by not exploiting the social, physical, or biological environment of the area.
Location
Gulberg Greens Islamabad adjoins both Rawalpindi and Islamabad. It is present at the main Islamabad Expressway in a paramount location having linkages to all the main highways. It is undoubtedly the only society providing this convenience. The unique location allows people to reach there in a matter of minutes. It is approximately 12km away from Zero point, 4 km from T-Chowk Rawat, and 18km from Civil Lines. It makes intercity traveling a lot easier. Also, it provides easy access to all the main interchanges of the capital. It makes the residents of the area very satisfied.
Approval
After the project launch, the project went through scrutiny and was approved by CDA in 2009 with Ref# "CDA/PLW-HS(127)/2009/257". CDA launched the official project plan in 2011. In the following year, NOC was also issued. Furthermore, the developers also signed an MOU with Islamabad Electric Supply Company (IESCO) and Sui Northern Gas Pipelines Limited (SNGPL).
Layout Plan:
The society consists of 2 main phases, which are Gulberg Greens Residencia and Gulberg Greens Farmhouse. Gulberg Greens Residencia has almost 10,000 residential plots and expands over a vast area of approximately 15,000 Kanals of land.
Whereas the Gulberg Greens Farmhouse occupies the land of 3,862 Kanals with 409 residential plots. Exploring the farmhouse options, Gulberg Green offers Rose Enclave, Tulip Enclave, and Jasmine Enclave.
Society introduces many blocks, Gulberg Residencia A Block, Gulberg Residencia B Block, Block A, Block B, C Block, D Block, E Block, and Executive Block. Each block features different-sized residential plots of 5 Marla, 7 Marla, 10 Marla, and 1 Kanal.
Facilities:
Gulberg Green offers extraordinary facilities to its residents. First of all, it has a signal-free drive of 10 minutes from Zero Point. Secondly, it has exclusive underpass access to Islamabad Expressway, which makes traveling a better experience. Additionally, it has 220 feet main wide boulevard. Plots are located on 50ft to 160ft wide roads. It is a gated community with matchless development. There is proper underground electricity, gas, and water supply system distributing amenities 24/7. Gulberg Islamabad is also fulfilling the needs of sustainable development, ensuring an eco-friendly environment. Its elite framework also introduces the services of health care, education and entertainment spots. Moreover, it accommodates Mega Mall, Five Star Hotels, Sports Complex and Golf Course. The infrastructure is top-notch with a continuous supply of amenities. Beautiful lifestyle is the motto of Gulberg Green Islamabad.
Development
Gulberg Green Islamabad is currently in the development process. Due to the fast pace of progress, The Rawalpindi Chamber of Commerce has awarded the society with the best development of this year. Discussing the development status, about 80 percent of construction is completed, while about 60 to 70 percent of the area of Gulberg Residencia is fully developed and handed over.
Gulberg Green Farmhouse
The society is also introducing ready-to-move-in farmhouse plots of various sizes ranging from 4, 5, to 10 Kanals. With their elite structure, these residences provide a supreme living standard with an amazing view of the hills around. Also, the society promises basic amenities like water, electricity, and gas services available 24/7. Moreover, sewage treatment plants and drainage systems are also provided to the residents.
Farmhouse plots are available for sale in A, B, C, D, E, and Executive Blocks. Executive Block only consists of 4-Kanal and 5-Kanal plots, while A, B, C, D, and E blocks comprise of 4-Kanal, 5-Kanal, and 10-Kanal plots. The price of the plots varies according to their location. A 4-Kanal farmhouse plot typically ranges from PKR 2.4 crores to 4.8 crores. Correspondingly, a 5-Kanal farmhouse plot will cost you up to 3.2 crores to 4.8 crores. At the same time, a 10-Kanal plot will be available for 5.5 crores to 9 crores.
Gulberg Green Residencia
Gulberg Residencia is developed for residency purposes. Blocks E-Executive and F-Executive, adjacent to Sector G, are selected to achieve the goal of a superior residential experience. For the execution of the target, the society has bought more than 7000 Kanals of land. A few years ago, Sector A of Executive Block was also launched by Gulberg Residencia (IBECHS) for building residential areas. The area is in high demand due to its fabulous location. The possession will start any time sooner.
The plots of 7-Marla, 10-Marla, and 1-Kanal are up for grabs in this launch. Block E Executive constitutes 1 Kanal (50×90) residential plot, while F Executive constitutes 7-Marla (30×60) and 10-Marla (35×70) residential plots. A 7-Marla plot is available for around PKR 65 Lacs, 10-Marla at PKR 85 Lacs, while 1-Kanal will cost around 135 Lacs.
Commercial Plots of Gulberg Greens
After the tremendous success of Gulberg Greens residencia and farmhouses, developers bring forth commercial plots in the society. They aim to make the area the next Business Hub of Islamabad. This area is in high demand as it offers a great investment opportunity.
Gulberg Civic Center:
Civic Center comprises the Gulberg Business Center, which tends to become one of the biggest trading centers of the capital. It is just one kilometer away from the Islamabad Expressway and three kilometers away from Benazir International Airport. The business center not only comes up with the commercial area but also the residential one.
Due to the international standard architecture, the building is resistant to earthquakes and covers all basic facilities. The two floors are allotted to commercial shops while one floor is allotted to offices. The other four floors accommodate luxury apartments. Both residential and commercial plots at Gulberg Business center are available with a 10% down payment and 3-year easy installments.
Business Square
Closed to Blocks A and C, on a wide 160 feet park-avenue, IBECHS launched the Business Square. It is a leading business and commercial hub in the area. Plots of various sizes i.e 40×40, 40×50, and 50×50 square feet. The construction has been completed, and the plots are ready for possession. There is a limited number of commercial plots available in the Business Center. You can book a plot with a 10% initial deposit and rest on the easy installments. Limited reservations are available, so you can only get these plots on a first-come, first-served basis.  
Apex Business Avenue
On the main Gulberg expressway, Gulberg Green Islamabad introduces a 220 feet wide Apex Business Avenue. It offers the commercial property of several sizes. The construction of the building is already in the completion process, and just after paying the down payment, the land is ready for possession.
Gulberg Greens Islamabad- A good investment option:
Gulberg Greens stands out among all the real estate projects due to its captivating features. It is developing at a faster pace, and its demand is rising. Due to its comfortable lifestyle, it promises a high return on investment.
Conclusion:
Gulberg Greens Islamabad levels up the living experience with its remarkable standards. The development process is almost completed, and plots are ready to hand over. There is a great opportunity for resale for the luxurious farmhouses. With its world-class residential and commercial progress, the area is becoming popular in the city. The residents are happy with the ideal location as well as the amazing aesthetics.
If you are looking for more investment options, you can check Nova City Islamabad, which is also putting up world-class facilities at an affordable price plan.