Every Thing You Need to Know about Nova City Peshawar
Nova City Peshawar is a megaproject situated close to Peshawar. KPK inhabitants will have a durable, high-quality housing community. Nova City was initially set up in Islamabad and extended to Lahore and Peshawar to cash in on its rising popularity. Nova City Peshawar is a new development situated near the Charsadda junction. This housing venture has attracted a flood of Pakistani investors. Real estate investors are drawn to Nova City Peshawar because of its prime location and excellent infrastructure, including a wide range of first-rate services and amenities. They also provide an attractive investment opportunity for foreign investors, notably in Pakistan.
Why to Invest in Nova City Peshawar?:
Nova Peshawar Phase 1 exudes luxury. The M-1 highway, which links the major towns of Charsadda and Peshawar in Pakistan, is adjacent. Peshawar has a great deal to offer since it is one of the most practical and simply accessible investment societies. Nova City Developer "MAAKSONS" principal objective is to fulfil its ambition of providing Pakistani investors with the safest and most rewarding investment possibilities available. In Peshawar the Nova City should be at the top of your list if you're looking to put your money to work in the real estate industry.
Real estate investors are attracted to this community partly because of its high quality of life and excellent infrastructure. The needs of Pakistanis living in countries other than Pakistan have inspired the construction of unique structures known as "overseas blocks." Investors in Peshawar and the rest of KPK would be wise to look at Nova City Peshawar today. A large number of investors have shown interest in the residential project only a few days after it was first revealed. This home development has more than a few attractive features, such as a convenient location and manageable monthly payments.
Owners and Developers
MAAKSONS Engineering Corporation Ltd. is the development partner of Nova City Peshawar. The project's developers use Nova City Peshawar to communicate brilliance as well as innovation across Peshawar. Moreover, the MAAKSONS developer's portfolio provides substantial support. As a result of changes, the Peshawar real estate market is growing and gaining everyday prominence. That's an excellent residential option, and this society will offer commercial space to par the development by the end of 2022. The developers are preparing this project to satisfy international standards to be an asset to you in permanence. But it has the best amenities and a high resale value, which makes it an even more desirable place to live. Notable characteristics of MAAKSONS developers include professionalism, reliability, and regard for the public. Your search for the ideal and most sought home concludes in unparalleled luxury and splendour.
In addition, Nova City owners are working on various other initiatives, including Nova City School. The project is based on a set of ground-breaking, high-level concepts that address real concerns faced by the public and provide novel approaches to those problems. Professionalism, reliability, and consideration for clients' needs are just a few of the many laudable traits for which the company is recognized.
Location:
Nova City is a suburb of Peshawar, Pakistan, located south of the Charsadda intersection. The M1 highway, a major thoroughfare, is just a short distance away. Peshawar, Nowshera, Mardan, and Charsadda are just a few cities on this list. Investor interest in this society is likely to rise in tandem with the city's profile. This project's location is ideal, since it is near to all businesses and makes efficient use of the terrain. Would-be buyers and investors will likely find this property value in the future due to its superior position. This is why the economic future will be so prosperous.
Accessibility:
Located adjacent to the M-1 Islamabad-Peshawar Motorway

Almost 19 min drive to Peshawar City

Almost 12 min drive to Charsadda City

Almost 23 min drive to Mardan City

Almost 25 min drive to Risalpur City

Almost 36 min drive to Nowshera City

Almost 7 min drive to Mardan Road

Almost 19 min drive to N-5/G. T Road

Almost 13 min drive to Charsadda Road

Almost 5 min drive to DHQ Hospital Road

Almost 23 min drive to Peshawar Ring Road

Almost 15 min drive to Bacha Khan University

Almost 19 min drive to Peshawar Northern Bypass

Almost 51 min drive to Bacha Khan International Airport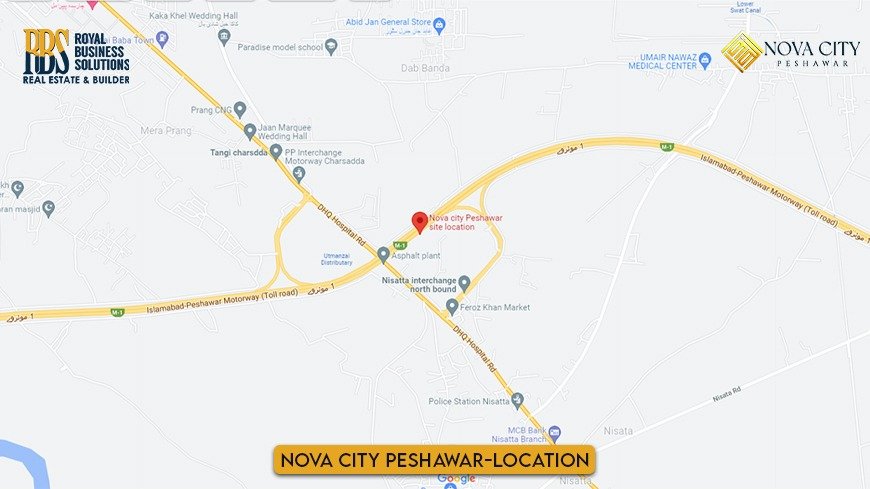 NOC (No Objection Certificate):
The usefulness of a No Objection Certificate in a real estate deal is significant. The No Objection Certificate, or NOC, is an essential document confirming a project's legality. Therefore, it is a statement that the agreement and transaction would continue without legal complications. Officially, the Tehsil Municipal Administration (TMA) has approved Nova City Peshawar. There are numerous reasons why authorities have awarded a certificate of occupancy (NOC) to the developers of "Nova City Peshawar." The team strives to preserve its reputation as a dependable provider of a high-quality, feature-rich community.
Master Plan
Architects with extensive international expertise created the master plan for Nova City Peshawar. Management and owners have taken precautions to ensure that almost all local, national, and international requirements for infrastructure construction have been fulfilled. The city's designers concerted effort to keep Nova City's costs low and its quaint atmosphere intact. The builders ensure that the project follows all rules and laws so that people can live in a safe and pleasant place. For this reason, the payment plan seems enticing to would-be buyers. Considering the KPK's tight budget, this is a smart move. Numerous tycoons want to create Nova City Peshawar the leading investment hub of Pakistan.
The skilled team at MAAKSONS Developers has set the master plan for this housing society. The master plan encompasses around 2,000 Kanals of the finest land. In addition to the recent announcement of Phase II, Phase I is currently undergoing fast development. The master design includes a broad main boulevard with interconnecting streets and roads. The abundance of green belts and tree-planting areas contributes to the aesthetic charm of the community. In Phase I, residential and commercial lots are available in a variety of sizes.
Nova City Peshawar Payment Plan:
Nova City Peshawar offers residential plots cut in size from 125 yards to 605 yards in length for sale. You may put your money in at the start, eventually making you feel superior. However, if you'd like to pay over time, you can pay an affordable monthly payment using straightforward transactions. Thus, this is the substitute method for acquiring your ideal property in this housing society. Furthermore, you may reserve residential plots ranging in size from 5 Marla to 1 Kanal.
Nova City Peshawar payment plan is attentively created for the convenience of its investors. The organisation pre-launched Phase I with a four-year payment plan consisting of forty monthly payments and eight semi-annual payments. The simple payment plan attracts a large number of investors in KPK and around the country. The payment schedule is also reasonable, akin to Nova City Islamabad payment plan.
Facilities and amenities:
MAAKSONS Group makes significant efforts to guarantee that the quality of its developments is adequate to suit the expectations of its customers. Due to the formation of Nova City, the reputation of Peshawar's commercial hub has improved. Copious individuals from all over the globe have opted to invest in this residential region.
Residents of Nova City are unanimous in their support for the construction of community mosques. Since there are so many mosques in the city, it's clear that people are free to follow their religion.
Conservation of natural resources is highly valued in this society. The developers' major goal is to build a sustainable model community. Environmental stewardship and sustainable practices are more crucial than ever in today's economically volatile world.
The water and power shortage is now the most severe challenge affecting the general populace. The community should have reasonable access to water, natural gas, and electricity since these are requirements. Residents and business owners in this society will like this perk.
Every housing society should make ensuring residents' health and well-being one of their highest priorities. In addition, Nova City Peshawar provides that its residents will have access to medical treatment of the greatest possible quality. There will be a branch of the Maroof International Hospital that is dedicated to providing exceptional care and has 200 beds, and it will comply with international standards. In addition, the Health City provides its inhabitants with access to the Nova dispensary. Likewise, Nova City Peshawar Health City is 15 minutes away from DHQ hospital .
The downfall of civilization is inevitable if the bulk of its member does not have sufficient education. But in this society, both students and teachers can use many high-quality resources for free.
A Safe Place to Call Home
Nova City is a gated neighbourhood in Peshawar, surrounded by guards and has the most expensive luxury homes and townhouses in the city. Its residents enjoy the protection of a state-of-the-art security system. Another key responsibility is ensuring the safety of the individuals in this community.
Several other Exciting Locations
Nova City is a city rich with options for fun and relaxation. There are several parks, playgrounds, and zoos in the Philadelphia area for people of all ages to enjoy. Nova City also encourages its citizens to have healthier, more active lifestyles. One way this society hopes to achieve its goals is by encouraging its members to participate in a wide variety of leisure activities.
Nova City Peshawar Salient Features:
The salient features of Nova City Peshawar are:
High Speed Internet
Paved Paths
Sports Arena
Sewerage System
Walking and Jogging tracks
Quality development
Underground electric lines
Accessibility
Boundary Wall
Best Infrastructure
Security
Nearby Landmarks
High speed internet
Street lights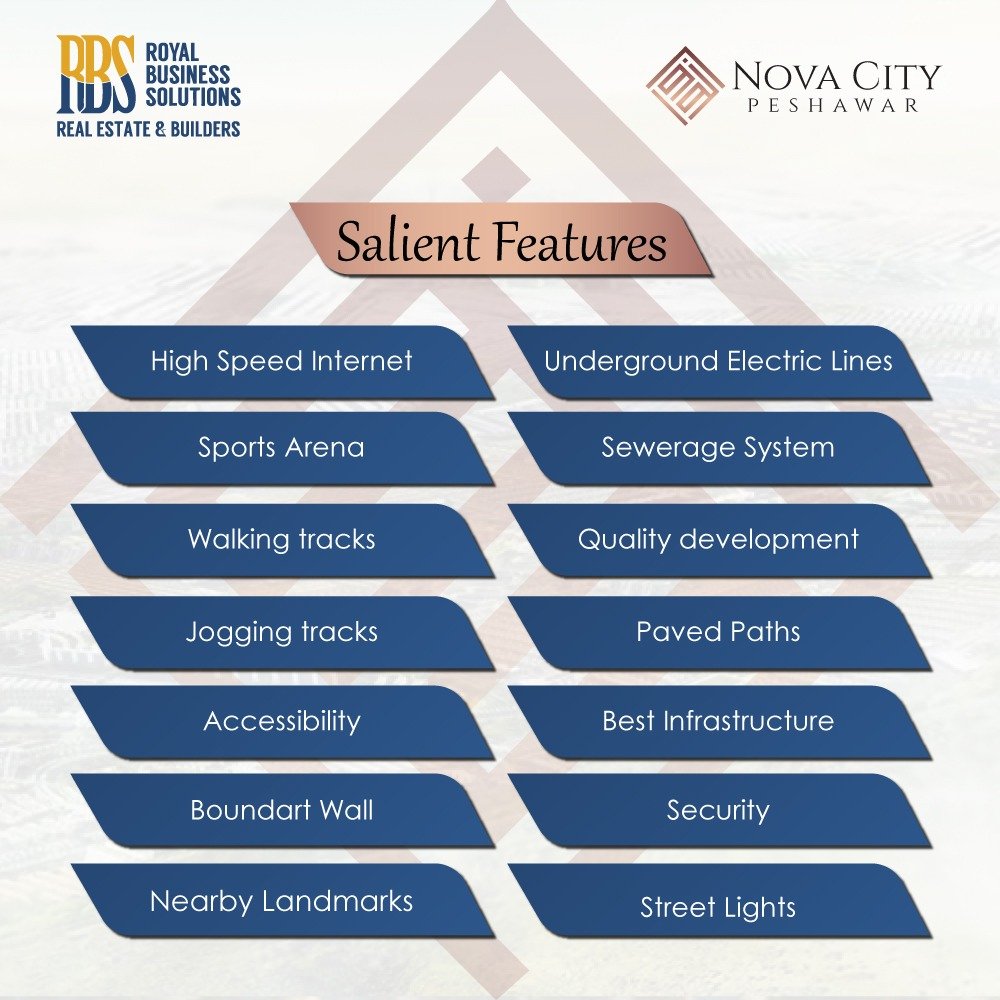 Booking Procedure for Nova City Peshawar:
Booking procedure for Nova City Peshawar is very simple. The installment plan hasn't been disclosed yet because it is in its early developing phase. Furthermore, only residential plots are available for booking which include plots of 5 Marla, 10 Marla, and 1 Kanal. The booking form are available from these banks:
Habib Bank Pvt Limited
JS Bank
The Bank of Khayber
Pros and Cons:
The Nova City Peshawar NOC is in hands of its developers. It's a legit housing society which is offering the best amenities to its residents including the investors with the best ROI (Return on Investment).
This society accepts a wide variety of payment sorts, all of which are convenient and reasonably priced. Because of this, investors can get better returns on their money. Numerous residents of this society like the proximity of the M-1 highway to their place of work.
In fact, the idea of strengthening familial ties is a significant factor in the formation of this housing society. In their view, no matter where you are in life, the family you grew up in is the defining factor.
Any person wishing to call Nova City home must first purchase a residence that meets specific minimum requirements, in addition, the residence can fit the resident's family plus visitors.
This society can meet all of your family's needs and desires, both practical and entertaining ones. That's true; the Nova One is well-known in Pakistan, but this project is much more grandiose.
Investing in Real Estate Has Many Advantages:
Real estate investment is one of the few businesses that consistently produce high returns. This is due to its high expected rate of return on investment. However, it is important to remember that success depends on proper execution. The real estate market is a good place to invest for a number of reasons. Here are a few of the more prominent advantages:
Peace of Mind:
Indeed, the real estate industry is the sector that can maintain the value of investment high if a person has some spare money or someone has some asset as well as he/she wants to keep the value of that asset high.
Reliable Sources of Income:
Real estate investing is a rapid and secure way to increase one's income. In this way, one may acquire land, improve it, reinvest in the improved property, and then collect rent on a regular basis or annually. In addition, rent typically rises each year by a little amount, so it's fair to call it "more stable" over time.
Convenient:
Real estate investment does not need daily maintenance. To make sure your land does not go into the wrong hands, you need just check in on it sometimes.
Side Income:
Once a real estate investment has been made, it may provide passive income in the form of rent. Investors buy either existing buildings or undeveloped land, develop it, and then rent it out to tenants, generating annual income.
A Non-Depreciating Asset
In the long run, a successful real estate investment will always be lucrative. Real estate values increased gradually every year. The value may also increase if a large governmental or private construction project is planned for the region.
Frequently Asked Questions (FAQs):
Some of the frequently asked questions are:
What is Nova City Peshawar and why to choose it?
Nova City Peshawar is an extended version of Nova City Islamabad which is one of the most trending housing society. Developers of Nova City Peshawar wants to provide its people with perfect investment and housing opportunities. The main goal is to provide people with an affordable yet luxurious community.
Is Nova City approved by concerned authorities and have a NOC?
Nova City Peshawar is a legal society and its NOC is approved from the concerned authority. Furthermore, Developers of Nova City Peshawar made sure that they get the NOC as soon as possible.
Is Nova City Peshawar an affordable housing society?
Nova City Peshawar is one of the most affordable housing society with a lot of luxuries. Moreover, it will have easy installment plan which will make it more attractive for people who wants to buy residential or commercial plots.
Where is Nova City Peshawar located?
Nova City Peshawar is located adjacent to M-1 and close to Peshawar and Charsada City. It is also located near Charsadda interchange.
Who is Nova City Peshawar developer?
Nova City Peshawar is developed by Nova developers who previously developed Nova City Islamabad.
Is Nova City Peshawar a beneficial investment society?
Nova City Peshawar has a flexible and affordable payment plans. That leads to more chances of investment and high yield investment returns. Kohistan Enclave is among the best options for those who are searching for luxurious amenities in their new homes.
Conclusion
The designers and developers of Nova City Peshawar set out to provide residents with the finest in residential and economic amenities. The idea has not been fully implemented since the project is still in its early phases of development. The overarching goal is to create a neighbourhood that will attract people and be economically sustainable. That is an affordable housing project in the Peshawar area. A precise payment plan will pique the interest of potential investors, both native and overseas.