August 3, 2023
Posted by:

Muhammad Shehzad

Category:

RBS News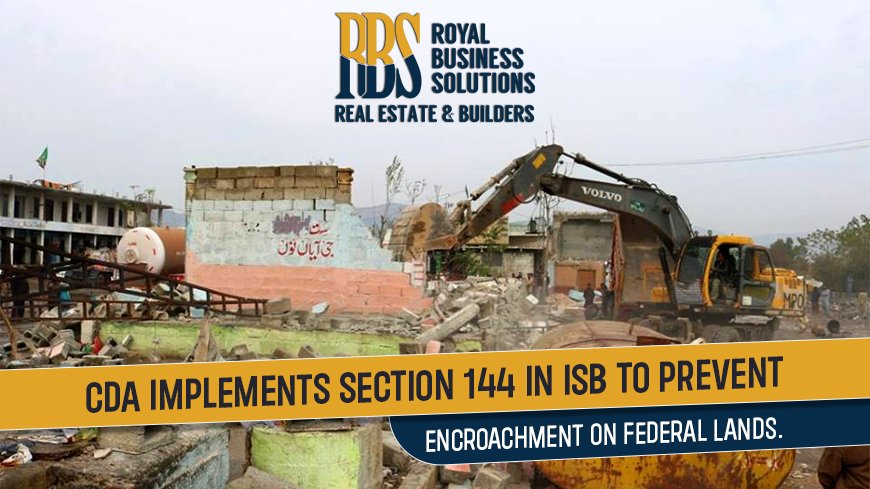 The Capital Development Authority (CDA) has decided to protect federal lands in Islamabad to adopt Section 144 in an effort to prevent encroachment and illegal construction in the federal city. As it is reported in a leading newspaper on July 28.
This decision was made in response to expanding public and government-owned property encroachment, which threatens the city's intended development and benefits.
Capital Development Authority Section 144 Legal Provision
Section 144 is a legal provision providing the government the authority to prohibit mass gatherings and adopt the necessary containment measures to ensure peace and order in a certain region. In this situation, the CDA uses this section to avoid any unauthorized ownership, construction, and development of federal land within the federal capital.
Read: CDA Approves The Annual Budget For 2023-2024
Deputy Director General Of Capital Development Authority
The Deputy Director General of CDA Shah Jehan has requested the Islamabad Deputy Commissioner of Islamabad to implement this section with respect to the land acquired by CDA.
CDA Section 144 Implementation
Implementing CDA Section 144 is a critical step toward preventing these illicit actions and protecting the public and state interests. It empowers law enforcement to take action against any attempt to restrict federal land.
Also, visit the latest news updated by RBS Solutions.
Kohistan Enclave: CDA Auction Exceeds PKR 3.82 Billion Mark
Areas of Section 144
Additionally, Capital Development Authority is considering implementing Section 144 in various areas including:
Jaaba Teli
Faisal Masjid
Khanna Bridge
Saidpur Village
Mandi Morr
Bhara Kahu
Chontra
Katchi abadis
Green belts
According to CDA Chairman Noorul Amin Mengal, this section is being imposed to protect CDA-owned land to take action against encroachments.
Conclusion:
In conclusion, the CDA's decision to enforce Section 144 in Islamabad effectively addresses the critical issue of land encroachment. Furthermore, this proactive measure demonstrates the authority's commitment to tackling the pressing concern at hand. Its objective in adopting this action is to conserve public and government-owned properties in the Federal Capital. The government's objective is to plan development to better the lives of its residents. Islamabad may continue to develop as a model city that balances development with ongoing efforts and public cooperation.
Furthermore, to stay updated on the news about "CDA Approved Projects", stay tuned to none other than Royal Business Solutions itself!