November 11, 2022
Posted by:

Muhammad Shehzad

Category:

Blogs
University Town Islamabad is one of the oldest as well as modern housing societies in Pakistan. Investors call it a raw diamond, having a lot of potential that are hidden away. Moreover, University Town was established in 1992 and officially launched later on in 2005 with all its beauty.
The University Town Islamabad is a captivating and alluring society that offers top-notch facilities at affordable rates. Additionally, it is close to New International Airport surrounded by breathtaking views. The society enjoys an ideal location in the Capital and has spectacular, natural beauty covering it.
Developers of University Town Islamabad
University Town Islamabad is led by Mr. Abdul Aziz Khan who belongs to educational background. He is a professor in Peshawar but his cravings and passion for real estate got him into this industry. Moreover, he came to the real estate industry to provide easy and affordable housing society to residents. Furthermore, his efforts in developing the society are remarkable, regardless of his lack of previous real estate experience.
About Islamabad
The term Islamabad reflects the ideology on which the country was founded. Islamabad is ranked among the top 10 most amazing and beautiful cities in the world. In addition, who visit the Capital is astonish by its lush green beauty of it.
Islamabad is the Capital city of Pakistan located on the 'Potohar Plateau and almost 13km northeast of Rawalpindi. Moreover, it was not the capital from the beginning but was chosen as a Capital in 1959. The construction was started in 1961 to combine modern architecture with Islamic architecture.
Konstantinos Doxiades, Edward Durell Stone, and Gio Pont are the developers of Islamabad. It is not a big city but spans over 25sq miles of land. Moreover, it is dividing into 8 zones such as administrative, diplomatic, industrial, residential, commercial, and institutional, a green belt, and a national park as well. The city also includes dairy farms, a village, Atomic Research Facility, and National Health Institute. Furthermore, the most appealing part of this territory is Margalla Hills which gives a serene look and peaceful atmosphere.
University Town Islamabad NOC
Rawalpindi Development Authority (RDA) approved the NOC of University Town Islamabad on 9/5/2006. The NOC approval is the utmost requirement of any newly develops housing society. It is also the most appealing factor that grabs the investors' attention and enhances the property's worth. Nova City Islamabad is also RDA approved housing society.
University Town Islamabad Location
The University Town Islamabad map shows that it lies at the junction of Islamabad and Rawalpindi. Moreover, it lies on the left side of the Lahore Islamabad Motorway, M-2, just before the toll plaza if you are heading from Islamabad to Lahore. The accessibility from the CDA sectors of Islamabad makes it the perfect choice. Following is the map of Islamabad University Town for your convenience.
Accessibility Routes
The society can be easily accessible from various locations such as:
Nearly, 6 min drive away from M2 Lahore-Islamabad Motorway
Nearly, 20 min drive away from Islamabad International Airport
Nearly, it lies just 05 min drive away from Link Road، the University Town
Nearly, 13 min drive away from Srinagar Highway Islamabad
Moreover, almost 07 min drive away from Nun Road, Bijnial, and Rawalpindi
Nearly, 12 min drive away from N-80, Islamabad, Rawalpindi, Punjab, Pakistan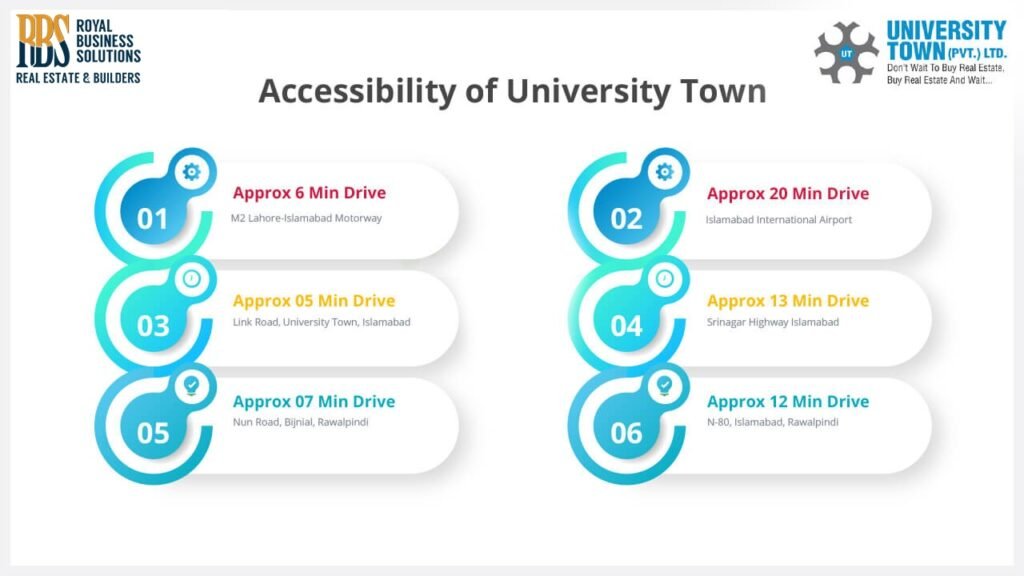 Nearby Societies & Landmarks
The society is located close to many famous landmarks including:
Islamabad International Airport, Islamabad, Pakistan
Capital Smart City Islamabad
Qurtaba City Islamabad
Top City Islamabad
Mumtaz City Islamabad
Sector I-16 Islamabad
Sector I-17 Islamabad
Thalian as well as Kolian
Lakhu
Dhok Chaudhrian
Katarian
Paswal Sharif
University Town Master Plan
The master plan of University Town Islamabad receives a lot of praise from its respective investors. The society covers 4500 Kanals of land where most of plots are residential. Moreover, the developers offer various sizes of University Town Islamabad plot for sale at reasonable prices. Bookings are now open for University Town Islamabad houses for sale as well as for plots. Additionally, it is an excellent option for those looking for low-cost, high-ROI property investment due to its location, community, and facilities.  Hawks Melbourne is also a worthwhile investment option you can consider for higher ROI.
Blocks in University Town Islamabad
The society consists of six blocks namely A, B, C, D, E, and F. Half of these blocks are fully develop and the rest are in progress.
Residential Plots
Following are the residential plots offering in University Town Islamabad:
Development Status
The society is developing at a very fast pace and 80% of development work is completed. Moreover, blocks A, B, and block D have been developed entirely. Even the plot ownership has been transferred to customers also. Besides that, the rest of the blocks are under construction. A lot of houses have been constructed and some families are already shifting there.
Block E is developed almost 80% while Block C is constructed 40%. Moreover, block F is at the initial stages of development. Block E is developing in full swing. On the other hand, blocks C and F are developing gradually and might take a year to attain completion.
Payment Plan
The plot prices in each block vary because of their different categories, development status, and ownership. Moreover, we are offering the prices requested by investors so that you can better understand the current rates.
Residential Plot Prices
Following is the payment plan for residential plots offering in University Town Islamabad.
Commercial Plot Prices
The society is offering investors a chance of investing in its commercial zone. It is very simple to book a plot in the commercial sector of University Town Islamabad. Moreover, you can buy a commercial property by just paying a 25% down payment. Following is the payment plan for commercial plots:
Appealing Features & Amenities
The residents of University Town Islamabad will have access to various cutting-edge facilities that could not found in any other housing venture.
Basic Utilities
All basic facilities are offering in University Town Islamabad at pocket-friendly rates. The developers promise to provide uninterrupted power supply, gas, and water supplies to alleviate any inconvenience.
Mosque
Every block of the project has a separate and well-designed mosque for its inhabitants. Moreover, Jamia Mosques are constructing to accommodate a large number of people for Friday prayer, making their life easier and more comfortable.
Educational Institutes
Education is the basic right of every individual. For this purpose, the developers are constructing multiple universal standards schools and colleges to provide an outstanding education to its residents.
Booking Procedure
Following this simple procedure, you can book your dream plot in University Town Islamabad. Documents required for booking purposes are
Original CNIC
1 CNIC Copy
2 passport-size photos
CNIC copy of next
Frequently Asked Questions (FAQs)
Q1. What is the total area of University Town?
Ans. The society plans on forty-five hundred Kanal of land.
Q2. Who is the University Town Islamabad owner?
Ans. The project is led by Mr. Abdul Aziz Khan.
Q3. What is the University Town Islamabad's contact number?
Ans. You can contact 051-111-111-270 for more project details.
Conclusion
University Town Islamabad is a goldmine for investors and buyers due to its extremely wonderful location and luxurious facilities. Additionally, its proximity to a dual city makes it very easy to travel to and from society.
Furthermore, the Metro bus route made travel to society even less difficult for its citizens thus making it one of the most ideal housing societies in that area. Surprisingly, the investment turnover in the society has exceeded the opportunities due to reasonable prices and the increasing population in the area.