October 2, 2023
Posted by:

Muhammad Afzaal

Category:

Blogs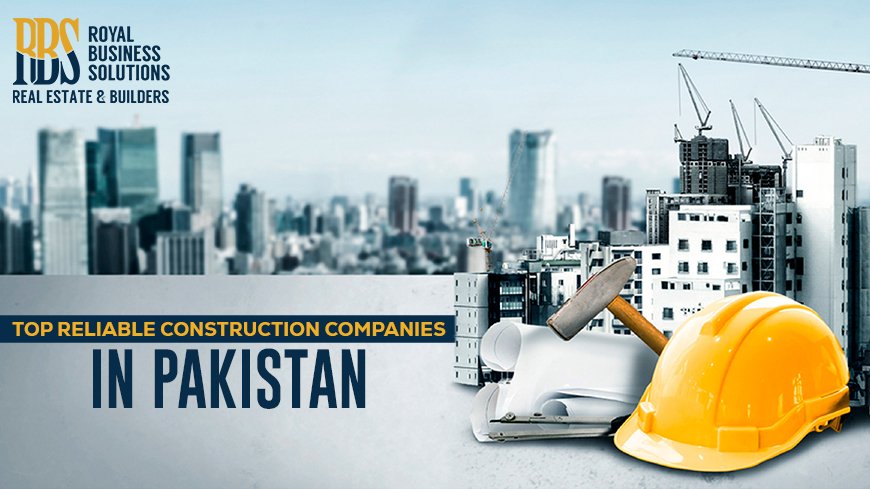 The construction companies play a significant role within any country, contributing substantially to its economic growth. Despite this, many individuals remain unaware of the extensive scope of construction companies. Whether it's property alterations or major projects, experienced and professional construction firms are equipped to handle a wide array of tasks.
Additionally, understanding the diversity within Pakistan's construction sector is crucial. Various types of construction companies exist, each specializing in different kinds of projects. Moreover, it's essential for individuals to select a company that aligns with the specific job they need to be completed.
In this blog, we will provide insights into the different types of construction companies. Also, we will update you on the leading construction companies driving Pakistan's current market.
What Kind of Top Reliable Construction Companies are in Pakistan?
The kinds of top construction companies are given below:
Imarat Group of Companies
As one of the premier construction firms in Pakistan, the Imarat Group of Companies has consistently delivered excellence in real estate for over 15 years. Although, it is a UK-based real estate entity with operations spanning across the UK and Pakistan. It operates as a private property development company.
Since 2015, the brand has successfully launched six notable real estate projects, including three malls, two hotels, and a luxurious apartment complex, all strategically located in prime areas of Islamabad and Rawalpindi.
Among the projects gaining considerable popularity are:
The firm manages a wide range of residential and commercial properties. Also, if you're an investor seeking to invest in the most approved projects in the twin cities, we recommend a visit to the Imarat Group of Companies.
Hardbone International PVT Limited
Hardbone International Pvt. Ltd. stands as a leading construction firm in Pakistan, distinguished by its ISO 14001:2009, 9001:2015, and OHSAS 18001:2007 certifications. The company is renowned for its exceptional construction endeavors, catering to projects in both private and public domains.
Also, the company provides a range of services, including:
Electrical
Mechanical
Renovation
Architectural
HVAC System
Solar System
Civil Construction
Fire Safety System
Agricultural Development
Integrated Technical Service
Security System and Equipment
Additionally, Hardbone International Pvt. Ltd. leverages cutting-edge science and technology to uphold standards of quality, precision, accuracy, and maximize efficiency.
Sardar Group of Companies
This is among the top-tier construction firms in Pakistan, specializing in the creation of upscale residential and commercial spaces. Although, one of the highly acclaimed ventures by Sardar Group of Companies is the Centaurus Mall located in Islamabad, a luxurious shopping destination at the city's focal point.
Some other prominent projects by the company include:
Movenpick
Taj Residencia
PakGulf Pvt.Ltd
Centaurus Apartments
Habib Rafiq Ltd
It's accurate to state that Habib Rafiq Ltd has significantly revolutionized the housing society development realm. Also, they have earned the highest level of trust within the real estate development industry. However, with a history spanning six decades, the company has been actively engaged in various significant projects.
Two prominent projects by HRL that have caught the attention of many in Pakistan and propelled them towards real estate investment due to their distinctive features are Capital Smart City, Islamabad, and Lahore Smart City. Additionally, the company is presently involved in several other ventures, including:
M-9 Project
Cycle Power Plant
The political situation in Pakistan always has an effect on the housing market. If you are interested to invest in LSC, check out the Lahore Smart City And The Current State Of Pakistani Politics
Future Development Holdings Pvt. Ltd
FDHL was founded in 1984, emerged through collaboration between local and international organizations. Also, this company was aiming to revolutionize the real estate sector. Moreover, the firm is dedicating to innovate state-of-the-art concepts that seamlessly integrate with contemporary living environments.
In addition, FDHL has actively engaged in development and infrastructure projects for a considerable duration. Moreover, they have successfully transformed some of the most remarkable projects in Pakistan.
Presently, FDHL is actively involved in some of the most popular and impactful projects, including:
Capital Smart City
Lahore Smart City
M-2 Smart Industrial Park
Jaffar Group of Companies
In 1984, the Jaffer Group established Murshid Builders (Private) Limited, a construction enterprise. Since its inception, the company has successfully executed numerous projects and engaged in collaborations with esteemed international firms.
Besides acting as a principal contractor, the company has also served as a subcontractor for renowned global entities such as Northrop Grumman, Encorp (USA), Tobishima, Shimizu, and Taisei Corporation (Japan).
Some notable projects undertaken and completed by the company include:
Housing Complex, Haripur.
Children's Hospital, Karachi.
Honda Car Factory, Lahore.
The Educational TV Station.
National Engineering Services Pakistan (NESPAK)
NESPAK stands as an exceptional firm, recognized as one of the leading design consultancy organizations across Asia and Africa. Also, the company provides a range of services encompassing construction, management, engineering, and consultancy. Additionally, established by the government of Pakistan in 1973, NESPAK is headquartered in Lahore, the capital of Punjab.
While over the years, NESPAK has successfully completed a total of 3651 projects. However, remarkably, 90% of these projects were executed within the domestic sphere, with the remaining 10% being international ventures.
Some significant projects undertaken by NESPAK include:
Lahore Metro
New Islamabad Airport
Karachi Nuclear Power Plant
ZKB Engineers and Constructors
For over four decades, ZKB has been delivering opulent infrastructure and extensive consultancy services. This company is the go-to choice for individuals seeking luxurious projects within budget constraints. Hence, originating in Baluchistan, ZKB has expanded its services nationwide.
Highlighted Projects:
PAF Base Chander
Muslim Bagh-e-Qila Saifullah
Bus Rapid Transit System for Lahore
Steps to Establish a Construction Firm in Pakistan
Commencing a business is a process that entails regulatory registrations. However, registering a construction company in Pakistan adds an extra layer of complexity. The procedure comprises three main components:
Enrollment with the Securities and Exchange Commission of Pakistan (SECP)
Registration with the Federal Board of Revenue (FBR)
Accreditation with the Pakistan Engineering Council (PEC)
Basically, each of these registrations involves its own set of steps and prerequisites. If you're keen on initiating a construction enterprise in Pakistan, you'll need to complete registrations with SECP, FBR, and PEC, respectively.
If you are looking for a high rise construction developments click Why Is High Rise Construction So Important To The Skyline Of A City?
Conclusion
The construction companies in Pakistan are a dynamic and evolving sector, integral to the country's economic growth and development. The companies mentioned above stand out for their reliability, expertise, and commitment to delivering high-quality construction projects across various domains. Moreover, From large-scale infrastructure ventures to residential and commercial developments, these companies play a vital role in shaping Pakistan's landscape and contributing to its progress.
Check out New Deal Of Capital Smart City possessionable plots for profitable gains on real estate investments.