August 31, 2023
Posted by:

Muhammad Shehzad

Category:

Blogs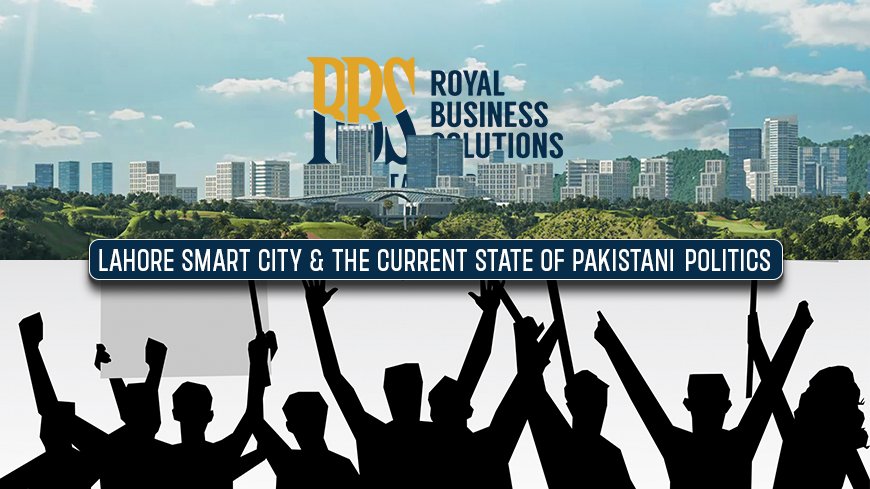 The political situation in Pakistan always has an effect on the housing market. The year before, the housing market was down and unstable. Neither the residential nor the commercial sectors had any appreciable growth in the last year. The loss and market instability were primarily caused by political conditions or concerns. The ideal project for residents and investments is LSC. The political climate in Pakistan had a negligible effect on this housing society. This housing society has a good market value and provides numerous investment prospects. Although, the value of Lahore Smart City is rising on an ongoing basis.
Political Situation in Pakistan
Although the political situation in Pakistan is not yet completely stable, things are supposed to get better soon. As we know, our country is experiencing countless challenges and disasters. The property's value has also decreased because of COVID-19, however, it is currently stable.
The effects of COVID-19 have been felt by all Pakistani properties. All property values were thus decreased. This year, the market anticipates to rebound and prices to resume climbing. These prices are profitable to everyone because of the real estate market's positive impact.
LSC Current Situation
Lahore Smart City is the top ideal housing society for a luxurious living. Lahore Smart City current state is also impacted by the political situation. Political concerns are being settled today, and society is getting better. Lahore Smart City has demonstrated its advancement and growth. Both investors and residents can choose from a variety of opportunities. Lots of plots are balloting, and people start constructing homes on them. For prayer, there are two magnificent mosques. For the enjoyment of families and kids, there are many family parks.
Many additional elements of infrastructure, including roads, are now in construction. The highest long-term profit will come from investing in LSC. The value of Lahore Smart City can impact the political environment in Pakistan. The current political situation in Pakistan has caused the property's value to stabilize. This housing society is easily accessible to investors.
The LSC development update is proof that Pakistan aspires to a better. If you are willing to invest in Lahore Smart City check out its development update by clicking on the link given below:
Lahore Smart City Development Update For August 2023
Lahore Smart City: Current State of Pakistan's Politics
The market value of LSC is higher when compared to other housing communities. The best investment project consider as the top priority. The best investment option is LSC. This society does not impact political issues. Moreover, it already has a property value that increases with time. Prior to investing, take into account your budget, the property's location, and your investment goal.
The following characteristics make Lahore Smart City the best:
Kala Shah Kaku is the perfect place for LSC.
Numerous investing choices are available in this housing society.
High infrastructure and development
A lot of plots are on voting.
Two beautiful mosques for prayer.
There are villas available.
It eventually adopt a global way of living.
Hospitals and educational institutions of international standing.
The prices are reasonable.
The property's worth will rise in this housing society as well.
Profit in Lahore Smart City – Political Situation in Pakistan
The high-end project LSC will make a greater profit than other developments. It's a great opportunity to buy real estate in LSC right now. In the upcoming days, this investment will produce a sizable return. World-class amenities offered by Lahore Smart City include a prime location, residential and business sites, and also a number of additional attractions. Additionally, the villas, house plans, infrastructure, and development are all perfectly constructing as is the entire project.
Why the Smart City of Lahore?
Lahore Smart City is the ideal investment in the current political situation in Pakistan because of its development. Most importantly, this property's value has not dropped.
Even with the current state of affairs in Pakistan, the costs are not reasonable.
The LSC current state information is accessible on Own. The owner will pay charges at the time of booking.
The owner has the flexibility to change along with market rates and situations.
All files from various categories, including residential and business, are still accessible on Own.
This demonstrates that LSC value won't decrease. In Lahore, this project is the best opportunity for you to invest.
Collaboration as a Future Strategy
For the LSC  project and Pakistan's political development to succeed, cooperation is essential. Government, business, and also civic society must work together to ensure that the city's technological developments keep expanding. Political leaders must also recognize the importance of these businesses and prioritize policies that promote their growth.
On-ground plots in LSC are excellent for both living in and investing in. You should need to check out the On-Ground Plots Available For Sale At The Lahore Smart City
Conclusion
Lahore Smart City is a promising initiative that aims to transform urban living in Pakistan using innovative technologies and sustainable infrastructure. However, the country's wider political environment's stability and effectiveness are crucial for its success. Also, Pakistani politics defines a dynamic mix of opportunities and difficulties, with the necessity of transparency, governance changes, and economic growth remains crucial to its success.
Furthermore, it is essential to consult current sources for the most recent developments in both the LSC project and Pakistani politics.