August 25, 2023
Posted by:

Muhammad Shehzad

Category:

Blogs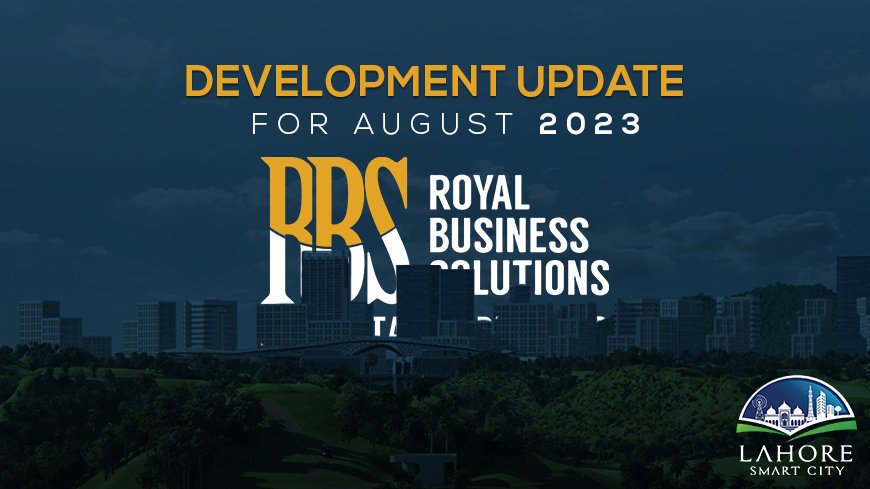 LSC development in Lahore is more than just a real estate development. It promises a bright future where dreams and reality blend to create a modish lifestyle with great investment benefits.
Lahore Smart City: Overview
Lahore Smart City is a major real estate project and the second smart city in Pakistan. Whereas Capital Smart City is the first.
It is a modern and innovative green development that aims to create a technologically advanced and sustainable urban community.
The project is LDA-approved and developed by one of Pakistan's leading construction and development companies, details of which are below.
Developers and Owners
Habib Rafiq Group (Pvt.) Limited and Future Developments Holding (Pvt.) Limited, two real estate industry leaders, collaborated to make this high-tech project a reality.
Although, the two leading developers in the real estate sector are profiled here.
Habib Rafiq Pvt. Ltd
Construction, chemical and petrochemical, environment, energy and power, residential and infrastructure, highways, water resources engineering, oil and gas, and aircraft and also airfields are among the industries served by Habib Rafiq Private Limited.
However, for the relevant smart city projects, HRL is in charge of residential buildings, roadways, electric and automated outcomes, gas pipes, water tanks, and layout work.
Future Developments Holding (FDH)
Future Developments Holdings (FDH), a private development and construction company is listed as a company under the Companies Act of 1984. The FDHL team obviously seeks to help residential and retail communities in the most innovative environment.
The 25 awards are proof of Future Development Holdings' extraordinary accomplishments in Pakistan's real estate sector. Regarding FDIHL, the example of smart cities speaks for itself.
As a result of their work and dedication to developing high-quality infrastructure in residential communities like DHA and Bahria Town, they are already well-known in the real estate sector.
Design Partner – Surbana Jurong
Through Smart City Lahore, the Singaporean architectural firm Surbana Jurong exemplifies great aesthetics, excellence, and architectural growth.
Besides, they were recognized as one of the top businesses in Asia's sustainable and futuristic urban architect groups. Hence, they built the Smart Lahore City project by Pakistan's culture and landscape.
Additionally, Surbana Jurong has done a fantastic job of planning this enormous project, which provides residents with a range of housing options, adopting European development standards.
If you are looking to maintain your real estate excellence check Real Estate Excellence In Pakistan: Emerging Digital Marketing Strategies for your guidance.
Other Design Consultants
DSA Architects International
Smart Technology Solutions
Design Consulting Engineers
NesPak Engineering Consultancy
Development Associates
Numerous development partners for this project include:
National Defense University
International Medical and Research Institute
Freij Entertainment International
NOC
In February 2021, the Lahore Development Authority (LDA) formally authorized the NOC of Smart City Lahore.
Accordingly, LSC builds on the idea of eco-friendly construction plans and practical living for the people of Lahore. This is a great chance for entrepreneurs and investors to put their blind faith in Punjab's legally permitted housing project.
LSC Upcoming News & Development Updates 2023
1st Balloting Selection announcement is around the corner. Those who booked the plots on 100%, 50%, and 40% down payment will be able to select the plot between 29th March and 4th March. Basically, the members who clear the installments timely as per the schedule given by the management and can meet the criteria of selection for 1st Phase (60%) will get an opportunity to select a plot between 5th April and 12th April 2023.
To avail the golden opportunity to invest in balloted plots consider Lahore Smart City: Golden Opportunity To Invest In Balloted Plots is the best option for you.
Those who received their acknowledgment receipt of the plot selection afterward the company announced for balloting criteria (60%) will get an opportunity to select the plot between 13th April and 19th April 2023. Although, balloting in the overseas and executive blocks of Lahore Smart City will commence on 13th May 2023.
LSC: Latest Development Updates 2023
The rapid growth of LSC development is both a surprise and an accomplishment. Investors are more confident as a result, and they make investments without hesitation. The LSC has made the following developments so far:
The most recent addition to LSC is Flower Park. Flora and animals, as well as numerous floral varieties, are planted in this area.
Construction on the 312 Ft. Main Boulevard Road is complete
Construction on Business Avenue is complete.
The water supply in Sectors A and B is fully operational.
Pakistan's first society with a network of fiber optic cables
Eventually, Villas are being built in Sectors A and B.
Construction of a park and a mosque is also ongoing in Sectors A and B.
Conclusion
The LSC development update is proof that Pakistan aspires to a better, more sophisticated technologically, and sustainable future. Finally, the project is making progress in all areas, as seen by the August 2023 development updates.
Lahore's transformation into a smart city offers an example of how other cities might embrace innovation, sustainability, and also community-driven growth. Moreover, Lahore Smart City is clearly on the route to becoming a remarkable model of urban excellence with its blend of smart features, green initiatives, and economic prospects.
Furthermore, Capital Smart City is also a great option to invest. If you need to know the latest development charges and surcharges policy of Capital Smart City check out the link below:
Capital Smart City Latest Development Charges And Surcharges Policy