August 24, 2023
Posted by:

Muhammad Shehzad

Category:

Blogs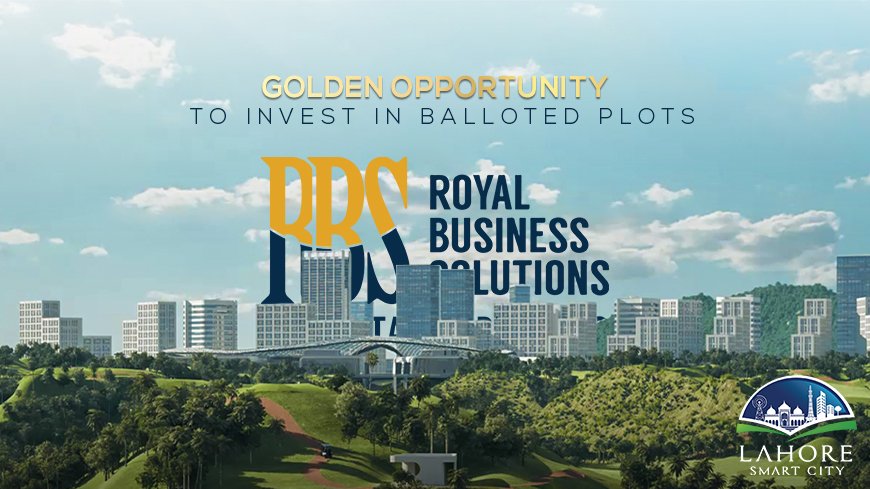 Lahore Smart City appears to be a synthesis of nature and human power, and it will be Pakistan's second smart city built on international infrastructure. With the development of smart cities and carefully planned urban complexes that include cutting-edge technology and environmental practices, the real estate market in Pakistan has recently experienced a historical change.
Lahore Smart City
Lahore Smart City stands out among it as a beacon of innovation and possibilities for investment. For investors wishing to ensure their financial future through balloted plots, it has emerged as a wonderful prospect because of its cutting-edge infrastructure, advantageous location, and promising features.
The Rise of Smart Cities in Pakistan
Smart cities represent the fusion of urban living and technological advancements. These cities are designed to enhance the quality of life for their residents while addressing critical issues like traffic congestion, energy efficiency, waste management, and more. Pakistan, like many other countries, recognized the need for sustainable urban development and started envisioning smart cities.
Lahore, as one of Pakistan's most vibrant and populous cities, was a natural candidate for such a transformation. Lahore Smart City, a joint venture between Habib Rafiq Pvt. Ltd and Future Development Holdings emerged as a pioneering project that aimed to reshape the urban landscape of Lahore.
Lahore Smart City Balloted Plots
It is a high-end project that recently balloted some plots in their recent event. The balloted plots in Lahore Smart City are now available in the following blocks:
Executive 1
Overseas 1
Both blocks in Lahore Smart City are divided into sectors A to D, offering a wide range of residential and commercial properties. These plots are perfect for people seeking a contemporary and technologically advanced lifestyle. The balloted plots in LSC are the following:
5 Marla residential
7 Marla residential
10 Marla residential
12 Marla residential
1 Kanal residential
4 Marla commercial
8 Marla commercial
These residential and commercial plots present golden investment opportunities with promising returns in the future. Although, buying these properties will bring you significant benefits. In the Executive-1 and Overseas-1 blocks, you will find educational institutes, parks, commercial areas, marketplaces, business hubs, beautiful mosques, and various other conveniences.
If you are looking for a peaceful environment in which to live, Lahore Smart City is the best choice for you.
Balloted Residential Plots
For people looking for a luxury living experience with modern comforts, Lahore Smart City's residential plots are the perfect option. Moreover, an extraordinary standard of living offers this housing association. Residential balloted plots in the Executive-1 and Overseas-1 blocks are available in sizes of 5, 7, 10, and 1 Kanal.
Balloted Commercial Plots
Lahore Smart City offers commercial plots that are excellent for use in businesses. 4 Marla and 8 Marla commercial plots, which presented good investment potential, were balloted in the most recent event. Compared to residential homes, commercial buildings have the potential to yield bigger revenues. However, purchasing commercial plots is a sensible decision if you're thinking about investing. These balloted plots in Lahore Smart City have several advantages because it is anticipated that they will eventually produce beneficial returns.
Benefits of Investment in Balloted Plots in LSC
Lahore Smart City is going to become Pakistan's second smart city, offering residents a high standard of living. Investing in balloted plots presents an excellent investment opportunity. These balloted plots are ideal due to their best location and available features. There are numerous benefits to investing in these plots, including:
Surroundings are beneficial and highly advantageous.
Eco-friendly and green environment for a healthier and more enjoyable living experience.
Maintenance services are available, ensuring that your property remains in excellent condition.
Power backups are available.
Plots are on-ground.
Development is progressing rapidly with high-quality infrastructure.
Both residential and commercial balloted plots are available.
These balloted plots expect to generate a high return on investment due to their strategic location and market demand.
Possession of the plots will be given in the near future.
Safe and as well as secure investment opportunity
Investing in these balloted plots allows you to enjoy the benefits of a well-planned and technologically advanced smart city.
Furthermore, if you are willing to invest in apartments for your wise decision check out the relevant blog below:
Why Apartments Are A Great Option For Residential Living
Conclusion
Balloted plots in Lahore Smart City are great for investing because they will give you a high profit. If you want to invest in Lahore Smart City, choose the balloted plots. These plots will also be available for possession soon. When you take possession of these plots, their value will go up. Both residential and commercial plots are great because of their features and good location.
The residential plots will give you a luxurious lifestyle with modern conveniences and services. Also, the commercial properties will give you opportunities for business. So, invest in this housing society based on your budget and needs. Furthermore, these balloted plots in LSC will be beneficial for your future.