August 23, 2023
Posted by:

Muhammad Shehzad

Category:

Blogs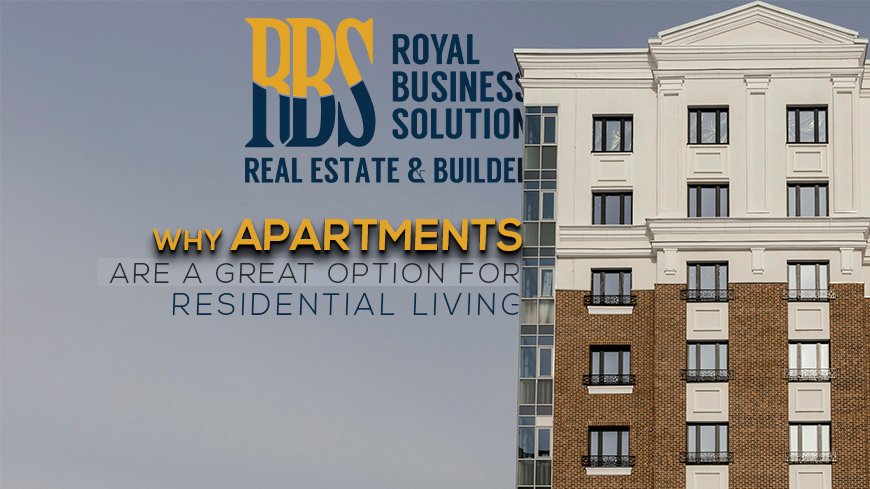 Residential Living in Apartments
Apartments are a great option for residential living. Residential living in apartments is a popular housing arrangement where individuals or families rent or own individual units within a larger building complex. Although, apartments are typically part of multi-story buildings and offer various sizes and configurations to accommodate different living needs.
The Growing Demand for Apartments in Pakistan
Prospective buyers' demand for flats in the Islamabad Capital Territory increased from 15% to 17% during the past two years. Between 2018 and 2020, apartment searches in Punjab increased from 15% to 17%. During this time, the popularity of apartments went from 23% to 25% in Sindh, while it grew from 17% to 19% in Khyber Pakhtunkhwa.
It's also crucial to note that during the past two years, demand for plots has declined while interest in houses has a bit increased.
Rapid urbanization is the primary cause of Pakistan's popularity with apartment buildings. Urban areas' housing needs increased as more people moved to big cities in search of better economic and educational opportunities.
The necessity for additional vertical projects in Pakistan has grown as a result of the government placing restrictions on the horizontal growth of some cities in an effort to minimize urban sprawl.
You can check out the smart city plot for sale in Lahore to see what investment options are available for you.
Reasons to Invest in Apartment Projects in Pakistan
These are some of the most important reasons why you must consider investing in apartment projects.
Source of Consistent Income
If you are looking for a safe and secure environment to live in, then you should explore Kohistan Enclave 3.2 Marla.
Why Apartments are a great option for residential living?
The options for where to live are getting wider in a world that has grown more urbanized. While, the popularity of apartment living has won the hearts of countless people looking for a modern, practical, and comfortable residential experience.
Apartments come with a variety of characteristics that make them a tempting choice for anyone seeking a place to live a happy life. In this blog post, we'll examine the factors that have contributed to why apartments are a great option for a lucrative living.
Prime Locations 
The apartment's accessibility to urban centers and cultural institutions is one of its main selling points. Numerous apartments are ideally situated within or close to cities, entertainment, food, and other amenities. Apartment owners enjoy the convenience of being able to quickly commute to work, enjoy a night out without worrying about parking, or stroll to their favorite café.
Affordability and Cost Savings
Apartments are frequently more cost-effective than single-family homes, particularly in locations with high demand. Due to shared infrastructure and current cost-effective designs, utility costs can be decreased in addition to being generally lower upfront.
Minimal Maintenance Requirements
Owning a property frequently entails taking on the duties of maintenance, repairs, and renovations. Apartments provide a welcome contrast because property management companies take care of these duties for you. The administration makes sure that the property stays in excellent condition. Residents now have more free time to take advantage of their surroundings and pursue their interests.
Sense of Community
Despite common perceptions, apartment living doesn't always lead to isolation. In fact, many flats actively promote a strong sense of community. Shared areas like lounges, rooftop gardens, and common kitchens promote community and interaction among residents. The neighbors come together to form a supportive network that is especially useful in urban areas.
Safety and Security
Apartments frequently include improved security measures such as controlled access entry systems, security cameras, and on-site security guards. Residents who live alone and are worried about the safety of their families can feel more secure with this level of security.
Amenities
Modern apartments are well known for their luxury features, which raise living standards. Apartments provide a range of amenities to suit various lifestyles, including workspaces, swimming pools, and gyms. These amenities can elevate a community's standard of living and give its residents' everyday lives a little extra elegance.
Environmental Considerations
Apartment living can help people live more sustainably in a time when environmental issues are prominent. Many apartment complexes construct with environmentally friendly elements like solar panels, energy-efficient appliances, and waste reduction programs. Living in a high-density area helps public transportation which is ultimately good for the environment.
Opportunities for Investment
Buying an apartment with the intention of renting it out might give investors a reliable source of income. Apartment rentals are a desirable alternative for anyone looking to diversify their investment portfolio.
Furthermore, in order to know how to utilize successful real estate operations to increase the productivity of your firm check How To Be Successful In Real Estate Operations And Productivity In Pakistan – Everything You Need To Know?
Conclusion
In conclusion, Apartments are a great option for residential living . apartment living has several benefits that appeal to a variety of people looking for convenience, community, and a modern way of life. Apartments have made an excellent case for themselves as a desirable option for residential living in today's dynamic world because of their ideal locations, cost-effective advantages, shared amenities, and feeling of community.
Moreover, accepting the benefits of apartment living may just be the key to unlocking a meaningful and dynamic lifestyle as urbanization continues to change our living surroundings.