July 5, 2022
Posted by:

RBS Land

Category:

Blogs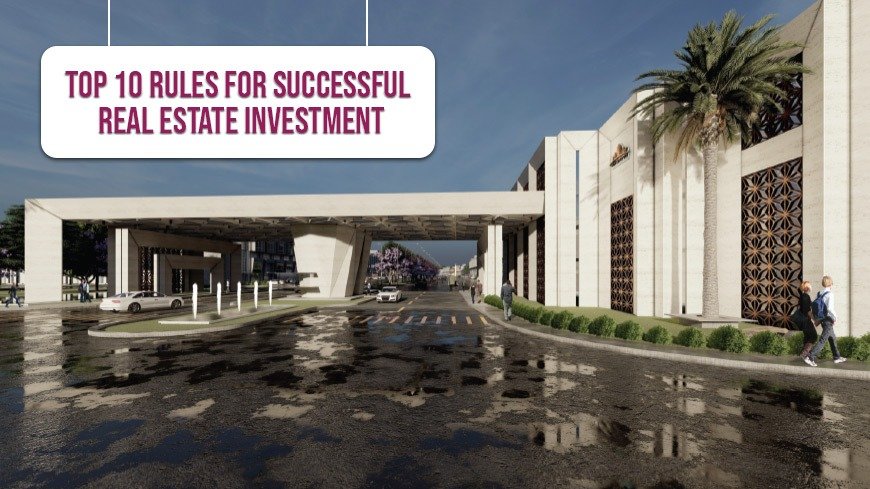 People think about money when it comes to property business like real estate. Real estate is one of the sound investment. However, it is fortunate that the conventional wisdom regarding real estate is emerging. According to an estimate, Pakistanis finance around 5.2B$ in real estate industry which is most profitable business in Pakistan. It is one of the secured methods because the chances of fall are very less. Pakistani property investors are always seeking opportunities to invest in real estate. Also, to gain benefit with maximum return. Pakistan's real estate industry is filled with well-paid investment opportunities.
Pakistani property investors inside Pakistan and overseas are investing in real estate due to the benefits and profit. Moreover, people abroad are coming from different states and investing in real estate. If the investors invest wisely then they can receive for years and in profit too.
Why you should invest in Pakistan real estate business?
If you want to become rich, invest in real estate. It's rightly said to get "real" with real estate. Along with add a safe title to land. There are various ways later after getting a land. Firstly, an agricultural area can be grown with crops yield. Secondly, a house or apartment can be built where tenants can pay the rents. These are two ways to become successful in real estate and its profitable too. The real estate market is fluctuating.
Top 10 Rules for Successful Real Estate Investment
Firstly, real estate is most successful for all investors. Secondly, a constant and respected cash flow is one of the main reasons which conspiracies people to invest. There are multiple other reasons which attracts people to invest, the top 10 successful rules for real estate investment are:
Welcoming the warm ideas in real estate:
The top successful investors see profit opportunities everywhere. Also, the ability to see creative financing is need of the day. The real estate business in Pakistan is leading right now. The economy is getting better day by day. Furthermore, according to statistics GDP of Pakistan will increase 5.7% than present time. In addition, the main factor will be the real estate development. Real estate business in Pakistan is one of the most growing real estate markets. This is one of the reason Pakistanis living inside and overseas are always investing in it now.  In order to facilitate the residents, New Metro City is facilitated with globalized standard facilities. New Metro City Sarai Alamgir PP-1 is officially approved by TMA Gujrat. Also, one must be having the know-how of Kharian. It's a famous Tehsil located in Punjab District Pakistan. Between the rivers Chenab and Jhelum with North foothills of mountains.
Options for investment:
Real estate investment is such a high skate's game in business. It is critical to understand what you are doing in order to succeed. The options are kept open in each such investment. The trending investment in the market is the foremost option in real estate investment.
It is wise to invest in the properties that produce multiples of investments. Enhance your own education in this regard as well. Furthermore, the ability to employ a strategy correctly can result in subsequent returns. Naturally if you have less knowledge, than there are chances for loss as well.
Choosing the market and right time for investment:
It is beneficial to know the local market than seeing the nationwide. A basic principle is to avoid the hot markets. When a society is in its pre launched stage, this is the high time to invest.
The real estate market moves in circles due to economic profits. There are various phases of growth:
Sales prices are rising in real estate
Affordability is the main reason for investment.
Capital investment is rising with maximum return
Plan purposefully and set your goals in accordance.
In property business, set your goals intelligently and then plan accordingly. If you have already invested in constructed commercial and residential properties, the results are faster as compared to the under constructed property. Hence, the foremost task is to find when and where people are investing the most.
New Metro City Gujar Khan is going to provide a modern living experience in terms of unique facilities. Also, countless luxuries are given to its residents.   The grand trunk road passes through the town and Islamabad-Rawalpindi Railway line.
A lavish housing venture in Gujar Khan with  profitable investments. Moreover, a luxury living is awaited who plan purposefully.
Ideal location of the property in real estate.
The relevant tip to consider in real estate investment is its locality. Additionally, one of the essential things is investing in those neighborhoods with high population density. All popular neighbors have them in common.
Low crime rates
Schools and colleges
Access to parks and leisure destinations
Access to public transportations
Amicable location near shopping malls and restaurants.
Buying the property at low cost:
The return on investment is also based on the fact as how low the commodity costed. A cheap investment in an unstable neighborhood can bring les money. The commercial plots are a good investment option which are affordable also versatile in payment schemes.
Maximize cost of real estate investment.
A classy way to maximize your real estate is to make investment of same investment property. Instead of selling a house or building, find a desiring tenant. Once tenant is out for lease, start looking for investors. Also, part of the property can be given for some organic farming.
Finding properties for maximum cash flow:
Cash flow states the amount of money moving in a business circle.  When investing on real estate the positive cash flow, or the rate of return in the long run must be certified. As the amount will grow over time, the appreciation of property backed by rise also grows. The long term investment plan is to be made which has long lasting effects.
Take an organized approach to choose property:
One of the most successful rules for real estate investment is to start the search from a wider scope. This narrows down and specifies as you go along. After considering the risk factors and current trends, the best city would be chosen for future investment.
After the city is finalized, the next step is neighborhoods and best particular investment requirements. Finally, the specific amenities associated to are also important.
Knowledge on the pros and cons of real investment:
If the local community law prohibits, never convert the first floor of building into commercial space. Further, no unnecessary construction is allowed unless you get the license  of doing it.
There is always a high time when the property bought can be sold with maximum profit. Hence, when it is the boom in market, don't wait and sell property with maximum benefits.
Conclusion:
The real estate industry of Pakistan is successful future business.  In this fluctuating economy right now where there is no guarantee about any business. However, Real estate is one of those business in Pakistan where government is interested. Government of Pakistan is providing business owners with incentives and very low taxes which makes them more concerned. The reasons mentioned above are the compelling reasons to invest in real estate. The coming age is the age of investment in property. These opportunities are constantly open for all to avail. The need of the day is to intelligently put your amount in a reliable real estate investment. Hence, the benefits and gains as a result of these investments are most prominent.