Introduction of New Metro city Kharian:
Real estate is a top ranked business in 2022. It has played a dynamic role in the annuls of history. There are many new projects however the emerging New Metro City is most popular. All and Sundry can be heard talking about it. New Metro is an upcoming project in Sarai Alamgir. Also, one must be having the know-how of Kharain. It's a famous Tehsil located in Punjab District Pakistan. Between the rivers Chenab and Jhelum with North foothills of mountains. Kashmir is also located in North. A large community is settled here in Sarai Alamgir. It is tehsil of Gujrat District.
A project of BSM developers:
BSM developers are well known business entity in property development. They have a real fame in the real estate flooring a path towards wealthy Pakistan. BSM developers have started this project for Gwadar CPEC – route already. This is such a significant output for providing a lift to financial cycle. Malik Riaz is the most renowned name of the business tycoon in the real estate development. Malik Bilal is the CEO of Metro City Kharian project.
Salient Features:
New Metro City is the future project in the Sarai Alamgir. In order to facilitate the residents, New Metro City is equipped with globalized standard facilities. New Metro City Sarai Alamgir PP-1 is officially approved by TMA Gujrat.They are also launching another city in Gujarkhan named as NEW METRO CITY GUJAR KHAN. Some of these features are: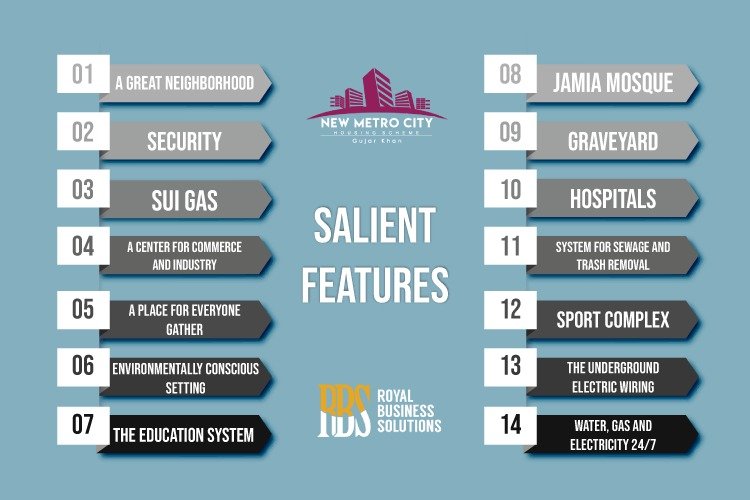 Modern Facilities Available:
All fundamental and sophisticated residential as well as commercial services are available. These include health educational and leisure facilities. Further all these qualities make a place desirable to live. The main streamline 8-line boulevard provides a smooth flow of traffic. Since, its maximum part is dedicated for green belts. They also include parks, playgrounds and green belts. The fresh new metro city is attractive and peaceful.
Complete Security and safety:
The New Metro City has introduced advanced security and complete safety. The CCTV cameras and a gated community is installed in the advanced city.
payment plan:
Residential plot payment plan:
The residential plots are intorcuced at a handy payment plan. The plots are of following sizes:
5 Marla

7 Marla

10 Marla

1 Kanal
The updated residential plot payment plan is given below in the table. This is a 3 year intallment plan:
Plot size
Total Price
Down Payment
36 Monthly Installments
10% on Balloting

5 Marla

(25'x45')

2,200,000
440,000
42,7228
220,000

7 Marla

(27'x60')

2,800,000
560,000
54,444
280,000

10 Marla

(35'x65')

3,600,000
720,000
70,000
360,000

1 Kanal

(50'x90')

6,600,000
1,320,000
128,333
660,000
Launching Commercial plots of New Metro City:
The commerial plots are a good investment option which are inexpensive also versatile in payment schemes.
Moreover there are golden oppertunites provided by New Metro City. The prices are also faily economic. The potential costs of this project are definitely going to rise. This is the best time to create an agreement for accquiring maximum earnings. There are commercial and residential properties accessible in distinct dimensions.
Fexibility in Payment Plan:
Plots sizes matter a lot in payment plan. For easemnt of the investors, easy installment stratgies are also available. At the time of ballot, 10% payment sum is payable. The reservation can be created with 15% down payment. The reservation process is also straight forward and currently active. Also, this project has immense potential. The developers have installed this project two years ago to give quality standards in Pakistan.New Metro city is a project of potential investments with huge oppertunities. If  you want a topclass investment opportunity, it is available on first-cum-first. It is something that can not be missed. Mentioned below is the limited payment plan for commercial plots.  The booking has also started.
Plot size
Total price
Down payment
Confirmation(within 45 days)
36 Monthly Intallments
At Balloting

4 Marla

(MB)

6,800,000
1,650,000
450,000
111,600
680,000

6 Marla

(MB)

9,800,000
1,950,000
550,000
175,500
980,000

8 Marla

(MB)

13,000,000
2,550,000
650,000
236,100
1,300,000
Why to invest in New Metro City?
As Punjab is an industrial city, Sarai alamgir is an optimal location to invest in. The city's location is stretched across all sides. This stretch is spectacular as new fresh communities have emerged.
New Metro city is a new project since it has new offers to give regarding investment.  Furthermore, there are commercial as well as residential plots introduced. The total area is stretched on 100 Kanals and striking blocks.
Variety of plots in New Metro City:
New Metro Residential Payment Plan:
There is a variety of sizes available in this project. The residential plots are implemented for prospective customers. The plots can be found of following sizes.
5 Marla Residential Plots New Metro City

7 Marla Residential Plots New Metro City

10 Marla Residential Plots New Metro City

1 Kanal Residential Plots New Metro City
New Metro Residential Payment Plan: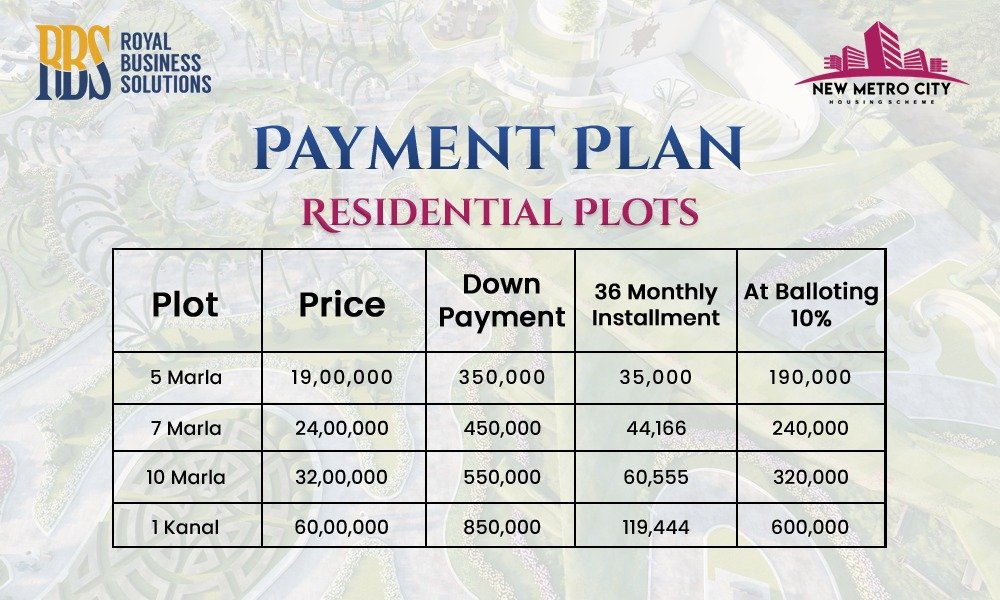 New Metro City Commercial Pots:
Commercial property is in high demand with regard to endless business opportunities. The following are the installment plans for commercial plots:
4 Marla Commercial Plots New Metro City

6 Marla Commercial Plots New Metro City

8 Marla Commercial Plots New Metro City
New Metro City Commercial Payment plan:
Facilities and amenities in New Metro City Kharian Sarai Alamgir:
A major factor is its direct link to Gujrat making it available all over the town. Several high-quality major amenities which are educational are also made available.
Some of these major services are:
Conclusion:
New Metro City is an emerging project of BSM developers. Along with the modern building and state of art infra-structure, this is highly economic. Moreover, all the modern standards internationally recognized for any living place. However, the rates are in the prelaunch state to they are available at a reasonable price. These are likely to change over time after it will be attaining more popularity. The BSM develops have planned to facilitate and equip this with all the modern amenities. All the real estate investors are looking forward towards investing in New Metro City . As this will give the maximum return on investment. Gwadar CPEC route is futuristic opportunity to invest. The success gained from it is also valuable. Owing to the connection with Gujrat and all towns its location is also amicable.
Disclaimer:
All the information on this page New Metro City Kharian is published in good faith and for general information purpose only. RBS Land does not make any warranties about the completeness, reliability and accuracy of this information. Any action you take upon the information you find on this page (New Metro City Kharian), is strictly at your own risk. RBS Land will not be liable for any losses and/or damages in connection with the use of our website.