New Metro City Gujar Khan
Investors can benefit from Gujar Khan's rapid growth as a major metropolitan area. "New Metro City Gujar Khan" is the name of a new project being built by BSM Developer. Budget-friendly prices are provided for all of the project's modern conveniences and amenities. A significant portion of the property has been set aside for the creation of greenery, public spaces, and children parks.
Owners and developers:
New Metro City Gujar Khan's owner and CEO, Bilal Bashir Malik, is well-known in the business world. BSM Developers, a company with extensive experience in the real estate industry, is behind the development of the project. With the help of an experienced team, the developer plans to build a world-class infrastructure of New Metro City. Additionally, the company has a reputation for building world-class properties in Pakistan's major cities.
NOC:
RDA (Rawalpindi Development Authority) has approved the NOC (No Objection Certificate) of New Metro City Gujjar Khan. Therefore, you may have peace of mind about investing in this incredible housing community.
Location:
Most importantly, the location of any housing society matters a lot. Because of this, this project has been meticulously designed at the city's most desirable and best position. It is situated near Islamabad on the main GT Road. The New Metro City Gujar Khan's main entrance is located directly on GT Road, although there are also numerous secondary entrances from other roads.
It is easy to go about New Metro City Gujar Khan because of its convenient access to key highways in the twin cities region. This society is having fantastic area to live and invest. Because of the area's excellent connection and accessibility, all of the necessary amenities and business establishments are within easy reach. This is a great investment opportunity for anyone searching for a nice lifestyle near Islamabad. This housing society stands out because of its convenient location and reasonable price.
Pros For Investors:
Real estate investors would appreciate New Metro City Gujar Khan's strategic position. Pre-launch prices are reasonable, but they are expected to more than quadruple within a few years. This project's overall design takes into account all of the essential components of a luxurious residence. Additionally, there are a number of excellent schools and hospitals in the area, making New Metro City a perfect spot to live.
Accessibility:
The distance from the New Metro City Gujar Khan bus stop is just 10 minutes away.

Only a 6-minute drive separates you from the Tehsil Head Quarters Hospital.

Only a 4-minute drive separates you from Punjab College of Commerce (PCOC).
The Master Plan of New Metro City Gujar Khan:
By working with a team of professionals, including architects and civil engineers, the New Metro City Housing Scheme Gujar Khan's project plan was developed in a proper manner. The Infrastructure development is receiving a lot of attention in Gujar khan in order to make it stand out from other housing societies.
For those looking for a new place to call home, or want to invest their money to gain profit; the New Metro City Housing Scheme has many options:
3 Marla
5 Marla
7 Marla
10 Marla
1 Kanal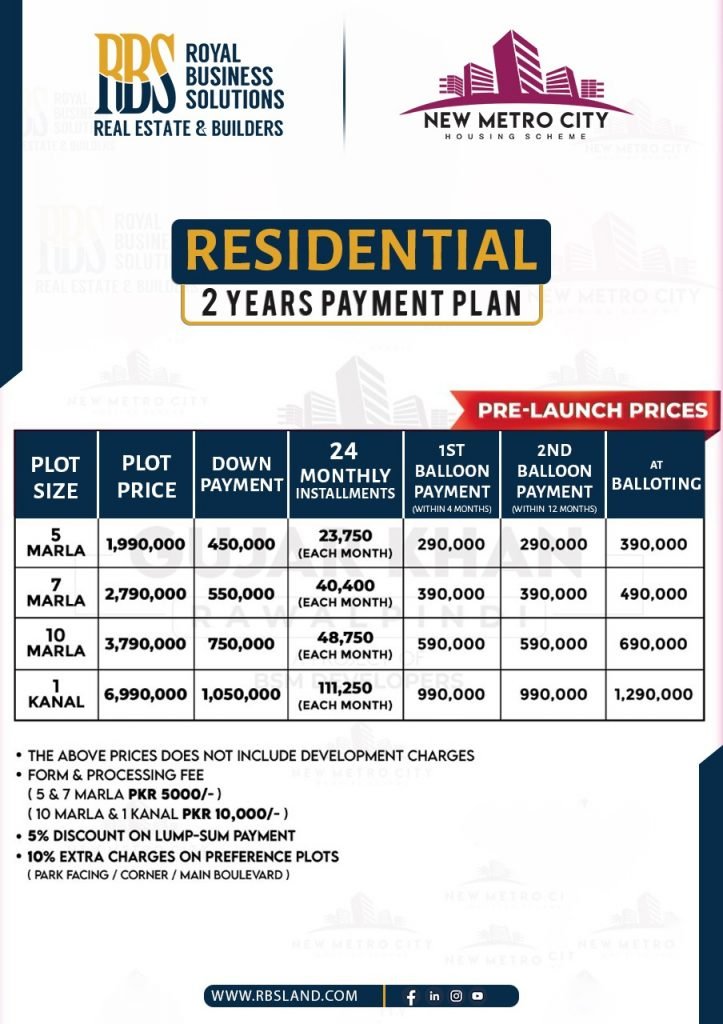 Special Category 8 & 14 Marla Residential Plots Payment Plan
You have a second chance at enlightening your life and providing a wonderful home for your loved ones. Don't pass up the opportunity to make a significant profit on this construction of new homes. It is now possible to create your ambition of a lovely and tranquil house without waiting any longer. The New Metro City Gujar Khan housing society has new plot cuttings available in 8-marla and 14-marla units with an affordable payment plan which is given below.
Note:
The above prices do not include development charges.
The form and processing fee for 8 Marla is 5000.
The form and processing fee for 14 Marla is 10,000.
5% discount on Lump-Sum payment.
5% Overseas Discount will be adjusted in Balloting Amount.
10% extra charges for preference plots (Park Facing, Main Boulevard, Corner).
Introducing a New Housing Plan for the Metropolis In terms of commercial plots, Gujar khan is giving the following:
Why to invest in New Metro City Gujar Khan
The real estate firm BSM has a well-earned reputation for excellence. The CEO of BSM is Mr. Bilal Malik (the grandson of Mr. Malik Riaz), and they are starting a new project called New Metro City Gujar Khan. They've had a lot of success in the past. The Bilal Steel Mills, Gwadar Golf City, and New Metro City Kharian are just a few examples of their prior successes. They've got the skills and background to make this new venture a success. The creators of New Metro City Gujar Khan have your best interests at heart, so you don't have to worry about surety and quality of work.
Located on the Grand Trunk Road, which connects Islamabad and Rawalpindi, this new property is well positioned. As a result, residents in both cities will have easy access to it. In addition, the Islamabad-Rawalpindi railway line can be reached in a matter of minutes from the site. New Metro City Gujar Khan is anticipated to get a lot of interest from prospective investors because of its ideal location and ease of access.
It is BSM's goal to provide the lowest feasible cost for this project. Because of this, everyone may take advantage of the chance to invest in this initiative. It's the best moment to invest in Gujar Khan's New Metro City before prices fly.
New Metro City Gujar Khan's creators are doing all they can to make this project a success. For a contemporary metropolis, they're offering all the facilities essential. A trade mall, educational institutions, amusement parks, hospitals, and many more facilities are available. It's simple to understand why New Metro City Gujar Khan is a good investment prospect with all of these features.
The construction phase of New Metro City Gujar Khan is well underway, with the pace picking up considerably. This will have an impact on future pricing. In the near future, the property values in this development will rise as a result of a few significant changes. As a result, now is the ideal moment to put money into this Society in order to gain large profits quickly.
BSM is doing all it can to help buyers. Buyers may take advantage of flexible payment options from the company. Purchases may be made in convenient installments if that is more convenient for you.Additionally, you can also book plots in other projects such as Lahore Smart City and Nova City Islamabad if you wish to purchase an apartment or a commercial property.
Conclusion:
In short, the New Metro City Gujar Khan is a best start to facilitate the individuals of Gujar Khan on the other side the New Metro City Gujar Khan is an excellent investment because of the above given factors along with the transparency of the project. One of the society's biggest advantages is its location, which makes it the most convenient throughout Gujar Khan the individuals can swiftly reach there. On the other side, this housing society is offering lots of diverse features and facilities like water supply, gas, including electricity 24/7, which is the basic need of every single resident. Investing in New Metro City Gujar Khan for the residential purpose or for gaining the profits both will be the best options whatever you choose its up to you entirely.