September 19, 2022
Posted by:

Muhammad Shehzad

Category:

Blogs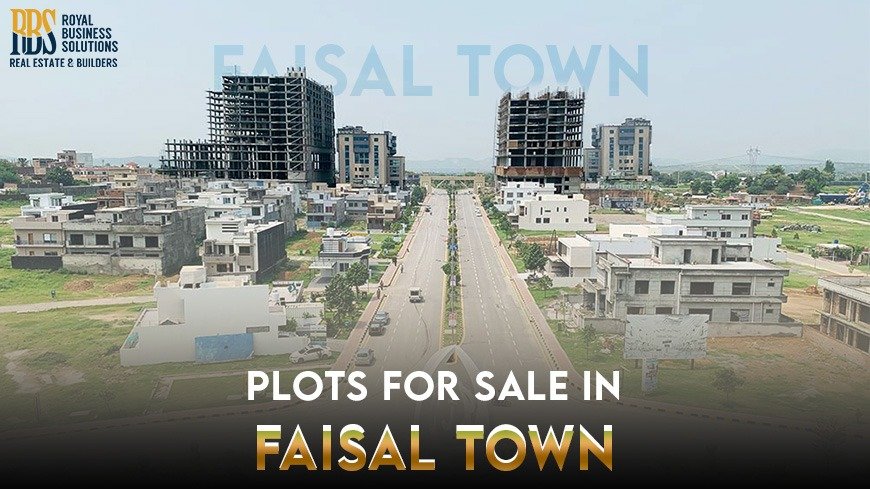 Faisal town is located near Islamabad International Airport, it's a project of twin cities. Talking about real estate it is an iconic project. Since the management successfully presents a dazzling array of high-quality projects. Moreover, this includes residential and commercial schemes. In addition, its valuable investors present an alluring housing scheme. Hence, Faisal Town Pvt. Ltd. Is an SECP-recognized corporate entity.
Projects overview:
The key identification to the success of any real estate project is measured by the volume of people enjoying benefits. Furthermore, the lifestyle they achieve is another major part of measuring success. Statistically, real estate projects like Bahria Town Islamabad are ranked in terms of applications received. However, Plots for sale in Faisal Town receive immense responses and applications.
Where is Faisal Town located?
It is a well-established housing project located on the main Fateh Jung Road. Additionally, next to the Fateh Jung interchange on Motorway M-1. Likewise, it is within the jurisdiction of RDA. However, present next to sector F-18 Islamabad is of main importance. Hence, the Kashmir Highway leads up to the main Islamabad as well as Islamabad Airport.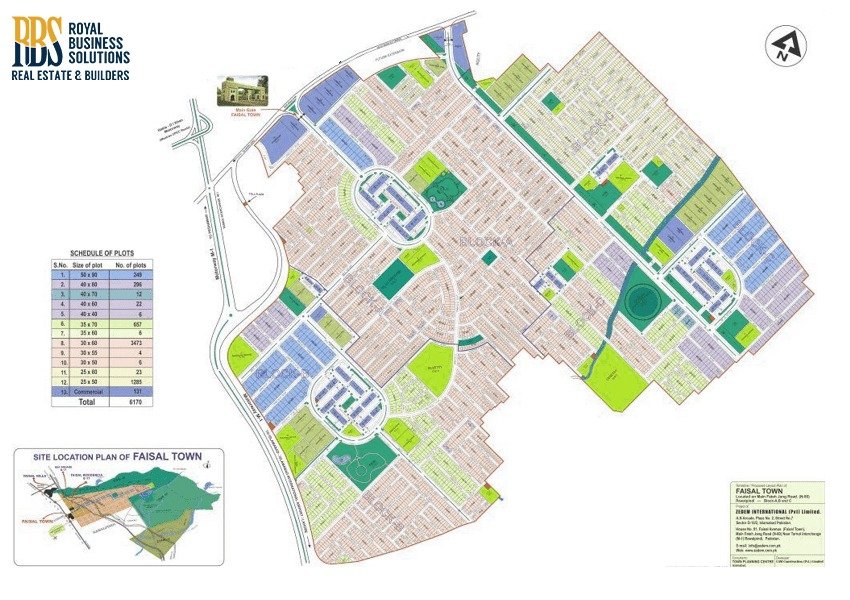 Who are the developers and owners?
The owner is Zedem International Private Limited. Zedem International is a private venture of Chaudhary Abdul Majeed, who is the chairman of MPCHS. Since he has a good reputation in the market after the successful projects in E-11. F-17 and B-17.
What is the pattern of infrastructure?
It is an NOC-approved project from RDA which is available on www.rda.gop.pk.
Moreover, the housing scheme consists of 3 residential blocks
Residential block details
Blocks A, B, and C are residential blocks. However, the development is high and exclusive projects like countryside farms. Likewise, commercials and villas are going along in society. The Environmental Protection Department recognizes it as a safe project. Hence, the possibility of getting double the profit is over two years.
What is the speed of development?
The development is fat as block A is fully constructed. However, within two years, the commercial plaza construction is underway. Similarly, Block B is the progress at an active pace. Hence, its files are selling in the market at a fair price.
Is Faisal Town a legal society?
This is a legal society with a No Objection Certificate (NOC) from the relevant authorities. Besides, the developers know the worth of NOC, therefore, they are sure that they get the NOC from RDA (Rawalpindi Development Authority). Moreover, they are in alliance with the Environment Protection Department to make sure that nature is safe.
Reasons to invest in Faisal Town:
ZEDEM International is a secure portfolio in the real estate industry. Moreover, F-18 is another success story on their page. Furthermore, a massive response is given by the investors enabling speedy sales. Furthermore, its location near Islamabad International Airport is accessible through Fateh Jung Interchange Airport. Since M-2 Motorway and Kashmir Highway lead to main Islamabad. Owing to these features, investing in this project is lucrative with maximum return on investment (ROI).
Plots for sale in Faisal town details:
It is the first-ever project that accounts for unblemished confidence. Furthermore, the trust in the vision of developers is of supreme importance. In addition, the CEO Ch. Abdul Majeed is an expert and reliable person. However, the RDA legal process is already gathered. Primarily located near Tarnol interchange M-1 Motorway Rawalpindi, it's worth investing.
Famous Markets of Islamabad near Faisal town F-18:
For a complete living experience, the developers are attentive to creativity. Furthermore, the commercial area of each block enables a futuristic lifestyle. However, certain famous shopping places like Hussain Market and Al–Qamar Market in Sector I-10 are nearby. In addition, Kayani Market G-10 is only a 20-minute drive from the central park.
Which services are available in society?
Easily accessible town
Gated secure community
Underground and overhead water tanks
Parks and recreational spots
Underground electrification
Mosques
Banks
24/7 Security system
Variety of plot sizes
Educational institutes near the vicinity
Sewage disposal system
Wide roads and commercial area
Sui gas availability
Community centers and football grounds
Let's have a brief view of all the facilities and amenities:
Facilities and Amenities:
   This developer of this society's aim is to give people the most modern facilities and amenities. Furthermore, Plans and makers make sure that most of the facilities are state of the art. However, the developers of this society need individuals to have a complete lifestyle within the society. Thus, all the facilities and services are obtainable within a society like Nova City Islamabad. Also, the facilities and amenities include:
Educational Institutes:
Education is a vital right and necessity for everyone. Therefore, educational institutes of all levels exist in this society. Likewise, these educational institutes are very expert and provide high-quality instruction.
Grand Mosque:
This society also desires to provide its residents with the availability of a Mosque. Therefore, a Jamia Mosque is available to the residents. Furthermore, this Mosque contains world-class technology and association.
Health Facilities:
This society ensures its residents that they are given all the necessary health facilities. Besides, these health facilities are equivalent to international standards. However, its significance is manifold due to the nearby location of environmental protection.
Community Center:
This society also includes a public center. Moreover, social and physical activities are available in this community center. Residents and investors will not only be able to maintain a physically and mentally healthy lifestyle.
Eco-friendly Society:
This society goals to bid its investors an eco-friendly so far most modern lifestyle. Moreover, they make sure that the natural beauty of the property is well-kept. Hence societies like Bahria town are ecofriendly at the same time. Countryside farmhouses also offer an environment-friendly ecosystem.
State-of-the-art infrastructure:
There is around 110 feet main gate entrance of the town reflecting state of the art. Moreover, a unique blend of numinous Gandhara traditions and Mughal architecture. So, hurry up to get a plot for sale in Faisal Town.
Distribution of blocks in Faisal Town:
The plots for sale in Faisal town are widely distributed over A, B, and C bock. Moreover, they are discussed in detail below:
Block A:
Block "A' is construction is final. Also, most plots are in possession now. Furthermore, the construction of houses is at a fast pace. Since a large no of people are residing in society. Several renowned companies are working on it some of these are:
 Red sun associates
 Gillani Associates
 Win-Win Associate
 Tanveer Associate
Block B:
Constructively, a huge no of commercial buildings, shopping malls, and villas are in it. However, distinctively located, M1 Block B is 100% at the delivery stage. Moreover, after delivering the possession, the clients are allowed to build their dream houses. Without any further delay, one can construct the premises they want to.
Block C:
Block C is ravishing as it is at a unique location. Moreover, investors are taking an interest because of versatile road networks. In addition, the future connectivity with the Kashmir Highway and Islamabad International Airport is exuberant. Furthermore, the value of this block is amplified by the striking feature: the cricket stadium. Spreading over a huge land area of 60 Kanals it is eye-catching. Since more investors are clutched to invest in this block.
Types of Residential Plot for sale in Faisal Town F-18:
The fast progress of this project is attracting investors and builders to launch projects. The exquisite lifestyle experience by Faisal town dwellers ranges across various sizes. These are:
Plot sizes
5 Marla
7 Marla
8 Marla
10 Marla
14 Marla
1 Kanal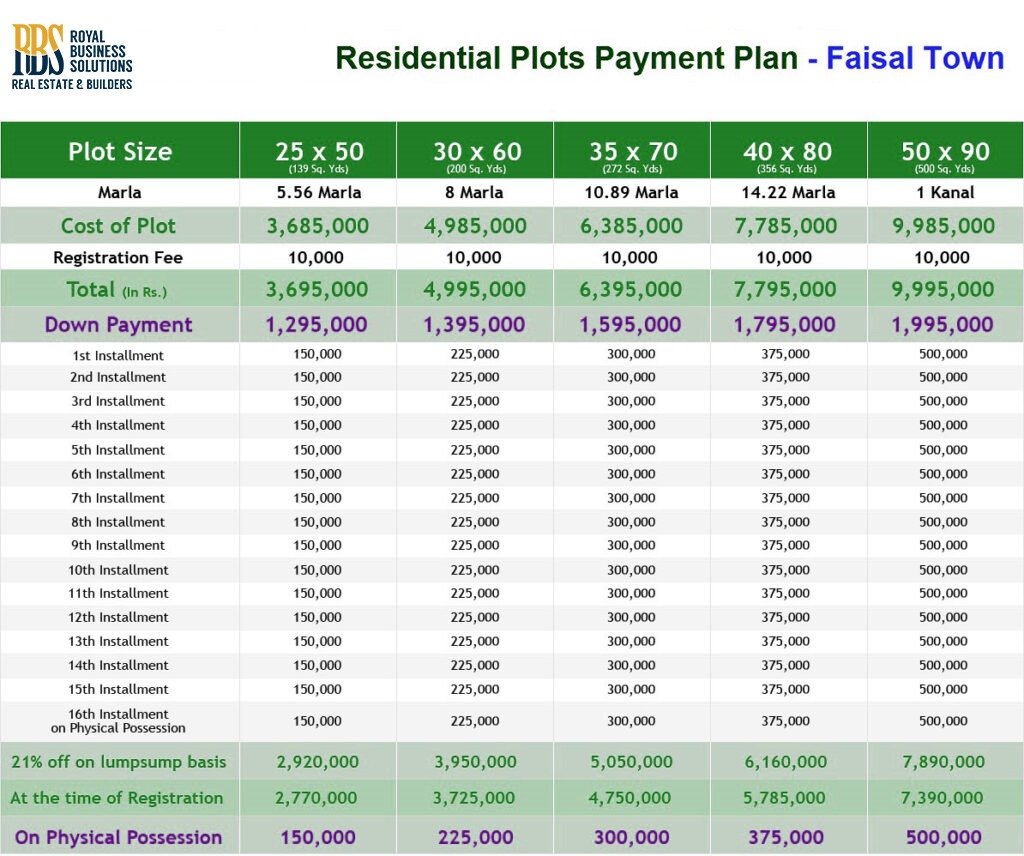 What is the sale price trend for Residential plots?
5 Marla Plots for sale are available in Sector C which cost around PKR 29 lakh. Similarly, 8 Marla plots cost around PKR 39 lakh. Moreover, the 14 Marla residential plot is available at PKR 62.5 lakh. Lastly, 1 Kanal plot ranges approximately 79 lakhs.
21% discount is offered the society management. Hence depositing a lump sum payment is convenient. However, a 5% extra charge is added to the corner plot price. 10% in case of a properly defined corner plot. A 15% charge is applicable on corner plots on the main boulevard.
Conclusion:
In today's competition where everyone is looking for a profitable business, real estate is the best investment. Since the new societies are highly attentive to the availability of sources this helps them to excel. One can make his dream house with a contemporary and lavish lifestyle by investing at the right time.