September 20, 2022
Posted by:

Muhammad Shehzad

Category:

Blogs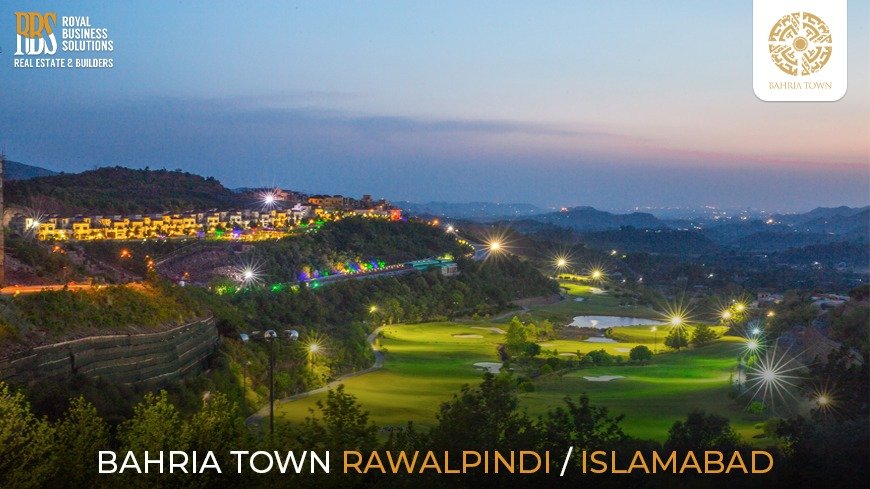 When we talk about the twin cities, they are world in their own. Is there a single place that could offer everything that someone desires? Only one place comes to our mind is Bahria Town Rawalpindi Islamabad, a gateway not far away.
Overview of Bahria Town Rawalpindi Islamabad
Bahria Town Rawalpindi is a master planned project also known as Bahria town Islamabad designed and developed by the well-known developers of ASIA 'BAHRIA TOWN'. Moreover, this society introduces a unique lifestyle to the people of Pakistan. Bahria Town is considering as a great incentive for the growth of Pakistan's real estate industry.
Founders or Owners
This marvelous project is owned by Malik Riaz Hussain who has become a famous real estate business tycoon within 2 decades due to his efforts, innovative strategies, and comprehensive vision. Additionally, he introduces a new and modern way of living in this luxurious society.
Bahria Town Rawalpindi Islamabad Location
Bahria Town Islamabad lies in a prime location close to Rawalpindi. Furthermore, the housing scheme is located in the main location near Zone I of Islamabad Jinnah Avenue. The society is located outside the city centers. Moreover, Bahria Town Rawalpindi is near to all the major landmarks of the twin cities and also the other housing societies such as DHA, and Hawks Melbourne. You can also check out the exact location from the Bahria Town Rawalpindi Islamabad map.
About NOC
On 5th July 2001, Capital Development Authority (CDA) approved the NOC of Bahria Town Islamabad. Additionally, the NOC of almost all the phases has been approved.
Total Area of Bahria Town Islamabad
Bahria town consists of 8 phases. Phase 1 to 6 lies near PWD housing society while phase 7 and 8 are close to DHA phase 1 Islamabad. Moreover, these phases include several residential and commercial plots.
Additionally, Bahria Town Phase-II, III, V, and VI cover 2501 Kanals of land having 1384 residential plots in Zone V of Islamabad, while Bahria town phase VIII spans over 761.20 Kanals. The area is very large that can fulfill the housing demands of more than 1 million people.
Bahria Town Phase 1-7
These phases are the most developed and offer lavish living standards to their residents. Society developers introduce new and modern technologies to make to upgrade the lifestyle. Therefore, these Bahria town phases are secure and ideal for investment.
Residential and commercial plots are available for sale in Bahria Town Rawalpindi phase 4. Basic plot sizes in these phases are 250 or 500 Sq. Yards. Bahria town phases are designing according to the needs of people. Inspiring landscapes, memorable picnic spots, and monuments attract people.
Moreover, every phase has its shopping mall, commercial center, educational complexes, and hospitals. Different blocks develop for a different types of family classes. If you're hanging out with the family then phases 7 and 8 have more family places.
Phase 8 of Bahria Town
It is the largest phase launched in 2003 and it's completely sold now. Phase 8 is developed on the Grand Trunk Road Rawalpindi. A high-class expressway connects this marvelous society with the main G.T road in just 5 minutes. Additionally, the other side of this phase is connected to all other phases of Bahria town because all these phases are interconnected.
Furthermore, due to the fast sales Bahria town has launched a phase 8 extension. Now, this extension offers more Bahria town Rawalpindi Islamabad phase 8 houses for sale. Most of the fully residential societies such as DHA Islamabad, and Overseas Enclave located close to Bahria phase 8 extensions.
 Bahria Town Phase-9
This phase didn't reveal its master plan designed by highly organized and famous urban planners. Moreover, Phase 9 is categorized into 4 zones including Business Square, Entertainment Zone, Medical District, and sports zone.
This community delivers the most hi-tech facilities to all its residents. In addition, the residents of this amazing phase can enjoy all the luxuries whenever they need them. Furthermore, most of the phase 9 land is reserve for commercial purposes while 28.16% of the land will use for residential plots.
Development Status
The phase 1 to 7 of Bahria Town Rawalpindi Islamabad is fully developed and most of the people already settled there. But the phase 8 development is in progress. In addition, Phase 8 is the very largest phase and consists of several blocks such as the Abu Bakar block, Usman block, Ali block, Rafi block, Khalid block, and also Awais block.
Moreover, a few years ago phase 5 was launched also and most of the people start investing there but later on, this phase was dropped and most of the allotees were transferred to phase 8.
Plots & houses for sale in Bahria Town Rawalpindi Islamabad
The developers offer multiple Bahria Town Rawalpindi Islamabad plot for sale at budget-friendly rates in all phases. Residential plots are of different sizes i.e. 5 Marla, 8 Marla, 10 Marla, and 1 Kanal. Moreover, commercial plots are also available at cost-effective rates.
Not only sell Bahria town phases also provide houses on rent equipped with all the modern amenities. Furthermore, avail this golden investment opportunity as soon as possible. Bookings are now open for Bahria town Islamabad house for sale.
Unique features that make Bahria Town worthwhile
Bahria town offers many unique features in its housing schemes such as:
Historical monuments at multiple locations
Hotels, Restaurants, Shopping malls, and Mini Golf also
Modern Infrastructure
Latest Security & Maintenance System
International Standard of construction
In addition to commercial areas with enough parking facility
Exclusive Strom water drainage system
24/7 availability of Internet
Moreover, Police station, Fire station, Post office, and also a bus terminal
Each block has a hospital, school, mosque, and park
Moreover, own power generation system
Why should you invest in Bahria Town Rawalpindi Islamabad?
Multiple reasons attract investors to invest in this masterpiece. The company needs to build its trust first. Moreover, Bahria town has years of experience and deliver a lot of successful projects. Bahria town is famous for its name and honesty because whenever people listen about the project named Bahria town they are convince automatically to invest in it.
Furthermore, this is not the first society introduce by this great owner. He has introduced lots of projects in past and made their name a well-known brand. In addition, Bahria town builds on an amazing location laced with all the modern luxuries. This is the best opportunity for investors to make their dream true. Moreover, this can be a profitable step to invest in this outstanding society.
Conclusion
Bahria Town Rawalpindi Islamabad brings an exciting investment opportunity for Pakistan as well as foreign investors. This society is the choice of most people because of its well-planned infrastructure, peaceful environment, security, and top-notch facilities they never find anywhere else. Price is another factor that makes this project worthwhile. Moreover, all the basic and modern facilities are offering to its residents. Another main factor that people prefer while buying property in Bahria town is the availability of international standard educational institutions. Investors should be careful while asking permission from relevant authorities. However, the plan is very attractive so don't waste your time anymore and avail this opportunity to invest.
Contact RBS Real Estate and Builders for further information because the consultation is free.