December 30, 2022
Posted by:

Muhammad Shehzad

Category:

Blogs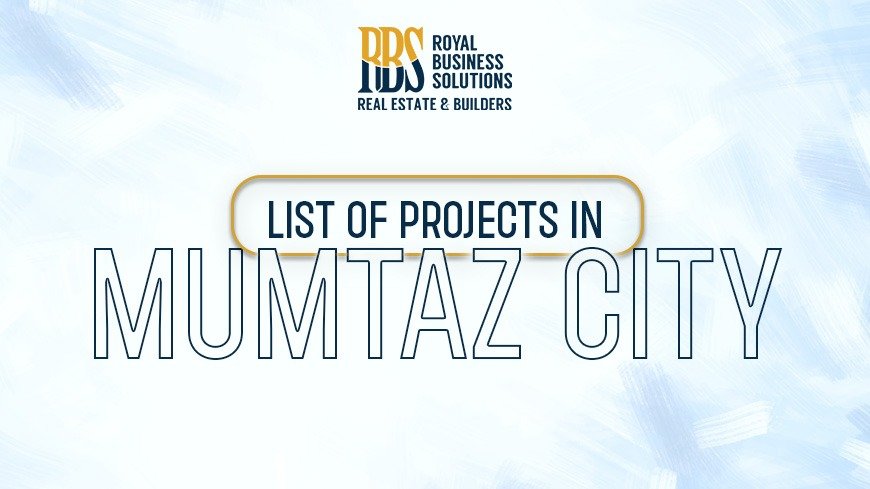 Islamabad is the capital of Pakistan and is considered an evergreen city having moderate temperatures throughout the year which makes the city worthwhile. Now Islamabad's real estate sector is progressing continuously and making this city the golden land for investors.  Let's discuss a list of projects available in Mumtaz City.
List of available projects in Mumtaz City Islamabad
Mumtaz city is an amazing housing society for nature lovers in Islamabad developed by Mumtaz Construction Company and Chenab Builders. The housing society is located in a pollution-free environment surrounded by Margalla Hills. All type of modern facilities is offered to fulfill the needs of society residents. Also, it is the finest housing society has a limited area reserved, and offers multiple Plots for sale in Islamabad.
Owners & Developers
Mumtaz Construction Company is a registered civil engineering company having years of experience in providing awesome opportunities to their investors. MCC and Chenab builders are providing real estate services since 1982. Also, the company has a solid reputation for delivering projects regularly.
It is an RDA (Rawalpindi Development Authority) approved housing society and all the construction happening as per the requirements of concerned development authorities. This project has acquired NOC to ensure that it is legally free from all sorts of complexities. Now investors can book their plots with full confidence in the NOC-approved housing society.
What does Mumtaz City Offers?
The area of Mumtaz City expands to over 3000 kanals surrounded by stunning views of Margalla Hills that consist of four blocks: Ravi block, Chenab block, Indus block, and Executive block. Each block has farmhouses, commercial & residential plots, public buildings, and open spaces. Moreover, every block of Mumtaz city carries a unique feature including any kind of landmark and advanced-level facilities. The commercial area consists of clubs, parks, and other various spots of attraction for the people aiming to live in Mumtaz City.
Apart from residential plots Mumtaz city plot for sale in Islamabad also deals in the commercial sector. Development of Mumtaz City is about to be complete and residential plots are being sold out. Furthermore, the commercial sector is yet to be completed. It can be predicted that the residents waiting for their dream lifestyle to start, is now just a matter of time.
Mumtaz City Payment Plan
Mumtaz City residential and commercial plot for sale in Islamabad are 5 Marla, 8 Marla, 10 Marla, 15 Marla & 1 Kanal. Residential plots consist of various sizes along with different price ranges.
The price of the 5 Marla plot ranges from 30 lac to 35 lac in Mumtaz City. Thus, the price of 10 Marla plots ranges from 40 lac to 48 lac and the price of 1 Kanal plot ranges from 90 lac to 150 lac in a cash payment. Prices can also exceed as the development process proceeds further.
Accessibility to Mumtaz City
These are the quick and easy routes to access Mumtaz City.
0.5km from M-1 Peshawar Islamabad Highway
0.5km from M-2 Lahore Islamabad Motorway
0.5km from Kashmir Highway
1km from N-80 Kohat
4km from New Airport Islamabad
Amenities of Mumtaz City Islamabad
Mumtaz city is providing advanced facilities at budget-friendly rates. To ensure a comfortable living, society offers a wide range of facilities. Therefore, some of the Mumtaz city features are:
Electricity and power
An independent solar energy plant ensures an uninterrupted power supply for the comfort of society residents.
Waste management
The environment protection department established suitable sewerage systems to keep Mumtaz City healthy and green.
Parks and Playgrounds
Mumtaz city has enough playgrounds for children, jogging tracks, mini-stadium seating arrangements for residents' social and recreational activities as well as keeping the environment green and pollution free.
Commercial Areas
The community has commercial areas to meet the household needs of residents. The New International airport trading services will also be supported by commercial areas.
Security Surveillance
Security is a vital need of every individual. To keep society safe and secure the management is providing security 24 hours a day, 7 days a week.  In addition, CCTV cameras and modernized security barriers are used to keep society secure.
Graveyard
Life and death are part of life so the management reserves a specific area for the graveyard. The society residents may also visit the grave of their loved ones.
Community Centre
A community club is a gathering place where people formed social relationships. In addition, the clubs are very vast and can accommodate up to 15,000 families and 50,000 individuals.
Heath Facilities
For health facilities, the developer will develop ultra-modern hospitals and clinics in society. In case of any emergency, doctors and staff will be available all the time.
Education Complex
Education is the top priority for the Mumtaz City residents so developers ensure the provision of international-level education to the children. So, the teaching staff is very professional and expert in their specific fields for providing quality education.
Grand Mosque
The developers also focus on the spiritual requirements of society residents. Jamiah Mosque is fully air-conditioned and Quran classes are set up for children on regular basis.
Hence, all these features make MC a desirable place for people seeking a luxurious and high standard of living.
Nearby Landmark 
Following are the nearby places to MC Islamabad.
New Islamabad Airport
Gandhara City
Capital Smart City
Top City 1 Islamabad
Fazaia Housing Tarnol
University Town Islamabad
Rawalpindi
Pind Nasrala
Dhok Hameeda
Dhok Dhumman
Upcoming Project
Amaj one is RDA and CDA-approved upcoming commercial and residential project that offers corporate offices, commercial shops, and luxury apartments in easy installments. Furthermore, Mumtaz city offers a range of plots for sale in Islamabad at reasonable prices.
Why invest in Mumtaz City?
Mumtaz City or Blue World City? It is very hard to decide where to invest. There are numerous housing societies in Rawalpindi, and Bahria Town Islamabad, and they promise to deliver up-to-the-mark results to their investors. Moreover, it aims to deliver matchless living standards with lavish and gorgeous amenities.
MC is a very feasible investment and will bring a profit in the future. Also, the main reason to invest there is its location, architectural style, worldwide framework, commercial area, and many other features that make it worthwhile. Because of the closeness to the New Islamabad International airport makes its location the ideal location.
How does Mumtaz City differ from other housing societies?
Although Capital Smart City and Nova City Peshawar are well-known housing societies Mumtaz city has a very simple installment plan. The management strives to achieve a combination of distinction and affordability. No other community could provide these world-class luxuries at reasonable rates. On the other hand, the project also has the most cost-effective plot for sale in Islamabad.
Expert's Opinion about Mumtaz City
According to the expert's point of view, the society has an ideal location for building a house. We can now think of nothing that may go wrong with the investment because it is in a great location near all of Islamabad's important facilities. Furthermore, we highly recommend this as a golden opportunity to invest in this society.
Conclusion
Mumtaz city is undoubtedly the most well-known housing scheme in Islamabad. Investors and people prefer it due to its vast environment and gorgeous scenery. The promise of a perfect location draws people's attention to this society. Moreover, Eco-friendly features make this project more worthwhile. According to an investment point of view, the commercial sector is full to make the best option among all the other societies.
For further information about such housing societies, you can also visit Countryside Farms, Blue World City, and Hawks Melbourne City Rawalpindi project articles.