August 29, 2023
Posted by:

Muhammad Shehzad

Category:

Blogs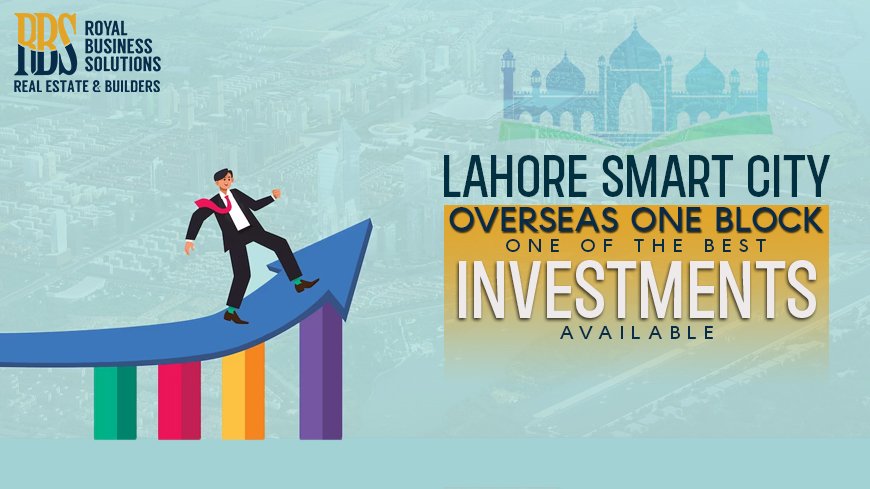 The Lahore Smart City Overseas One Block is among the best options for residents and investors. It is a beautiful housing complex with residential and commercial properties as well. For a desirable lifestyle, these houses are furnished with modern comforts. People will have access to a world-class lifestyle according to this project. Basically, it covers smart housing methods utilizing smart technologies, including smart infrastructure, smart development, smart economics, and smart environment. Additionally, the neighborhood's occupants will adore this block's convenient location and reasonable prices.
In this blog post, we'll go through the specifics of Lahore Smart City Overseas One Block. We will discuss its location, plots, costs, development, characteristics, as well as advantages for investments.
Overseas One Block Location
The Kala Shah Kaku connection is a great location for Lahore Smart City. Each block in this project ideal position and the project is split into blocks. It is directly situated across the Overseas Prime Block. It also has quick access to the Lahore Ring Road and the main GT Road. Finally, in Lahore Smart City, this block is close to several major developments, including:
Water Tank Sector B
Lahore Smart City Park
Overseas Prime Block
Grand Mosque
Lahore Smart City Booking Office
Moreover, Lahore Smart City offers commercial plots that are excellent for use in businesses. These balloted plots in Lahore Smart City are beneficial for investment Check Lahore Smart City: Golden Opportunity To Invest In Balloted Plots
Lahore Smart City Overseas One-block Plots
It is a luxury housing project that frequently develops additional housing. There are various blocks in this housing society. Some blocks are in possession and brought up for ballot. A beautiful block with a mix of residential and commercial properties known as the Overseas One Block. These plots are ideal for investors because their value will rise after the balloting. Moreover, the top residents will have access to luxurious amenities and modern amenities through residential plots.
The following are the residential plots in Lahore Smart City Overseas One Block:
5 Marla residential
7 Marla residential
10 Marla residential
12 Marla residential
1 Kanal residential
The most valuable investment is a commercial plot because it produces a sizable profit from the business. Additionally, these plots can be purchased in a range of sizes. The following are commercial plots in Lahore Smart City Overseas One Block:
4 Marla Commercial
8 Marla Commercial
One Block Payment Plan for Overseas
Lahore Smart City provides a three-year payment schedule. All clients and investors can choose this payment plan. You can book a reservation in Lahore Smart City Overseas One Block by going through a simple procedure. The plan for payments consists of the following:
You will have to pay a down payment for the booking of the plot.
After booking, the confirmation amount is required within one month.
The balloting fee will be payable before the balloting.
The possession amount will be charged at the time of possession.
Own/Profit will be charged according to market rates and conditions.
Overseas One Block Development
Lahore Smart City construction is progressing rapidly and will meet international standards. It was designed by international designers and architects. Although, all blocks are beautifully designed with contemporary patterns. It has begun construction. The carpeted roads are currently being built. Additionally, the water tank development starts in this block and is nearly finished.
Furthermore, this block expects to experience significant growth. These include schools, colleges, universities, parks, commercial markets, mosques, and other amenities. Although, the balloting for the Overseas One block will take place after a short period. After the balloting, the Overseas One block will increase in value. After the completion of the development, the prices of the properties will rise as well.
Also, LSC promises a bright future where dreams and reality blend to create a modern lifestyle with great investment benefits. If you are looking to get the development update about LSC click on the link below:
Lahore Smart City Development Update For August 2023
Why Invest in Lahore Smart City Overseas One Block
It is the best block of Lahore Smart City, which is now under construction and has excellent infrastructure. There are numerous properties in which you can make long-term investments. These properties will be more beneficial after they are balloted. There are several reasons to invest in Lahore Smart City Overseas One Block, including the following:
Ideally located opposite the Overseas Prime Block in Lahore Smart City
Easy access to the main GT road
Easy access to Lahore Ring Road
This block has high development, design, and also the best infrastructure.
Both residential and commercial properties are available in Overseas 1 Block
It is best for long-term investment.
Prices are affordable for these properties
Easy installment plan for three years
Balloting will take place within a short period.
After balloting, possession will announce soon.
These properties will increase in value and generate a high return.
Conclusion
It is the best block of Lahore Smart City that offers properties according to the needs of clients. You will get residential and commercial plots at reasonable prices. The residential plots will provide ideal residents with luxuries and peace. If you want to build a house in Lahore Smart City, hence this block is best for residents. Also, you can buy the plot in easy monthly installments.
Furthermore, if you want to invest for the long term, it will also be beneficial. However, these properties in Lahore Smart City Overseas One Block will generate high returns in the future.
Discover more about Capital Smart City, a community in which you can live in a smart way.