November 25, 2022
Posted by:

Muhammad Shehzad

Category:

Blogs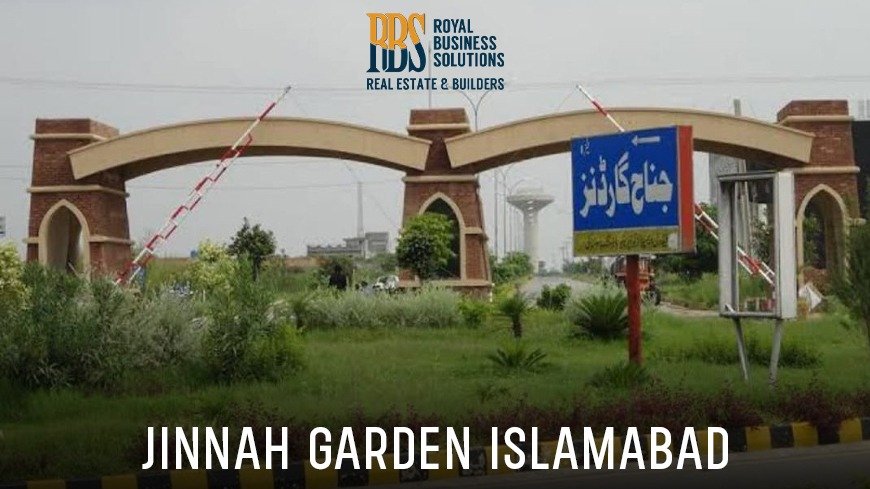 Jinnah Garden Islamabad is the Capital Development Authority's (CDA) flagship project, to provide low-cost but effective housing to incumbent employees. This housing society has a lovely architectural structure that includes roads with side green belts, commercial areas, health centers, educational hubs, parks, and entertainment centers. Moreover, the CDA made it clear to society that the society's developers are successfully fulfilling their obligations.
Jinnah Garden Islamabad was established in 2011. Additionally, society has changed the fortunes of hundreds of families. The society offers ultra-modern and cutting-edge amenities and facilities to its residents on a tight budget. As a result, we can say that it is the best opportunity for lower-wage employees – who typically cannot afford even the fare and tent – to get a piece of land in it. Furthermore, it will be beneficial because they would be able to live the rest of their lives without the stress and expense of tents as well as transportation.
Developers of Jinnah Garden Islamabad
Jinnah Garden's developers and ownership rights are held by the Federal Government Employees Housing Foundation (FGEHF). In 1989, the FGEHF initiative was launched. Since then, the authority has been eager to launch, advertise, and sponsor housing schemes for government employees across the country, which constitute a substantial portion of the population.
Furthermore, the projects and work completed by FGHEF over the years demonstrate that anything is possible when basic principles are not compromised. Nonetheless, if you are still interested in FHEHF's project delivery, go to one of their projects and look at the aesthetic work.
NOC Status
Jinnah Garden is a cutting-edge housing society that operates with no doubt about its NOC – as CDA and FGEHF supervise the project.
Jinnah Garden Islamabad Location
The society lies at an ideal location in Mouza Gagri, Lohi Bher, Sihala, Islamabad Highway. This housing scheme is located at the intersection of the Islamabad Expressway. Moreover, it is the most beautiful city in the country and has some of the best recreational sports. CDA has divided Islamabad into 5 zones and Jinnah Garden Islamabad is located in 5th zone of the city.
Jinnah Garden Islamabad Map
Jinnah Parks Islamabad lies on the Faisal Avenue-Islamabad Expressway. In addition, the housing society is also accessible via Japan Road in Islamabad. This housing venture is surrounded by numerous housing societies. The map of Jinnah Garden Islamabad is as below:
Neighborhood Societies
Many housing societies in the Jinnah Gardens Islamabad neighborhood have been developed by CDA, many national and international builders, and private companies, including CBR Capital Enclave, Pakistan Town, Korangi Town Naval Anchorage, River Garden, PWD Housing Society, and Media Town.
Gulberg Green, Ghori Town Islamabad, and Park View City are the most popular societies near Jinnah Garden. Moreover, these societies are only a 15 to 20-minute drive away.
Benazir International Airport, PIMS Hospital, and CDA Sectors are all nearby. Public transportation, commercial markets, hospitals, educational organizations, restaurants and eateries, shopping malls, mosques, cemeteries, and other amenities increase the societal value of housing project.
Master Plan of Jinnah Garden Islamabad
The Jinnah Garden master plan consist s of manufactured homes and plots. Therefore, you can buy a house and live there right away, or you may acquire a piece of land and then construct on it according to your needs. Moreover for better understanding of master plan we are dividing it into two parts such as house for sale in Jinnah Garden Islamabad and plot for sale in Jinnah Garden. Furthermore, the management also offers house for rent in Jinnah Garden Islamabad.
Jinnah Garden Islamabad House for Sale
There are multiple sizes of houses available for sale in Jinnah Garden
5 Marla house for sale in Jinnah Garden Islamabad
10 Marla house for sale in Jinnah Garden Islamabad
1 Kanal house for sale in Jinnah Garden Islamabad
2 Kanal house for sale in Jinnah Garden Islamabad
Plots in Jinnah Garden
Following are the residential plots offering in Jinnah Garden
5 Marla plot for sale in Jinnah Garden
8 Marla plot for sale in Jinnah Garden
10 Marla plot for sale in Jinnah Garden
14 Marla plot for sale in Jinnah Garden
1 Kanal plot for sale in Jinnah Garden
2 Kanal plot for sale in Jinnah Garden
Jinnah Garden Islamabad Plot Prices
The payment plan of the society is designed according to the ease of residents with 4 quarterly installment plan.
The 8 Marla plot in Jinnah Garden cost PKR 12, 50,000 in total. Moreover, the down payment is PKR 375,000.
The price of 14 Marla residential plots is PKR 22, 00,000. Furthermore the booking fee is PKR 660,000.
In addition, 1 Kanal residential plot in Jinnah Garden is more advantageous than other plots in terms of land value and cost. In Jinnah Garden, a 1 Kanal residential plot will cost you PKR 32, 00,000. Moreover, the reservation cost is PKR 960,000.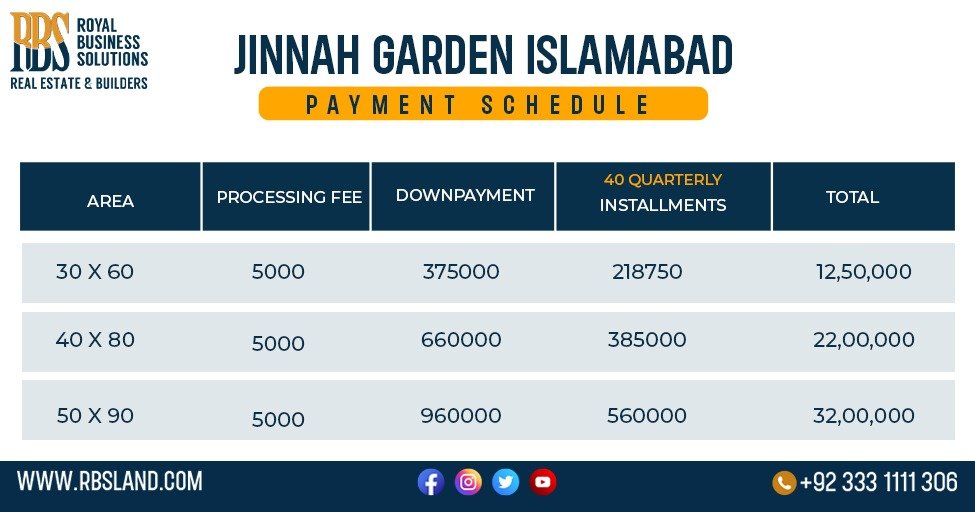 Features and Amenities
To provide a comfortable existence, basic necessities including food, water, power, and gas are widely available. Moreover, to maintain a clean environment, Jinnah Gardens has an underground sewage system and trash and cling workers.
There are numerous on-site gardens, parks, and play areas for children in society. Major tourist destinations in and around Islamabad are easily accessible. Additionally, it is simple for residents to enter and exit the area because of the large roadways and green belts. The security personnel in this area usually prioritize the protection of the inhabitants when it comes to safety measures, making it a safe place to live.
Restaurants
The community is home to several well-known restaurants. There are many different food chains in this area, so you can find food from all over the world. As there are more restaurants, there is also a lot more competition among them.
Education Institutes
There are many reputable educational institutions in Jinnah Garden. It has institutions both inside and outside of society, both public and private. Moreover, students from all throughout the twin cities attend these colleges in addition to those who live nearby.
Frequently Asked Questions (FAQs)
Q1: Who are the developers of Jinnah Garden Islamabad?
Ans. Federal Government Employees Housing Foundation (FGEHF) developed Jinnah Garden Islamabad.
Q2: Is it a legal housing scheme?
Ans. There is no doubt regarding the legality of Jinnah Garden Islamabad because it is the Capital Development Authority's (CDA) flagship project.
Q3: Is it true to say that Jinnah Garden is exclusively for government workers?
Ans.  Yes, the society is for government employees.
Q4: Is it an expensive housing society?
Ans. No, it's an affordable housing society.
Conclusion
Being the second most attractive capital in the world with cutting-edge technology, Islamabad attracts a lot of families from within and outside of the country. This is the main cause of Islamabad's booming real estate market.
In twin cities like Blue World City and Capital Smart City Islamabad, numerous new societies are also emerging, but they are still in the early stages and are seen as long-term investments.
Societies with names like ICHS, University Town, and Jinnah Gardens already have a good reputation, and residents are glad t to live there with their families.
Furthermore, you can get in touch with RBS Real Estate and Builders for additional information or any other kind of information. It has been providing you with excellent real estate services for 8 years.
To know more about such housing societies you can read Countryside Farms and Countryside Residencia.