November 26, 2019
Posted by:

Muhammad Shehzad

Categories:

Blogs, RBS News
What is Golf Course Community?
Golf Course Community is a zone of Capital Hills. It planned to have 3 dimension functionality. Most  of the land will be covered in greenery as compared to other zones. Large public open spaces especially designed to provide lush green landscapes till horizon for the nature lovers. In order to maintain this greenery, all efforts made to safeguard the topography to maximum extent. In particular, it is offering residential units, golf club banquets and several other amenities.
Location of Golf Course Community
Golf Course Community is located adjacent to Lake View Community. To be exact, it located in Capital Hills at Capital Smart City
Master Plan of Golf Course Community
Golf Course Community comprised of 210.4 Hectares. This Zone meticulously designed in a particular way that no matter how far you live, you can easily access the amenities offered here. Being part of one of the luxurious district of Capital Smart City, Golf Course Community further divided in to different parts. Total area occupied by each one of them shared below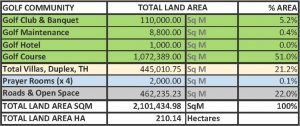 Golf Community Residence
The residential units occupy 445,011 Sq. Meter area out of 210.4 Hectares. It has Primary Boulevard that allows convenient access to neighborhood areas and other districts of capital smart city. Meanwhile, residential plots inspired by Mediterranean-theme. On the other hand, contemporary theme used to design Golf Course Clubhouse.
Details of Residential Plots
These plots are available in following categories
40 Marla Villas (200 in quantity)
20 Marla Villas (307 in quantity)
Duplex (266 in quantity)
Townhouses (265 in quantity)
High-end villas will be sprawled adjacent to golf course. Meanwhile, Duplex plots will face central parks. Other than that, there will be praying area in every single district with its own park.
Golf Arena
This lush community known for 18-Hole Golf signature. moreover, it is hallmark of Capital Smart City as well. Apart from this, Golf Course Community also has several recreational opportunities for its residents. There will be Golf Club & Banquet, Golf Maintenance and Golf Hotel. Furthermore, Cracknell ensured that each of them will be facilitated with international facilities.
Themed-Open Space
In total, it has 6 open spaces to give innovative experience to residents. Every open space has its own special theme. Each space is represented by particular flower as shown in map below.

The Jasmine Neighborhood represent a sensory park. It will be all bout touch, sound, smell and sight. It will be innovative in its own way. As no such park introduced in Pakistan till now.
The Lavender Neighborhood will be a tranquility park. It will offer most calm and peaceful ambience for visitors.
It will basically an adventure park. Interactive activities like climbing, play structures and adventure play will be waiting for in the most secure environment.
Basil Neighborhood is all about Games Park. Outdoor board games, mazes, puzzles, skating and many other games will be present in this park.
Illusion Park is the center idea for this space. Supported with illusive mirrors, 3D sculptures and illusive techniques, this park will soon become must-visit place.
Saffron Neighborhood features culinary park. It will be a one of its kind. This park will have edible plants, fruits and herbs.