September 2, 2023
Posted by:

Muhammad Shehzad

Category:

RBS News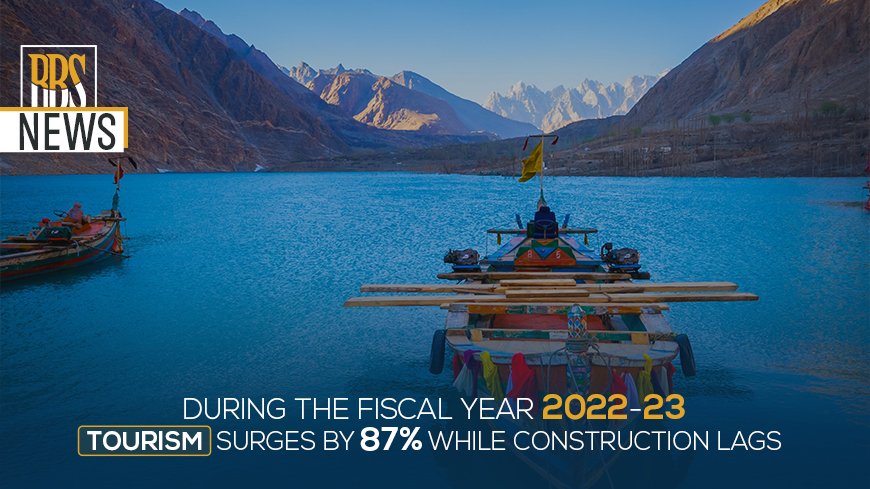 FY 2022-23 Report
Tourism surges by 87% while construction lags. Revealed through a performance report for the fiscal year 2022-23, the tourism sector generated a noteworthy USD 930.5 million in earnings, in stark contrast to the USD 500 million reported in the previous fiscal year of 2021-22. On the other side, the construction sector faced a downturn of 60.5%, plummeting from the previous fiscal year's earnings of USD 860 million to a modest USD 340 million. Otherwise booming Information Technology (IT) domain, has gained global momentum. It also seemed to have hit a plateau, experiencing a marginal decline of 0.6% during the last fiscal year.
News Announcement
The fiscal year (FY) 2022-23 witnessed an impressive 87% surge in earnings from the tourism sector, while the construction sector faced a steep decline of 60%, as per the news article published on August 24.
Read: Real Estate Market In Punjab Benefits From FBR's Assistance
Trade Analysis
Prominent trade data from the previous fiscal year with various countries and regions were outlined in the documents. Trade ties between Pakistan and the European Union demonstrated a volume of USD 14.2 billion. The documents highlighted Pakistan's exports to the EU at USD 9.49 billion, with imports at USD 4.71 billion.
Furthermore, Pakistan's exports to the United States totaled USD 6.04 billion. Trade engagements with African nations during the previous fiscal year summed up to USD 4.44 billion.
Gulf Countries
Intriguingly, the trade volume with Gulf countries reached an impressive USD 19.62 billion. Pakistan's exports contributed USD 16.97 billion while imports accounted for USD 2.66 billion. Over a year, Pakistan's revenue from the Middle East showcased a 3.2% uptick, accompanied by a significant 24% reduction in imports from the region. An additional accomplishment was the trade worth of USD 186.4 million established with Afghanistan.
Read: Despite Delays, CDA Announces Its Urban Facelift Plan
Conclusion
tourism surges by 87% while construction lags. Notably, Pakistan's exports to Afghanistan tallied USD 97.2 million, counterbalanced by imports amounting to USD 89.3 million. Meanwhile, trade interactions with Iran amounted to USD 88 million. Lastly, Pakistan's trade volume with Central Asian states settled at USD 34.5 million, a figure projected to rise as the Afghan situation stabilizes.