January 19, 2023
Posted by:

Muhammad Shehzad

Category:

Blogs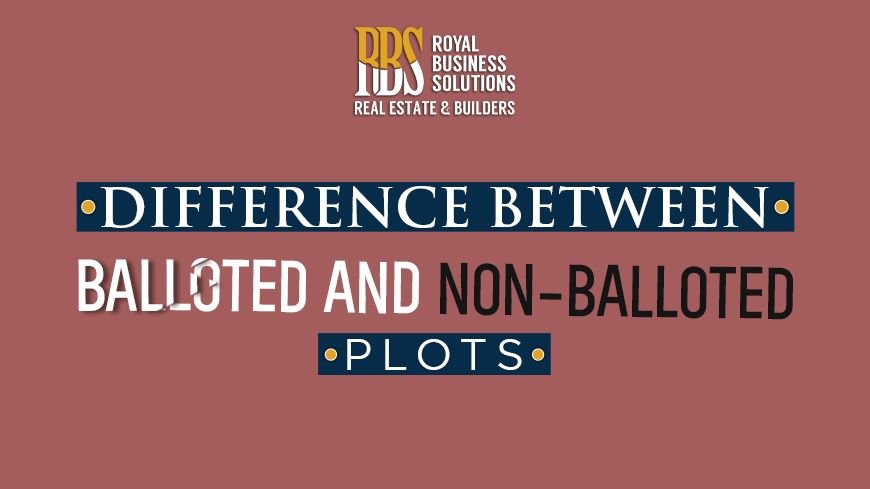 The real estate industry is growing fast. In 2022, the development in this market was slow but now investors are taking interest in the real estate market. Moreover, the experts are also giving predictions that there will be more investments in real societies in the year 2023. So it is a good option if someone wants to invest his savings to get a profitable business in the future or to have a good residency for living. But the point here that we want you to focus on is balloting and non-balloting or balloted plots and non-balloted plots. When an investor wants to invest in society, he should understand the difference between balloting and non-balloting.
RBS always wants to serve its clients in the best way so that they can have a profitable investment with a good experience from booking the plot till occupy the property.
So in this blog, you can understand the difference between balloted and non-balloted plots. Moreover, you must understand the difference between balloted and non-balloted plots to have a good experience of investment.
Top differences between balloted and non-balloted plot
Balloted and non-balloted plots can also refer to as balloted and non-balloted files
Plot and plot files
Plot
A plot is a piece of land that will be allotted to a person along with the street number and plot number. Moreover, we can say that you can visit physically the place and can be aware of the actual location.
Plot files
There are two types of plot files, balloted files, and non-balloted files
Purpose of investment in plot files
Plot files have cheaper rates but plot files can have great chances of fraud which the buyer usually ignores because of no proper awareness of the facts. It is intangible with no physical presence. Further, it is a sign of commitment by the housing scheme. These are good for cheap long-term investment.
When you invest in plot files, must ensure the following things.
CDA, LDA, RDA, KDA, etc. are the authorities, if they have approved the plot file then it is trustable
There should be a stamp of authority.
Sometimes, it also happens that after getting plot files, the plot is not ready at the location as the buyer has not visited the plot yet. It can be the situation that balloted plot can have a specific number assigned but have no physical presence.
You can invest in the Capital Smart City to live in a peaceful and pleasant environment.
Balloted plot
In simple words, we can say balloting means we assign sector number, street number, and plot number to a plot and record them in a file we can say a car with a number plate is just like a balloted plot.
Balloting process
Whenever an investor wants a home or any commercial plot in any society, firstly he will contact any developer, and then by visiting them, he will book a plot on installment with paying a certain down payment, they will maintain a file for the investor he will be given a registration number, plot number or plot exact location is not mentioned there just you will be informed that in which area your plot is booked in a certain block or area. Through balloting, you will be informed about the number of plots and the location of the purchased property. It is like voting, it is a pre-planned process that covers assigning the plot numbers to the investors who buy the plot.
Read about Lahore Smart City for profitable investments.
Why through balloting?
Through balloting, every society does not have enough capacity to fulfill the wishes of buyers as everyone wants the best plot like in the corner or on the road. So by voting, they must accept the assigned plot.
You can visit and invest at Countryside Residencia for possibilities that are reasonably priced.
Procedure to be a part of the balloting
50 percent paid out of the total amount or else, it is according to the criteria of every society. Also for different blocks e.g. in a blue world city, 90 % in the general block and 50 present in the overseas block.
When and how balloting starts
Balloting starts according to the procedure of every society like two times or one time annually.
Types of balloting
The investors pay the installment and then take part in the balloting process. The applicants apply for booking, and then take part in the voting process.
Plot ballots are the process of balloting in which the buyers are ready to pay the full amount to own the property. When balloting is done, a society issues a map and allotment letter.   Also, we can say Map issued with plot numbers.
On a side note, it is preferable to have a fruitful investment with good installment and payment plans so visit Hawks Melbourne Countryside for flexible rates.
Non balloted plots
We know the plot is of 5 Marla but unknown about the location of the plot is.
It may or may not have a physical presence.
you are not aware of the no of plots and location
Plot files have just worth of a paper. Society has the capacity of 800 units to sell and they issue 500 extra units in the form of plot files. Furthermore, we can say plot files are commitments that the plots will be constructed later for the people who own those files. Investment in non-balloted files is risky but investment in balloted files is okay.
Visit Countryside farms in Islamabad for profitable investments.
Where to invest in balloted plots or non-balloted plots
Always invest in balloted plots. It is like a commitment between a buyer and a developer. Briefly, it's secure to invest in a balloted plot.
Conclusion
Hopefully, this article has covered the aspects which are enough to understand the difference between balloted and non-balloted plots.