September 26, 2022
Posted by:

Muhammad Shehzad

Category:

Blogs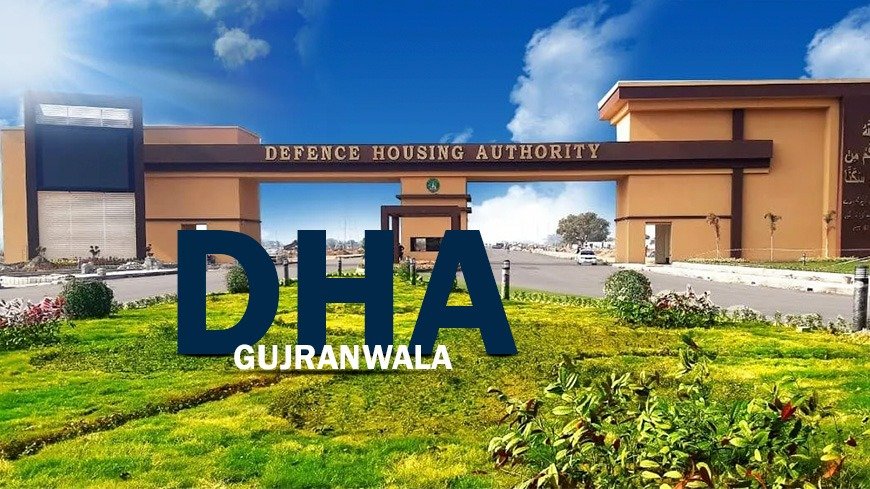 Defence Housing Authority stands out among the other housing schemes due to the provision of top-notch facilities. The group is constantly growing and several branches have been opened up in several cities in Pakistan. Due to this fact, Defence Housing Authority adds another project named DHA Gujranwala which will be the essence of high standards, comfort, and international living. This housing scheme aims to open the door of opportunities for the residents of Gujranwala. It covers a huge land area and divides into various phases. The society is legal and is easily accessible from all city routes. The project is coming out as a high-potential investment option.
DHA Gujranwala Developers and Owners:
Defence Housing Authority is the well-known owner of the project DHA Gujranwala. The company comes under the administration of the Pak Army. For the project, DHA is co-operating with the NESPAK (National Engineering Services Pakistan). On 27th September 2018, an agreement took place between DHA & NESPAK for developing and planning the housing project. Both groups have a good track record of successfully completed projects. NESPAK is also the best engineering consultancy in Asia and Africa. It is qualified in a number of fields including agriculture, energy, industry, transportation, oil, gas, petroleum, water, public health, as well as public services.
Master Plan
DHA Gujranwala divides into residential and commercial sectors. According to the plan, it will have 700 feet wide main Boulevard and will divide into various sectors including; Sector A, Sector B, Sector C, Sector D, Sector E, and Sector G, Sector J, Sector K, Sector, L & Sector M. Also, there are Future Sector 1, Future Sector 2, Commercial Zone 1, Commercial Zone 2 North, Commercial Zone 2 South, and Commercial Zone 3.
Sector A and Sector B touch the main GT road. These sectors offer residential plots in various sizes including 10 Marla, 1 Kanal, and 2 Kanal. The master plan includes 3 distinct commercial centers for the ease of residents.
Location
DHA Gujranwala is located at a prime location on the main Grand Trunk Road, in Gujranwala. The society is situated near DC Colony and adjacent to Rahwali Cantt, and on a few kilometres distance from the main Gujranwala city at Chenab gate. In addition, there are several residential and commercial areas that lie around the housing project. This society is also located at an ideal location in the city and provides easy access for travelling to other major cities. It is just 1 hour away from Lahore while 2 hours away from Islamabad.
Development Status
The three main entrances of the society, having a size of 400 feet, 210 feet, and 500 feet from the main G.T road are under construction at a fast pace.
The society started its possession in commercial zone 1 & commercial zone 2 on 30th May 2022.
The Premium Residential Plots of Executive Block have already been launched in May 2022 and Balotting took place on 30th June 2022.
An earth-breaking ceremony will soon be held by DHA Gujranwala, for the DHA office.
The tender of Development for Sector K as well as Sector L will be issued soon.
Amenities and Facilities
There is 24/7 security monitoring and CCTV coverage.
The society includes water filtration plants.
There will be the availability of a waste disposal system.
An underground infrastructure for electricity is available.
Also, there is a provision for a gas pipeline.
There is a designated area for green belts.
In addition, a 700 feet main Boulevard with a wide roads network is present.
The streets are wide and well-maintained.
There will also be health facilities.
There are international standard educational institutions.
Moreover, there will be gyms, playgrounds, and sports clubs.
There will be community centres and shopping malls for the residents.
DHA Gujranwala Payment Plan
The society offers a simple and convenient payment plan. The prices are very reasonable for the luxuries the society is offering. It also offers a very customer-friendly installment plan.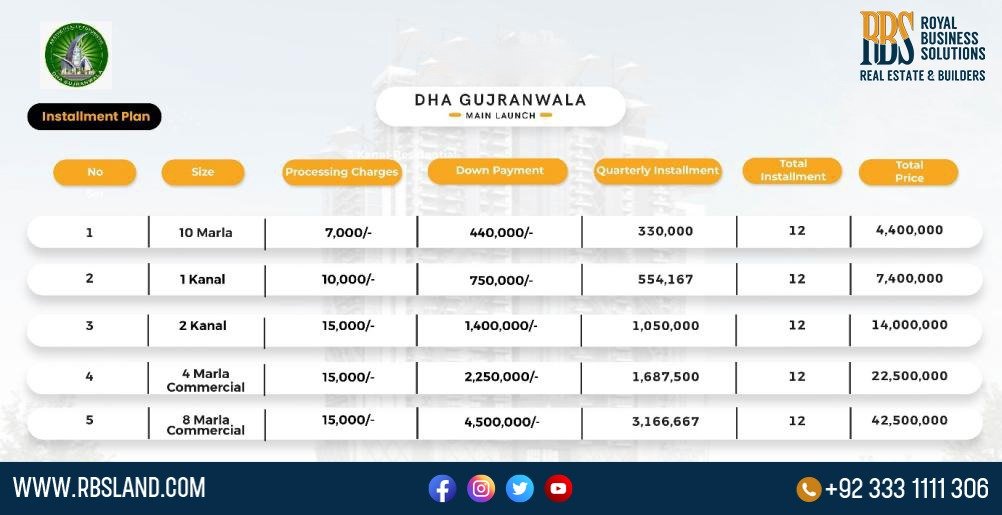 DHA Gujranwala plots for Sale
There are various plots in various size ranges for sale in the housing society. A 5-Marla plot in DHA Gujranwala is available for approximately PKR 36.75 Lac. Also, there are 10-Marla plots in DHA Gujranwala which will cost you about PKR 57.00 Lac up to 63.00 Lac. Furthermore, a 1-Kanal plot in DHA Gujranwala will range between PKR 88.00 Lac and 90.00 Lac.
A good Investment Opportunity
The society offers the best opportunity to invest. First of all, it is located at G.T Road, Gujranwala which makes it easy to access many neighboring housing societies and commercial zones in the surrounding. Secondly, there is a provision of all basic amenities including hospitals, and educational institutes in the residential project. It has plots of different dimensions, including villas, mansions, and apartments which are available at affordable prices. In the same way, it offers investment opportunities for people who are looking for a lucrative investment. The housing project provides a luxurious and better lifestyle for the residents. In addition, it provides a very safe and secure living.
Future prospect
After the completion of balloting, the price of the plot will go up to PKR 75-85 Lacs, and for some plots, it can hike up to 130 Lacs. It means that you will already be earning profits when you get possession. It is the best opportunity for investment and building your own house.
If you want to buy a plot the best time is before balloting and if you want to sell the best time is to 1 year after balloting.
You should buy a plot with a good location after the plot ballot. The market varies depending on market conditions.
Plots for sale in DHA Gujranwala
There are various residential plots up for sale in DHA Gujranwala. There are 1402 5 Marla plots for sale in DHA Gujranwala. In addition, there are 24 8-Marla plots for sale in DHA Gujranwala. Also, there are 1,482 10-Marla plots for sale in DHA Gujranwala. While there are also 1,348 1-Kanal plots for sale in DHA Gujranwala.
Moreover, there are various commercial plots available for sale. It includes 160 4-Marla plots for sale in DHA Gujranwala and 72 8-Marla plots for sale in DHA Gujranwala.
How to Book a Plot in DHA Gujranwala?
For booking a plot here, you need to visit the booking office along with:
Down payment.
A copy of your CNIC.
2-3 passport-size pictures.
Frequently Asked Questions
Following are the frequently asked questions about the project:
Is DHA Gujranwala legal?
The executive board of the Defence Housing Authority approves the society.
What is the type of property available in the housing society?
It offers both residential and commercial plots together with mansions, villas, and apartments at reasonable prices.
What sizes of residential plots are available in DHA Gujranwala?
The residential society is offering residential plots of 4 Marla, 8 Marla, 10 Marla, as well as 1 Kanal.
What type of facilities and amenities are available in the housing society?
It offers all modern facilities including the provision of all the basic utilities, security checks, mosques, electricity backup, health facilities, wide roads, a community centre, green belts, and an eco-friendly environment overall.
Conclusion
DHA Gujranwala offers the most lucrative opportunity of the time. Present on the ideal location on main G.T Road, the project has easy access to all routes of the city. Close proximity to the cities like Gujrat, Sialkot, etc. is attractive the investors from all the central Punjab to invest in the project. Experts predict that society is going to be very successful in the future. With exceptional standards, the society also ensures to provide a better living experience to its residents.
Read about Hawks Melbourne City Rawalpindi as well. It offers you a number of profitable investment opportunities.