August 21, 2023
Posted by:

Muhammad Shehzad

Category:

RBS News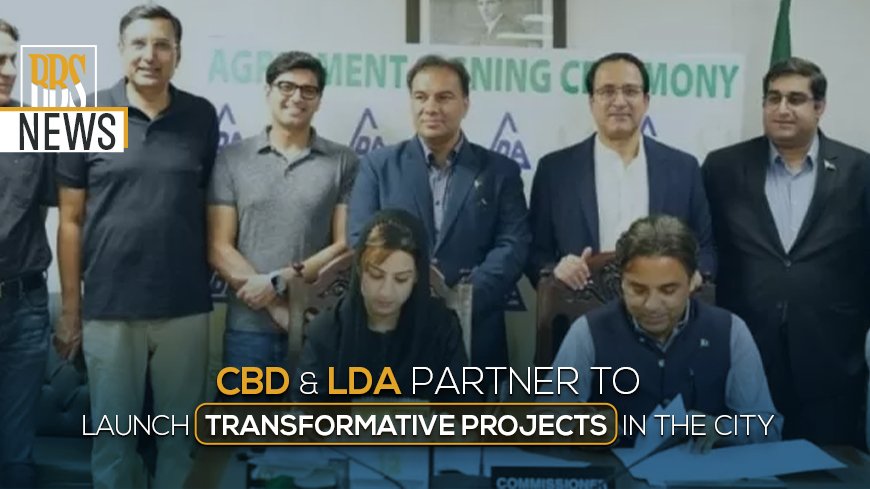 CBD and LDA partner to launch transformative projects within the city, according to news published on August 13.
MoU Meeting
To this effect, both parties signed a memorandum of understanding (MoU) during a recently held meeting. The agreement was signed by CBD Punjab Director Marketing Waseem Siddique and LDA Director Admin Rabia Riasat.
MoU Ceremony
The MoU signing ceremony enjoyed the presence of key figures including Lahore Commissioner and LDA Director General Muhammad Ali Randhawa and the CBD CEO Imran Amin. Although, with this development, Lahore's urban development takes a significant step forward to transform the city on modern lines.
Read: APMIA And SCCI Sign Agreement To Modernize The Mining Industry
CBD and LDA Collaboration
Adding to the prospects of the recent development, the commissioner stated that the collaboration between CBD Punjab and LDA is poised to usher Lahore into a new era of sustainable urban development. Additionally, the cooperative efforts of these two entities stand to potentially reshape the city's urban fabric, fostering growth and progress.
Participatory Approach
As the partnership unfolds, they will be soliciting input from residents, businesses, and stakeholders to ensure the community's needs and aspirations. By embracing a participatory approach, the collaboration aims to build a sense of ownership. It also pride among the city's residents, fostering a shared vision for a brighter future.
Read: CDA Plans To Develop A Blue Area To Promote Trade
Conclusion
CBD and LDA partner to launch transformative projects, the joint efforts of CBD and LDA represent a dynamic partnership that holds the promise of revitalizing the city's landscape. Moreover, it enhances its economic vibrancy and improves the quality of life for all residents. As the transformative projects gain momentum, the city poise. It emerges as a shining example of urban innovation and collaboration.