December 30, 2022
Posted by:

Muhammad Shehzad

Category:

Blogs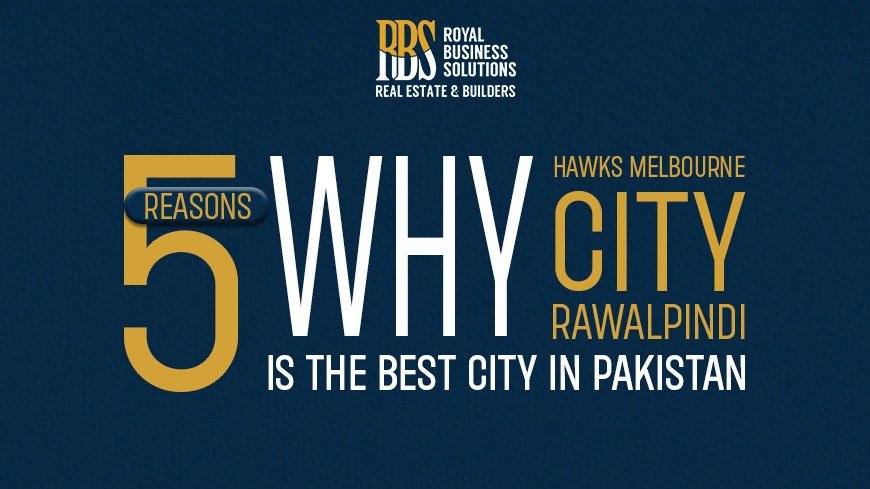 Hawks Melbourne City Rawalpindi is a residential project which is developed after being inspired by Melbourne City of Australia. Hawks Melbourne will bring to Rawalpindi and Islamabad the atmosphere and way of life of Melbourne, Australia. Moreover, the organization asserts that it is Pakistan's first hybrid energy housing project. This blog will cover 5 reasons why Hawks Melbourne City Rawalpindi is the best City in Pakistan.
Due to its ideal location and planned facilities, Hawks Melbourne is swiftly turning into a real estate investor's dream. The establishment and launch of the housing society in Pakistan were revealed at an inauguration ceremony hosted by the Hawks Melbourne developers and partners on February 23, 2022.
This housing project has fantastically designed commercial and residential sections created to provide first-rate amenities. Additionally, this housing development superbly lies in Rawalpindi's premier neighborhood. As a result, this magnificent property is just a heartbeat away from all of the twin cities' major sites. Furthermore, the developers are bringing the opulence of Melbourne to Rawalpindi, as the name implies. Even the most sensitive people will impress by this spectacular housing project's cutting-edge architectural characteristics.
Top 5 Reasons Why Hawks Melbourne City Rawalpindi is the best City in Pakistan
Several reasons made this housing society able to stand in the best cities of Pakistan. Let's discuss a few of them.
1. Renowned Developers
Black Hawk Builders, a renowned developer, is behind this project. Hawks Melbourne City Developers is a subsidiary of Black Hawk Builders, one of Pakistan's original real estate pioneers. Moreover, the construction team at Hawks Melbourne fully devote to fulfilling our aims and constructing the most desirable living place in Pakistan. They put up a lot of effort to meet deadlines and complete projects on schedule while giving our clients top-notch goods.
2. Ideal Location
The project features an ideal location Near Rawat on Chakbeli Road. The location will be simple to reach from Ring Road thanks to the proposed interchanges between the N-five radio station and Losar Mor. Moreover, the community along Chakbeli Road is advancing toward DHA's Section III Expansion.
If we have a look at the location of Hawks Melbourne, it is in the most prestigious area of the twin cities and is at a great location. The radio station's border is where Ring Road Station interchanges with it. In addition, you can see that the area is home to several elite groups, and Hawks Melbourne fits in wonderfully among them.
Read more about Hawks Melbourne City.
3. Ultra-Modern Master Plan
Master plans are ongoing, long-term planning documents that provide a layout for future growth and development. Moreover, master planning establishes linkages between societal contexts, structures, and the surrounding area. A master plan is a compilation of studies, recommendations, and plans for a place's people, transportation, housing, economy, amenities for the local community, and land use. Further, it is based on information from public poll findings, planning efforts, physical aspects of existing development, and economic and social circumstances.
Hawks Melbourne City Rawalpindi master plan is deliberately designed by famous and expert developers and engineers. Moreover, the Melbourne City master plan by the Hawk serves as a guide for future urban planning. The goal of the strategy is to make living there better for the locals. To develop and design a society b with contemporary infrastructure, the society has employed a team of professionals. Further, the residential plots at Hawks Melbourne City are ideal for anyone who wants to live close to the city without having to pay a hefty price.
The master plan of Countryside Farms Islamabad is also designed by a highly expert team.
4. Cost-Effective Prices
Plots at Hawks Melbourne are quite reasonable and very cost-effective. Additionally, society offers its clients four easy installment programs for their convenience.
Hawks Melbourne City is the ideal choice for discriminating homebuyers because of its excellent fusion of modern and traditional characteristics. Moreover, another benefit of this society is its manageable payment plan, which enables individuals who cannot afford to pay in full to own property there. People feel more adaptable and are not under as much strain when they do this.
5. Exceptional Facilities
Hawks Melbourne City is a gated community that provides residents and potential buyers with a wide range of amenity options that meet their needs and interests while ensuring the harmony of house and community living. Capital Smart City Islamabad also offers luxurious facilities to residents of twin cities.
Some of Palm City's most notable facilities include the following:
Shopping Malls
Shops in Hawks People can socialize and gather in Melbourne City. They are also famous locations to eat dinner or lunch. Additionally, a lot of malls contain restaurants, movie theatres, and other attractions that make them well-liked hangouts for groups of friends and families.
Hotel & Corporate Centers
The Hotel & Corporate Center is situated in the business hub of the community. These are the ideal option for your event, whether you're planning to hold a conference or celebrate a significant occasion.