June 12, 2023
Posted by:

Muhammad Shehzad

Category:

Blogs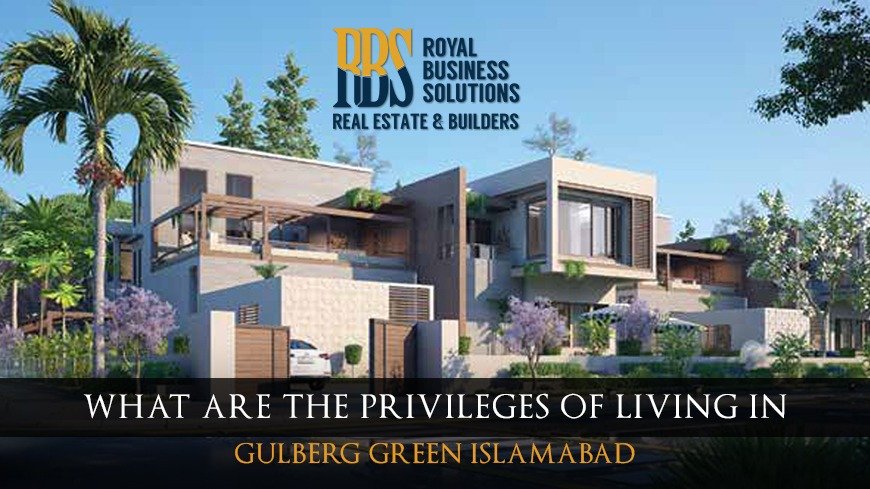 Located in the heart of Islamabad, Gulberg Green offers a unique and luxurious living experience. With its serene surroundings, exceptional amenities, and convenient location, the residents of Gulberg Green enjoy a multitude of privileges that make it a highly sought-after residential area. The project aims to give its residents a peaceful, natural atmosphere. The blog will cover 'What are the privileges of living in Gulberg Green Islamabad?
It is a project of the Pakistan Intelligence Bureau, and it is providing outstanding security standards. Gulberg Green Islamabad stands out as a progressive and modern commercial and residential community, developed by the Intelligence Bureau Employees Cooperative Housing Scheme (IBECHS) as their largest housing project. Exploring the thriving community of Gulberg is highly recommended, especially for those considering investments in proximity to Islamabad. It lies between Rawalpindi and Islamabad on Islamabad express highway. It was launched in 2007. The project, which covers a region of around 42,000 Kanal, is regarded as a city inside a city and has several features and services that make it one of the twin cities' most sought-after neighborhoods.
The Privileges of Living in Gulberg Green, Islamabad
Following are some privileges of living in Gulberg Green Islamabad:
Eco-friendly environment
Similar to the entirety of Islamabad, Gulberg is characterized by its abundant greenery. Gulberg Green Islamabad is surrounded by green plantations. Moreover, there are many trees, and their profound presence helps to keep the air fresh and pure.
Calm and green surroundings
Gulberg Green is renowned for its green landscape and peaceful environment. Beautifully planted parks, tree-lined streets, and well-kept gardens decorate the area. Residents may indulge in the peace of nature, breathing in the clean air and relaxing environment. Moreover, the green spaces offer possibilities for jogging, and other recreational activities, making it an ideal escape from the bustle of city life. Moreover, Hawks Melbourne Location has been designed to provide the highest quality of facilitated living within an ideal environment.
State-of-the-Art Infrastructure
The infrastructure at Gulberg Green was carefully developed and planned. The roads have effective drainage systems and are wide and well-paved. The area benefits from a reliable supply of electricity, water, and gas, ensuring a comfortable living experience. Additionally, the society is facilitating its residents with modern communication networks, high-speed internet connectivity, and cable TV services, keeping residents well-connected and up-to-date.
Prime Location and Accessibility
One of the key privileges of living in Gulberg Green is its prime location in Islamabad. Situated near major highways and expressways, residents enjoy easy access to other parts of the city, including the central business district, commercial areas, and cultural landmarks. The proximity to Islamabad's international airport further adds to the convenience for frequent travelers. Additionally, the society is well-connected to public transportation networks, making commuting hassle-free. Moreover, the society has a prime location on the Islamabad motorway, located at the intersection of zones 4 and 5 of the Islamabad capital territory. Not only does it benefit from a reliable subway system that provides uninterrupted connectivity to the motorway, but it is also strategically situated near popular destinations such as Koral Town, Aabpara Market, T-Chowk, and Bahria Town Islamabad. Residents can live an ideal lifestyle by exploring Gulberg Green Islamabad.
Also read about: Nova City Islamabad Affordable Housing Society in Islamabad with Infinite Features
Abundance of amenities at Gulberg Green
Living in Gulberg Green provides residents with easy access to a wide range of amenities. It is offering a variety of services to fulfill the requirements of its residents.
Wide main streets and boulevards are present in Gulberg Greens to ensure a smooth flow of traffic and prevent congestion.
Recreation and Leisure Facilities
Gulberg Green offers a host of recreational and leisure facilities to enhance residents' quality of life. The area features well-maintained parks, jogging tracks, and playgrounds for children. Fitness enthusiasts can take advantage of gymnasiums, sports complexes, and swimming pools within the community. Further, it provides opportunities for socializing and community engagement through its clubs, community centers, and event venues, fostering a sense of belonging among residents.
Sports fans also enjoy many sports facilities like a cricket pitch, a football pitch, and a gymnasium. The society is presenting a large selection of dining and shopping alternatives, including different kinds of eateries, cafes, and retail stores. Moreover, the residents can enjoy a variety of upscale brands and shops. Shopping centers, supermarkets, and boutiques cater to the diverse needs of residents, providing a convenient shopping experience.
Additionally, healthcare facilities, hospitals, and clinics are readily available, ensuring access to quality medical care for residents.
Educational needs are also a major concern of the society. The community features top-notch educational institutions, including schools and colleges, offering quality education for children. Further, the Gulberg Campus of Riphah International University stands as a testament to the educational opportunities available within Gulberg. Furthermore, the construction of Froebel's International School is currently underway, while Future World Schools Gulberg Greens have already commenced its operations, offering a wide range of educational options for residents. Also, Investors can avail of profitable investment options by reading about Nova City Islamabad NOC.
Conclusion
Living in Gulberg Green, Islamabad offers an array of privileges that combine the peacefulness of nature, state-of-the-art infrastructure, abundant amenities, recreational facilities, and convenient accessibility. The harmonious blend of comfort, convenience, and beauty makes Gulberg Green an exceptional residential destination, attracting individuals and families seeking a luxurious and fulfilling lifestyle. Hopefully, the blog will be informative. For further information about the privileges and facilities that Gulberg Green is providing, keep visiting RBS real estate and builders.