July 5, 2022
Posted by:

Muhammad Shehzad

Category:

Blogs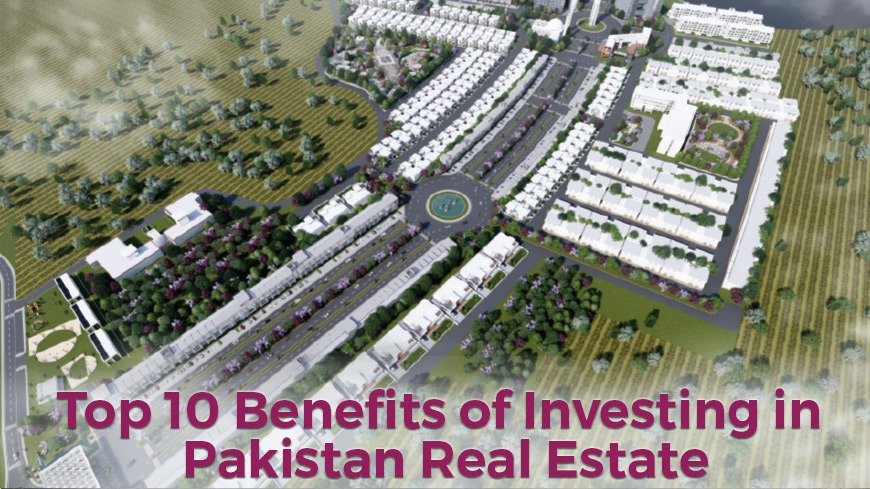 Top 10 benefits of investing in Pakistan Real Estate:
The wise young man of today invest his money in real estate. The famous quote about real estate is: "he Is not a full man who does not owns a piece of land". There are various benefits of investing in Pakistan real estate. With considerable investment one can earn maximum return.
Everyday you have 1440 minutes. Minutes are your dollars so invest in time wisely.  Moreover, if you want to become rich, it is one of the fastest ways. Here are various benefits which you need to know about real estate investments:
Construct wealth:
As a property is bought, it builds equity. As soon as equity is constructed, one has leverage to buy more properties. Also, it increases the cash flow and wealth.
Cash flow:
Cash flow is the net income from a real estate after mortgage payments. Furthermore, the operating expenses are also excluded. In several instances, cash flow strengthens over time and builds equity.
To experience a lifestyle of peace and luxury, consider exploring the Lahore Smart City.
Takeaways:
In real estate, investment money is made through rental incomes. Additionally, the profits are generated by business activities that depend on the property. Real estate investment trusts (REITs) offer guidelines to invest in real estate without having to own operate or finance properties.
Deductions and Tax breaks:
Real estate investors can deduct tax and take breaks that can save money at tax time. Similarly, a reasonable cost of operating to buy real estate property in Pakistan. This helped the investors for progress in multiple real estate investments in Pakistan. Similarly, Pakistani property investors are fascinated in investment because of tax breaks and deductions.
Real Estate leverage:
Leverage is the use of different financial instruments or borrowed capitals. Likewise, it enhances real estate investment opportunities in Pakistan. A 20% down payment on a mortgage, gets you 100% of the house you want to buy that's leverage. As real estate is a tangible asset and various financial leverages are available.
Grants for Foreign Direct Investment (FDI):
Government of Pakistan has declared various excellent inducements and grants for FDI. The foreign direct investment (FDI) has improved multiple times since the increase in incentives. These incentives include concession in taxes, low interest rates and research in development.
Competitive risk adjusted returns:
The investor aims to beat the average.  Real estate is a fixed asset which remains with a person constantly. Pakistan has very effective property laws which are also a key aspect for investment in real estate. Moreover, in a country like Pakistan where the budget is very wobbly real estate.
Endless money stream:
Endless money stream is guaranteed real estate investment and effective costs. Real estate in Pakistan is one of the safest investments as the risk factor is low and growth is rapid. This is very exciting for Pakistani property investors as the chances of loss are very low. In fact, the investment in property and real estate at no time go to waste and it is always very productive.
Most Trending Business
Real estate is a trending and safe business in this low-cost and time. In contrast to other businesses real estate provides people with multiple opportunities to invest such as in different commercial projects.
Prompt Advancement of Real estate:
First the residential and commercial property is obtainable with maximum ROI. This investment must include the purchase of raw land, rezoning and sale or lease of the decided products to end users.
Conclusion:
In the view of above-mentioned discussions real estate is the most profitable investment. Nevertheless, there are various benefits of investing in real estate there are several drawbacks. A property transaction takes months to close. Also there comes a peak time where maximum profit can be achieved from property. This all requires patience.