June 20, 2023
Posted by:

Muhammad Shehzad

Category:

Blogs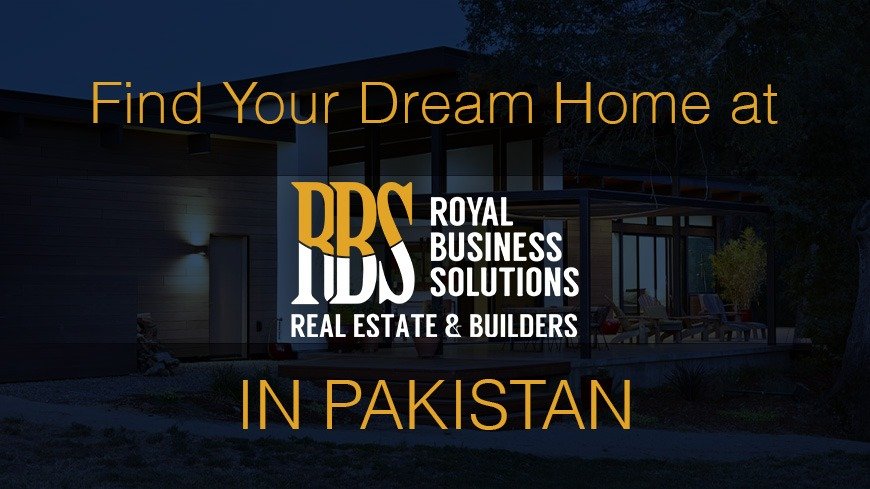 Introduction to Royal Business Solutions
When it comes to finding your dream home in Pakistan, it is essential to choose a reputable and reliable real estate agency that can cater to your needs. Among the numerous options available, Royal Business Solutions (RBS) stands out as a leading real estate corporation in the country. With a strong presence since 2014 and a partnership with Habib Rafiq (Pvt.) Limited, RBS has become synonymous with excellence and has consistently provided outstanding services and facilities to its clients. In this blog, we will delve into RBS's remarkable projects and explore why they should be your preferred choice for finding your dream home in Pakistan.
Unparalleled Expertise and Experience
One of the key reasons to choose RBS over other agencies is its unparalleled expertise and extensive experience in the real estate industry. With years of market knowledge and a deep understanding of customer preferences, RBS has consistently delivered exceptional projects that meet the highest standards. Furthermore, their team of professionals possesses the expertise to identify prime locations, conceptualize innovative designs, and execute projects to perfection. This level of experience ensures that RBS can cater to your specific requirements. Moreover, provide you with the ideal home you've been dreaming of.
Read: RBS Road Show Expo 2022 In South Africa
Exclusive Partnerships and Collaborations
RBS has forged exclusive partnerships and collaborations, most notably with Habib Rafiq (Pvt.) Limited, a renowned construction and development company. This strategic alliance enhances RBS's capabilities by granting access to top-notch construction techniques, high-quality materials, and cutting-edge architectural designs. The collaboration enables RBS to create residential projects that are not only aesthetically pleasing but also structurally sound. By choosing RBS, you benefit from the expertise and resources of both companies. Furthermore, resulting in a home that exceeds your expectations.
Diverse Portfolio of Projects of Royal Business Solutions
RBS takes pride in its diverse portfolio of projects, catering to various lifestyles, preferences, and budgets. Whether you seek a luxurious residence, a serene retreat, or a lucrative investment opportunity, RBS has a project tailored to your needs. It's projects include but are not limited to:
Lahore Smart City: A Visionary Residential Project
One of RBS's flagship projects is Lahore Smart City, a visionary residential development that aims to redefine modern living. Lahore Smart City, situated in Lahore, Pakistan's cultural and economic center, offers a prime location and numerous benefits for homeowners and investors. This project embodies the smart city concept, combining advanced technology and sustainable practices to create a futuristic and eco-friendly living environment.
Capital Smart City: A Masterpiece of Luxury and Convenience
Another remarkable project by RBS is Capital Smart City, situated near the twin cities of Islamabad and Rawalpindi. This grand residential community sets new standards of luxury and convenience. With its strategic location and meticulously planned infrastructure, Capital Smart City offers residents a peaceful and well-connected lifestyle. The project boasts world-class amenities including
educational institutions,
healthcare facilities,
commercial centers and
recreational spaces, making it an ideal place for families to settle and thrive.
Nova City Islamabad: An Oasis of Serenity and Style
For those seeking a tranquil and stylish living experience, Nova City Islamabad is the perfect choice. Designed with meticulous attention to detail, this residential project offers a serene environment away from the hustle and bustle of the city. Nova City Islamabad features lush green landscapes, beautifully designed homes, and a range of modern amenities, providing residents with a harmonious blend of comfort and natural beauty.
Gulberg Greens: Luxury Living in the Heart of Islamabad
Gulberg Greens Islamabad is a prestigious residential project developed by RBS that offers luxury living in the heart of Islamabad. With its prime location and picturesque surroundings, Gulberg Greens provides an unmatched living experience. The project features spacious plots, elegant villas, and modern infrastructure. Residents can enjoy an array of amenities, including parks, mosques, shopping centers, and recreational facilities, all within the vicinity.
Hawks Melbourne: Redefining Urban Living
Hawks Melbourne is a remarkable project that brings a touch of international elegance to Pakistan. This residential community offers a sophisticated and cosmopolitan lifestyle. With its contemporary architectural design, state-of-the-art facilities, and prime location, Hawks Melbourne caters to the discerning tastes of modern urban dwellers.
Mall of Gujar Khan by Royal Business Solutions
In addition to residential projects, RBS has ventured into commercial developments with the Mall of Gujar Khan. This upscale shopping destination aims to provide a unique retail experience for the residents of Gujar Khan and its surrounding areas. With a wide range of local and international brands, entertainment options, and dining establishments, the Mall of Gujar Khan is set to become a vibrant hub of commercial activity.
Countryside Residencia and Countryside Farms: Tranquil Retreats
RBS also offers serene and picturesque living options through Countryside Residencia and Countryside Farms. These projects provide residents with a peaceful and natural environment, away from the city's chaos. Countryside Residencia offers modern residential units, while Countryside Farms presents the opportunity for agricultural and farmhouse living.
Royal Business Solutions and their Commitment to Customer Satisfaction
At RBS, customer satisfaction is of utmost importance. They go above and beyond to ensure that the entire home-buying process is smooth, transparent, and enjoyable. From the initial inquiry to the final handover, RBS's dedicated team provides personalized assistance, guiding you through every step and addressing any concerns or queries along the way. Their commitment to customer satisfaction is reflected in their track record of delighted homeowners who have found their dream homes with RBS.
Conclusion
When it comes to finding your dream home in Pakistan, Royal Business Solutions (RBS) emerges as a clear frontrunner. RBS offers unmatched expertise, exclusive partnerships, diverse projects, and unwavering commitment to customer satisfaction. Choose RBS for a home that meets your unique needs. Find your dream home with Royal Business Solutions and embark on a lifetime journey in Pakistan's real estate market.
To stay updated on the news about "Royal Business Solution and Pakistan's Real Estate Market," stay tuned to none other than Royal Business Solutions itself!