May 31, 2023
Posted by:

Muhammad Shehzad

Category:

RBS News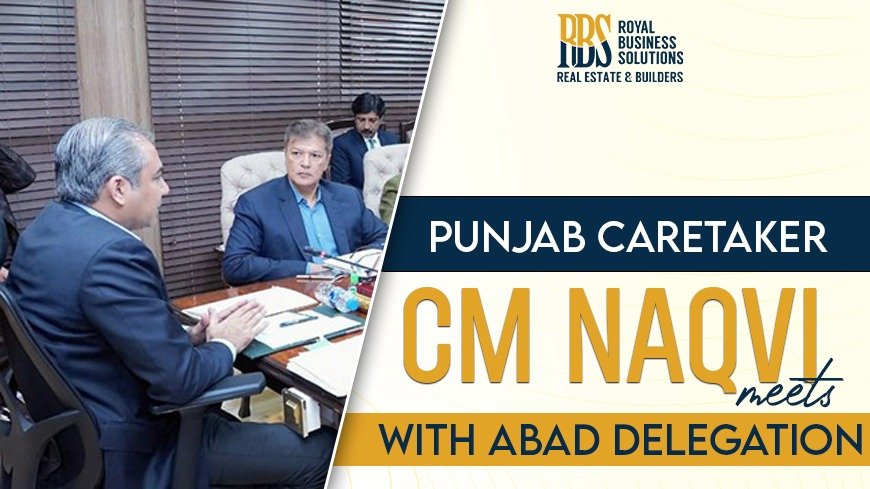 LAHORE: Punjab Caretaker CM Naqvi meets with ABAD delegation
According to a news source, on May 29, a delegation from the Association of Builders and Developers (ABAD) met with Punjab Caretaker Chief Minister Mohsin Naqwi at his office to discuss issues facing the construction sector.
Gohar Ijaz, Sheraz J Maoo, Engineer Akbar Sheikh, Hafiz Muhammad Nauman, and Ayub Sabir Izhar were among the delegation's members. Moreover, Muhammad Ali Randhawa, Commissioner Lahore and Director General of the Lahore Development Authority (LDA), attended the conference.
Read: PCB And CDA Agree To Construct A Cricket Stadium At Margalla Foothills
According to details, the delegation offered suggestions for promoting the real estate and construction industries, and Naqvi responded by promising to implement measures that would help the industry. It decide during the same meeting that building laws will review along with the industry expert.
According to reports, Naqvi has instructed the LDA and associated organisations to focus on improving public access to building rules. In order to gather input from the stakeholders and finalise its proposals, a committee establish in this regard. Randhawa is in charge of the committee.
You may invest in Lahore Smart City which is approved by LDA.
Additionally, members of the meeting talked about the idea of creating Residential Management Committees in private housing communities in Punjab.
For more news and update stay in touch with RBS Real Estate and Builders.