December 30, 2022
Posted by:

Muhammad Shehzad

Category:

Blogs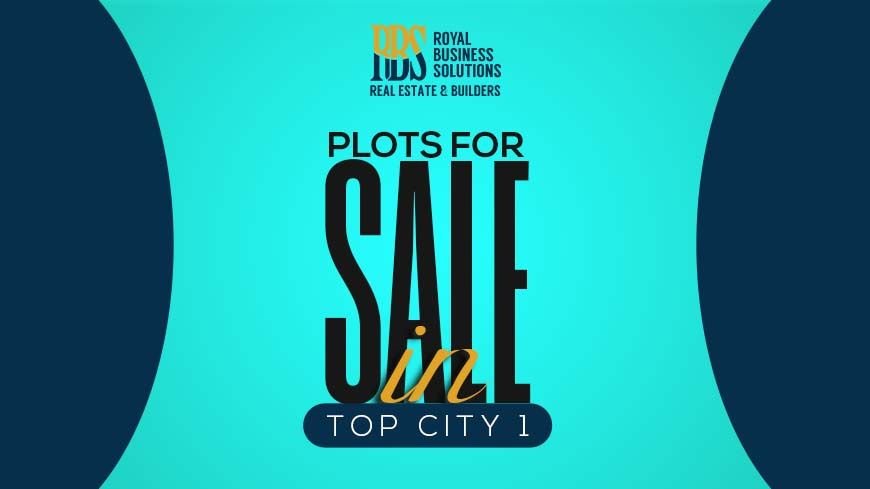 The growing population of Rawalpindi has increased the demand for new housing development societies. Furthermore, the growing demand for high-quality housing paved the way for the construction of Top City-1 Islamabad. It is one of the most latest and vital additions to the capital city's real estate market. The city is also a popular tourist destination due to its culture and fantastic facilities.
Top City 1 Islamabad
Top City 1 Islamabad is an outstanding housing society that strives to become a benchmark in the real estate sector of Pakistan. This project is considering a notable development in Islamabad, Pakistan's Capital. Top City 1 is a diligently planned housing project with an attractive view of rolling green hills where development is ongoing at a very fast pace. The society provides affordable housing as well as a peaceful environment to its inhabitants. In addition, residents can easily move in and out of the area because of the vast network of roads and green belt. There are also multiple markets for the convenience of residents in various blocks.
Location of Top City 1 Islamabad
This marvelous project is located on the southern end of the Kashmir highway at the junction of the M-1 and M-2 motorways. It is at a distance of about 3 kilometers from New International Airport. The project covers approx. 740 hectares of area and offers 5 Marla, 10 Marla, and 1 Kanal plots for sale in Top City 1.
NOC approved
To provide affordable housing solutions to everyone, the construction of Top City 1 began in 2012. The society is registered under RDA and has received NOC from RDA, ICT, CAA, and NHA as well as from Environment Protection Department.
Master Plan of Top City-1
Top City-1 is having a remarkable master plan, smartly designed on the edge of Islamabad International Airport. Along with stunning landscape and design, Top City-1 also has smart architecture that makes the most of the local climate while reducing adverse effects on the environment and its surroundings. It is a gated community, protects and secure with a high-level surveillance system but designed to offer a wonderful sense of freedom in surroundings of extraordinary beauty.
Bocks in Top City-1
The society is divided into several blocks numbered A through H having numerous features such as high-rise buildings, plots, farmhouses, and business buildings. Additionally, it offers all the basic amenities like a waste management system, electricity, water supply, and attractive places.
Furthermore, its G, H, and F block lie very close to the New Islamabad International airport. Block G society's land which is very close to the Airport is already seize by CAA due to security concerns.
Development Status of the Project
Top 1 City is currently a developing society with about 50% of development work remaining. Its bock B consists of 1 Kanal residential plot, whereas the remaining blocks are under construction yet. As the society employs all the latest technologies available to make it the best private housing society, its development standard is much better than the other neighboring housing schemes.
Moreover, Top City-1 is the first ever smart city that has implemented all the latest trends and technologies including fiber optics, e-health service, e-government, surveillance system, smart meters, public Wi-Fi, and much more.
Features & Amenities in Top City 1
Some basic features of society are:
Some society area is reserved for farmhouses too with larger plot sizes. Ring road also passes through the area of farmhouses.
Land facing Kashmir highway prime location is already reserved for a 5-star hotel project which will be launched soon.
Top City-1 also reserves some Motorway facing land for high buildings.
The society has designed a wastewater treatment plant. Later on, this water uses for gardening purposes.
Besides these, there are many other features like an eco-friendly environment, modern development standards, and provision of all necessary facilities which set it apart from other societies. Furthermore, amenities provided in commercial and residential areas of Top City-1 have been listed below:
An underground sewerage system
Medical Facilities
Educational institutions
Open spaces
Parks for children
Indoor and Outdoor Sports Club
Fitness centers for men and women
Mosque and other religious buildings
Plots for sale in Top 1 City
After the approval of the master plan, Top City-1 has come up with an exclusive residential and commercial plot for sale in Top City-1 at flexible prices. This booking plan consists of different sizes of residential plots as well as commercial plots and different sizes of high-rise apartment tower plots.
Residential plots
With the rise in property prices, more people are looking for houses to rent or purchase a house. Top City-1 offers a wide range of residential plot for sale in Islamabad starting from 5 Marla, 10 Marla, 1 Kanal, and 2 Kanal. Bookings start from 10% and the remaining amount will be payable in 33 monthly and 5 half-yearly installments. Furthermore, the documentation and utility charges will be added to the given price. Also, the plot category such as main road, corner, etc. can charge you extra.
Commercial Plots
The society offers a limited number of plot for sale in Top City-1 with a flexible payment plan. Bookings can be made with as little as a 10% down payment, with a further 10% fee for confirmation and allocation. Over the following three years, the remaining sum is due in 11 equal quarterly installments.
Investment in shops and other commercial properties ensures a promising bright future. Shop's investment offers incredible benefits to its investors.
High Rise Apartment Tower Plots
Another exclusive offer from Top City 1 is to book high-rise apartment tower plots right along the Kashmir Highway. Moreover, it is an expensive option that attracts builders, and developers to launch their mega-developments in this prime location. Plot size also varies from 10 Kanal to 20 Kanal approximately and price ranges from 33 crores up to 58 crores approx.
Why invest in Top City-1?
The ideal location of Top City-1 near Kashmir Highway is one of the most significant features which increases its worth. Society's modern development and infrastructure planning are fulfilling the dreams of its residents. Moreover, this housing project promises to deliver the most reliable, luxurious, and wonderful products at reasonable prices.
Furthermore, here are some of the notable features that make this project remarkable and a smart reason to choose Top City-1. Business districts with state-of-the-art office buildings, a dedicated lake, a properly designed parking system, top-notch educational institutions, and international standard shopping malls with high-end retail outlets.
It is the greatest opportunity for investors because society has business centers, corporate offices, retail stores, and entertainment venues, all of which suit the needs of the consumer. Besides these, the lodging organization has lots of rooms for commercial expansion and also provides jobs to a lot of people in an area.
Conclusion
In conclusion, Top City-1 offers profitable deals to investors and buyers, allowing them to live wealthy lifestyles and expand their property investments. A combination of the best location and well management and planning has carved out the present and future of this housing scheme. Hence we can confidently suggest this project for future residence in Islamabad or short to medium-term investment choices.
Get to know about New Metro City Gujar Khan, Lahore smart city, and Blue World City.