October 6, 2022
Posted by:

Muhammad Shehzad

Category:

Blogs
Paragon City Lahore stands out among the most modern residential societies in Lahore. Established in the year 2003 it is built on post-modern concepts with state-of-the-art infrastructure. It was a dire need in Lahore to build a society which can accommodate the rising population of the city. Due to the splendid emergence of Paragon City, it becomes very convenient to afford luxury on a budget. The developers ensure to provide comfortable living to the residents. With its extraordinary location, it becomes very easy to access all the main points of the city without hassle. Due to its linkage with Ring Road Lahore, the society is earning a good reputation in the real estate market of Lahore.
Paragon City Lahore Owners & Developers
A private company, Paragon City Pvt Ltd. owns the project of Paragon City Lahore. The society is specialized to provide all facilities of life in one place. The main goal of the developers is to provide a lavish lifestyle that is affordable for the customers. In addition, they aim to provide a comfortable living in a serene environment. The location of Paragon City is chosen wisely by the developers and they strive to achieve excellence and quality in their work.
Paragon City Lahore Location
Paragon City is situated at the most prime location just adjacent to Barki Road. In addition, it is just next to Rashid Minhas Road. The society is just a few minutes away from Lahore Ring Road. The ideal location of the society adds appeal to the overall market value of the society.
Paragon City Map shows that it is accessible to all main points of the city including Jallo Road. Moreover, the society is just a few kilometers away from Shabbir Sharif Road. Furthermore, Zarrar Shaheed Road is also easily accessible.
In addition, Paragon city is very near to Allama Iqbal International Air Port, Lahore Cantt. Railway Station, Fortress Stadium, Cavalry Ground, University of Engineering & Technology Lahore, Lahore University of Management Sciences (LUMS) and Mughalpura Railway Station. Also, Orange Train Islam Park Station, Shalimar Bagh, Defense Housing Authority Lahore and Pakistan Kidney and Liver Institute (PKLI) And Research Centre are some nearby landmarks.
Paragon City Lahore NOC
Getting NOC by the respective Development Authorities is the top-most priority of any housing society. Clearing the legal status of society includes a set of procedures. Recently, Paragon City is in process of getting NOC from the Lahore Development Authority (LDA). It is a long procedure but chances are very high that society will soon get its NOC as the developers are following all the required standards.
LDA has listed many illegal housing societies on its official website and fortunately, Paragon City is not on the list. Experts predict that the NOC of the society will soon be issued by the Lahore Development Authority (LDA).
Paragon City Lahore Master plan
The Masterplan of the society is prepared by the experts in their field. The master plan of the society fulfils all the international standards and the owners ensure that each step of the process is transparent. The developed Blocks of Paragon City include Imperial Home, Imperial Garden, Wood, Executive, and Grove. While the handed-over projects by the society include Mounds, Orchards-1, Imperial-1 and Imperial-2.
The plots of various sizes are available in Paragon City, which includes 5 Marla, 6 Marla, 8 Marla, 10 Marla,1 Kanal and 4 Kanal.
While Commercial Plots of 4 Marla and 8 Marla are available for sale in Paragon City.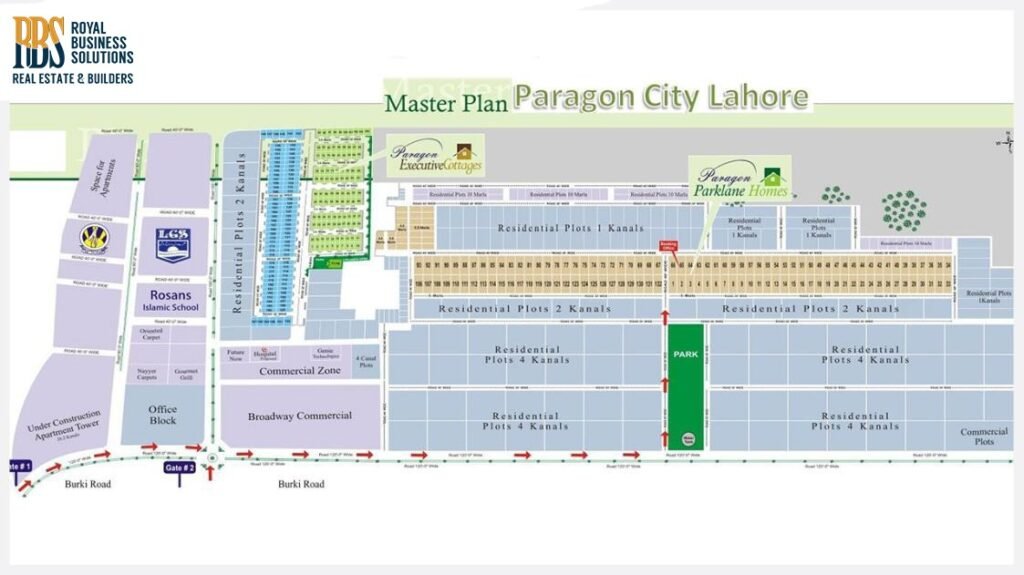 Paragon City Lahore Payment Plan
The prices of plots in Paragon City are quite affordable and the payment plan is very easy. The prices of plots keep oscillating according to location and market demand. Each block has its specific location so each plot in a specific block offers different prices.
Paragon City Plots for Sale are available at very reasonable prices.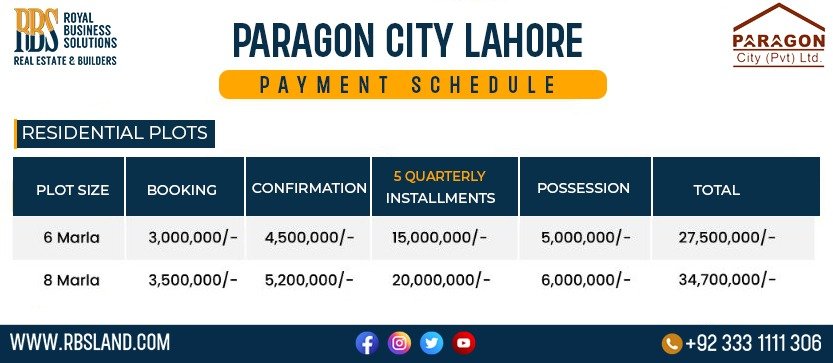 Also read about, Hawks Melbourne City Rawalpindi for the best investment opportunity.
Documentation Requirement for Booking in Paragon Lahore
There are some important documents that you will need in order to book the property of your choice in Paragon City. The documents include:
2-3 passport-size pictures.
2-3 photocopies of your CNIC.
2-3 photocopies of your next of kin.
Few photocopies of NICOP (for overseas Pakistanis).
Facilities
Paragon Lahore is undoubtedly the most amazing housing society to reside in. It offers a very sustainable infrastructure including designated areas for green spaces. The management closely monitors each step and tries its best to produce a masterpiece. The society is developing at a fast pace with modern technology.
Paragon City is being constructed in a very smart manner and is maintained regularly.  The society is proving its worth in the market as many investors are keenly looking into the project.
The developers are striving for excellence and trying their best to complete the project in the given time.
The staff is working day and night and fulfilling national and international standards. There will also be a Paragon City Mall which aims to provide luxury at a reasonable price.
The Paragon society Lahore offers the best property prices in various sizes with a flexible payment plan. In addition, the developers are not making any compromises on the quality of development. Providing customers with quality work is the main aim of the Paragon group. Following are the important facilities that the society is offering:
Jamia Masjid:
To fulfil the religious needs of the society the Paragon group is providing the residents with Jamia Masjid. Also, the mosque will be based on modern-day technology and amazing infrastructure. In addition, it will portray the rich historic culture of Lahore in its architecture. It will ensure to provide the best environment to the people seeking a spiritual experience.
Road and Lane Infrastructure:
The developers have paid special attention to providing the residents' hassle-free life. For this purpose, the road infrastructure is specially developed which will be spacious and wide and will allow a smooth traffic flow. They have a proper lane mechanism for maintaining a post-modern style. The walkways will be paved in order to facilitate pedestrians.
Recreational areas:
There will be beautiful and well-maintained recreational places in Paragon City. It includes family parks, theme parks, and sports complex which aim to cheer up adults as well as kids.
Quality educational institutes:
Educational institutions have an important role in a housing society and each housing society tries its best to provide quality educational institutes to its residents. For this purpose, Paragon City is trying its best to provide high-quality education to the residents by providing international-level schools, colleges and universities.
Secure Society:
The project is a secure society with a boundary wall and 24/7 security surveillance. In addition, there will be CCTV camera coverage which will keep an eye on every activity. The society ensures providing secure surroundings to the residents.
Underground Utility pipelines:                               
The project will be a well-maintained housing venture with mesmerizing landscapes. In order to preserve it, the developers are providing concealed underground water pipelines, drainage pipelines, gas lines, and electricity lines. This step is very good for maintaining the society.
Proper Drainage system:
The main motto of the society is to maintain a clean environment overall. Improperly maintained drainage system ruins the view of society. The drainage systems will be updated from time to time.
Conclusion
Paragon City is a top-notch housing society developed by experts and professionals using world-class technology. The Paragon Company is truly fulfilling its promise of an international infrastructure that too on the most affordable costs with amazing amenities.
Paragon is providing you with the opportunity to purchase property at low rates. Moreover, it allows investors to gain a high return on investments.
There are many houses for rent in Paragon City Lahore at affordable prices. Moreover, affordable Plots for sale in Paragon City are also available.
Developers are truly striving to make your dream of their own house come true even on a low budget. Experts predict that it is the best time to invest in Paragon City.
Also read about Nova City Islamabad and the luxuries it is offering at an affordable price.