June 26, 2023
Posted by:

Muhammad Shehzad

Category:

Blogs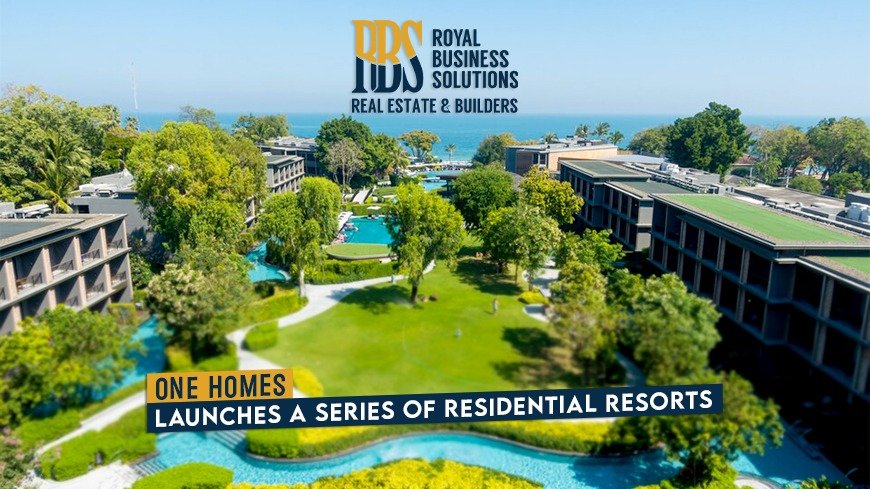 Introduction to One Homes
One Homes, a reputable British investment business known for its luxurious real estate developments, is proud to announce the launch of One Homes Residential Resorts in Lahore. This groundbreaking $40 million project is specifically designed to cater to the Pakistani diaspora living abroad. The press conference unveiling the project took place at the prestigious Sheraton Grand London Park Lane, setting the tone for the opulence that awaits.
Project Designers & Architects of One Homes
One Homes has partnered with renowned global entities to bring this lavish project to life. The collaboration includes Versace Ceramics from Italy, responsible for the exquisite floor and wall finishes. Ayana Holding from the UAE serves as a strategic development partner. VX Studio leads the design consulting, while Opal lends their expertise as interior designers.
Architecture of the Ultra-lavish Project
The residential resorts, located on the main Serene Avenue in DHA Phase III, boast an array of luxurious amenities. Residents can indulge in a grand lobby, resort-themed swimming pool, dedicated kids' swimming pool, state-of-the-art fitness center, spa, steam and sauna rooms, treatment rooms, private theater, café, shop, restaurant, kids' club, and even a convenience store. These facilities are meticulously designed to provide an exceptional living experience.
Press Launch Attendees
The press launch event witnessed the presence of esteemed individuals from various disciplines. Rana Hammoura, Senior Interior Designer at Opaal Interiors, Ghada Yaiche, Design Director at VX Studio, and Hamid Kerayechian, CEO & Founding Partner of Ayana Holding, were among the notable attendees. Aqib Hassan, Chief Commercial Officer of One Homes at One Group, Shaan Abbas, Commercial Director of One Homes at One Group, as well as other dignitaries and media figures, graced the occasion. Zeeshan Shah, the founder of One Homes, was also present to share the vision of the project.
Make sure to check out Lahore Smart City if you are looking to invest in a Smart City in Lahore!
Architect's Perspective
Ghada Yaiche, Design Director at VX Studio, expressed her enthusiasm for the project, stating, "The location and its surroundings are simply spectacular. They caught our attention immediately when we received the project brief. As architects, the opportunity to create a structure in such a unique setting was incredibly captivating."
The architects sought to create a harmonious blend of nature and luxury within the residential resorts. By incorporating transparency and outdoor areas in their design, they aimed to establish a close relationship with the natural surroundings. The lush greenery and serene ambiance of the project offer residents a tranquil escape from the bustling city life.
Aesthetic of the Resorts by One Homes
One Homes Residential Resorts in Lahore exude elegance and sophistication. The meticulous attention to detail is evident in every aspect of the design. From the tastefully designed residents' lobby to the resort-themed swimming pool, every space reflects a commitment to creating an upscale living environment.
The interiors of the residential units are adorned with luxurious finishes and fixtures, showcasing the expertise of Opaal Interiors. Versace Ceramics from Italy brings its world-renowned craftsmanship to create visually stunning floor and wall finishes. The result is a truly immersive living experience that exudes opulence and refinement.
The amenities provided within the residential resorts cater to residents' every need. The cutting-edge fitness center offers state-of-the-art equipment and personalized training programs. The spa, steam, sauna, and treatment rooms provide a sanctuary for relaxation and rejuvenation. The private theater allows residents to indulge in their favorite movies and shows without leaving the comfort of their home. The café, shop, and restaurant offer a range of culinary delights, while the kids' club ensures that younger residents have ample opportunities for entertainment and socialization.
Bookings at One Homes
The launch of One Homes Residential Resorts in Lahore has generated significant interest among potential buyers. With its reputation for delivering top-quality projects, One Homes offers an investment opportunity that is both lucrative and secure. The demand for these luxurious residences is expected to be high, given the exceptional design, prime location, and world-class amenities on offer.
One Homes encourages prospective buyers to secure their dream homes as soon as possible. Our dedicated team of professionals streamlines and facilitates the sales process, providing assistance to buyers throughout their entire journey. Furthermore, One Homes aims to ensure a seamless and satisfactory experience for all its customers.
Read: LDA bulldozes six alleged illegal properties in Lahore
Conclusion
One Homes Launches Residential Resorts in Lahore, setting new standards of luxury and elegance in the real estate sector. With esteemed partners and top-tier designers, this $40 million project promises an unparalleled living experience for the Pakistani diaspora. The meticulously crafted amenities and prime location make One Homes an ideal investment opportunity. The fusion of nature, opulent design, and world-class amenities creates an environment where luxury and comfort seamlessly intertwine. Don't miss the chance to secure your slice of paradise at One Homes, where luxury and comfort await. Contact their sales team today and embark on a journey to a life of utmost sophistication and refinement.
Moreover, to stay informed about the latest developments regarding 'Luxurious Living Unveiled: One Homes Launches Exquisite Residential Resorts', we encourage you to stay connected with Royal Business Solutions, your trusted source for timely updates and valuable insights.