January 7, 2023
Posted by:

Muhammad Shehzad

Category:

Blogs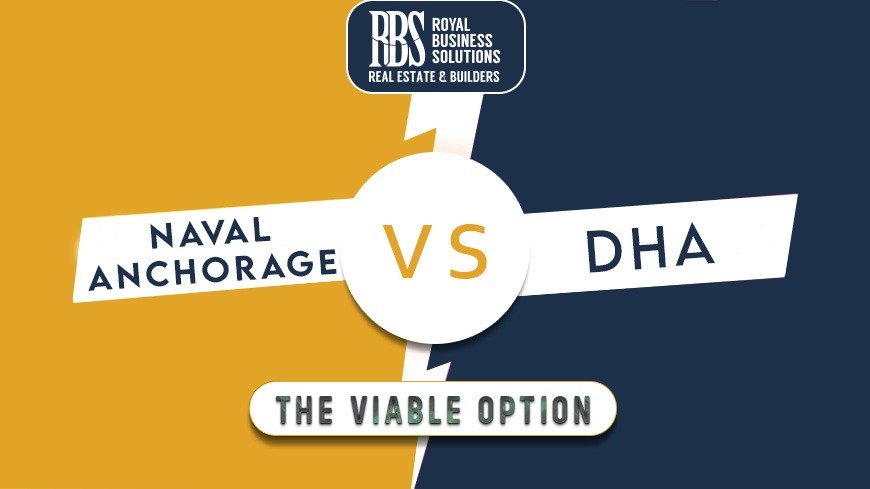 The Twin Cities has seen a rise in real estate sales during the last few years. DHA and Bahria Town Islamabad are frequently mentioned as top possibilities for buying real estate. Another name that is not very famous but has significance in the real estate sector is Naval Anchorage Islamabad. Moreover, DHA Islamabad is a sizable project that spans a lot more area than Naval Anchorage, but we would compare the two so that our consumers could choose which to buy. You can gain a thorough understanding of both projects from this blog about Naval Anchorage Islamabad VS DHA Islamabad.
Naval Anchorage Vs DHA
Most of us are familiar with the infrastructure quality of DHA because there is a developer in every major city. A project called Naval Anchorage Islamabad has all the amenities of a modern housing society. Moreover, they are highly competitive with one another. This amicable competition also drives the Twin Cities real estate market. DHA Both Naval Anchorage and Islamabad have recognized housing societies. If one of the two places interests you, you must be aware of the distinctions to choose wisely.
If you are thinking about moving to one of the two societies, you must first understand the differences to make an informed property decision.
In this article, we examine these two projects so that potential buyers and investors can make a knowledgeable choice before investing.
Location Map
Naval Anchorage is located on the Islamabad Expressway and is only a few minutes drives from Rawalpindi via Koral Chowk. Moreover, People attracts to this site because of its location. Naval Anchorage is close to DHA Phase II; however, unlike any other part of DHA, it is considerably simpler to get to because of a unique interchange on the Islamabad Expressway. Further, the Islamabad Expressway's extension and signal-free driving would also reduce the travel time to different city locations by at least 30%.
On the other hand, DHA Islamabad is a large project by the DHA that lies across Zone 5 of Islamabad. Moreover, the project consists of several phases and each phase has access from different routes of twin cities.
Two different routes provide accessibility to DHA Phase II: one runs along a part of GT Road, while the other comes from the Islamabad Expressway. The DHA is now working on many locations and plans to complete the project in Islamabad in five phases, including DHA Defence Villas near Rawat.
Developers of Naval Anchorage Vs DHA
The Defence Housing Authority built DHA Islamabad. DHA has evolved as a household name in the real estate industry over many years. Additionally, the DHA is famous for providing excellent construction services. The DHA Islamabad is designed and built with the assistance of the best engineers and architects. Because it was built on the rocky terrain of the Potohar region, DHA Islamabad is an engineering wonder. Moreover, the DHA Islamabad Administration's hiring of skilled staff was the sole thing that made it possible.
On the other side, the Pakistan Navy is working on the Naval Anchorage project. They have enlisted the top-notch services of NESPAK (National Engineering Services). In the past, NESPAK had a solid reputation for its work in the construction of the real estate. Moreover, a competent team of engineers and planners develop the stunning Naval Anchorage. They have done approximately 600 projects abroad and at least 5,000 national projects in the past.
You can also read about Capital Smart City Islamabad a project of well-known developers.
Development Status: Naval Anchorage Vs DHA
DHA Islamabad is a huge project that depends on the consumer's choice of investment location depending on their budget constraints. DHA Phases I and II have finished their development process, and the other phases of DHA are rapidly growing. However, each Phase is moving forward quickly.
The business operations are booming, and DHA Phases I and II are heavily occupied. DHA intends to increase its footprint to include DHA Defense Villas and up to 5 stages. Additionally, these phases are already in the process, and shortly people will begin moving in some areas of DHA Phases 3 through 5. Furthermore, the goal of DHA Islamabad Management is to grow in the area, and they are making good progress toward that end.
People are already residing in the housing society and enjoying the advantages of living in this safe housing project as Naval Anchorage is almost finished. Additionally, work is done on the Naval Anchorage Extension project. Realtors predict that it will be some time before people begin to move once society has granted official ownership and all other necessary approvals. Further, this is a great moment to invest. It is because costs will rise once the Anchorage Extension is built and accessible to locals.
Wrapping Up
Where should I invest: Naval Anchorage or DHA Islamabad?
Both Naval Anchorage and DHA Islamabad are outstanding investments because they are both created by reputable real estate developers. One is promoted by the Pakistan Navy, while the other is developed by the DHA. Perhaps there are no opportunities for fraud or scams in the abovementioned societies.
The community of DHA Islamabad, however, provides a wider range of options. Since Naval Anchorage is working on Anchorage Extension. DHA is working on DHA Phase III, IV, V, and DHA Defence Villas. It is the right time to invest in either of the housing societies.
Pricing in Naval Anchorage is fixed because of the limited availability, which eliminates room for price haggling; in contrast, houses in DHA Islamabad can find at a range of price points.
Both of these housing societies have the potential to be profitable investments, thus the decision to invest is completely arbitrary. Buyers on a tight budget may want to consider DHA Islamabad, while those looking for peaceful surroundings may prefer Naval Anchorage Islamabad.
Therefore, we hope you learned enough about Naval Anchorage Islamabad VS DHA Islamabad from this in-depth blog post.
To know more about such housing societies you can read Hawks Melbourne City Rawalpindi and Countryside Farms Islamabad which is a luxurious housing project.