September 25, 2022
Posted by:

Muhammad Shehzad

Category:

Blogs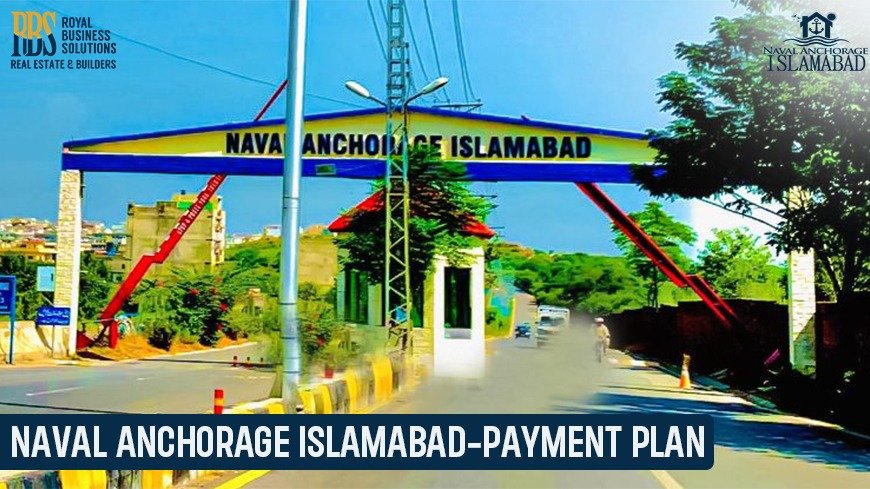 Brief Introduction to Naval Anchorage Islamabad
Naval Anchorage Islamabad is part of a growing nationwide movement to provide specialized housing options to a targeted demographic. It's a high-end housing project that's been fully built out, yet it's priced affordably for city residents. The people are granted the freedom to transfer ownership, which is the primary advantage freely. This implies that the person who gets the right to own may freely assign their ownership to someone else.
Instead of converting it to a mixed-use development by building a commercial structure, like many other ventures, this society is planned to give a pure healthier environment to live in.  The project's excellent location enhances its value. Kahuta Road, on the eastern side of the Islamabad Highway, just across from Soan Garden Islamabad, is where you'll find Naval Anchorage.
Location:
The nicest location in Islamabad is Naval Anchorage, which not only offers impressive views but also provides easy access to the city's most important places. The project is situated in the most desirable region of the city, at Kahuta Road on the eastern portion of Islamabad Highway, just across from Soan Garden Islamabad. It is located in Zone-V of the city, 10 minutes away from Islamabad International Airport. Additionally, twenty kilometres separate Zero Point from the housing society.
As well as the Police College Sihala is two minutes away from the project, while the Capital University of Science and Technology is just ten minutes away. This remarkable endeavour is about five minutes away from the Islamabad Expressway. The site is very urban and contemporary, and it is bordered by housing schemes, commercial plazas and buildings, institutions and colleges, providing residents with quick access to a variety of living conveniences.
Accessibility
To be exact it is located at the main Islamabad Expressway at a distance of
2 Km whole distance from Bahria Town,
9 Km away from PWD,
3 Km distance from DHA Phase 2.
Zero Point interchange Islamabad is 20 Km away
1 km away from the New International Airport, Islamabad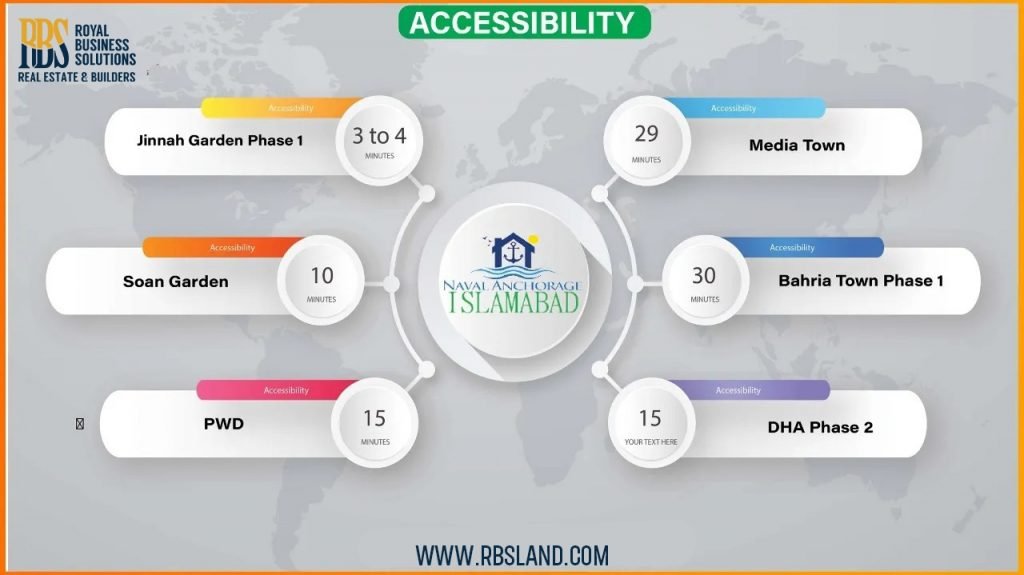 The development is located near all main amenities, including schools, universities, supermarkets, hospitals, and restaurants.  In addition, the society is conveniently accessible by a designated interchange off the Islamabad Expressway, which facilitates travel to and from the area.
Naval Anchorage Islamabad Land
The Naval Anchorage Islamabad is the biggest housing development in the city and provides plots at extremely inexpensive costs; however, prices are rising owing to rising demand. As previously stated, the project consists of two phases: Phase I and its expansion. The greatest variety of 1000-square-yard, 500-square-yard, 350-square-yard, 125-square-yard, 100-square-yard, 200-square-yard, and 250-square-yard plots will be made accessible to naval families.
Additionally, to apply for the plot, the member must first register with the society in either Category A (officers of grade 18 and above) or Category B (other members) (all other navy employees and the individual who wants to transfer their property rights to other). After registering in one of the aforementioned categories, you will submit an application for the selected plot. The payment process will continue after the balloting session.
Variety of Land
We are aware that the Pakistan Navy is a well-known and renowned establishment that is currently providing its citizens with the finest living conditions. The project has a total land area of 3,677 Kanal, of which 1,339 Kanal have been designated for plots. The housing development was constructed in two parts, namely Naval Anchorage-I and Naval Anchorage-II (Extension of phase-I).
Moreover, each phase is subdivided into distinct sectors. Planned for Phase-I are residential plots of 1000 square yards, 500 square yards, 350 square yards, 125 square yards, 100 square yards, 200 square yards, including 250 square yards, as well as a few business plots of varying sizes. While Phase II provides 500-square-yard residential plots, commercial plot options are available.
Phase 1 Residential Plots
Phase 1 Naval Anchorage comprises seven blocks, A, B, C, D, E, F, including G Block. While there are four blocks in the Extension, i.e. J, K, L, including M. Along with that inward Phase I;
5-marla,
14-marla,
1-Kanal,
2-Kanal
Residential plots are available, while the Extension comprises of 5-marla and 1-Kanal plots.
Naval Anchorage Phase 1 Commercial Plots
This housing society offers commercial plots as well at two different locations namely commercial one and commercial two.
100 yards
200 yards
225 yards
Phase 2 Naval Anchorage
The Naval Anchorage 2 (extension) has 500-square-yard as well as 125-square-yard residential plots, as well as a diversity of commercial plots.
There are the following sorts of plots:
Residential Blocks
Commercial Blocks
In addition to that, there are thousands of families living in both Phases, and hundreds of additional homes are now under development. As well as the name of the society's medical school is Naval Anchorage Medical Center. Included in the housing plan are the Bahria Education Center, primary and Montessori schools, commercial facilities, retail malls, sports complexes, subterranean PTC connections, underground power, plus much more. Millions of luscious green trees, as well as landscapes, will provide people with a tranquil and pleasant environment day and night. This housing society offers investors the same selection of residential cutting as New Metro City Gujar Khan.
NOC
This project has been deliberately planned by NESPAK, Pakistan's National Engineering Services. In addition with that, as a CDA-approved housing project, it is also one of the most cutting-edge and lucrative developments in Islamabad on which to stake an investment.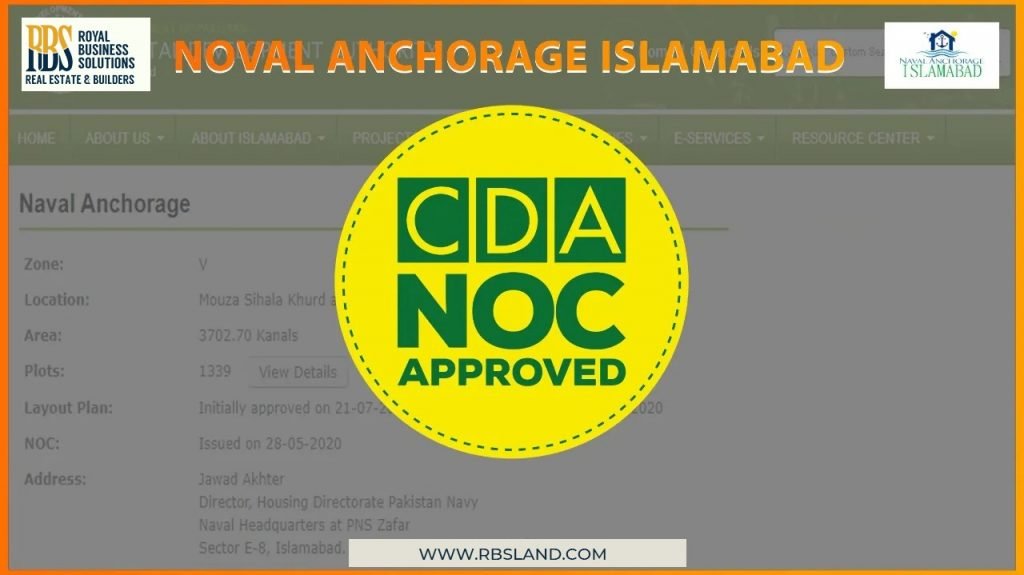 Developers and Owners
In Islamabad, Pakistan Navy Benevolent Association has created this housing project. A government agency has intended to give its workers and their families with reasonably priced luxury housing. Under the Naval Anchorage banner, they have submitted four proposals in Karachi, Gwadar, Lahore, and Islamabad. Moreover, the Navy organisation has given the property all the conveniences and contemporary facilities necessary for pleasant living. Thus, Naval Anchorage is one of Islamabad's finest and most lucrative housing developments.
Amenities and Facilities
Ultramodern and cutting-edge infrastructure
Water, gas, and electric service, PTCL WiFi connections
Highly advanced security systems
Modern sewage system
Wide primary and secondary highways
Recreational complex Community Centre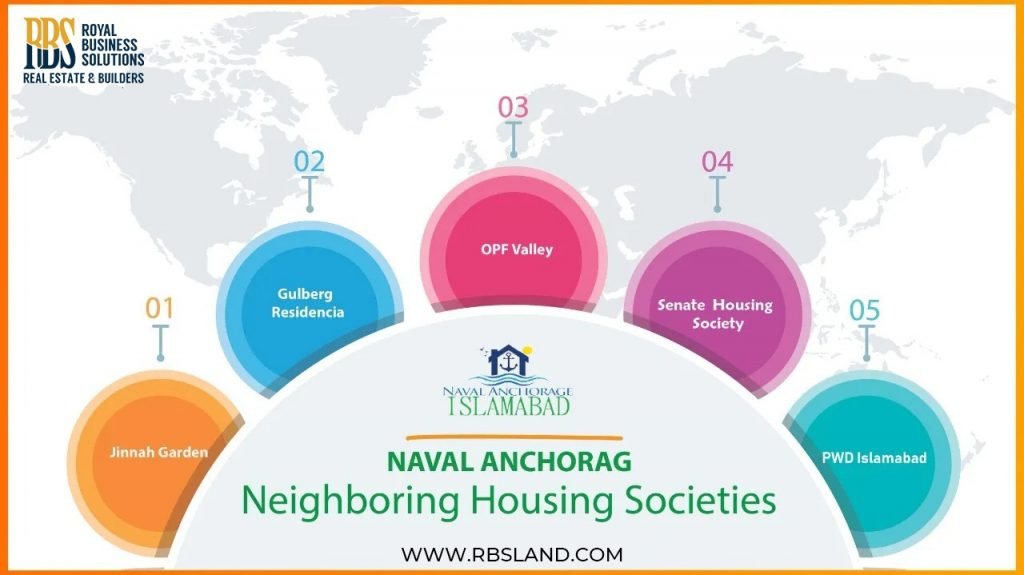 In addition with that;
The utmost medical care in the area is available at Naval Anchorage's very own Naval Anchorage Medical Center (NAMC). The personnel as well as physicians there, are highly qualified.
Bahria Foundation College and Brainiacs Montessori & Junior School are two of the resident educational establishments.
Additionally, the housing development has a sports facility to encourage its inhabitants to have active, healthy lives.
The area's playgrounds and sports complex lure families with children.
Grocery stores are also available for the convenience of inhabitants. They can easily access all of life's necessities on foot.
As well as there is a very effective security system and rapid reaction team (QRF) at the Naval Anchorage. Moreover, the company has a specialised division tasked with managing the upkeep of its buildings.
Salient Features
Gated Community
Mosques
Security and CCTV Surveillance 24/7
Medical Center/Hospitals
Educational Institutes
Community Center/Club
Jogging Tracks
Public Parks
Golf Driving Range
Green Belts
Swift Management System
Shopping Center/Commercial Center
Underground Electricity/Drainage
Why to Invest in Naval Anchorage Islamabad?
The current order of the real estate market is that prices are going up slowly in real estate projects. Furthermore, this is because of factors like population growth, health and education facilities, the speed of development, and also most importantly, the location. This is what makes real buyers interested in the market. Hence, the formation of the Islamabad expressway as well as designated interchange also makes the homes in this project more valuable.
Additionally, investors also look for a place that is safe and secure and has all the latest and most comfortable amenities. Therefore, Naval Anchorage Islamabad meets this requirement. The process of buying property through the Pakistan Navy project is not only safe but the paperwork and transfer process is also clear and easy.
Naval Anchorage Islamabad Payment Plan Details
The payment plan of Naval Anchorage Islamabad is accessible to anyone, regardless of their financial background. Both Naval Anchorage Block F as well as Naval Anchorage Block A seems to be very popular with investors and good places to invest your money. Consequently, its payment plan is as affordable as the pre-launch payment plan of Nova City Islamabad.
Naval Anchorage Islamabad Payment Plan
Conclusion
Naval Anchorage Islamabad Payment Plan is Light on budget while offering the best ROI (Return on Investment). Moreover, to promote excellence in new housing plan amenities and service supply, design and construction, and optimum use of the site, the Naval Anchorage Islamabad was established. On the other hand, its goal was to point individuals toward more cost-effective ways to acquire plots that satisfy better environmental performance criteria while encouraging the optimal use of services and infrastructure in developing new dwellings. Consequently, the people who choose to make their home in Naval Anchorage Islamabad will surely enjoy comfortable, convenient, and attractive living conditions.
Disclaimer
The entire information about Naval Anchorage Islamabad is taken from their official website. The aim of this content is to deliver information about the project. We are not (and will not be) responsible for society's legitimate or illegal actions.