April 18, 2023
Posted by:

Muhammad Shehzad

Category:

RBS News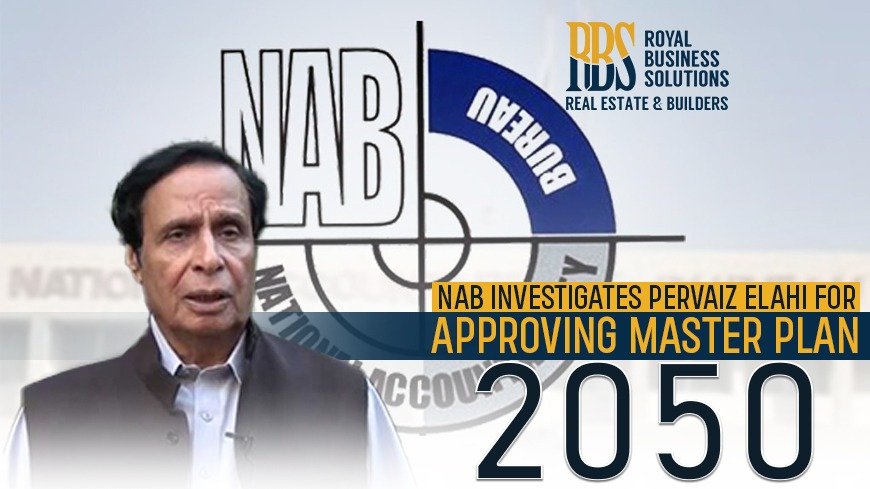 LAHORE: NAB investigates Pervaiz Elahi for approving Master Plan 2050
According to the most recent news sources, the National Accountability Bureau (NAB) has opened an investigation into Chaudhry Pervaiz Elahi, the former Punjab chief minister. The CM is accused of illegally approving the Master Plan Lahore Division 2050 and others.
For worthwhile investment possibilities, you may read about Lahore Smart City Master Plan.
The NAB asked LDA to assist the combined investigative team of  bureau by appointing a focus person for the investigation. In addition, NAB sought the focal person, as stated in a letter to the DG LDA. And must have a rank of BPS-18 or higher and knowledge of the master plan approval process.
The focal person will analyze statistics, reports, studies, and other relevant case-related documentation alongside the NAB team. Whether or not to accept the Master Plan Lahore Division 2050 has been up for debate for a while.
Additionally, the NAB has also asked the DG LDA to ensure that the chosen focal person contacts the deputy director of its Investigation Wing-II by April 12. This is essential in speeding up the ongoing investigation and bringing the culprits to justice.
Chaudhry Pervaiz Elahi and other authorities have called into question the transparency of approval procedure for an illegal proposal approval. Moreover, people are keeping a close eye on the NAB inquiry. Also, hoping that it would clarify the situation and ensure justice for all parties at stake.
For more updates on NAB investigates Pervaiz Elahi for approving Master Plan 2050 stay in touch with RBS Real Estate and Builders.