October 9, 2019
Posted by:

Muhammad Shehzad

Category:

RBS News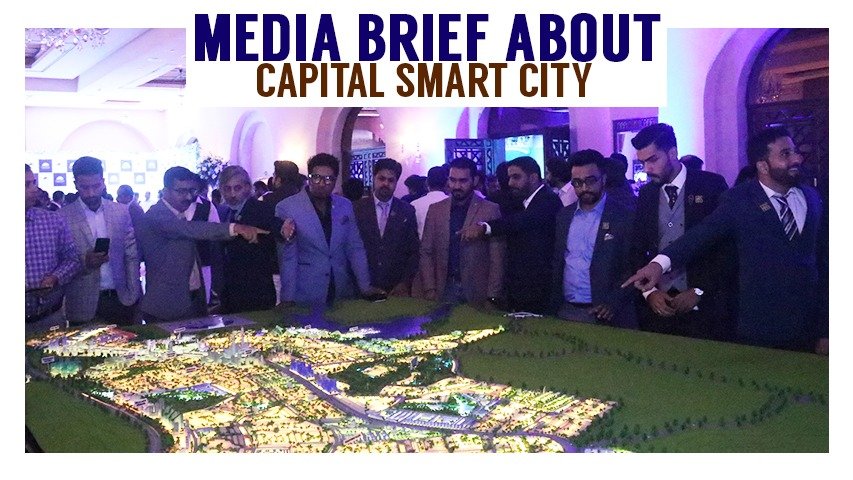 Future Developments Holding (PVT) Ltd, which is one of the leading real estate developers and
Asset Management Company operating in Pakistan to develop new state of the art smart cities
with a focus not only to give luxury living but also equal economic contributions
Future Development Holdings (pvt) Ltd (FDHL) in association with Habib Rafique (pvt) Ltd
(HRL) and Surbana Jurong, Singapore present:-
"THE ONLY SMART CITY IN PAKISTAN"
Ideally located along the M2 Motorway, 5 minute drive from new International Airport.
Excellent location of Capital Smart City makes it well connected to the New International Airport and Surrounding nearby major urban centers via M2 Motorway, Chakri road and upcoming Rawalpindi Ring Road.
Capital Smart City frame work
Smart Economy
Diversity of jobs
World class infrastructure
Smart Housing
Convenient and quality living
b ) Protection of cultural heritage
Smart Environment
Efficient Source Management
Clean and Green
Capital Smart City ensures that self-sustaining development, unique design, aesthetic and state of the art architecture.
…..Because Smart is the way to live today.
HABIB RAFIQUE (PVT) LTD.
Habib Rafique (pvt) Limited has come a long way to symbolize commitment, distinction and professional excellence by meeting the stringent, demanding and extra ordinary work requirements of the client. HRL has undertaken prestigious projects of high engineering, national and international importance involving civil, electrical and mechanical works. For the last 60 years. By virtue of its efficient and quality performance, HRL has won the trust and confidence of its Clients. HRL now enjoys the reputation of a trend setter in the expending arena of housing and infrastructure in the last 15 years and has earned the greatest name in real estate and housing. HRL having extended its performance Abroad and has been successful in maintaining the balance and secure jobs of high engineering and financial value. Today we stand tall and firm over the strong and firm over the strong foundation of reputation and trust with a high value and numbers of human and electromechanical resources which gave us a distinctive edge over the competitors in the market
FUTURE DEVELOPMENT HOLDINGS (PVT) LIMITED (FDHL)
Capital Smart City near New Islamabad International Airport is an initiative of Future Development Holdings (pvt) Limited (FDHL),Which is one of the leading real estate developers and asset management company operating company operating in Pakistan to develop new state of the art smart cities with a focus not only to give luxury living but also equal economic contributions . Through strategic investments, innovative urban planning and life cycle asset management, FDHL creates integrated communities that embody international standards of sustainability with a strong commitment to quality.
SURBANA JURONG- MASTER PLANNER
Surbana Jurong Group is one of the largest Asia-based urban, infrastructure and management services consulting firms, with close to 70 years of track record in successful project delivery. Surbana Jurong's global talent pool of over 16,000 employees from more than 120 offices in over 40 countries worldwide includes architects, designers, planners, engineers and other specialists are driven by progressive thinking and creative ideas to help shape a better future.
HARRADINE GOLF
Don Harradine established Harradine golf in 1929 by designing his first course in Switzerland. Harradine Golf has designed, constructed remodeled and supervised the construction of more than 200 golf course projects in Europe, Africa, Asia and the Middle-East. These courses are situated in every type of terrain, from arid, rocky, dry, hot and saline desserts, to wet, humid, temperate and cold grass lands, wet lands, Swamps Mountains, waste tips, agricultural fields, coastal regions and altitudes of 1,850 meters. Many Harradine Golf courses have won numerous awards and hosts yearly PGA tournaments. Harradine Golf were involved or are active in Albania, Austria, Bulgaria, Egypt, France, Georgia, Germany, Greece, India, Italy, Kazakhstan, Kuwait, Morocco, Oman, Pakistan, Qatar, Russia, Saudi Arabia, Serbia, Slovakia, Slovenia, Sudan, Switzerland, Tunisia and United Arab Emirates.
CRACKNELL
Craknell started operations in London in 1987 and has subsequently developed into one of the most recognized landscape architecture, planning and urban designed practices in the world. Their distinguished portfolio includes many iconic projects in the Middle-East as well as Landmark developments in Europe and Africa. They Believe landscape architecture is about creating community and culture as much as it's about creating spaces. Their designs Centre people in their environment, improving the lives and well-being of the communities they shape.