June 22, 2023
Posted by:

Muhammad Shehzad

Category:

RBS News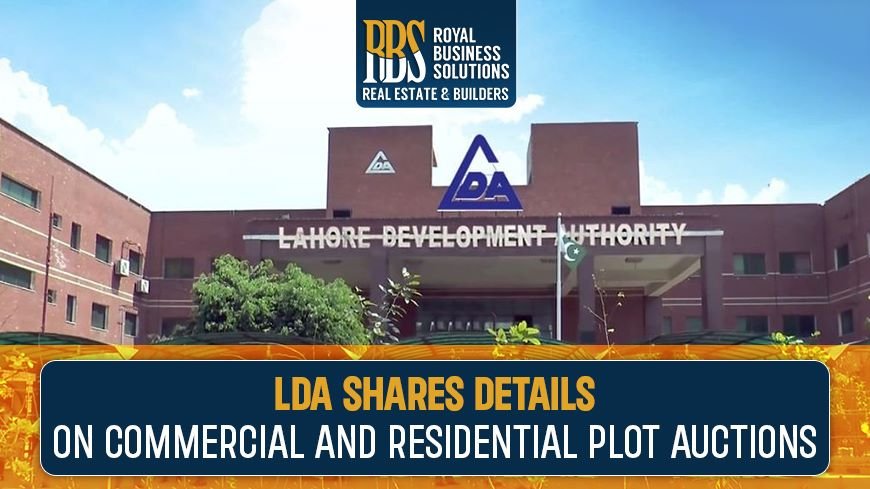 Introduction
In an exciting development, the Lahore Development Authority (LDA) recently conducted auctions for commercial and residential plots in various schemes. The auctions proved to be a tremendous success, resulting in a substantial revenue of PKR 470.22 million. The news, reported on June 21, has caught the attention of investors and real estate enthusiasts alike.
Auction of Plots in Prominent Schemes by LDA
The LDA organized the auction for commercial and residential plots in several prominent schemes. These included:
Jubilee Town,
Mustafa Town,
Tajpura, and
LDA Avenue One.
This strategic move aimed to provide individuals with lucrative investment opportunities and foster urban development in these areas.
Furthermore, the auctions were conducted under the watchful eyes of the dedicated auction committee comprising key officials, including the Finance Director, LDA Avenue One Director, Housing X Director, and other relevant authorities. The committee ensured transparent and fair proceedings throughout the auction process.
Announcement of On-Site Terms and Conditions
To maintain transparency and clarity, the LDA announced the terms and conditions of the auction on-site. Prospective buyers were provided with detailed information regarding the plots, payment procedures, and other essential factors, empowering them to make well-informed decisions during the bidding process.
LDA Takes Action Against Encroachments
In parallel to the auctions, the Lahore Development Authority also conducted a comprehensive operation to combat encroachments and illegal constructions on parking spaces along Main Boulevard Allama Iqbal Town. This proactive step aimed to reclaim public spaces and ensure the smooth flow of traffic within the city.
During the operation, the Lahore Development Authority demolished a total of 16 shops, which housed prominent brands, restaurants, food outlets, and commercial properties, due to their encroachment on public land. Furthermore, the authority sealed 12 shops as a consequence of their violation of regulations. Despite receiving multiple notices to rectify the situation, the offenders failed to comply with the directives of the authorities.
Collaborative Efforts for a Better Lahore by LDA
The joint operation was executed through a collaborative effort between the Lahore Development Authority and the Metropolitan Corporation Lahore (MCL). Teams from both entities actively participated in targeting unauthorized parking spaces and encroachments across the city, emphasizing the shared commitment to create a well-organized and aesthetically pleasing urban environment.
Furthermore, to invest in a smart city in Lahore, make sure to check out Lahore Smart City!
Conclusion
Lahore Development Authority's recent auctions generated PKR 470.22 million in revenue, showcasing their commitment to urban development and tackling encroachments. Moreover, these initiatives are to greatly contribute to Lahore's growth, making it an attractive destination for investors and residents.
To further stay informed about the latest developments regarding 'Lahore Development Authority Auctions Commercial and Residential Plots, Fetching PKR 470.22 Million', we encourage you to stay connected with Royal Business Solutions, your trusted source for timely updates and valuable insights.