September 28, 2022
Posted by:

Muhammad Shehzad

Category:

Blogs
Lake City Lahore is LDA approved housing scheme located close to Lahore Ring Road and Rawalpindi Road. This luxurious housing project is developed by Lake City Holding Pvt Ltd. Moreover, this marvelous project offers commercial plots, residential villas, residential plots, Roof Gardens, and Lake City Mall at cost-effective rates.
In addition, Lake City Lahore is designed to deliver luxurious majesty by combining an outstanding mixture of traditional housing standards with standards of a high-profile lifestyle. The residential complex is designed by highly skilled architects. Furthermore, the project offers a prime location a few minutes' drive away from a busy locale.
Lake City Lahore Owners and Developers
This state-of-the-art housing project is owned and developed by Lake City Holdings Pvt Ltd. Moreover, Gohar Ejaz is the CEO of Lake City Holdings. He is a great business tycoon, donor, and famous investor. In addition, he leads as the Chairman of Ejaz Textile Mills Limited, Ejaz Group of Companies, and Ejaz Spinning Mills.  Dr. Gohar Ejaz was also elected to serve as the Patron-in-Chief & Group Leader for the "All Pakistan Textile Mills Association" (APTMA).
Lake City Holdings (Pvt) Ltd is a partnership of well-known businesses and industrial groups in Pakistan. However, these groups boast combined annual revenue of $1 billion and a staff of 50,000 people. The innovative plan to reinvent Pakistan's living standards has the support of some of the most reliable investment portfolios and relevant government organizations.
The architects of Lake City Lahore are Raza Ali Dada and Nayyar Ali Dada. They made a great reputation in the architecture field. Moreover, several projects such as Supreme Court Museum, Quaid-e-Azam library , Bahria Jamia Mosque, Qaddafi Stadium, and Lake City Grand Jamia Mosque, etc. are designed by Nayyar Ali Dada and Associates (NADA) firm.
NOC and Permissions
The NO Objection Certificate (NOC) of Lake City Lahore is approved by Lahore Development Authority (LDA). Moreover, the main concern of investors is the NOC approval. So they can invest without any fear because Lahore Lake City is a NOC-approved society. The relevant authorities are responsible for overseeing all processing and operations. Investments in this housing scheme are therefore very trustworthy.
Location
Lake City Lahore is an amazing housing society and easily accessible from major cities. Moreover, the housing is located near Lahore Ring road and Rawalpindi road. The location of Lake City Lahore is considered the prime location because it is surrounded by several other housing societies, hospitals, and educational institutes.
Accessibility Routes
This housing scheme is accessible from various points such as:
5 minutes away from Superior University
5 minutes away from the University of Lahore
10 min away from the Motorway
Nearly 20 minutes away from Lahore Airport
Located 10 minutes away from Shaukat Khanum Hospital
It is approx. 10 min away from canal road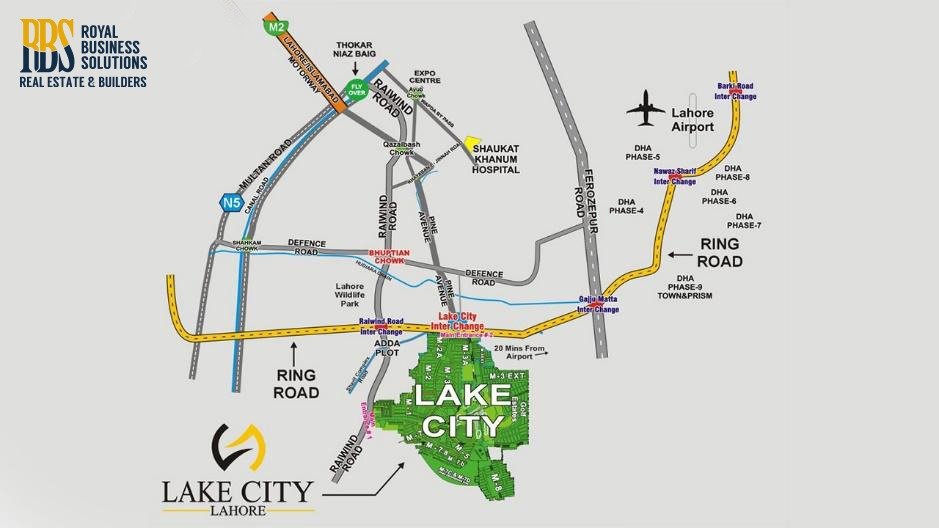 Nearby Landmarks and Places
It seems that usually, investors prefer those societies for investment that are close to commercial areas and landmarks. Moreover, Lake City Lahore is a prime location nearby various famous places.
Dream Gardens
COMSATS
Lahore Wildlife Park
University of Lahore
Lahore Race Club
UET Housing Society
University of Lahore
Halloki Interchange
Fazaia Housing Society
Master Plan of Lake City Lahore
The Lake City Lahore master plan is by a highly proficient, skilled, and experienced team who has years of experience in this area. Moreover, this society consists of 3000 acres of land offering residential plots, commercial plots, and residential villas at reasonable prices.
Lake Lahore City Sectors
Lake City Lahore is an organized housing society. Furthermore, the plots are fully developed in each sector. Following are the sectors in Lake City.
Sector M-1
Sector M-2
Sector M2-A
Sector M-3
Sector M3-A
Sector M3-Ext
Sector M-4
Sector M-4
Sector M-5
Sector M-6
Sector M-7
Sector M-8
Sector M8-C
Lake City Roof Gardens
Lake City introduces the Roof Garden project that offers luxurious apartments. Moreover, these residential flats provide 50,000 square feet of inside amenities in addition to 130,000 square feet of outdoor amenities. Rooftop gardens, an infinity pool, rooftop tennis courts, and a gym are all part of the Roof Gardens.  Furthermore, apartments are of various sizes.
2-Bedroom Corner Apartment (1052 sq. ft.)
2-Bedroom Apartment (1200 sq. ft.)
2+ Bedroom Apartment (1370 sq. ft.)
3-Bedroom Apartment (1740 sq. ft.)
Residential Plots
The housing venture offers multiple residential plots not only for the residents but also for the investors. Furthermore, the resident should not miss this opportunity as the plots are available in flexible sizes.  Investors and residents can invest according to their wishes. In addition, the Lake city residential plot sizes are
5 Marla
7 Marla
10 Marla
12 Marla
14 Marla
1 Kanal
2 Kanal
Commercial Plots in Lake City Lahore
Commercial blocks are very significant for banks, offices, commercial markets, etc. because they open up various investment opportunities for investors. Moreover, commercial plots of Lake City consist of the Central commercial district, Business Bay, and Canal Commercial Boulevard.
Central Commercial District: This commercial area is located in the heart of this project and is also easily accessible from everywhere within a short time.
Business Bay: It is a smartly constructed business hub that offers multiple investment opportunities.
Canal Commercial Boulevard: It's also a commercial hub close to Lahore Ring Road, making it conveniently reachable for investors.
Following are the commercial plots available for sale in Lake City Lahore.
5 Marla
8 Marla
10 Marla
12 Marla
1 Kanal
2 Kanal
 Residential Villas
Lake City also offers residential villas that are modern due to its infrastructure, top-notch facilities, developed by famous developers, and design by expert architects. Moreover, these villas are designed following international standards.
The apartment's ground floor consists of a TV lounge, Drawing room, Car porch, a bedroom with an attached bathroom, rear lawn, and front lawn. In addition, the first floor of 5 Marla villas contains two bedrooms with attached bathrooms, a TV lounge, Front Terrace and Rear Terrace. Furthermore, these villas are limited in number so offering on a first come first serve basis.
Residential Villas are offering in various sizes
5 Marla Villas (1557 sq. ft.)
7 Marla Villas (2092 sq. ft.)
10 Marla Villas (2125 sq. ft.)
12 Marla Villas (2507 sq. ft.)
14 Marla Villas (3037 sq. ft.)
1 Kanal Villas (4898 sq. ft.)
2 Kanal Villas (7500 sq. ft.)/ (7250 sq. ft.)/ (7352 sq. ft.)
Lake City Lahore Payment Plan
The payment plan of Lake City Lahore is very feasible and affordable.  Moreover, this cost-effective payment plan offers a golden opportunity to investors. The Lake City Lahore payment plan is very appropriate for investors as well as residents.
It offers a very flexible payment plan for commercial plots. Moreover, you may also visit other housing societies such as Hawks Melbourne and Lahore Smart City to compare and contrast the payment plans. The payment plan for commercial plots is below.
Features
There are multiple features that make this society worthwhile for investment. Furthermore, the most pleasing fact about this residential venture is all the modern services are offering there.
Safe and Secure Environment
High-Quality Educational systems
Commercial Hubs and Parks
Uninterrupted supply of Water, Gas, and Electricity
Hygienic Atmosphere
Points to Consider Before Investing
The following are the key point you must consider before investing.
Seek advice from experts before investing
Carefully read the project plan
Visit the location and cross-check all the documents before submitting
Moreover, go through the installment plan thoroughly
Why invest in Lake City Lahore?
When an individual invest in real estate, he becomes financially stable. The project offers a 100 percent return on investment. Furthermore, it's an LDA-approved society and provides a secure investment opportunity. Also, the project is developed by popular developers equipped with modern amenities offering at affordable rates.
Conclusion
Lake City Lahore is one of the gorgeous housing societies located close to Ring Road Lahore. Moreover, the project offers a perfect master plan with an easy, affordable, and flexible payment plan that attracts investors to invest in it accordingly. However, RBS Lands highly suggest you invest in this housing project as it is extremely popular for its best quality facilities and amenities.