October 7, 2023
Posted by:

Muhammad Afzaal

Category:

Blogs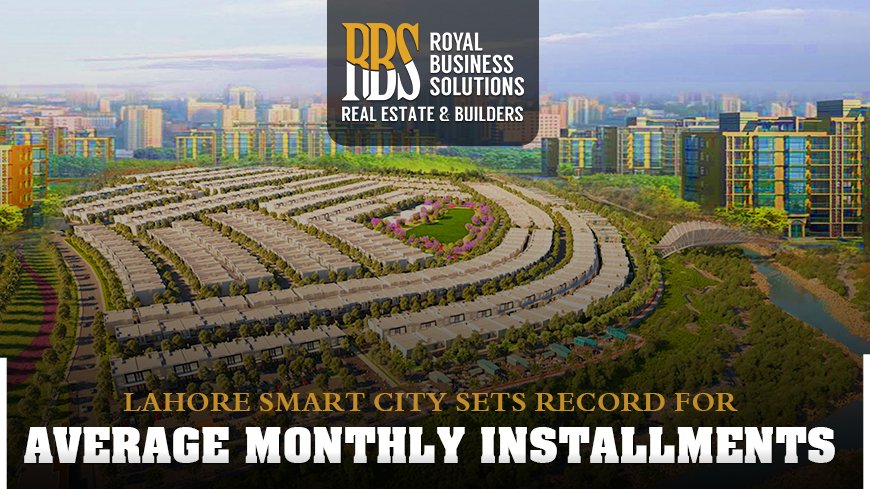 Introduction
Lahore Smart City is a leading housing project that provides a comfortable and luxurious living opportunity for investors. This housing project was developed by Future Development Holdings (Pvt) and Habib Rafiq (Pvt.) Ltd. This innovative development has set a groundbreaking record for average Lahore Smart City monthly installments, making homeownership more accessible and affordable to a wider audience.
In this blog, we will get into the details of how Lahore Smart City is transforming the real estate landscape by offering unparalleled flexibility in monthly payments.
How Lahore Smart City sets a record for average monthly installments?
Maintaining a set record or any project is difficult, LSC introduced payment plans to overcome the issue of budgeting while purchasing the property. These payment plans are further categorized into monthly installments for the ease of the interested clients. LSC strongly focuses on the monthly payment options and installments along with the support of its contributing factors as well.
Below are some basic factors that contribute to supporting the set record of LSC monthly installments:
Smart City Concept and Vision
Lahore Smart City is a vision of modern urban living, integrating modern technology, sustainability, and superior infrastructure. This ambitious project aims to transform Lahore into a smart and sustainable city, providing its residents with a high-quality lifestyle. The key focus is on utilizing technology to enhance efficiency, connectivity, and overall living standards.
Affordable Monthly Installments
One of the most significant achievements of Lahore Smart City is its groundbreaking approach to monthly installments. The development is designed to make homeownership achievable for a wide range of people. It offers highly affordable monthly payment options. The average monthly installments are structured to fit various budget ranges, allowing more people to invest in their dream homes.
Flexibility in Payment Plans
Lahore Smart City stands out by providing a range of flexible payment plans, enabling potential buyers to choose a plan that fits with their financial stability. Whether it's a short-term or long-term commitment, the project offers diverse payment options, making it feasible for individuals from different income groups to invest in the Lahore Smart City.
Innovative Financing Models
Lahore Smart City has introduced innovative financing models that reduce the financial burden on buyers while still ensuring the project's sustainability and growth. Further, these financing models play a pivotal role in setting record-breaking average monthly installments, making it feasible for a broader audience to invest in this smart city.
Installment customizing to Income Levels
Understanding the diversity in income levels within society, LSC has carefully customized the monthly installment plans to accommodate various income brackets. Additionally, this thoughtful approach ensures that the project remains inclusive and attainable for a wide range of investors, irrespective of their financial standing.
Partnerships and Collaborations
Lahore Smart City has strategically partnered with financial institutions and banks to offer favorable financing options to potential buyers. These collaborations provide prospective homeowners with additional support, such as low-interest loans and extended repayment terms. It further enhances the affordability and attractiveness of the monthly installment plans.
Transparent Pricing and Terms
Transparency is a key principle of Lahore Smart City. The project ensures that all pricing and installment terms are clear, straightforward, and easily accessible to interested buyers. While, this transparency builds trust and confidence in the project, attracting more investors to explore the available options.
Investment Potential and ROI
The attractive monthly installment plans are not only affordable but also contribute to the overall investment potential of Lahore Smart City. The foreseen Return on Investment (ROI) is significant, making it a demanding prospect for both end-users and investors looking for profitable ventures.
Realizing the Dream of Homeownership
The provision of affordable monthly installments ultimately realizes the dream of homeownership for many individuals and families. Moreover, Lahore Smart City's innovative strategy ensures that more people can take the crucial step towards owning their property within the community.
Creating a Model for Future Developments
Lahore Smart City's success in setting a record for average monthly installments promotes the way for future real estate developments. Other projects can take inspiration from this model and work towards establishing affordable and flexible payment plans. However, the monthly installments broaden their reach and make housing more accessible.
Also, Lahore Smart City Is A Modern And Promising Development Project Check it out Now!
Conclusion
Lahore Smart City's achievement in setting a record for average monthly installments is proof of its commitment to providing affordable housing solutions. LSC monthly installments have increased its value even more enhancing the project's impact for long-term advantages. By prioritizing flexibility, transparency, and inclusivity in its payment plans, LSC is making homeownership a reality for a diverse population. Furthermore, it sets a new standard for the real estate industry in Lahore and beyond.
As the project continues to develop, it's expected to leave a lasting impact on real estate, positively influencing how future developments approach affordability and accessibility.