September 1, 2023
Posted by:

Muhammad Shehzad

Category:

Blogs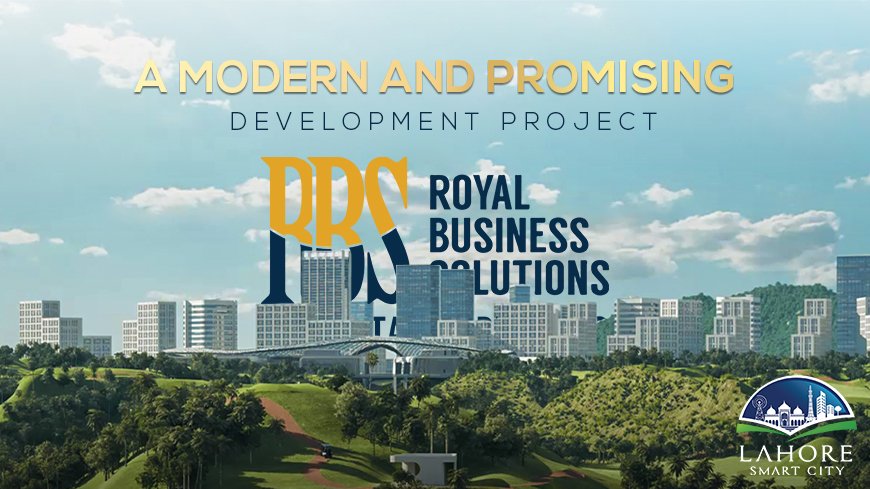 Welcome to the vibrant city of Lahore, where tradition meets innovation and modernity. A capital city that is both historically and culturally significant and open to the future can be located in the center of Pakistan. Lahore Smart City is changing urban living and sustainability in South Asia as a promising development project.
Lahore Smart City is emerging as a brilliant example of modern urban, promising development with its imaginative approach. This approach may consider technology integration, infrastructure, and environmental concerns, promising a brighter future for its citizens and creating a model for other cities to follow.
Introduction
Lahore Smart City is an ambitious project by Habib Rafiq (Pvt.) Ltd. and Future Developments Holdings (Pvt.) Ltd. The aim of this project is to create a state-of-the-art, sustainable, and technology-driven city in Lahore, Pakistan. This city will be designed to meet the needs of its residents, providing them with a safe, comfortable, and convenient environment to live in.
This blog post will explain why Lahore Smart City is the best place for both modern living and promising development project. So let's examine the specifics and see what makes this smart city unique.
Why Lahore Smart City is an Ideal Choice for Modern Living?
Lahore Smart City is gaining popularity as an ideal choice for modern living, and here's why. The infrastructure of Lahore Smart City is designed to meet the needs and preferences of today's everyday living. With wide roads, well-planned residential areas, and abundant facilities, it offers a seamless living experience.
Smart Infrastructure
Lahore Smart City uses innovative infrastructure to enhance modern living, such as intelligent traffic management systems and energy-efficient structures. Advanced sensor networks, real-time data processing, and automation This project comes together to build a city that responds to the demands of its citizens.
Digital Connectivity
In today's environment, LSC is aware of the essential requirement for connectivity. The seamless integration of work and communication is made feasible by high-speed internet, extensive Wi-Fi coverage, and an efficient digital ecosystem. Also, the residents' convenience is increased and they can work remotely.
Green initiatives
LSC makes major efforts to improve its ecological mark at a time when environmental sustainability is crucial. The development has eco-friendly architectural styles, green areas, and streets lined with trees.
Smart Services
LSC is known for its convenience. For residents, the idea expects a variety of smart services that make everyday tasks easier. These services not only increase efficiency but also promote energy conservation.
Economic Opportunities
Lahore Smart City aspires to promote economic growth in addition to its beauty and technological advancements. The project plans to construct commercial zones, IT parks, and business centers in order to create work possibilities. This strategy not only raises the level of living for citizens but also helps the area's economy thrive.
The Lahore Smart City 7 Marla files are excellent for residents and investors due to their low prices. If you are looking for excellent investment check out the Lahore Smart City 7 Marla – Low Budget Files For Investment
Lahore Smart City: The Promising Outlook
The goal and implementation of the Lahore Smart City project offer a positive outlook for the city and its residents.
Improved Quality Living
The quality of life of the population can directly impact the use of intelligent technologies and sustainable practices. Although, decreased traffic congestion, better public services, and a clean environment all contribute to an improved quality of life.
Technological Advancement
This project has advanced technologically due to its dedication to technology advancement, Smart City is at the forefront of regional urban development. However, the city can easily adapt to new ideas as they emerge as technology develops, ensuring that it stays up-to-date and helpful.
Sustainable Growth
The project's emphasis on eco-friendly techniques, energy efficiency, and green initiatives creates a model for sustainable urban development. This method not only saves resources but also serves as a role model for other cities facing similar environmental problems.
Smart Governance
Lahore's Smart Governance By using digital platforms for governance, Smart Cities encourage open and effective communication between authorities and residents. Moreover, initiatives in E-governance increase civic participation and restructure administrative procedures, making the city more responsive to the needs of its residents.
Inspirations for Other Cities
LSC's success can serve as a model for other cities in Pakistan and elsewhere, providing ideas for future cities. Finally, this project can encourage other major cities to adopt comparable standards and approaches by proving that a balance between modernity and sustainability is viable.
Both residential and commercial properties are available in Overseas 1 Block, If you need any details while investing in Overseas 1 Block click Lahore Smart City Overseas One Block – One Of The Best Investments Available
Conclusion
In conclusion, LSC is a shining example of a promising development project by its modernity and promise. Its creative blend of technology, environmentally friendly architecture, and cutting-edge infrastructure exemplifies a forward-thinking strategy that has the ability to change the urban environment.
Furthermore, LSC emerges as a monument to the potential of smart city planning by promoting connection, efficiency, and improved quality of life for its residents.