June 7, 2023
Posted by:

Muhammad Shehzad

Category:

Blogs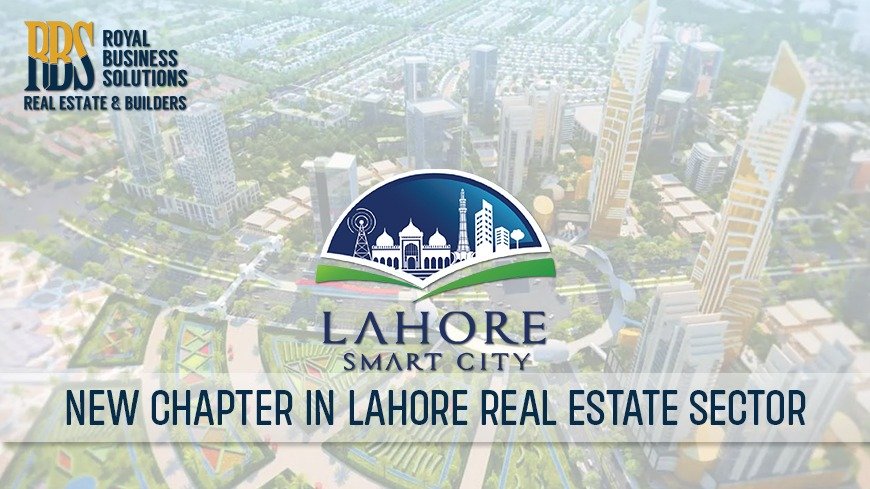 Lahore Smart City-a new chapter in the Lahore real estate sector, the cultural and economic hub of Pakistan, has always been at the forefront of progress and development. Over the years, the city has witnessed remarkable growth in various sectors, including real estate. With the launch of Lahore Smart City, a joint venture between Future Development Holdings (Pvt.) Ltd. and Habib Rafiq (Pvt.) Ltd., Lahore's real estate sector has entered a new chapter of innovation, sustainability, and modern living. This blog will provide valuable insights into 'Lahore Smart City – a new chapter in the Lahore real estate sector'.
 What you should know about 'LSC – a new chapter in the Lahore real estate sector'?
Project details
Lahore Smart City, a project by Future Holding Developments (FDH) and Habib Rafiq (Pvt), in collaboration with Surbana Jurong, stands as the second smart city project in Pakistan following Capital Smart City, Islamabad. Recognized as the fifth in Asia, this revolutionary project is initiated by FDH, a prominent real estate developer and asset management company in Pakistan, with the support of Surbana Jurong, a renowned Asia-based consulting firm specializing in urban, industrial, and infrastructure planning.
The mega-development, which is created to promote an eco-friendly way of life, features stunning architecture, cutting-edge town planning, futuristic concepts, and stunning landscaping with plenty of open green spaces. Lahore Smart City is going to carefully consider every aspect of architecture, design, and aesthetics. For a profitable business in real estate, it is good to explore Nova City Islamabad.
Location
The main factor that adds value to any housing project is location. Lahore Smart City aims to redefine urban living by incorporating smart technologies, green spaces, and world-class amenities. One of the largest housing developments in Lahore, the project covers 20,000 kanals. Lahore Smart City is in a prime location with many access points. Moreover, it is located on the bypass of Lahore, close to Ring Road, GT Road, Kala Shah Kaku, and the CPEC route. This housing community is surrounded by schools, shops, markets, and restaurants, making it easier for you to satisfy your needs. Further, for a better understanding of the location, it is good to explore the Lahore smart city LDA-approved map.
Smart technology
One of the key features that set Lahore Smart City apart is its focus on smart technology. Moreover, the city is equipped with state-of-the-art infrastructure including IT and communication network smart grid systems and innovative security measures. Further, it will become a modern and intelligent city as a result of the integration of technology, which will improve the quality of life for residents.
Facilities
Lahore Smart City goes beyond housing, offering diverse amenities for residents' needs. From education to healthcare, sports to entertainment, it provides convenient access to essential services, enhancing the overall living experience.
Mosques
Underground electricity
Wide roads and main boulevards
Business and commercial hub
Sports district
Moreover,  a Security system – Continuous CCTV Surveillance with Facial and Object Recognition
IT Connectivity
Water Management
Public Transport
E-Governance
Air pollution control
Education facility provisions
Internet of Things (IoT)
Further,
Smart health- A district devoted to healthcare that includes hospitals, clinics, and labs.
Theme parks, open green spaces
Smart environment
Smart buildings & homes
Public safety management
Gas & water leak detection
Additionally,
Water quality management and waste management
Smart streetlights
Electric vehicle charging facilities
Power Supply Management
Sanitation
Flexible payment plan
The Lahore Smart City offers very affordable payment plans; the plan for this housing property involves a 10% down payment and simple installments.
Lahore Smart City – Advancing Technology, Preserving Nature
In addition to technological advancements, Lahore Smart City is committed to preserving and enhancing the natural environment. Moreover, the city has an extensive green cover, with parks, gardens, and landscaped areas spread across the community. This emphasis on green spaces not only improves the aesthetic appeal of the city but also contributes to a healthier and more sustainable lifestyle for its residents. Moreover, Hawks Melbourne City Rawalpindi is offering a facilitated lifestyle.
LSC: where technology meets nature
The real estate sector in Lahore has always been a lucrative investment option, and Lahore Smart City takes it to a whole new level. Moreover, the project is offering a range of commercial and residential plots besides luxurious villas and apartments. Each apartment enjoys easy access to amenities including schools, hospitals, shopping malls, and recreational facilities because of the carefully designed layout. Further, this integrated approach to urban planning creates a self-sufficient and well-rounded community. Additionally, this integrated approach to urban planning creates a self-sufficient and well-rounded community.
Furthermore,
Investing in Lahore Smart City comes with a lot of benefits.
Firstly, the project has obtained all the necessary approvals and NOCs from relevant authorities, ensuring a hassle-free and secure investment.
Additionally, being a joint venture between renowned developers, Future Development Holdings and Habib Rafiq, the project benefits from an excellent reputation for delivering outstanding projects.
Moreover, Lahore Smart City offers attractive investment opportunities with promising returns. Further, the strategic location of the project, coupled with the projected growth and development in the area, makes it a prime choice for investors. Also, the rising demand for housing and commercial spaces in Lahore further strengthens the investment potential of Lahore Smart City.
LSC: a vision for the Future
Lahore Smart City is not just a housing project; it is a vision for the future. Moreover, the project embodies the principles of sustainability, innovation, and diversity. It aims to create a vibrant and harmonious community where residents can live, work, and thrive.
LSC: A new chapter in the Lahore real estate sector
As Lahore Smart City paves the way for a new chapter in the Lahore real estate sector, it sets an example for other cities and developers to follow. Further, the integration of smart technology and sustainable practices is the way forward for urban development. Lahore Smart City serves as a testament to the fact that progress and growth can co-exist with environmental preservation and social well-being. Furthermore, Lahore Smart City can be a perfect choice for a healthy and secure lifestyle.
Conclusion
Lahore Smart City marks a significant milestone in the Lahore real estate sector. With its focus on smart technology, green spaces, and world-class amenities, the project offers a modern and sustainable living experience. Moreover, it presents profitable investment opportunities and promises a high-quality lifestyle for its residents. As the project takes shape, Lahore is set to witness a new era of urban development, making it a city of the future. Hopefully, the blog about 'Lahore Smart City – a new chapter in the Lahore real estate sector' will be informative and engaging.