October 10, 2023
Posted by:

Muhammad Afzaal

Category:

Blogs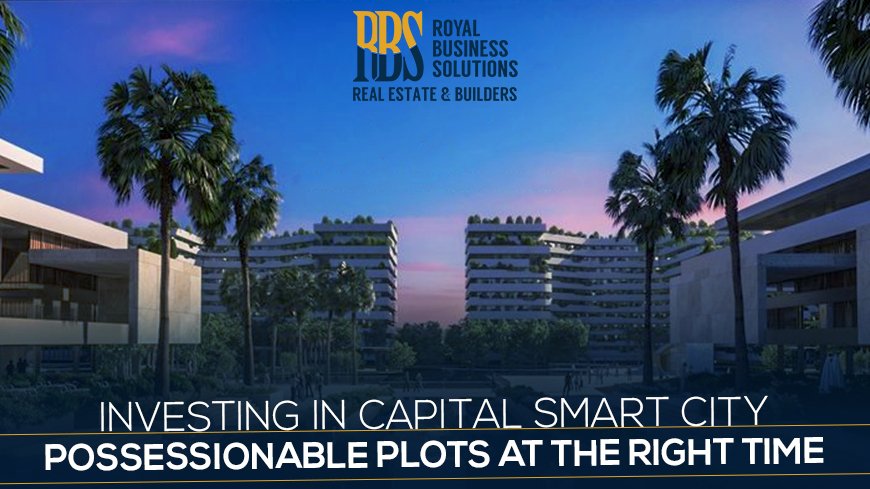 Introduction
The management of CSC introduced the Capital Smart City possessionable plots, enabling customers to purchase their preferred plots at affordable rates. Investing in Capital Smart City possessionable plots is crucial. Notably, they offer special category plots in prime societal locations. Avail this excellent opportunity to acquire possessionable plots instead of dealing with property files.
These Possessionable Plots in Capital Smart City have gained significant attention due to the successful completion of various projects within the city. The management has already conducted successful balloting across different blocks of society. Moreover, there are now plots available for customers that come with instant possession, adding to the appeal of these offerings.
In this blog post, we will explore the CSC possessionable plot sizes, payment plan details, and factors of investing in Capital Smart City at the right time.
Importance of Possessionable Plots
The value of possessionable plots in Capital Smart City has appreciated following the management's announcement of their availability in prime locations. These plots have gained significance among customers due to Future Development Holding Private Limited assurance of plot possession within 1 to 2 years.
These plots have become highly valuable to both local and international real estate customers due to the immediate possession they offer. Basically, this allows buyers to commence construction upon plot booking. As a result, potential customers prefer acquiring plots with specified numbers instead of investing in property files that lack information about the plot's actual status on the ground.
Possessionable Plots Location in CSC
The location of Possessionable Plots in Capital Smart City is considered prime, as the society designates specific categories within pre-reserved plots for future projects. Moreover, these plots are conveniently situated near the entrance of the Capital Smart City Interchange. Notably, the CSC Special Category Possessionable Plots are situated in Overseas East, Central, and Overseas Prime 1.
Additionally, these plots were reserved after the construction of villas within the respective sectors. In detail, there are 5 Marla plots in Block E, 7 Marla plots in Block H, and 10 Marla plots in Block A, C, and K of Overseas East.
Possessionable Plots Sizes
The Capital Smart City provides a range of five different sizes for Special Category Plots, that serve diverse customer requirements. The following outlines the available sizes for these Special Category Plots:
5 Marla
7 Marla
10 Marla
12 Marla
1 Kanal
Read: How Capital Smart City First Time Homebuyers Might Come As A Surprise
Factors to Consider When Timing Your Investment
To make an informed decision about when to invest in possessionable plots in Capital Smart City, consider the following factors:
Market Trends and Economic Conditions
Monitor the real estate market trends and economic conditions in Pakistan. Furthermore, a stable and growing economy often converts to a favorable property market, making it a good time to invest.
Infrastructure Development
Keep an eye on the progress of infrastructure development within Capital Smart City. Hence the completion of key infrastructure projects can increase the value of the property and attract more potential buyers or renters.
Legislative and Government Policies
Be aware of any government policies related to real estate. However, changes in regulations or incentives can impact the property market, affecting the ideal timing for investment.
Developer's Milestones
Always stay updated on the developer's milestones and project timelines for Capital Smart City. Investing at key milestones, such as possessionable plot releases, can be an opportune time to invest.
Demand and Supply Dynamics
Examine the dynamics of demand and supply within the real estate market. Investing when demand is high and supply is relatively low can give you an advantage in terms of property appreciation.
Possessionable Plots Payment Plan
Capital Smart City offers various possessionable plots for sale, also providing an opportunity for Pakistani citizens to purchase plots and construct modern homes in line with the latest developments and infrastructure. Further, the management has introduced a payment plan for CSC Possessionable Plots, allowing you to reserve your plots with a 2-year installment option.
However, to secure your possessionable plot in Capital Smart City, you can make a down payment of 20% and clear the remaining amount through 8 quarterly installments. Basically, this payment plan includes the development charges as well.
5 Marla Price Details
The total price of 5 Marla Possessionable Plot is 3,990,000.
The down payment is 798,000
8 quarter installments of each is 399,000
7 Marla Plot Price
The total price of 7 Marla Possessionable Plot is 5,440,000.
The down payment is 1,088,000
8 quarter installments of each is 544,000
10 Marla Price
The total price of 10 Marla Possessionable Plot is 7,500,000.
The down payment is 1,500,000
8 quarter installments of each is 750,000
12 Marla Price
The total price of 12 Marla Possessionable Plot is 8,740,000.
The down payment is 1,748,000
8 quarter installments of each is 874,000
1 Kanal Price
The total price of 1 Kanal Possessionable Plot is 13,400,000.
The down payment is 2,680,000
8 quarter installments of each is 1,340,000
Check out Capital Smart City: Return Of International Buyers Boosts Luxury Property Market
Benefits of Possessionable Plots
The prime location and flexible payment options provide numerous advantages to customers looking to secure possession-ready properties in Capital Smart City. Also, here are some key benefits of possession-ready plots:
Immediate possession upon booking
Option to choose a plot number with a 30% down payment
Special discounts available for a 50% down payment or lump sum payment
Competitive rates for possession-ready plots
Ideal positioning within the society
High ROI
Conclusion
Investing in Capital Smart City possessionable plots at the right time is a strategic decision that can greatly impact the success of your investment. Although, understanding the market dynamics, timing your investment based on key factors, and leveraging the benefits of possessionable plots can lead to a profitable and satisfying real estate investment experience. Always conduct thorough research and consult with real estate experts before making any investment decisions.