October 5, 2023
Posted by:

Muhammad Afzaal

Category:

Blogs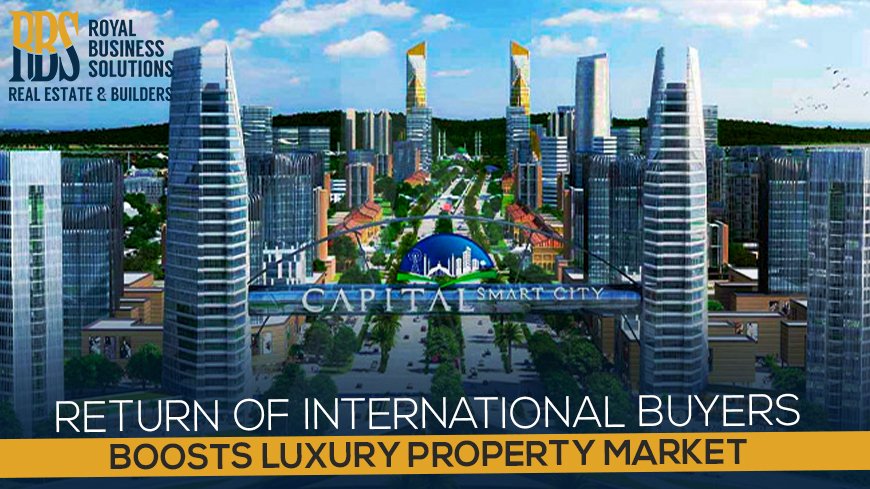 The luxury property market in Capital Smart City is experiencing a significant upswing with the return of international buyers. This rise in interest and investment can be attributed to a combination of factors, including the city's strategic location, favorable economic conditions, and world-class infrastructure developments.
In this blog, we will discuss the reasons behind the increased interest of international buyers and how it influences the luxury property market in Capital Smart City.
CSC Overview
Capital Smart City is one of the leading housing projects developed by FDHL and HRL. CSC is a well-known society as it is ideally located and provides abundant amenities and facilities. It is located near New Islamabad International Airport on the Motorway(M-2). CSC also rises to boost a profitable ratio of market analysis. The luxury property market has seen a significant recovery in recent years, primarily due to the return of international buyers.
CSC- Latest Developments
The development progress at Smart City Islamabad is proceeding rapidly, and in addition, the community has created multiple collaborations with leading businesses to incorporate modern features and the latest technology within the society.
Main Projects:
4 Tube Wells
Freij International
Moven Pick-Hotel & Resort
Network of Carpeted Roads
Check out Capital Smart City Latest Development Charges And Surcharges Policy
International Interest on Capital Smart City
Capital Smart City, situated near Islamabad, Pakistan, has gathered notable international interest. The project's collaboration with the China-Pakistan Economic Corridor (CPEC) route has attracted investment from Chinese stakeholders. The innovative smart city concept integrating modern infrastructure and technology has enticed a global audience.
Additionally, incentives for foreign investors and the promising real estate market in Pakistan contribute to the project's attractiveness to international stakeholders.
The factors that contribute the international interest in CSC are listed below:
Economic Factors
The demand for Capital Smart City from international investors can be attributed to various economic factors. Pakistan's growing economy, stable government, and strategic location in South Asia have captured the attention of global investors seeking promising investment opportunities. In addition, CPEC has played a pivotal role in attracting international attention to cities like Islamabad and its surrounding areas.
Political Stability
Political stability is another key factor contributing to the interest of international buyers in CSC. A stable political environment instills confidence in investors, assuring them of the safety and security of their investments. Pakistan's efforts in maintaining political stability and implementing business-friendly policies have been instrumental in attracting foreign investors.
Infrastructure Development
The continuous efforts of the developers to enhance infrastructure and provide world-class amenities have significantly contributed to the interest of international buyers. The presence of state-of-the-art infrastructure, including high-quality roads, modern healthcare facilities, educational institutions, and recreational spaces, further adds to the demand for a Capital Smart City.
Legal Framework and Property Rights
Improvements in the legal framework and property rights in Pakistan have also positively impacted international investment in real estate. The well-organized property acquisition processes, clearer property rights, and better legal protection for investors' interests have increased confidence in the real estate sector.
Also Read: 100 Capital Smart City Frequently Asked Questions
The Luxury Property Market's Response to Growing International Interest
The increased interest from international buyers has particularly vitalized the luxury property market in Capital Smart City. The luxury property segment typically encompasses high-end villas, and upscale apartments, designed to cater to the perceptions and preferences of the buyers.
Upscale Residences
Capital Smart City offers a range of upscale residences that boast luxurious amenities and top-tier facilities. These properties are equipped with modern architecture, premium fittings, spacious layouts, and an abundance of natural light. However, the allure of luxury living combined with the excellent location has drawn international buyers seeking a high standard of living.
Investment Potential
The luxury property market in Capital Smart City is also seen as a lucrative investment opportunity. International buyers perceive the potential for considerable returns on investment (ROI) in the long run. As the city continues to develop and gain international prominence, property values anticipates to appreciate, making it an attractive proposition for investors looking to grow their wealth.
Lifestyle and Prestige
Owning a luxury property in CSC is not just about the physical structure; it's about the lifestyle and prestige associated with it. The city offers an exclusive and opulent living experience that appeals to those who seek experience and class in their living spaces. International buyers, often familiar with a certain standard of living, find this segment particularly demanding.
Conclusion
Capital Smart City rise as a real estate hub has been significantly boosted by the increasing interest of international buyers, especially in the luxury property market. Economic stability, political reforms, improved infrastructure, and a beneficial legal framework have collectively contributed to this growing interest. Moreover, the luxury properties in CSC offer a blend of modernity and comfort, attracting international buyers looking for an upscale lifestyle and promising investment opportunities. Finally, this trend continues showcasing the immense potential of Pakistan's real estate sector on the international stage.
Furthermore, check out the Capital Smart City Payment Plan to avail the best opportunity to invest with amazing deals.