May 25, 2023
Posted by:

Huma Ishfaq

Category:

Blogs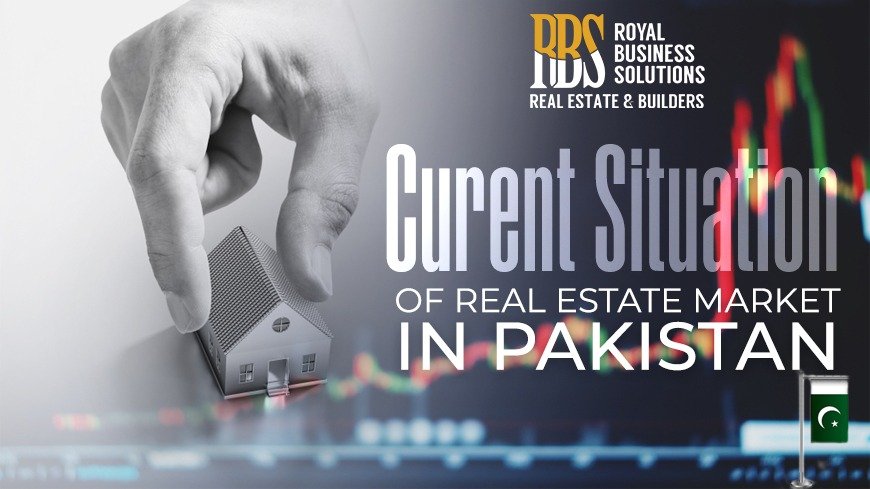 In comparison to many other investment options, the Pakistan Real Estate Market seems to be performing well. Due to a number of factors, including fluctuating gold prices, inflation, a volatile stock market, and others, the Pakistan real estate forecast for 2023 indicates that it will be another year of real estate market growth. This blog will help you to understand the real estate market current situation in Pakistan.
Real Estate Market Current Situation in Pakistan
In order to reduce the economic impact of the pandemic last year, the government of Pakistan lowered the interest rate and announced incentives for investors and businesspeople. Moreover, this led to the development of numerous affordable real estate projects in which investors had made significant investments for a variety of reasons. This effect is seen to continue throughout this year as well.
Without a doubt, the Pakistani real estate market is going to expand significantly during the next few years. In Pakistan, the real estate industry is the second largest employment after the agricultural sector, according to a recent World Bank report.
The survey also predicts that the Pakistani real estate market will grow by 2.3% in 2023. This is undoubtedly fantastic news for investors and buyers.
Additionally, the real estate market in Pakistan is currently seeing the emergence of numerous trends. The rising need for affordable housing is one of these trends. The country needs more affordable housing projects as a result of urbanization as well as population growth.
Read: 5 Reasons Why Hawks Melbourne City Rawalpindi Is The Best City In Pakistan
Another prominent trend is that international investors are becoming more interested in the Pakistani real estate industry as a result of the attractive profit possibilities. In 2023, this trend is probably going to increase.
As previously said, the market is predicted to rise by 2.3%. The increasing demand for cheap housing and foreign investors' interest in the market are the main drivers of this growth.
In addition, government initiatives like the Prime Minister's Construction Package and the Naya Pakistan Housing Program are both significantly boosting the country's real estate industry.
Property Trends in Pakistan 2023
The statistics provided by the State Bank of Pakistan will surprise you. According to the analysis, Pakistan's real estate market is going to continue growing in 2023 after contributing 2.6% of the country's GDP in 2020. Moreover, in the upcoming years, this contribution will continue to increase even more. It will boost employment and help in the expansion of the real estate industry.
Investment Opportunities in Different Cities of Pakistan
Different cities in Pakistan have different investment prospects and returns. Therefore, it is advisable to weigh all of your options before choosing a course of action. The following list of Pakistani cities' investment potential includes:
Lahore, sometimes known as the "city of gardens," is the second-largest city in Pakistan. There are lots of options in Lahore real estate. In 2023, investing in Lahore will be extremely advantageous due to the city's influx of multi-use and high-rise complexes. You may buy commercial properties such as shops, offices, penthouses, as well as apartments, among other things here. A number of other communities exist in Lahore, including Lahore Smart City, Bahria Town, Bahria Orchard, DHA, Al Noor Orchard, Al Kabir Town, and many others, where the residential and business sectors are distinct from one another and the residents can live in peace and tranquilly.
Projects in Islamabad/ Rawalpindi
Islamabad, Pakistan's capital, and its twin city, Rawalpindi, are also fantastic investment locations with high rates of return. Along with a strong return on investment and rental revenue, the city's beauty and serenely have a significant impact on residents. Bahria Town Islamabad and DHA Islamabad are the two primary residential communities in the twin cities. It provide a decent return on your investment. Other profitable projects that offer high ROI is Nova City Islamabad, Capital Smart City and Gulberg Greens Islamabad.
The construction of the Ring Road in Islamabad and Rawalpindi will make it easier for locals to access far-off projects like Bahria Town, which were initially neglected. Bahria Town may readily be accessible by car in 20–25 minutes from the major centers through the Ring Road.
Bottom Line
The Pakistani housing market has experienced remarkable expansion, and this trend is expected to continue in 2023. Due to factors including urbanization, a growing middle class, and a growing population, real estate experts predict that the demand for homes in the nation will increase.
Furthermore, the government's recent initiatives to support affordable housing and provide incentives to the construction sector are having a significant positive impact on the housing market.
The top cities in Pakistan for real estate investment are Karachi, Lahore, Islamabad, and Rawalpindi. Because of their large populations, strong economic growth, and rising housing demand. Additionally, Gwadar and the surrounding areas of the CPEC route experience tremendous growth in their real estate markets.