August 11, 2023
Posted by:

Muhammad Shehzad

Category:

Blogs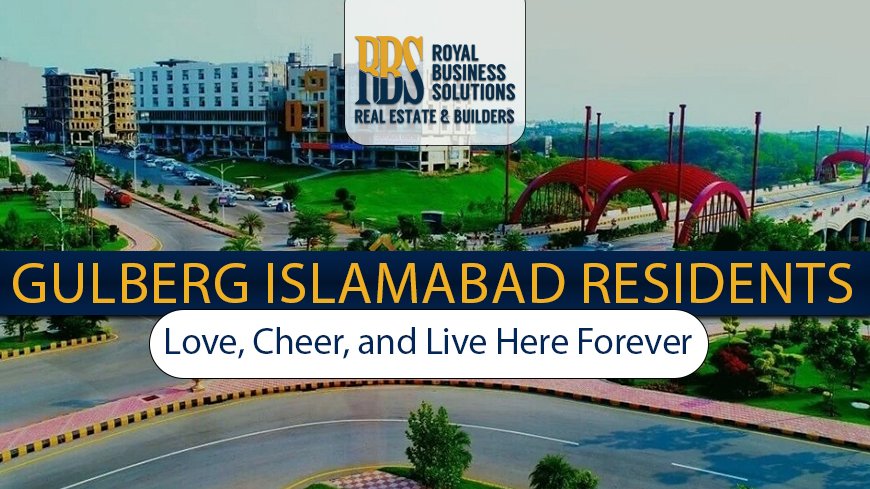 Are you trying to find the ideal place to call where you live? An area that offers convenience, peace, and quiet all at once? Go to Gulberg Islamabad right away! This acclaimed housing development has everything you likely want and more. Gulberg Islamabad is the solution to all of your needs, from setting and facilities to way of life and business pursuits. Let's examine more closely what distinguishes this home development from the others in the market.
Introduction
The largest housing development in Zone IV of Islamabad is Gulberg Islamabad. Actually, it is frequently referred to as a "city within a city" because of the city's scope and infrastructure It is a project of the Intelligence Bureau Employees Cooperative Housing Scheme (IBECHS).
Prime Location
The Gulberg Islamabad housing project is located on the main Islamabad Expressway in Zone 4 and 5 of Islamabad. The location of Gulberg Islamabad is one of its major attractions, making it an ideal place to buy a residential plot.
There are four primary factors of location that make Gulberg Islamabad Stand out.
Centrality
Neighborhood
Development
Commercialized location
NOC Approval
The Capital Development Authority (CDA) issued NOC approval for the development of Gulberg Greens Islamabad.
Developmental Status
The development of this project was started in 2005 after Phases 1 and 2, which is also known as Pakistan Town, of IBECHS. Gulberg Islamabad is comprised of two main divisions:
Gulberg Residencia
Gulberg Greens
According to the latest information on Gulberg Islamabad, over 80% of the development work in the region has already been finished.
Landmark Areas
The nearby landmark locations of Gulberg are listed below:
Telenor Head Quarter Pakistan
Gulberg Greens
Chaaye Khana
Gulberg Valley School
Riphah International University
GEVORA International Hotel & Mall
Islamabad International Airpot
Discover the Charms of Gulberg Islamabad that contributes Love, Cheer, and Happy Living
Gulberg In the federal capital is famous for its beautiful surroundings and top-notch infrastructure. Gulberg Islamabad is regarded as the height of elegance and peacefulness. This fast-growing development of residential projects in the center of Islamabad expands dream living. Due to its continuous concern for detail, emphasis on a healthy, sustainable lifestyle, ultra-modern residences, and accessibility to all the most cutting-edge amenities you can imagine.
Green and Serene
Gulberg Islamabad was designed with the beauty and peace of its surroundings in mind. In order to make it the ideal place for a moment of relaxation after a long day at work. The conditions for outstanding housing are provided by Gulberg, which is surrounded by rich greenery and open areas.
Recreational Amenities
Gulberg delivers quality when it comes to fun and entertainment. There is always something fascinating to do. It also provides access to sports facilities, fitness centers, social groups, and dynamic cultural places for its residents.
Commercial Facilities:
Business Avenue & Blue Area
Commercial Center/Markaz
Petrol Pumps
CNG Stations
Health Facilities
Hospital
Dispensaries
Clinic & Pharmacies
Institutional Facilities
Nurseries & Schools
Colleges & Universities
Modern Infrastructure 
Gulberg housing project is proud of its state-of-the-art, thoughtfully designed infrastructure, which meets the needs of its citizens. All aspects of daily life become easily accessible.
Since to the abundance of excellent healthcare facilities, shopping malls, and entertainment venues in the neighborhood.
Community Spirit 
Gulberg has an unmatched sense of belonging. Local events, cultural festivals, and numerous social gatherings bring the community together frequently. This companionship fosters a friendly environment that gives a true feeling of connection
Security and safety
Gulberg Islamabad places a high focus on safety. The neighborhood has strong security measures in place, such as gated access points, CCTV surveillance, and devoted security staff. It offers their residents peace of mind and a safe environment for their families.
Economic Hub: 
Gulberg Islamabad is quickly establishing itself as an economic hub primarily in its commercial zones and business districts. In addition to providing job opportunities for locals, this also helps contribute to the area's overall growth and development.
Top Commercial Projects in Gulberg Greens Islamabad
Gulberg Emporium Mall & Residency
D-8 Square
Marvel Mall
Gulberg Pride
Opal Square
Diamond Mall & Residency
Karakoram Greens
The Gulberg Arena
Roshan Heights
Shanghai Heights
Samama Gulberg and Samama Star Mall & Residency
Also, check out the Capital Smart City to avail the best investment opportunity with its beautiful greenery and captivating sites.
Conclusion
Gulberg Islamabad has been planned to preserve a balance between living qualities of development and functionality. Enjoying the best life that offers you to live a lavish life. The lifestyle of Gulberg Greens Islamabad covers all aspects of life, from the environment to the highest standards of living.
This project has rightfully earned its reputation as a shelter for residents. Whether it's because of the stunning scenery, the strong feeling of community, or the top-notch amenities. It is one of the most searched and luxurious housing societies in Islamabad with the experience of a city within a city.
Furthermore, if you are looking for great investment opportunities check it out!
Kohistan Enclave 3.2 Marla Investing Guide: How To Unlock Lucrative Opportunities?